These Pumpkin Snickerdoodle Cookie Bars are soft, chewy and filled with a bit of pumpkin and lots of pumpkin spices! Topping these cookie bars is a fluffy pumpkin buttercream frosting and a sprinkling of cinnamon sugar!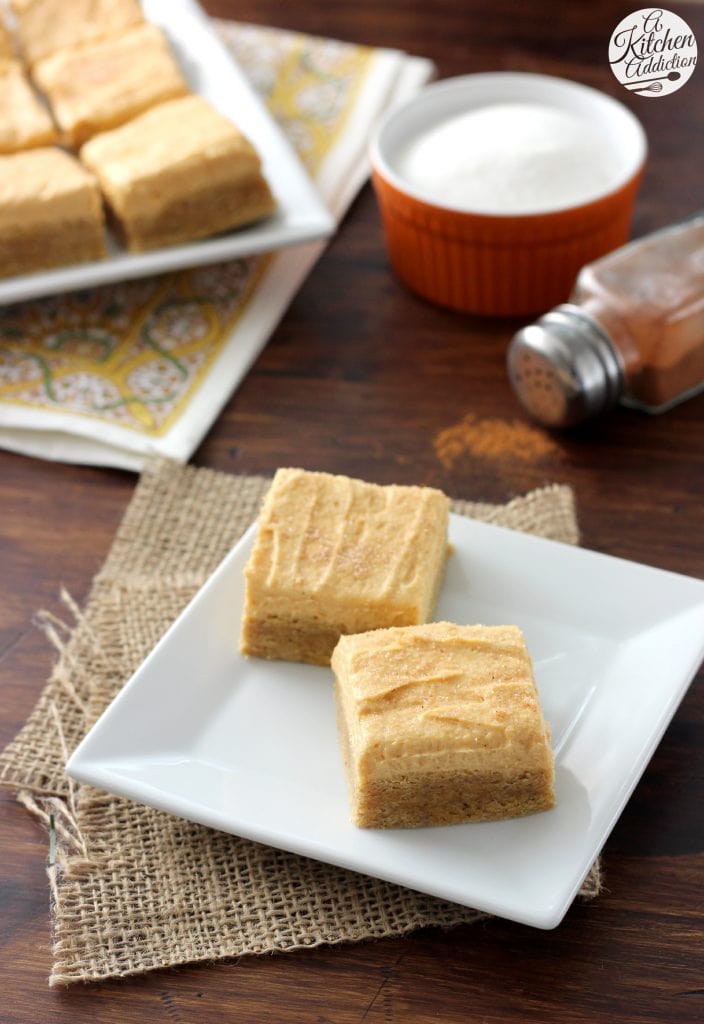 I don't know whether it's the super hot and humid weather or the fact that school's started around here, but I'm ready for all things fall. And that, of course, means pumpkin.
I'm sorry, but I just couldn't wait to open that first can of pumpkin puree! I'm doing better than last year. I barely made it through the middle of August before I was ready for fall!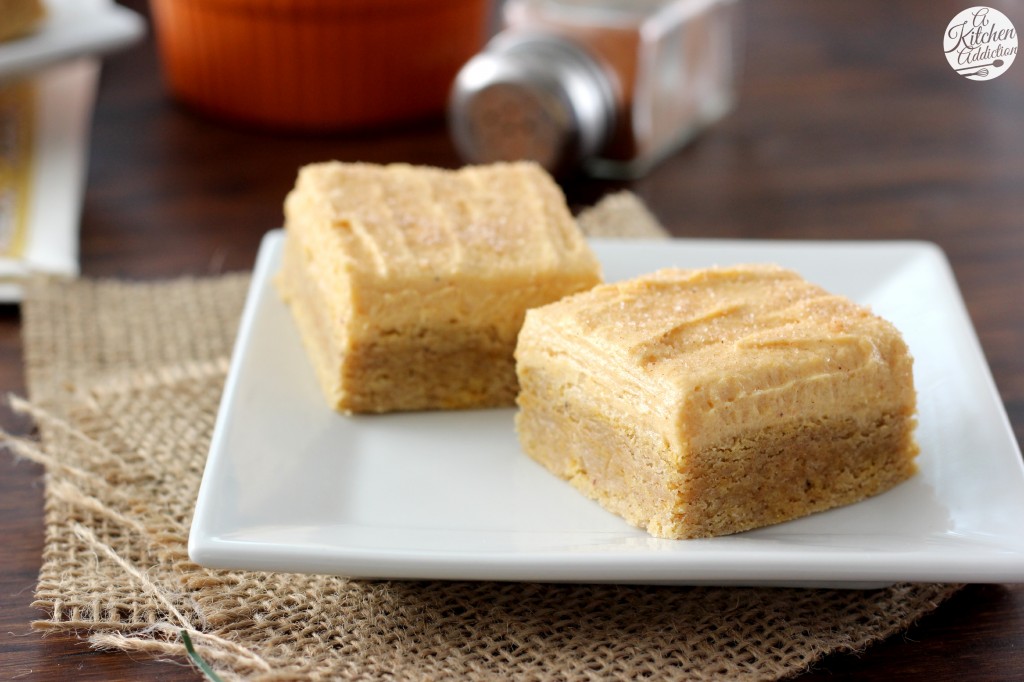 This year it's been cooler and summer has been super busy so that I haven't had time to really think about what season it is! But now I've thought about it, and I've made pumpkin snickerdoodle cookie bars.
These bars are a variation of my favorite sugar cookie bars. The sugar cookie bars provide the perfect base for lots of pumpkin flavor.
These soft, chewy cookie bars are filled with a bit of pumpkin and lots of pumpkin spices.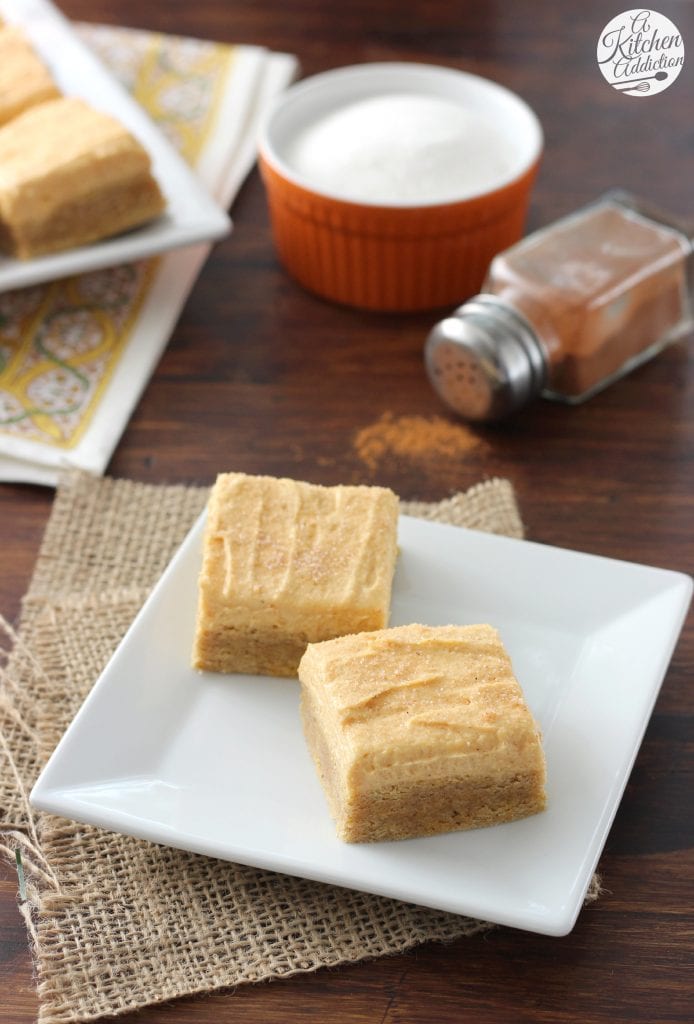 We can't forget the pumpkin buttercream frosting. It makes way too long of a name if I stuck it in the title, but it is too good to be forgotten!
If you aren't a fan of frosting, you could leave off the frosting and the bars would still be great.
But if you're a fan of pumpkin buttercream, you'll want to make sure to add the fluffy frosting! A sprinkling of cinnamon sugar rounds off the snickerdoodle flavor.
Ready for fall or not, you'll want to make these bars soon!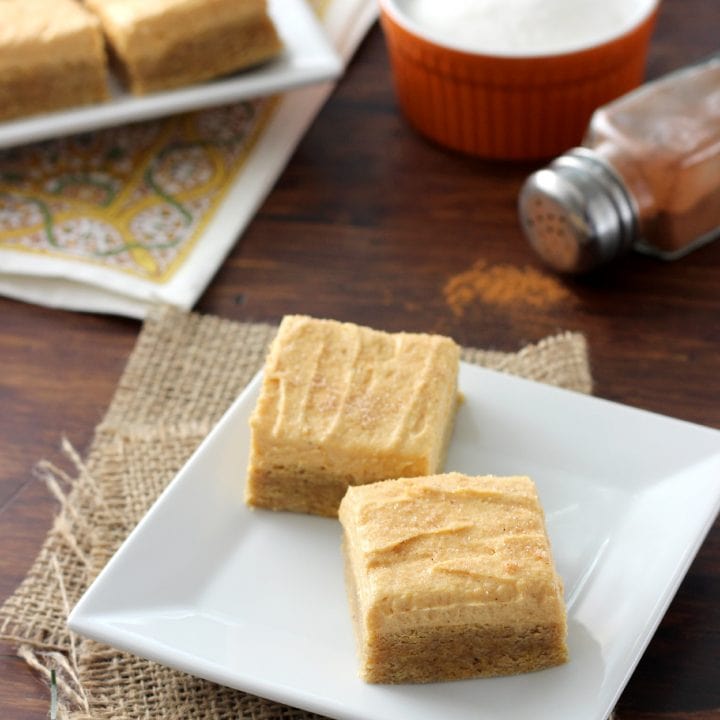 Pumpkin Snickerdoodle Cookie Bars with Pumpkin Buttercream Frosting
Ingredients
For the Cookie Bars
1/2 C butter, room temperature
3/4 C sugar
3 tbsp pumpkin puree, not pumpkin pie filling
1 egg
2 tsp vanilla extract
2 1/2 C all-purpose flour
1 1/2 tsp cream of tartar
1 tsp cinnamon
1/2 tsp nutmeg
1/2 tsp ginger
1/2 tsp baking powder
1/2 tsp baking soda
1/2 tsp salt
1 tbsp milk**
For the Frosting
1/2 C butter, softened
2 1/2 - 3 C confectioner's sugar
3 tbsp pumpkin puree
1/2 tsp cinnamon
1/4 tsp nutmeg
1/8 tsp ginger
cinnamon sugar, for garnish
Instructions
Preheat oven to 350. Lightly spray a 9x9 baking dish with non-stick cooking spray.
In the bowl of a stand mixer (or with an electric hand mixer), cream together butter and sugar. Add in pumpkin, egg, and vanilla extract. Beat until creamy.
In a large bowl, whisk together flour, cream of tartar, cinnamon, nutmeg, ginger, baking powder, baking soda, and salt.
Add dry ingredients to wet ingredients and beat until combined. Press dough into the bottom of prepared baking dish.
Bake for 15-20 minutes, or until toothpick comes out mostly clean. Do not overbake. Remove to a wire rack to cool completely.
While bars are cooling, prepare frosting. Beat together butter and confectioner's sugar. Add in pumpkin, cinnamon, nutmeg, and ginger. Beat until creamy. If more confectioner's sugar is needed, add 2 tablespoons at a time up to another 1/2 cup.
Spread over cooled bars. Sprinkle with cinnamon sugar. Cut into pieces.
Notes
**Because pumpkin puree can have different levels of moisture depending on brands, homemade versus store bought, you may need to add up to an additional tablespoon of milk after combining the dry ingredients to wet ingredients to help the mixture get a cookie dough texture.
Recommended Products
As an Amazon Associate and member of other affiliate programs, I earn from qualifying purchases.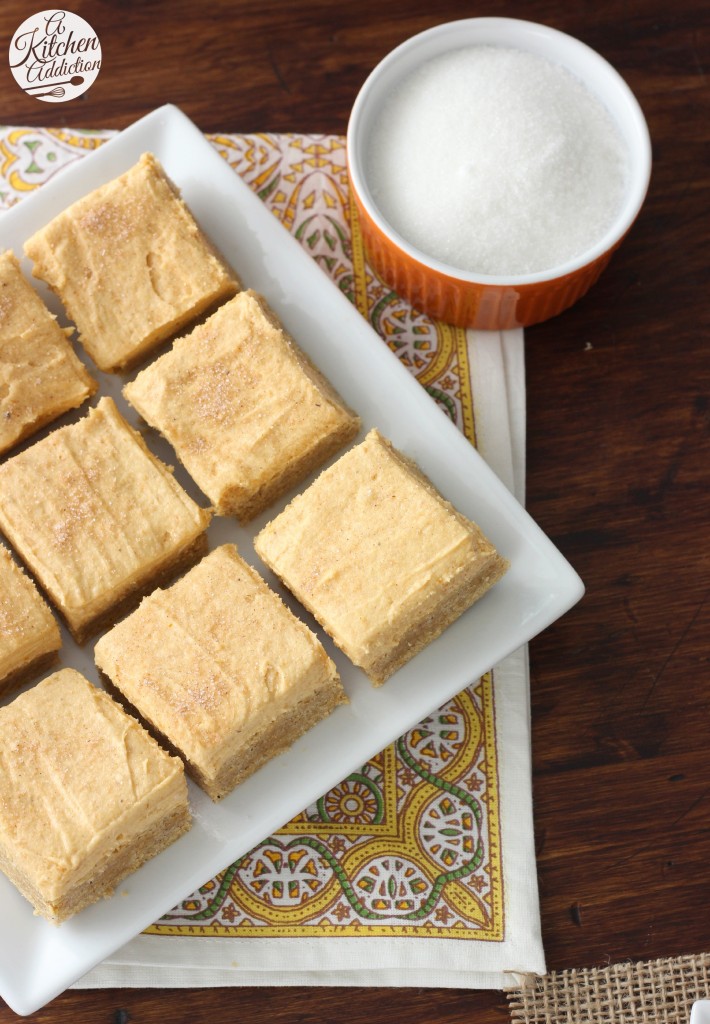 This post contains affiliate links.
More Pumpkin Dessert Recipes!