It's Friday! I've been a day ahead in my thinking all week, so it was pretty disappointing to wake up Thursday morning and realize that it was not Friday.
But it's Friday now, and I'm ready for the weekend! A weekend of relaxing (hopefully!) and eating a couple of these pumpkin snickerdoodle cheesecake bars (definitely!)!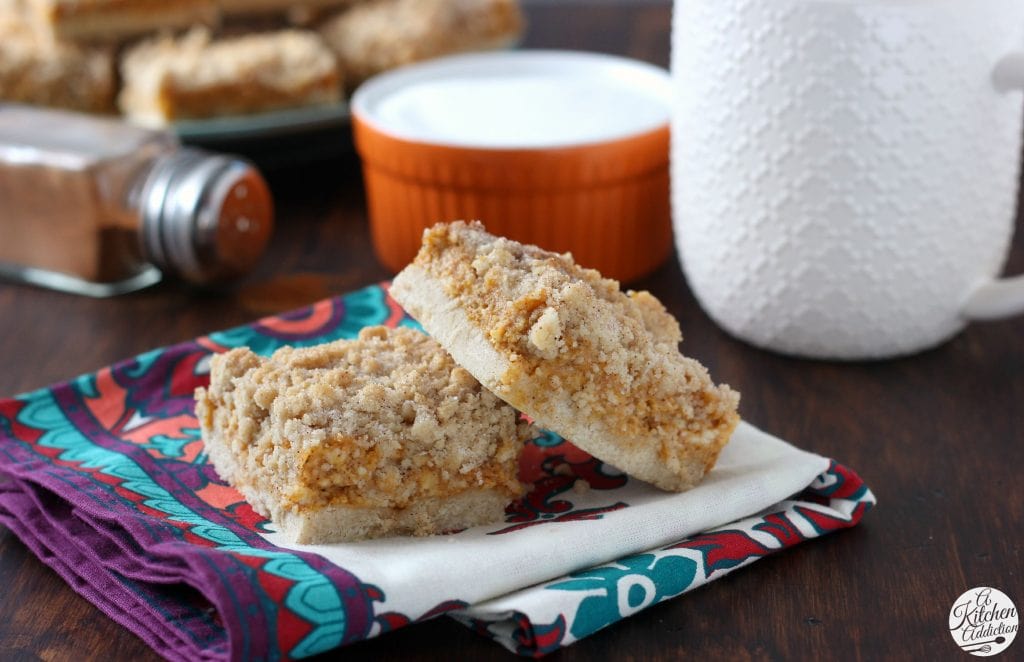 Pumpkin cheesecake sandwiched between buttery, cookie layers. And those cookie layers taste like snickerdoodles. What's not to like?! These cheesecake bars are really quite simple despite the length of ingredients.
All you have to do is mix up some snickerdoodle cookie dough, press half of it in the pan and save half for later. Mix up all of the cheesecake ingredients at one time and pour it over the top. Drop the remaining cookie dough over the top. It's that easy.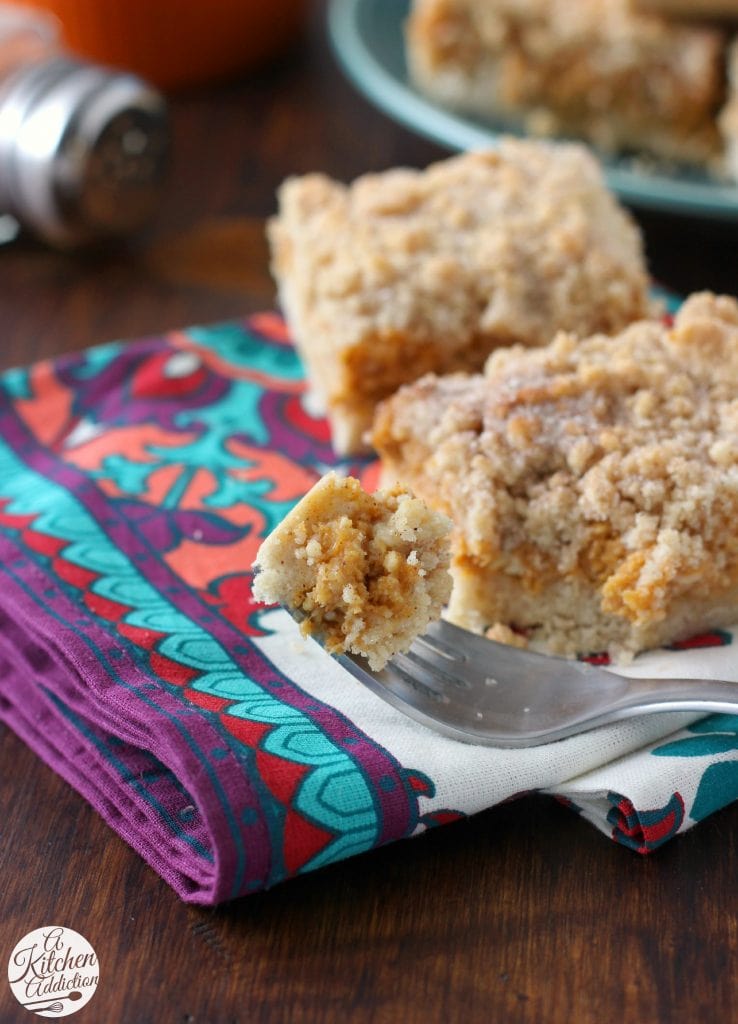 Since I can't have too much cinnamon, I also sprinkled a bit of cinnamon sugar over the top right before baking to add more flavor and a bit of a crunchy top to make it reminiscent of the crackly snickerdoodle top.
So go celebrate the fact that Friday is finally here with a batch of pumpkin snickerdoodle cheesecake bars!

Pumpkin Snickerdoodle Cheesecake Bars
Author:
A Kitchen Addiction
Ingredients
For the Cookie Layers
6 tbsp butter, softened
½ C sugar
1 egg
½ tsp vanilla extract
2 C all-purpose flour
1 tsp cream of tartar
¾ tsp cinnamon
1 tsp baking powder
½ tsp salt
For the Cheesecake Layer
8 oz cream cheese, softened
½ C sugar
½ C pumpkin puree (not pumpkin pie filling)
1 egg
1 tsp cinnamon
¼ tsp nutmeg
¼ tsp ginger
Cinnamon Sugar Topping
2 tbsp sugar
½ tsp cinnamon
Instructions
Preheat oven to 350. Spray a 9x9 inch baking dish with non-stick cooking spray.
In the bowl of a stand mixer, or with an electric mixer, cream together butter and sugar. Beat in egg and vanilla extract until creamy.
In a separate bowl, whisk together flour, cream of tartar, cinnamon, baking powder, and salt. Add dry ingredients to wet ingredients and beat until combined. Dough will appear dry but should hold together when pressed. Set aside.
Prepare cheesecake layer by beating together cream cheese, sugar, pumpkin, egg, vanilla extract, cinnamon, nutmeg, and ginger until creamy.
Press half of cookie dough mixture into the bottom of the prepared baking dish. Pour cheesecake mixture over the top. Drop remaining cookie dough over the top. Stir together cinnamon and sugar and sprinkle over the top.
Bake for 25-30 minutes or until edges turn light brown and center is set.
Refrigerate for at least 4 hours before serving to allow cheesecake to set and flavors to blend.
Notes
This recipe can be easily doubled for a 9x13 pan.