I know, it was 93 yesterday and today is supposed to be even hotter. I can't help it. Last week it was in the 50's when we woke up, and I just had to break out the pumpkin!
Of course, I had to make pumpkin bread first. It is one of my favorite fall breakfasts or desserts or snacks or any time of day foods!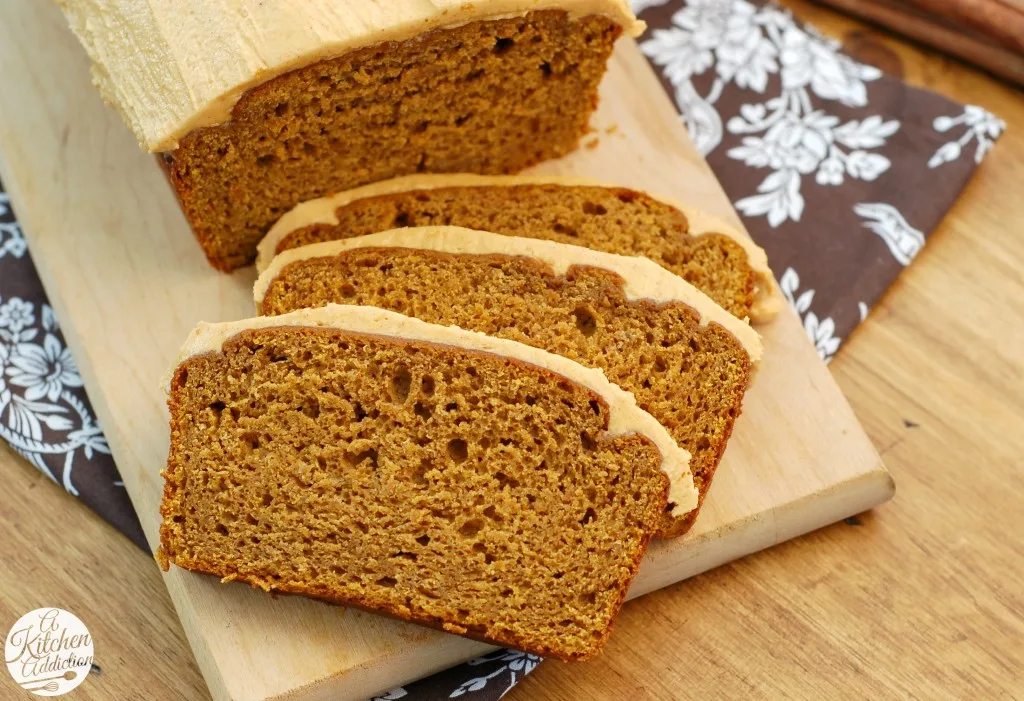 This pumpkin bread was a favorite of ours last year, so it only seemed fitting that it would kick off the pumpkin recipes this year!
I made some changes to the original recipe that I had last year, and I think we finally settled on a good balance of healthy and flavorful.
I made as many healthy substitutions as possible while still keeping the texture and rich flavor that I remembered.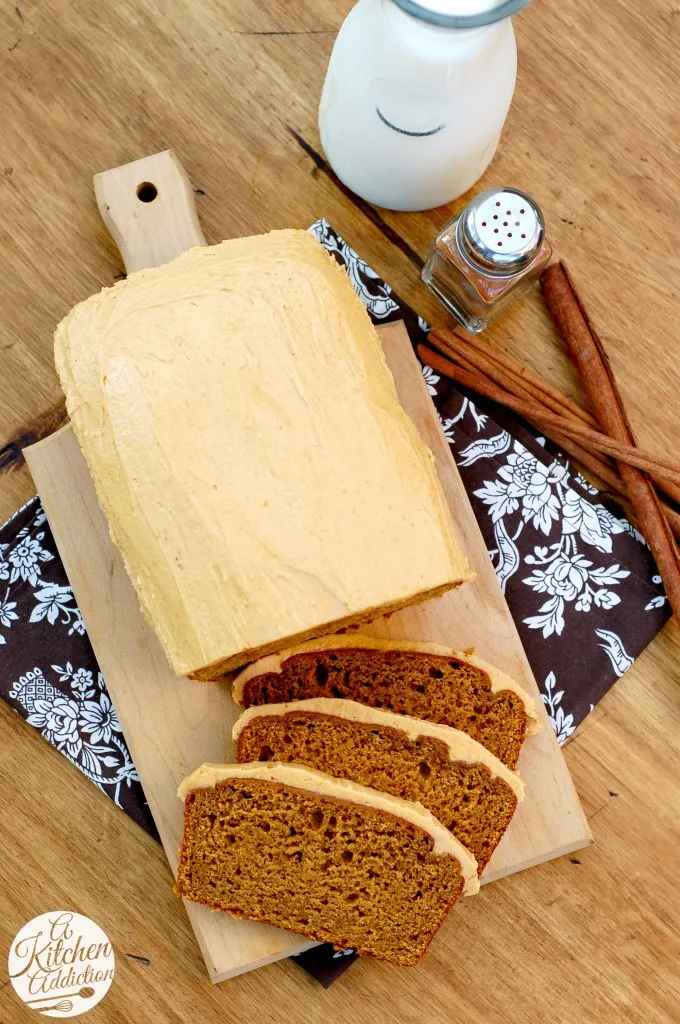 Greek yogurt is used as the main source of fat in this bread and only 2 1/2 tablespoons of butter are used in the frosting!
In order to maintain the richness of the buttercream frosting, I incorporated the salted caramel right into the frosting instead of drizzling it on top. That allowed me to cut back on some of the sugar and butter that last year's version contained.
The bread is filled with cinnamon and other fall spices that give it flavor without added calories. Cut a thick slice and enjoy with a large glass of milk or mug of hot coffee. You'll find that it'll be your new favorite way to start your day!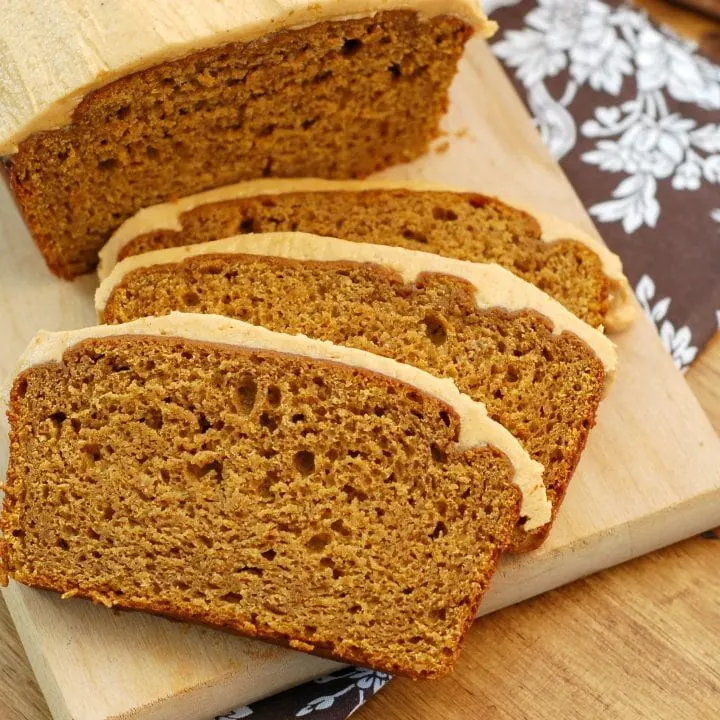 Salted Caramel Pumpkin Buttercream Frosted Pumpkin Bread
Ingredients
For the Bread
1 C all-purpose flour
3/4 C white whole wheat flour
2 tsp cinnamon
1/2 tsp nutmeg
1/2 tsp allspice
1/8 tsp cloves
1/2 tsp salt
1 tsp baking soda
1 tsp baking powder
2 eggs
2/3 C brown sugar
1/4 C sugar or granulated sugar substitute
1 tsp vanilla extract
1/2 C low-fat or non-fat plain Greek yogurt
2 tbsp olive oil
1 1/4 C pumpkin puree (not pumpkin pie filling)
For the Frosting
1 1/2 tbsp brown sugar
1/2 tbsp water
2 1/2 tbsp butter, softened (not melted) and divided
1/8 tsp salt
2 tbsp pumpkin puree
1/2 tsp cinnamon
1/8 tsp nutmeg
1 3/4 C confectioner's sugar, sifted
coarse salt for sprinkling, optional
Instructions
Preheat oven to 350. Lightly spray a 9x5 loaf pan with non-stick cooking spray.
Whisk together flours, cinnamon, nutmeg, allspice, cloves, salt, baking soda, and baking powder. Set aside.
In a separate bowl, using a stand mixer or an electric hand mixer, beat eggs, brown sugar, and sugar at medium speed until creamy. Beat in vanilla extract, yogurt, and oil until well-combined. Add pumpkin and beat until combined.
Slowly add in flour mixture and beat until just combined. Scrape down sides of bowl as necessary.
Spread batter into prepared load pan. Bake for 50-55 minutes or until toothpick inserted in the center comes out clean.
Allow bread to cool in pan for 10 minutes before removing to a wire rack to cool completely.
While bread is baking, combine brown sugar and water. Bring to a boil over medium heat. Stir constantly to prevent scorching. When mixture comes to a rolling boil, turn off heat. Stir in 1/2 tablespoon butter and salt until combined. Allow to cool completely while bread is cooling.
In the bowl of a stand mixer, cream together remaining butter and pumpkin. Add in cinnamon and nutmeg and beat together. Add cooled caramel and beat until well-combined. (If caramel has hardened, give it a quick whisk with a fork.)
Slowly add confectioner's sugar and beat until creamy.
Spread frosting over cooled bread. If you want more of the sweet and salty flavor, sprinkle with coarse salt.
Cut into pieces and serve.
Store leftovers in the refrigerator if your house is warm to prevent frosting from melting.
Recommended Products
As an Amazon Associate and member of other affiliate programs, I earn from qualifying purchases.