These Swirled Pumpkin Pie Cheesecake Bars with a Gingersnap Crust are rich, creamy and filled with warm pumpkin pie spices!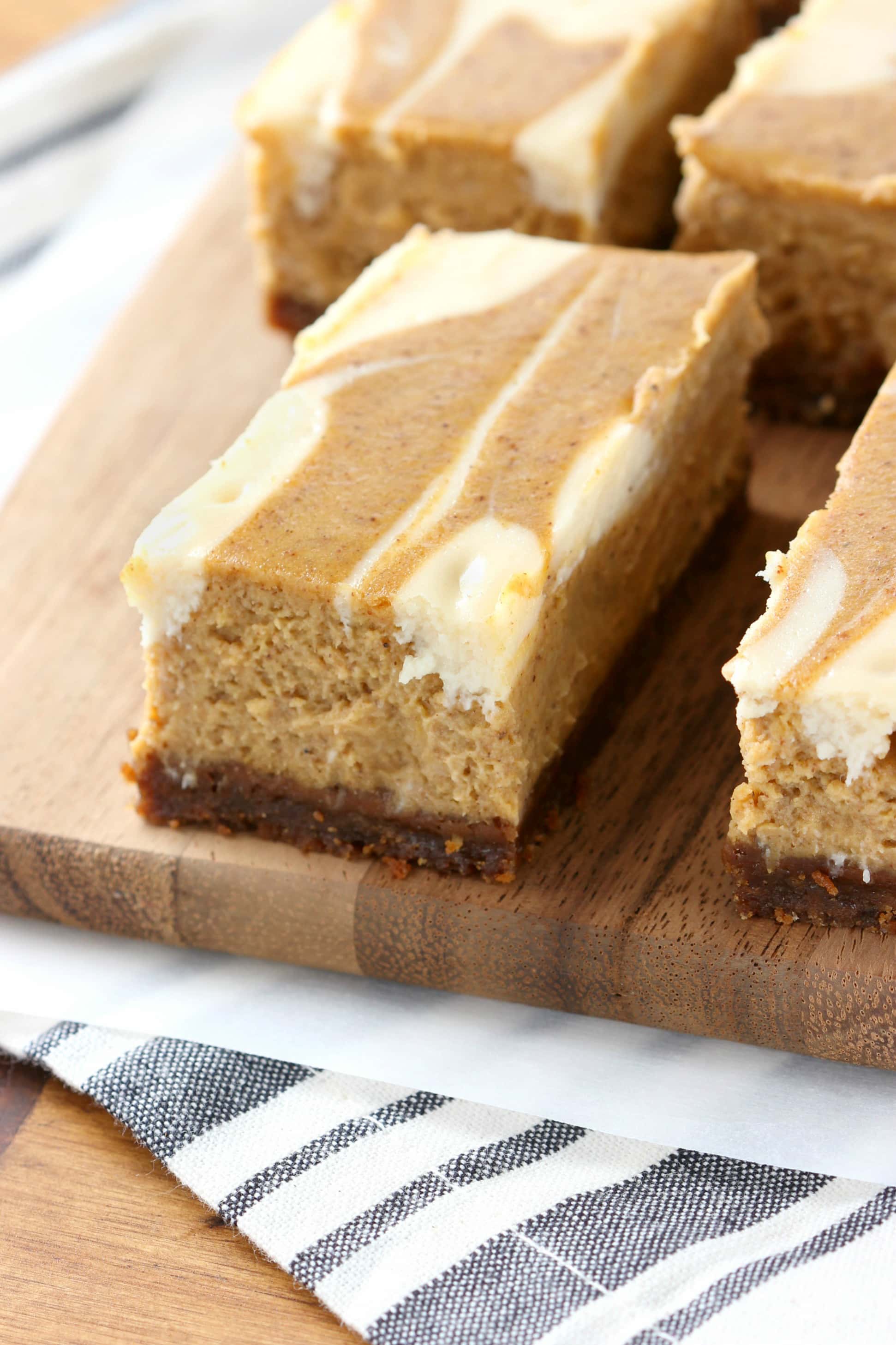 It's been weirdly warm around here lately. Not that I'm complaining. It's just hard to remember that Thanksgiving is coming up when it's in the mid to upper 60's outside in MN!
I'm still in the mood for ice cream and fresh fruit! But after looking at the calendar, I realized that I should probably start thinking about my Thanksgiving menu.
Last year we couldn't decide if we wanted pumpkin pie or cheesecake for dessert so we went with a pumpkin pie cheesecake! These swirled pumpkin pie cheesecake bars with gingersnap crust are a twist on that cheesecake.
These rich, creamy cheesecake bars are the perfect way to enjoy cheesecake without going through the effort and baking time of making an actual cheesecake. Unlike some pumpkin desserts, these pumpkin pie cheesecake bars have an authentic pumpkin flavor.
Not only are there pumpkin pie spices used, but there is also an entire can of pumpkin puree in the cheesecake!
What makes these bars even better is the gingersnap crust. Instead of a classic graham cracker crust, these bars use crushed gingersnaps mixed with a bit of melted butter to add even more flavor!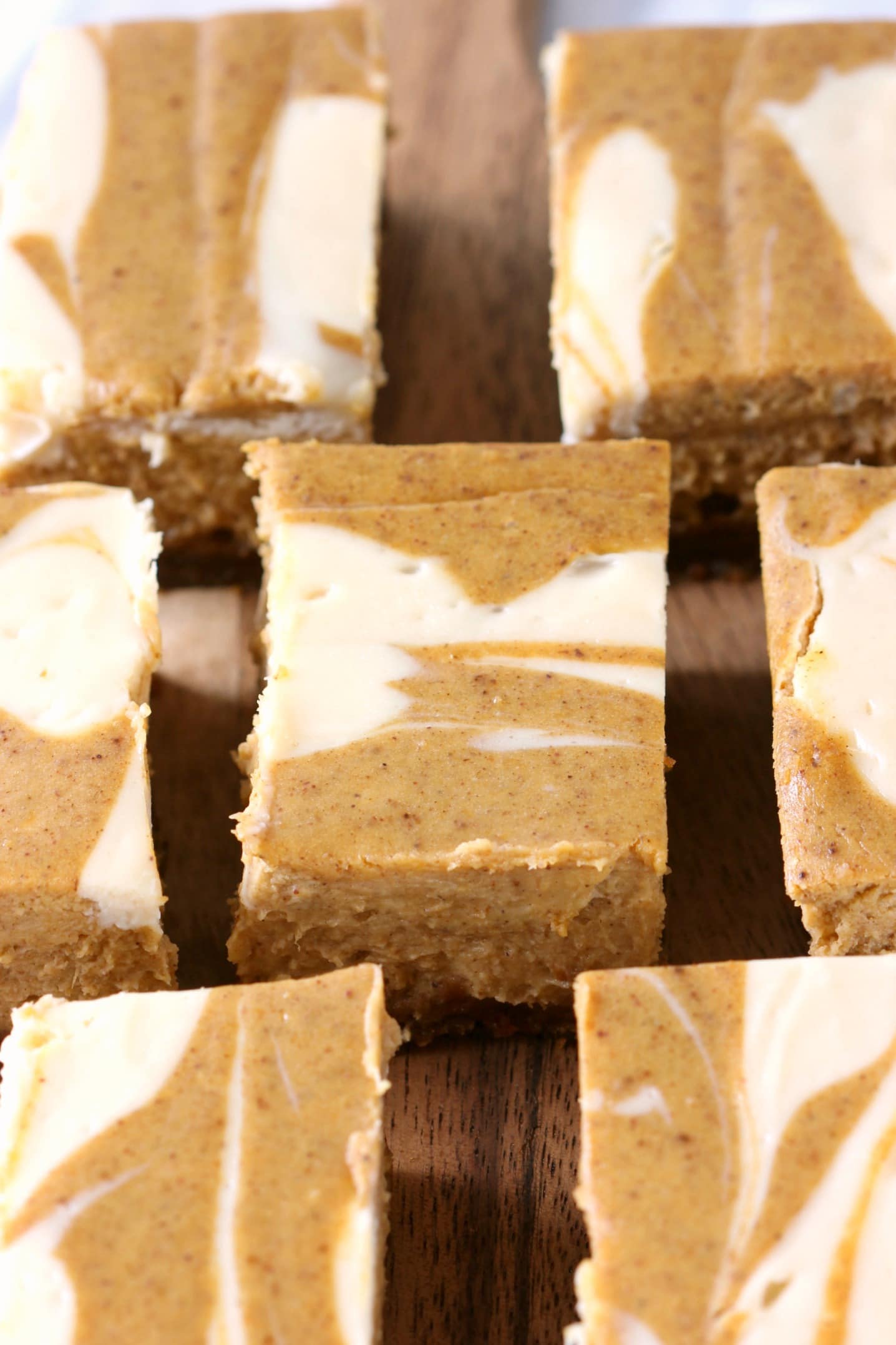 They are also really easy to make! With only around 20 minutes of prep work, you can have these baked and cooling while you work on getting the rest of the meal together.
These also are a perfect dessert to make the day before and have ready to serve for Thanksgiving dessert!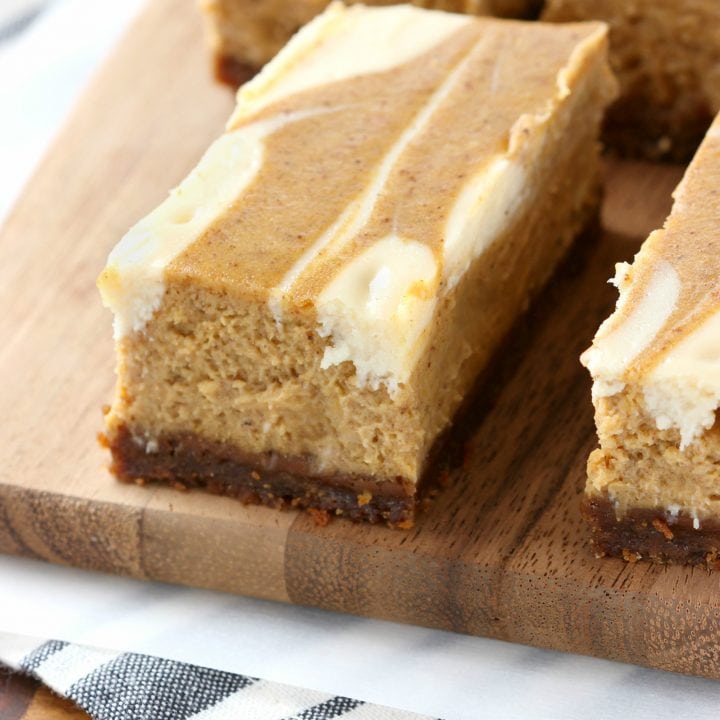 Swirled Pumpkin Pie Cheesecake Bars with Gingersnap Crust
Yield: 12 cheesecake bars

Prep Time: 15 minutes

Bake Time: 35 minutes

Additional Time: 2 hours 30 minutes

Total Time: 3 hours 20 minutes

These Swirled Pumpkin Pie Cheesecake Bars with a Gingersnap Crust are rich, creamy and filled with warm pumpkin pie spices!
Ingredients
For the Crust
2 Cups crushed gingersnaps
1/4 Cup melted butter
For the Cheesecake
2 (8 ounce) packages cream cheese (1/3 of the fat or regular), softened
1/2 Cup brown sugar
1/2 Cup sugar
3 Tablespoons flour
1 (15 ounce) can pumpkin puree (not pumpkin pie filling)
3 eggs
1 teaspoon vanilla extract
2 teaspoons cinnamon
1/2 teaspoon nutmeg
1/2 teaspoon ginger
1/2 teaspoon cloves
1/4 teaspoon allspice
2 Tablespoons milk
Instructions
Preheat oven to 350 degrees Fahrenheit.
In a small bowl, stir together crushed gingersnaps and melted butter. Press mixture into the bottom of a 9x9 inch baking dish. Bake for 8 minutes. Remove to a wire rack.
In the bowl of stand mixer, or with an electric hand mixer, beat together cream cheese, sugars, and flour until creamy. Remove 3/4 cup of the mixture to a small bowl and set aside.
Add pumpkin, eggs, and vanilla extract to remaining mixture and beat until smooth. Stir in spices until combined.
Pour pumpkin mixture over the top of the crust.
Stir milk into reserved cream cheese mixture. Drop mixture by spoonful over pumpkin mixture. Using a knife, swirl the cream cheese mixture through the pumpkin mixture.
Bake for 35-40 minutes or until center is set and knife inserted in the center comes out clean. If the top starts to brown and the center isn't set, cover with aluminum foil to prevent further browning.
Remove to wire rack to cool for 30 minutes before placing in the refrigerator for 2 hours or until completely cooled.
Recommended Products
As an Amazon Associate and member of other affiliate programs, I earn from qualifying purchases.
Nutrition Information:
Yield: 12 Serving Size: 1 cheesecake bar
Amount Per Serving: Calories: 297Total Fat: 10gSaturated Fat: 4gTrans Fat: 0gUnsaturated Fat: 5gCholesterol: 59mgSodium: 250mgCarbohydrates: 49gFiber: 2gSugar: 24gProtein: 4g

Nutrition information shown is an estimate provided by an online calculator and may not always be accurate. It should not be considered a substitute for a medical professional's advice.