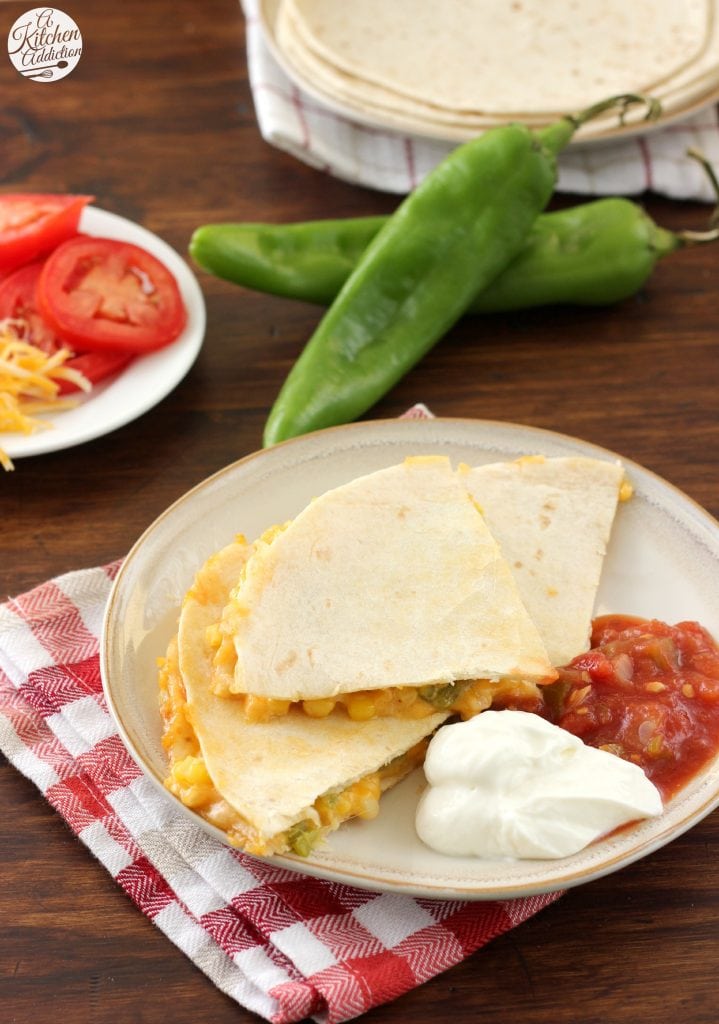 Have you tried hatch chiles yet? They're back for their short season and we're taking advantage of their abundant supply!
I actually hadn't cooked with hatch chiles until last summer when I first made this creamy roasted hatch chile dip. After the first batch, we were hooked.
This summer I wanted to use them in a quick meal for busy weeknights. Quesadillas quickly came to mind because we usually have the ingredients on hand and they are so easy!
Since sweet corn is also abundant this time of year, it only seemed natural to add it! Roasted hatch chile and sweet corn quesadillas were the perfect way to showcase the flavor of the chiles.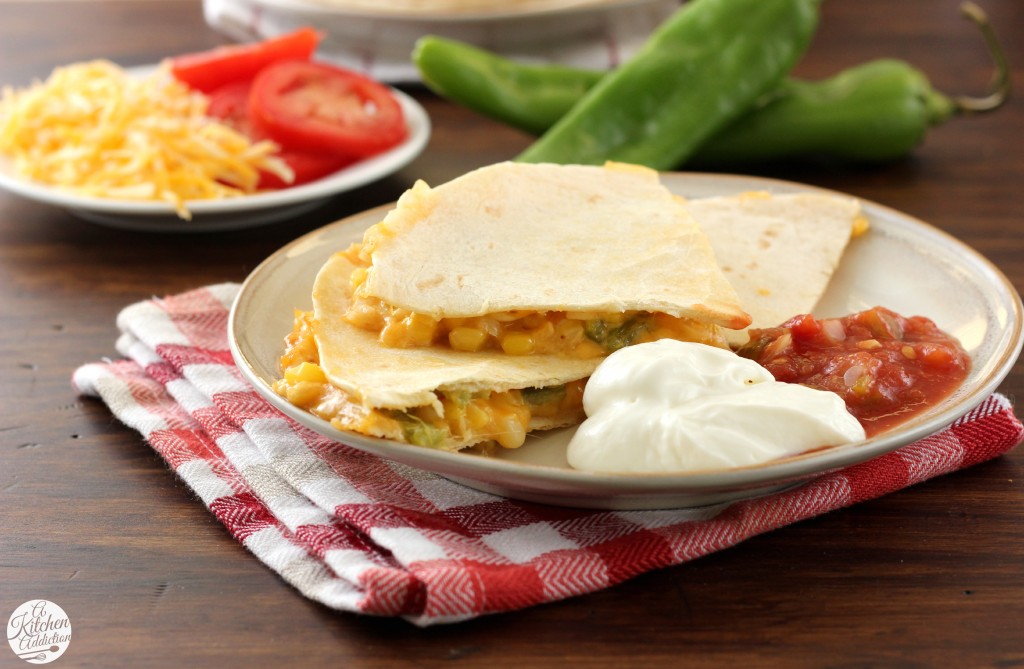 Roasting the chiles brings out the best flavor. If you've never roasted chiles before, I highly recommend you check out Brandy's step-by-step tutorial she just posted!
Grilling them also works great if you already have the grill on. Plus you can grill the corn while you're at it. Either way, this combination of corn and chiles is a delicious filling for quick and easy quesadillas.
Fresh tomatoes are also added and a bit of chile powder is stirred in to round out the filling. The fresh flavors of late summer all wrapped up in one quesadilla.
Take advantage of the fresh produce available this time of year and enjoy these great weeknight quesadillas!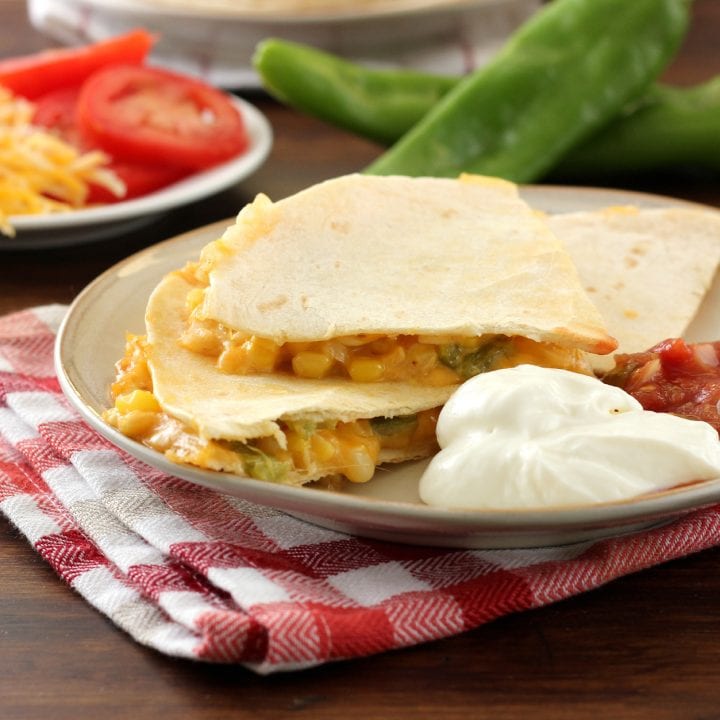 Roasted Hatch Chile and Sweet Corn Quesadillas
Ingredients
1/2 Cup Hatch chile peppers (2-3 peppers), roasted with skin and seeds removed, chopped (Grilled peppers work well, too!)
1 1/2 Cups sweet corn kernels, cooked
1/4 Cup tomatoes, chopped
1-2 teaspoons chile powder, depending on preference
1/2 teaspoon garlic powder
1 1/3 Cups shredded cheese (I used a combination of cheddar and Monterey jack.)
4 8-inch flour tortillas
sour cream and salsa for garnish
Instructions
In a bowl, stir together all ingredients but cheese and tortillas.
Spray a skillet with olive oil (I use a Misto bottle for this) or non-stick cooking spray.
Place a tortilla in the skillet. Top with 1/3 cup shredded cheese. Spread half of chile and corn mixture over the top. Sprinkle with another 1/3 cup shredded cheese. Top with another tortilla.
Cook over medium heat for 3-5 minutes per side or until tortilla is light golden brown and cheese is melted.
Repeat with remaining tortillas and filling.
Cut into wedges and serve with sour cream and salsa.
Store leftovers immediately in the refrigerator.