Crunchy, creamy and salty, sweet, these Pumpkin Pie Seven Layer Bars have a creamy pumpkin layer with a gingersnap base and pecan pumpkin seed topping! Lots of pumpkin pie spice pairs with creamy white chocolate in this fall twist to traditional seven layer bars!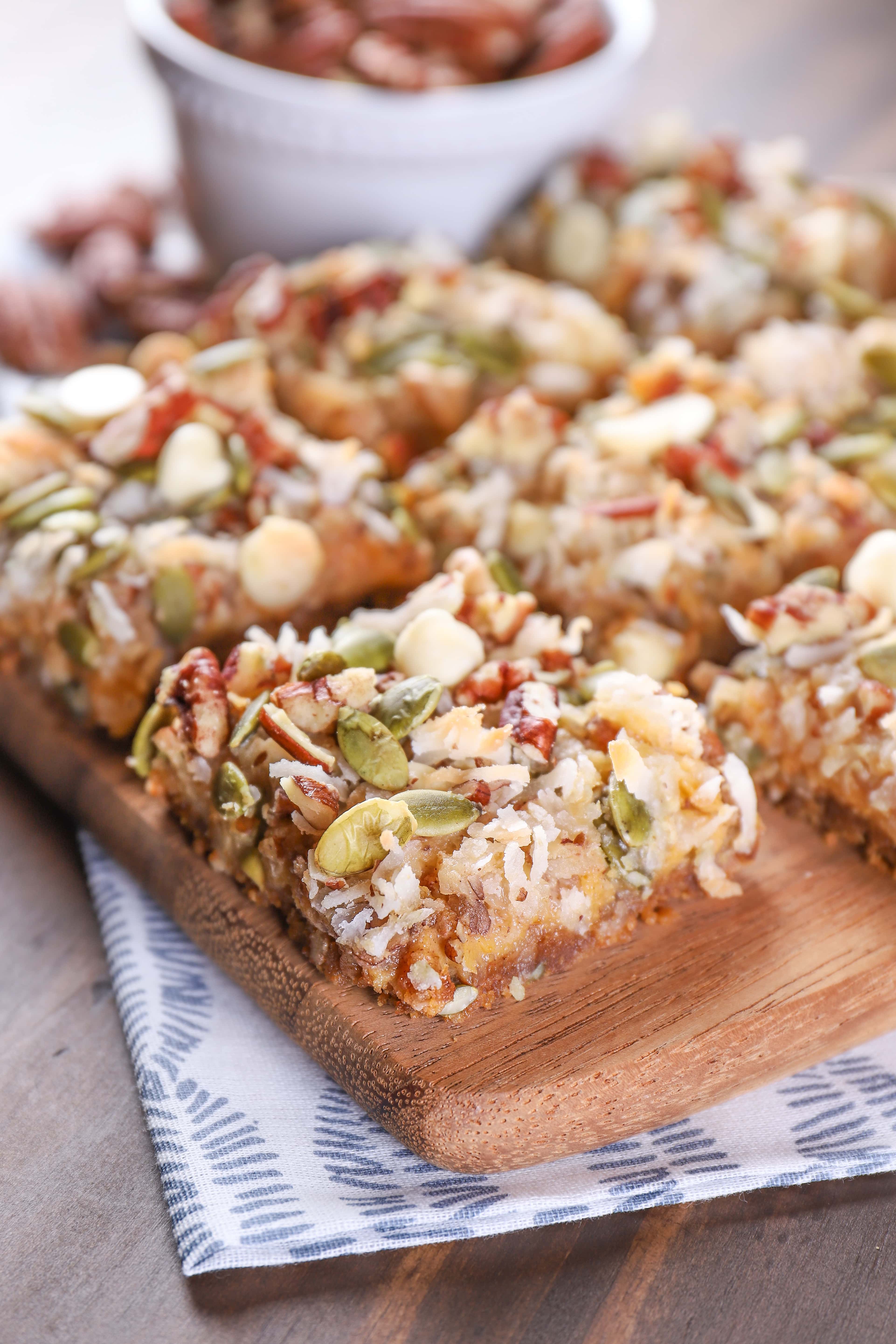 Seven layer bars are some of my favorite bars to make. That has probably become evident to you who have been readers for awhile.
What started with the classic "birthday bars" that I grew up with turned into few variations to these s'mores seven layer bars and a handful more!
Whether you call them magic bars or seven layer bars, they are easy to make and can be made with so many different flavor combinations! (And they don't require lots of prep work or dirty dishes!)
I've had some of you ask for pumpkin seven layer bars. It's taken awhile, but here they are! Pumpkin pie seven layer bars that are crunchy and creamy, salty and sweet.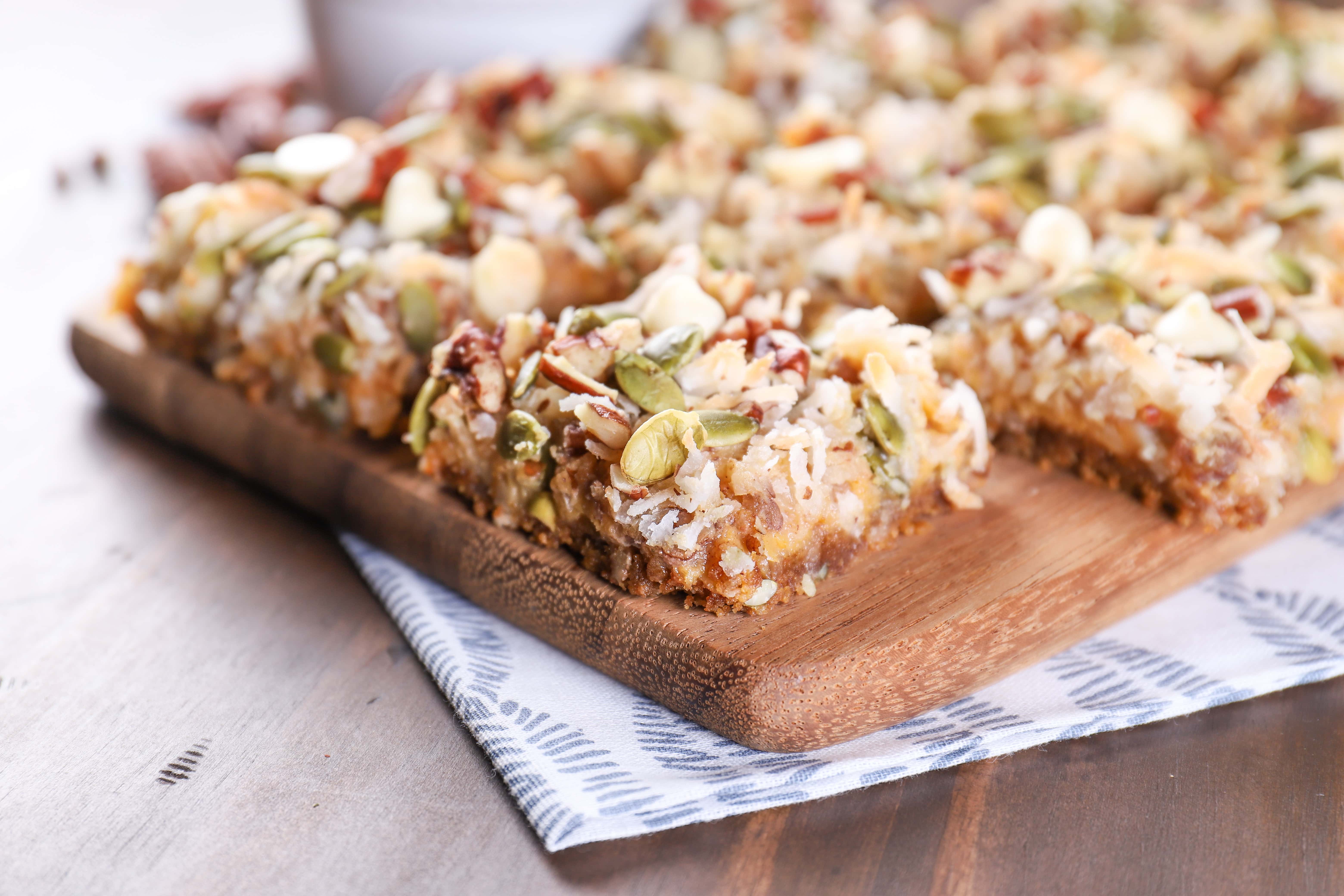 It all starts with a gingersnap crust that is topped with a creamy pumpkin layer. The toppings are made up of a smattering of white chocolate chips, shredded coconut, pecans, and pumpkin seeds/pepitas.
You can use either raw pumpkin seeds or for a salty addition to the bars, use roasted and salted pumpkin seeds!
Either way, these fall dessert bars will disappear in a hurry!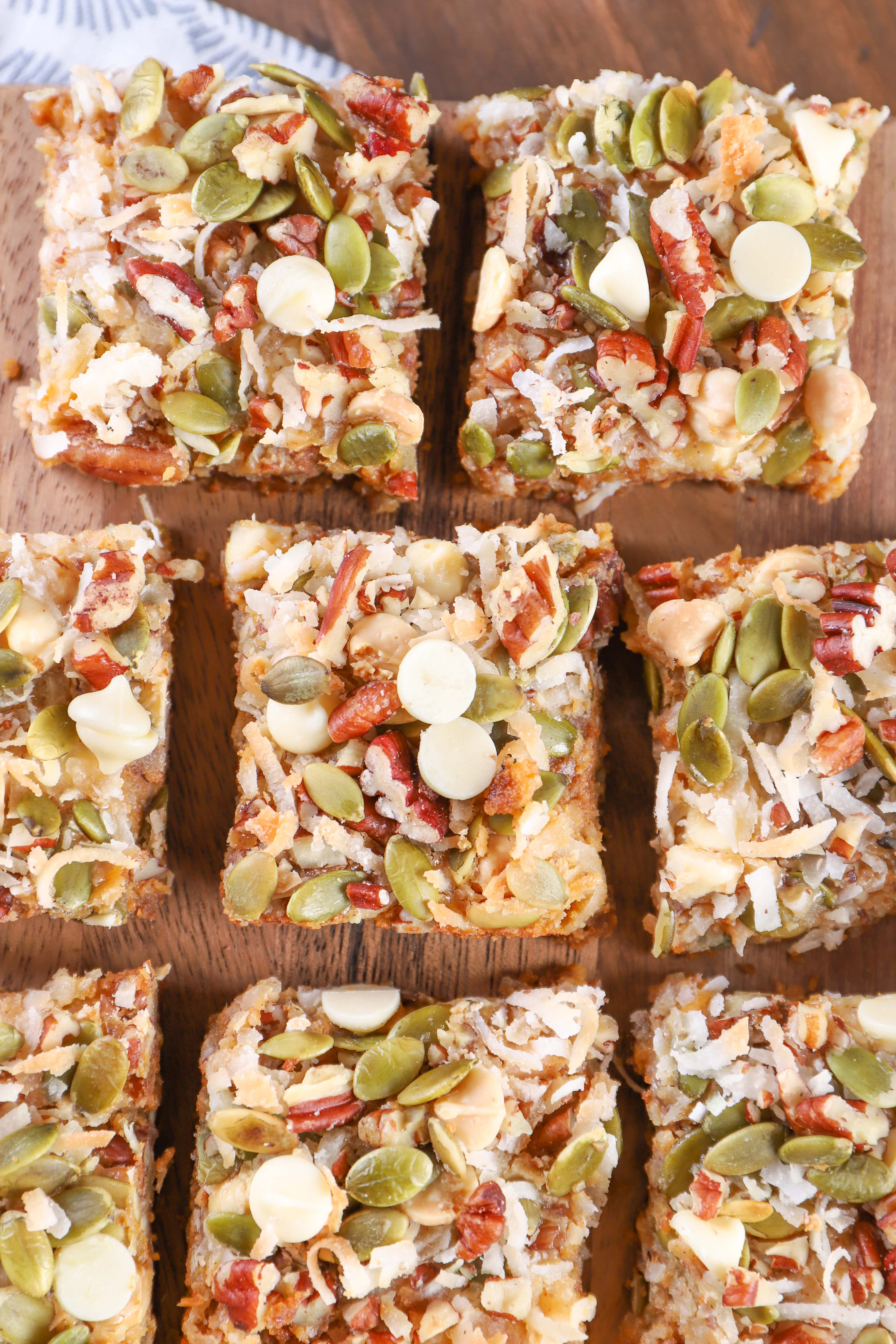 Tips for Making Pumpkin Pie Seven Layer Bars
If you don't like gingersnaps, you can easily swap out the gingersnap crumbs for graham cracker crumbs.
My taste-testers felt like the small amount of white chocolate was perfect. Any more and it seemed really sweet. But, if you love white chocolate, you can experiment with more.
You can use 1 1/2 teaspoons of pumpkin pie spice in place of the cinnamon, nutmeg, ginger, allspice, and cloves.
I sprinkled a few extra white chocolate chips on the top of the bars after pulling them out of the oven to add a little more visual appeal so you know that white chocolate is in them. Feel free to skip this step.
You can use walnuts in place of the pecans.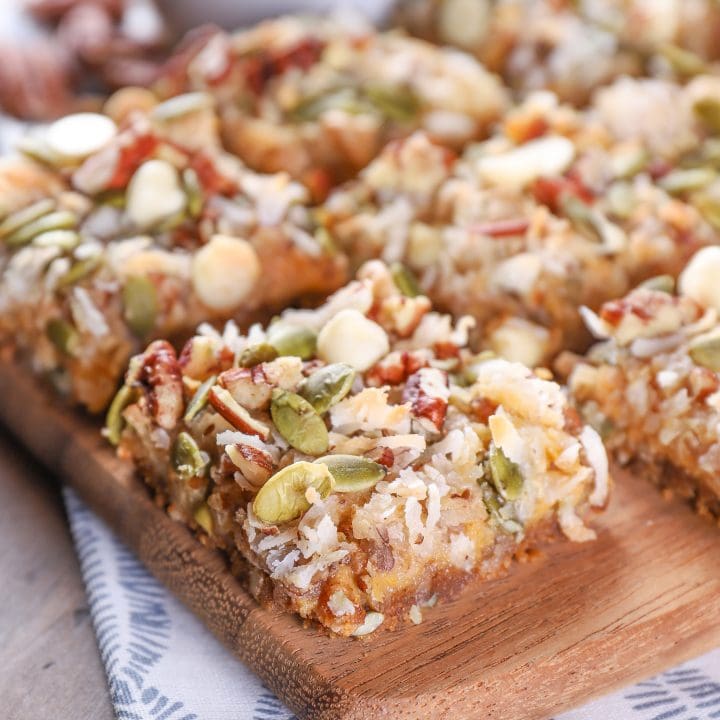 Pumpkin Pie Seven Layer Bars
Ingredients
2 1/2 C gingersnap crumbs
1/2 C butter, melted
1 (14 ounce) can sweetened condensed milk
1 C pumpkin puree (not pumpkin pie filling)
1 tsp cinnamon**
1/2 tsp nutmeg**
1/2 tsp ginger**
1/4 tsp allspice**
1/4 tsp cloves**
1 1/4 C shredded coconut
1 C chopped pecans
1/4 C white chocolate chips
1/2 C raw pumpkin seeds/pepitas
2 tbsp white chocolate chips, for optional garnish.
Instructions
Preheat oven to 350. Spray a 9x13 inch baking dish with non-stick cooking spray or line with parchment paper.
In a small bowl, mix together gingersnap crumbs and melted butter. Press mixture into prepared baking dish.
In a separate small bowl, whisk together sweetened condensed milk, pumpkin puree, and pumpkin pie spice. Spread sweetened condensed milk mixture over the top of the gingersnap crust.
Sprinkle with all of the white chocolate chips, half of shredded coconut, chopped pecans, and pepitas. Repeat layers with remaining ingredients. Gently press down on topping.
Bake for 20-25 minutes, or until coconut begins to brown and edges are golden.
Carefully remove from oven to a cooling rack. Sprinkle with 2 tablespoons of white chocolate chips, optional. Allow to cool for at least 15 minutes before cutting into bars.
Notes
You can use 1 1/2 teaspoons of pumpkin pie spice in place of the cinnamon, nutmeg, ginger, allspice, and cloves.
Recommended Products
As an Amazon Associate and member of other affiliate programs, I earn from qualifying purchases.