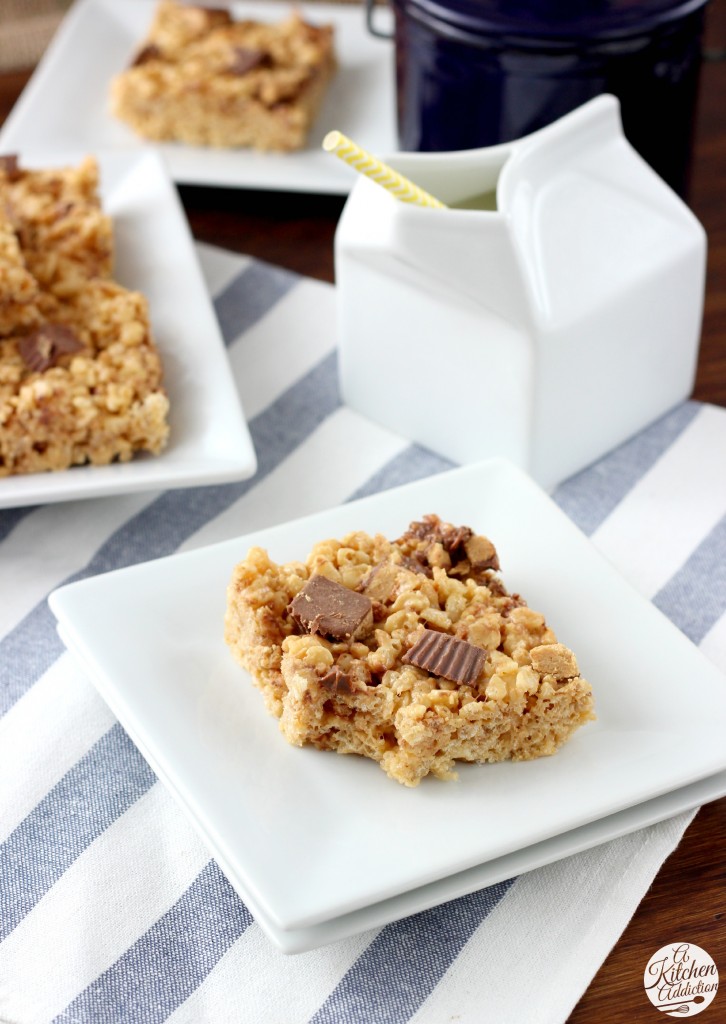 I feel like I should start off by apologizing in advance if this post makes no sense! We didn't get back from our weekend trip until 1:00am CST Thursday morning. We got to the airport for our flight at 3:00pm EST. Got to love flight delays!
So now Thursday afternoon I am attempting to write about food when all I can think about is how I want to go to sleep.
Despite my eyelids drooping and my slow thought process, I hope you can understand just how delicious these peanut butter cup rice crispy treats are!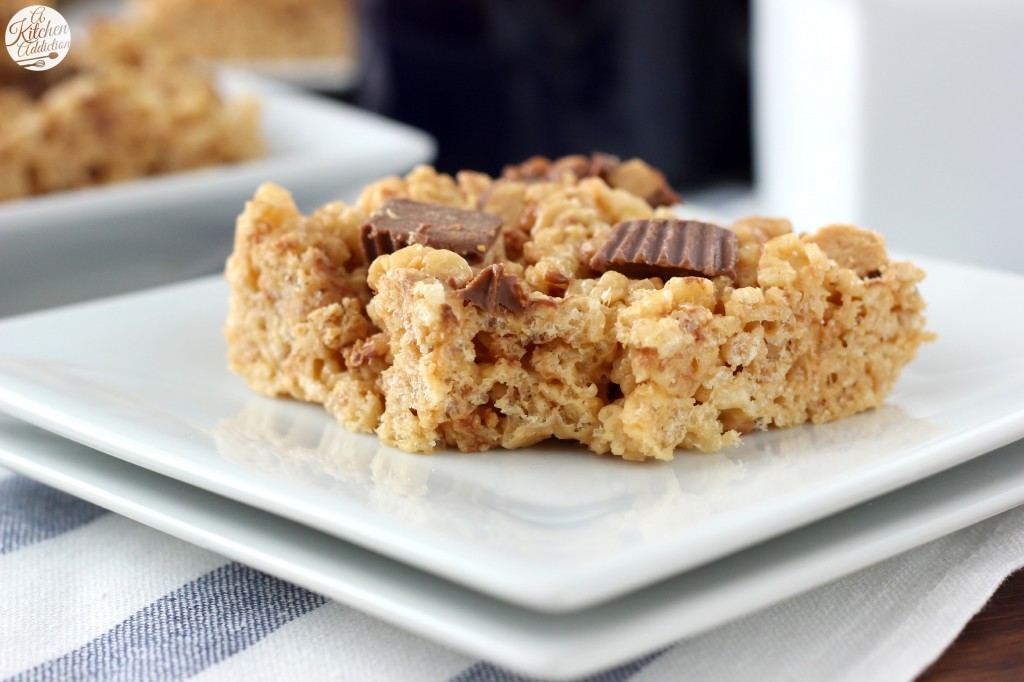 It's been so long since I've made crispy treats that I was afraid they would turn out funny. Either super sweet or as hard as a rock, neither of which are appealing!
I was pretty excited as I cut into the bars to discover that they were soft and gooey. Just the way we like them!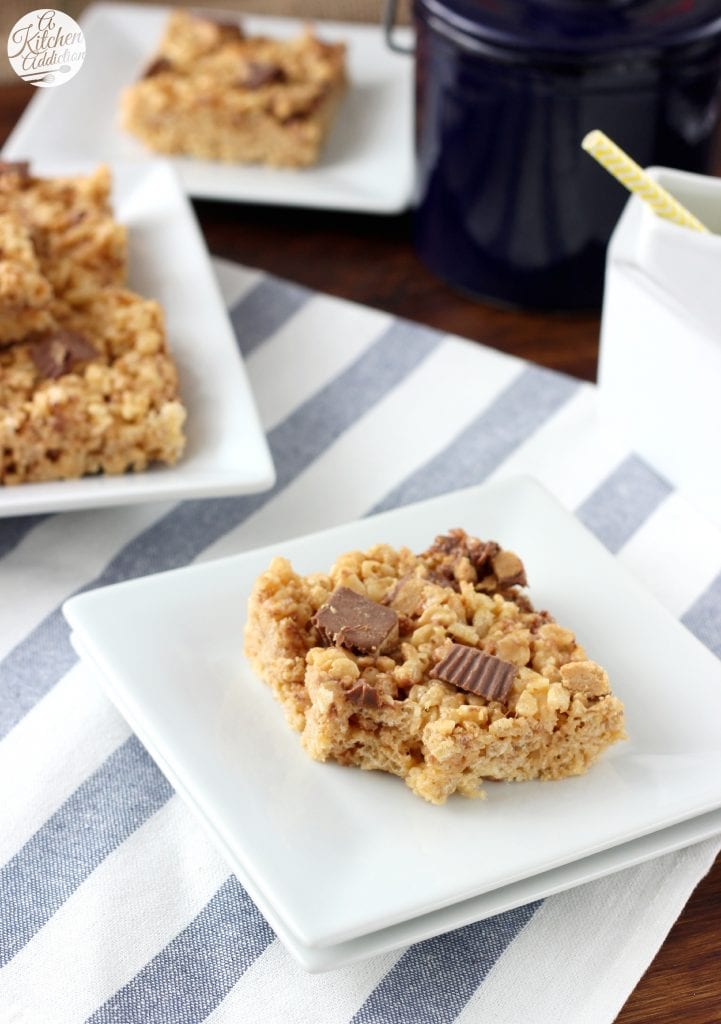 Lots of peanut butter and peanut butter cups give these rice crispy treats a classic chocolate and peanut butter combination. In order to keep them from being too rich, I made them thin in a 9×13.
Feel free to make them in a smaller pan if you want a thicker bar. Either way, you'll enjoy biting into one of these peanut buttery crispy treats!
If you need a special treats for your kids going back to school or just want a delicious dessert, these super easy peanut butter cup rice crispy treats will make everyone happy!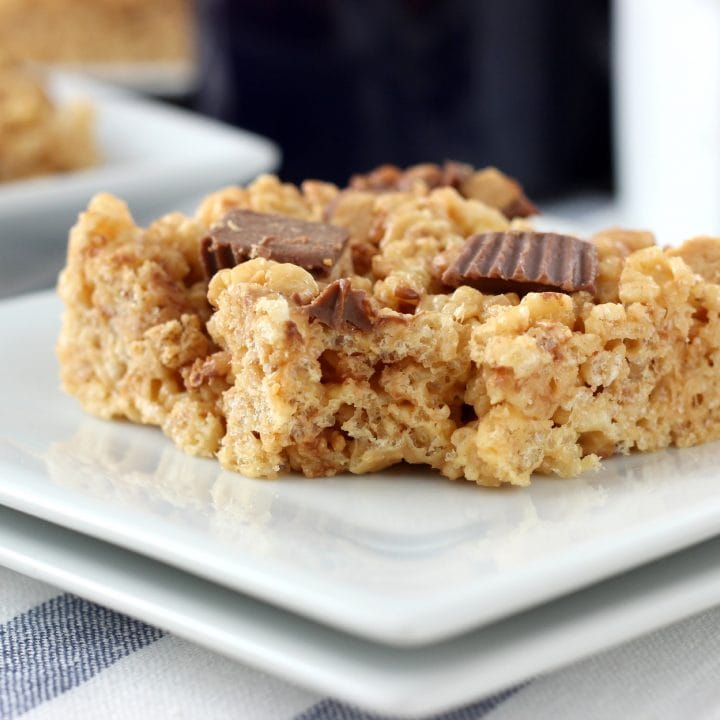 Peanut Butter Cup Rice Crispy Treats
Ingredients
1/4 C butter
1 (10 oz) package marshmallows
1/2 C creamy peanut butter
6 C crisp rice cereal
1/2 C chopped peanut butter cups, about 6 cups
additional peanut butter cups for garnish, optional
Instructions
Butter or spray with non-stick cooking spray a 9x13 inch baking dish.
In a large saucepan (I used a 6 qt), melt butter over low heat. Stir in marshmallows until melted. Stir in peanut butter until smooth.
Add rice cereal and stir until coated. Stir in chopped peanut butter cups. They will start to melt and that's okay.
Gently press mixture into prepared baking dish. Do not press too hard or bars will turn out hard. Top with additional chopped peanut butter cups.
Allow to cool completely before cutting into pieces and serving.