Tender with a slight nuttiness from the oats, these Peanut Butter Chocolate Chip Oatmeal Scones have the subtle flavor of a peanut butter chocolate chip cookie that you get to enjoy for breakfast!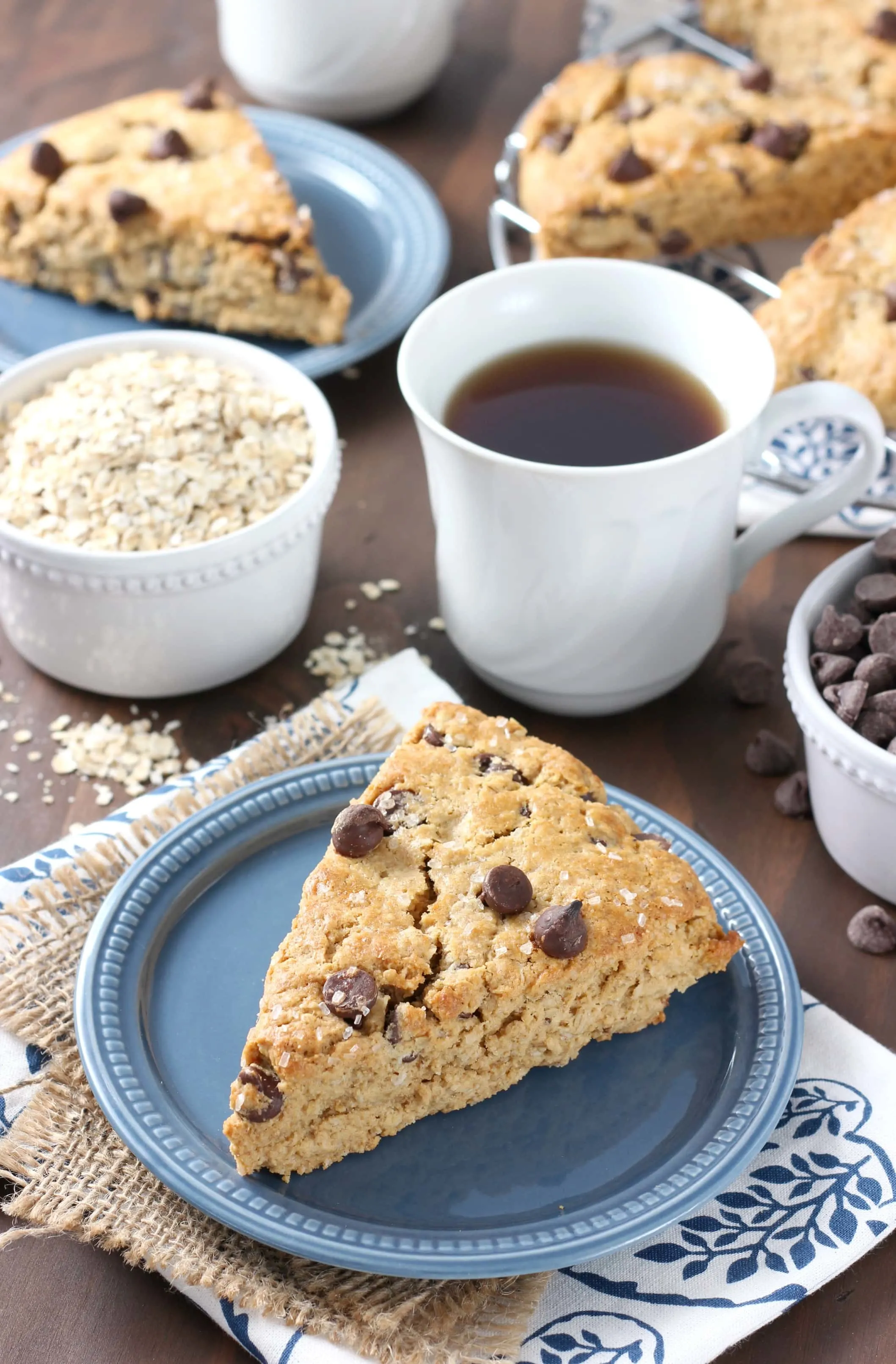 *Text and recipe from 02/27/13. Images updated 01/19/17.
Today is a continuation of my favorite flavor combination of peanut butter, oats, and chocolate chips. Monday that combination was found in the form of Monster Cookie Bars and today that combination is found in scones. Yes, scones.
This is the first time that I have used oats in a scone recipe, and I was a little apprehensive of how they would turn out. Still, ever since seeing a variation of these scones over on Brown Eyed Baker, I've wanted to give them a try.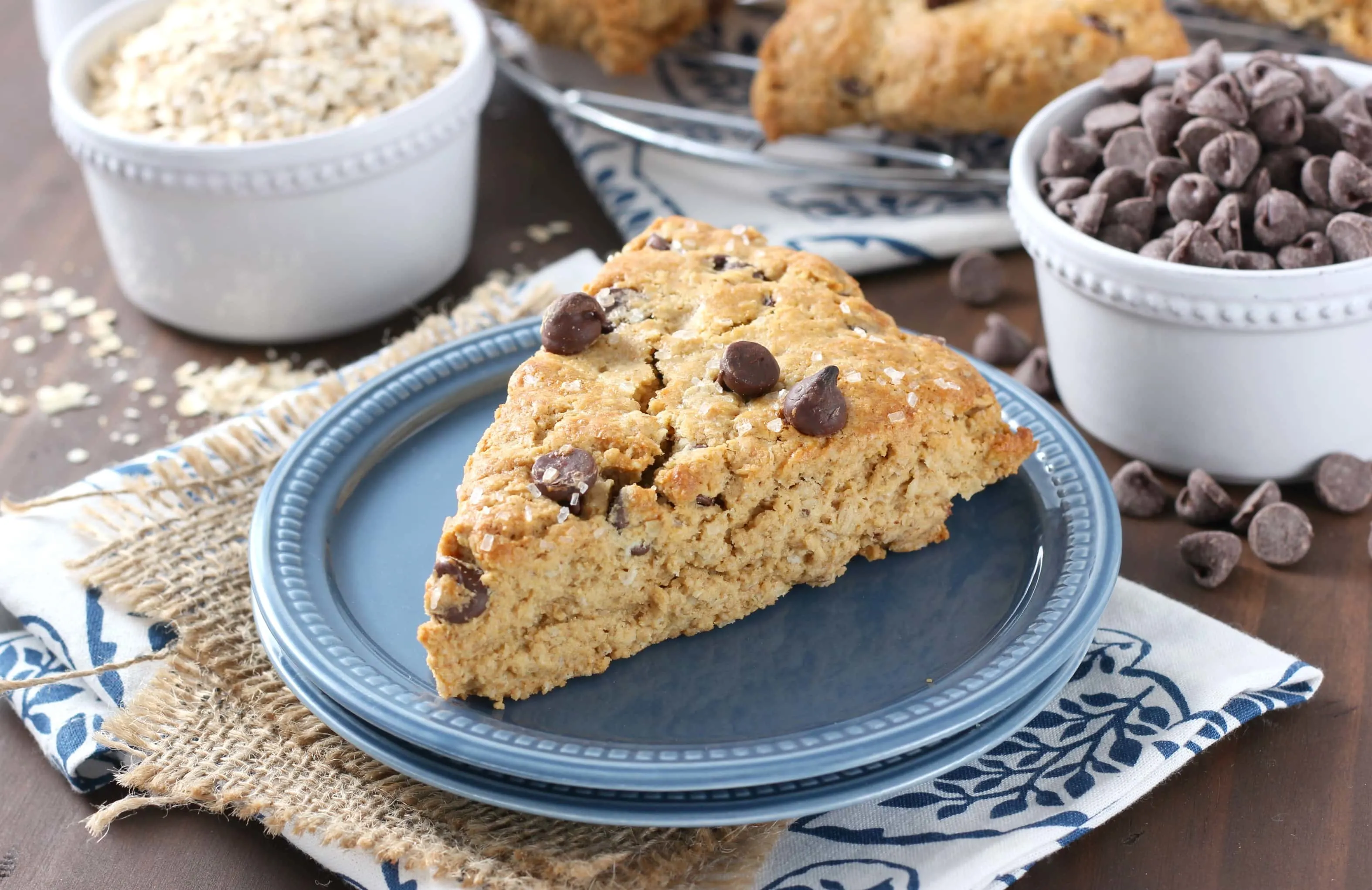 The oats give the scones a slight chewy texture that is different than most tender, flaky scones. However, I found that the chewiness went well with the peanut butter and chocolate chips. The scone is still tender and far from dry and crumbly.
Just the way that I like them! The peanut butter isn't over powering and adds a subtle flavor to the oatmeal base of the scones.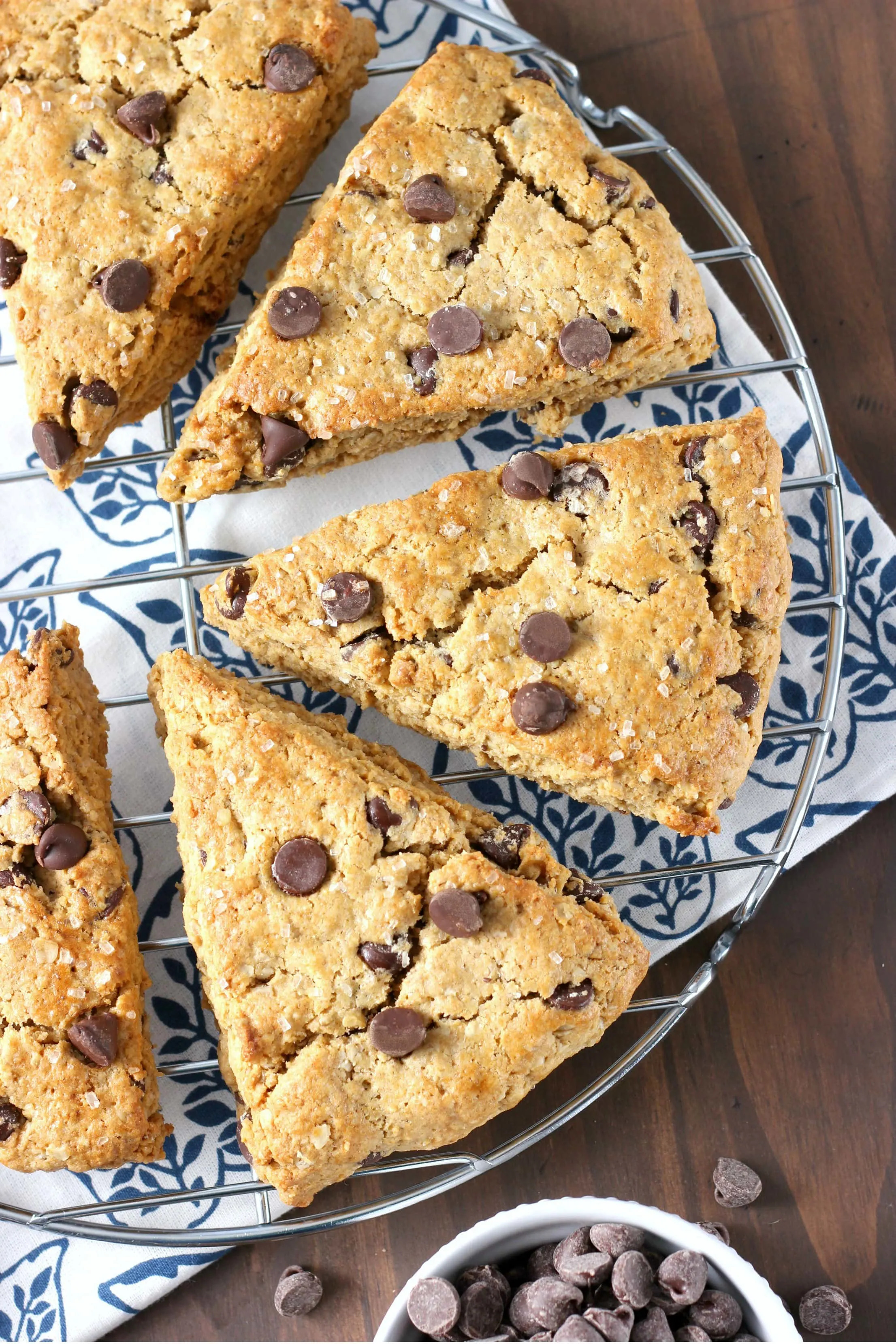 So if you like peanut butter chocolate oatmeal cookies, you have to try these peanut butter chocolate chip oatmeal scones. Plus, it's practically like getting to eat cookies for breakfast!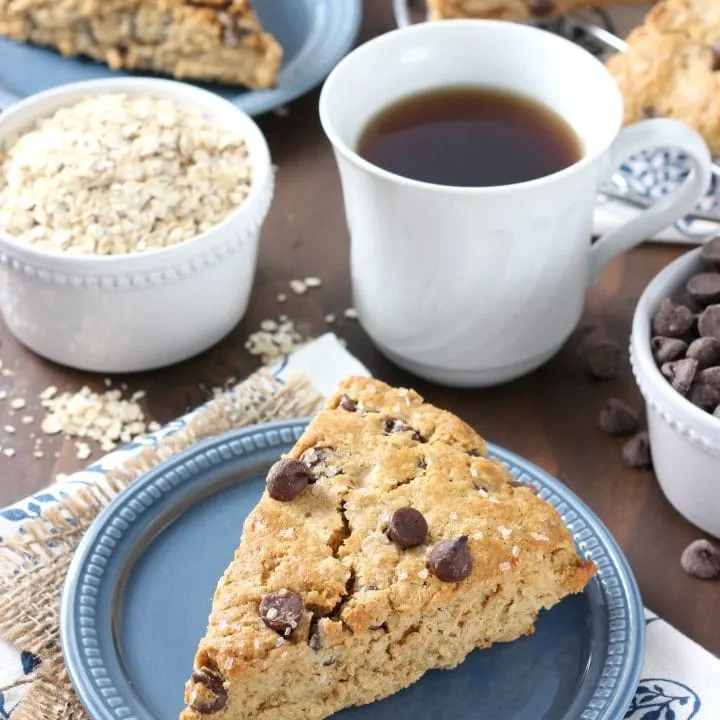 Peanut Butter Chocolate Chip Oatmeal Scones
Ingredients
1 C white whole wheat flour
1 C all-purpose flour
1 C quick oats
1/2 C brown sugar
1 tsp baking powder
1 tsp baking soda
1/2 tsp salt
1/2 C unsalted butter, cold and cut into pieces
3/4 C milk
1 egg, separated
1/2 C no-stir natural creamy peanut butter
2/3 C + 1 tbsp chocolate chips
1 tsp water
coarse sugar, for sprinkling tops
Instructions
Preheat oven to 400. Line a cookie sheet with a baking mat or parchment paper.
In a large bowl, whisk together flour, oats, sugar, baking powder, baking soda, and salt. Cut in cold butter until mixture resembles coarse crumbs.
In a medium bowl, carefully whisk together milk, egg yolk, and peanut butter. Add wet ingredients to dry ingredients. Gently incorporate until just combined. Stir in 2/3 cup chocolate chips.
Turn dough out unto a lightly floured surface. Pat dough into an 8 inch round. Cut into 8 pieces and place on prepared baking sheet. Whisk together egg white and water. Brush with egg white mixture. Sprinkle with coarse sugar and additional 1 tablespoon chocolate chips.
Bake for 15 - 20 minutes or until just golden brown and toothpick inserted into the center comes out clean. Do not overbake.
Remove to a wire rack to cool. Store leftovers in an airtight container.
Recommended Products
As an Amazon Associate and member of other affiliate programs, I earn from qualifying purchases.
This recipe is adapted from
Brown Eyed Baker
via
Baked Elements
.
Want more of the peanut butter chocolate oatmeal combination? You'll love these recipes, too!
Peanut Butter Chocolate Chip Oatmeal Cookie Granola Bites
Peanut Butter Chocolate Chip Cheesecake Bars
Peanut Butter Chocolate Chip Oat Muffins