These Bakery Style Lemon Poppy Seed Muffins are perfectly sweetened and tender with a tart lemon glaze and sprinkling of coarse sugar!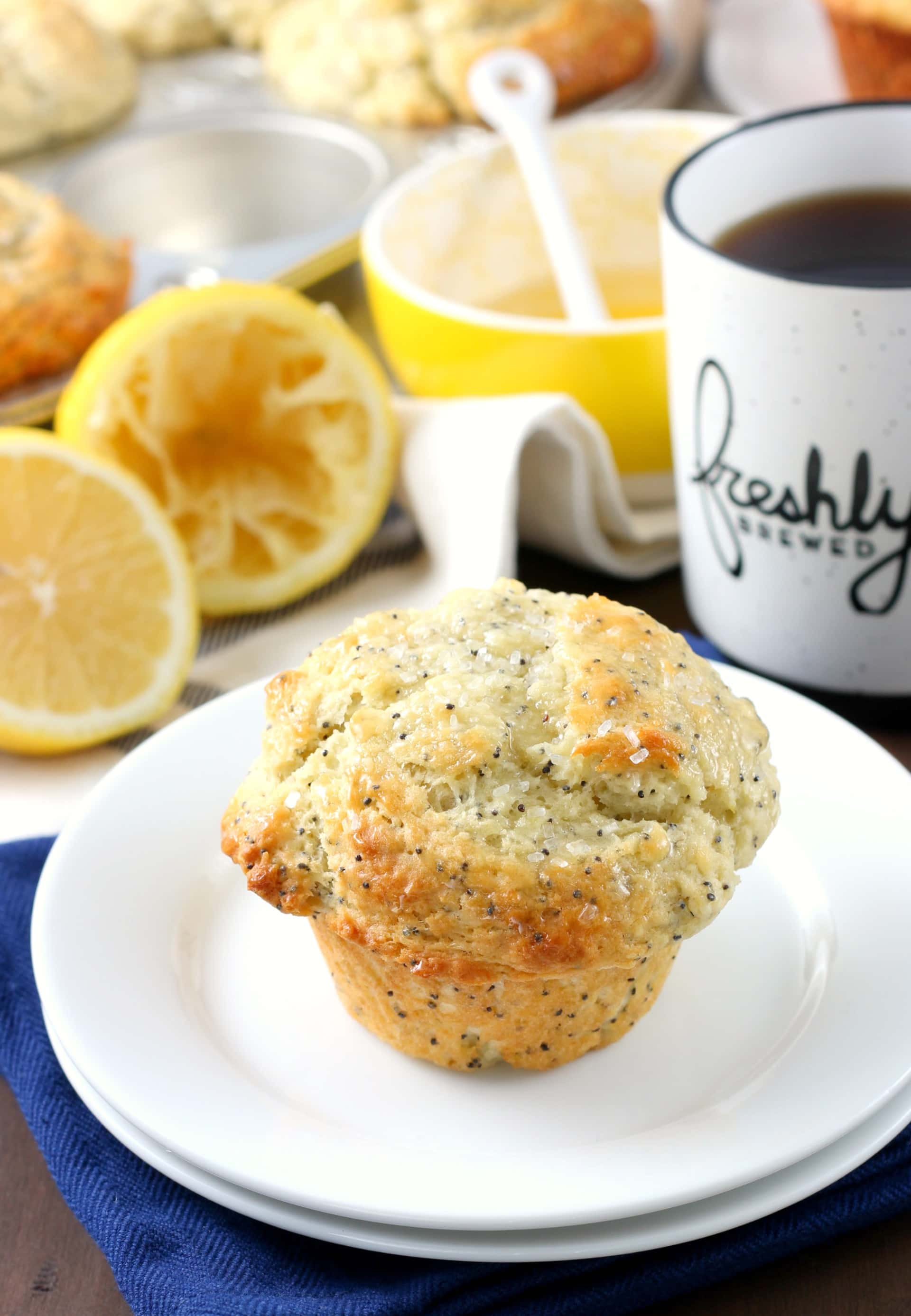 *Disclaimer: I received a cookbook from America's Test Kitchen for review purposes only. All opinions are completely my own.
It's been a little while, but I have another great cookbook to share with you! Thanks to America's Test Kitchen's latest cookbook, What Good Cooks Know, we've been happily eating these delicious bakery style lemon poppy seed muffins!
My husband and I agreed that these muffins were definitely going to make an appearance at our house again!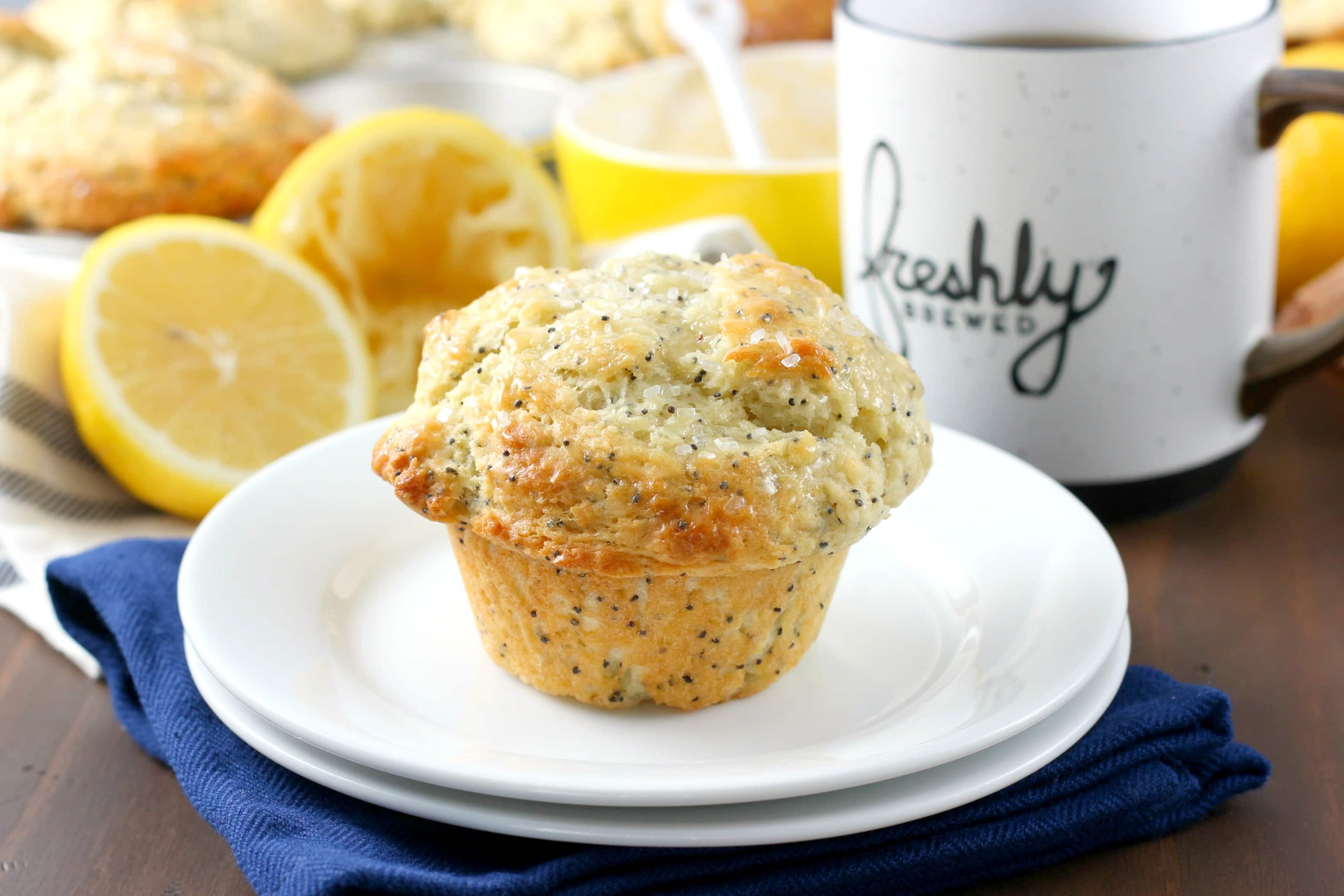 Just look at them. Not too dense. Not too sweet (In fact, they have an addicting tart lemon glaze on top! Don't skip the glaze or else you won't get much of a lemon flavor!). Not too oily (There's actually no oil in them!). Can you tell what I don't like about a lot of muffins?! Oh, and they're big!
Thanks to the work of America's Test Kitchen experts, the recipe is foolproof. Just like the rest of the recipes that are found in this handbook.
This cookbook really is an essential handbook. This handbook is the first time that the cumulative wisdom of the test kitchen has been gathered and organized to create a go-to kitchen handbook for home cooks.
Perfect for brand-new cooks and experienced cooks alike, this book contains equipment testing, ingredient tasting, food science, technique instruction, research and development. And, of course, recipes that put all of that information together!
And those recipes? They contain a step-by-step tutorial and helpful tips to ensure the right outcome! As you'd expect from America's Test Kitchen, each step also contains a "why." This, as I'm sure you've come to realize, is my favorite part. I love knowing why a certain method, ingredient, utensil, etc. is necessary for the outcome.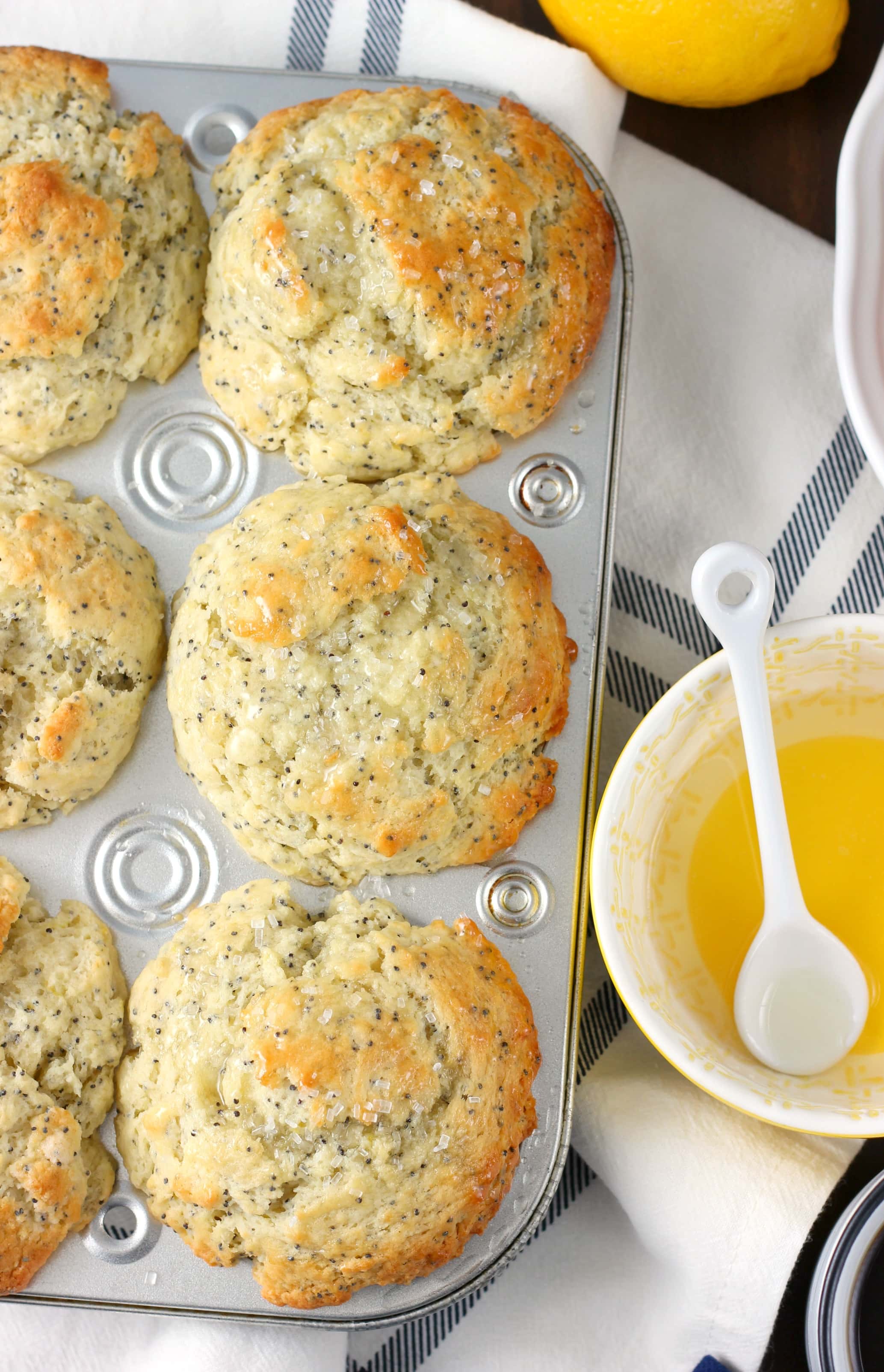 These muffins were just one of the recipes that this handbook contains. It actually has a basic recipe that comes with 4 variations that you can make from it! I think everyone needs a go-to muffin recipe. Muffins are just so versatile, and they're super easy to make!
These bakery style lemon poppy seed muffins are no different. Just few steps before you're biting into your new favorite muffin! You can enjoy one for breakfast, an afternoon snack, or even dessert!
Want a chance to win this cookbook for yourself? Simply leave a comment below telling me the name of the recipe that you think "good cooks" should know! That's it. Good luck! (GIVEAWAY CLOSED)
If you can't wait to see if you won, you can buy a copy here!
More Favorite Muffin Recipes: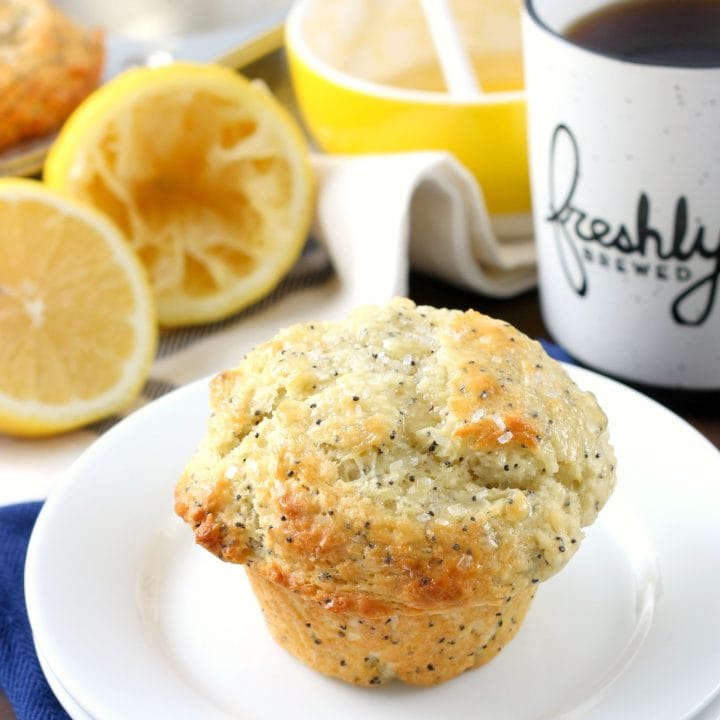 Bakery Style Lemon Poppy Seed Muffins
Yield: 12 muffins

Cook Time: 25 minutes

Total Time: 25 minutes

These Bakery Style Lemon Poppy Seed Muffins are perfectly sweetened and tender with a tart lemon glaze and sprinkling of coarse sugar!
Ingredients
For Muffins
3 C all-purpose flour
1 C sugar
2 tbsp poppy seeds
1 tbsp baking powder
1/2 tsp baking soda
1/2 tsp salt
1 1/2 C plain whole milk yogurt or low-fat yogurt
2 tbsp fresh lemon juice, optional
1 1/2 tbsp grated lemon zest
2 large eggs
8 tbsp unsalted butter, melted and cooled
For the Glaze
1/4 C sugar
1/4 C lemon juice
coarse sugar for sprinkling, optional
Instructions
Adjust oven rack to middle position and heat oven to 375 degrees F. Grease 12-cup muffin tin.

Whisk flour, sugar, poppy seeds, baking powder, baking soda, and salt together in a large bowl.

In a separate bowl, whisk yogurt, lemon zest, and eggs until smooth. Gently fold yogurt mixture into flour mixture until just combined. Fold in melted butter. Do not overmix. If you overmix, the muffins will be dense.

Divide batter evenly among prepared muffin cups. (I like to use this ice cream scoop to make it easy) Bake until golden brown and toothpick inserted in the center comes out clean, 20 to 25 minutes. Rotate muffin tin halfway through baking.

While muffin are baking, simmer sugar and lemon juice together in a small saucepan over medium heat until it turns into a light syrup, about 3-5 minutes.

Remove muffin tin to a wire rack. Brush with lemon syrup. Sprinkle with coarse sugar. Let muffins cool in tin for 5 minutes, then transfer to a wire rack and let cool for another 10 minutes before serving.
Recommended Products
As an Amazon Associate and member of other affiliate programs, I earn from qualifying purchases.
Nutrition Information:
Yield: 12 Serving Size: 1
Amount Per Serving: Calories: 319Total Fat: 11gSaturated Fat: 6gTrans Fat: 0gUnsaturated Fat: 4gCholesterol: 56mgSodium: 308mgCarbohydrates: 51gFiber: 1gSugar: 26gProtein: 6g

Nutrition information shown is an estimate provided by an online calculator. It should not be considered a substitute for a medical professional's advice.

This recipe is used with permission from: What Good Cooks Know: 20 Years of Test Kitchen Expertise In One Essential Handbook
Disclaimer: I received this cookbook for review purposes only. All opinions are completely my own. Giveaway is sponsored by America's Test Kitchen, is open to US residents 18 years of age and older, and runs from 01/25/17-02/08/17. (GIVEAWAY CLOSED)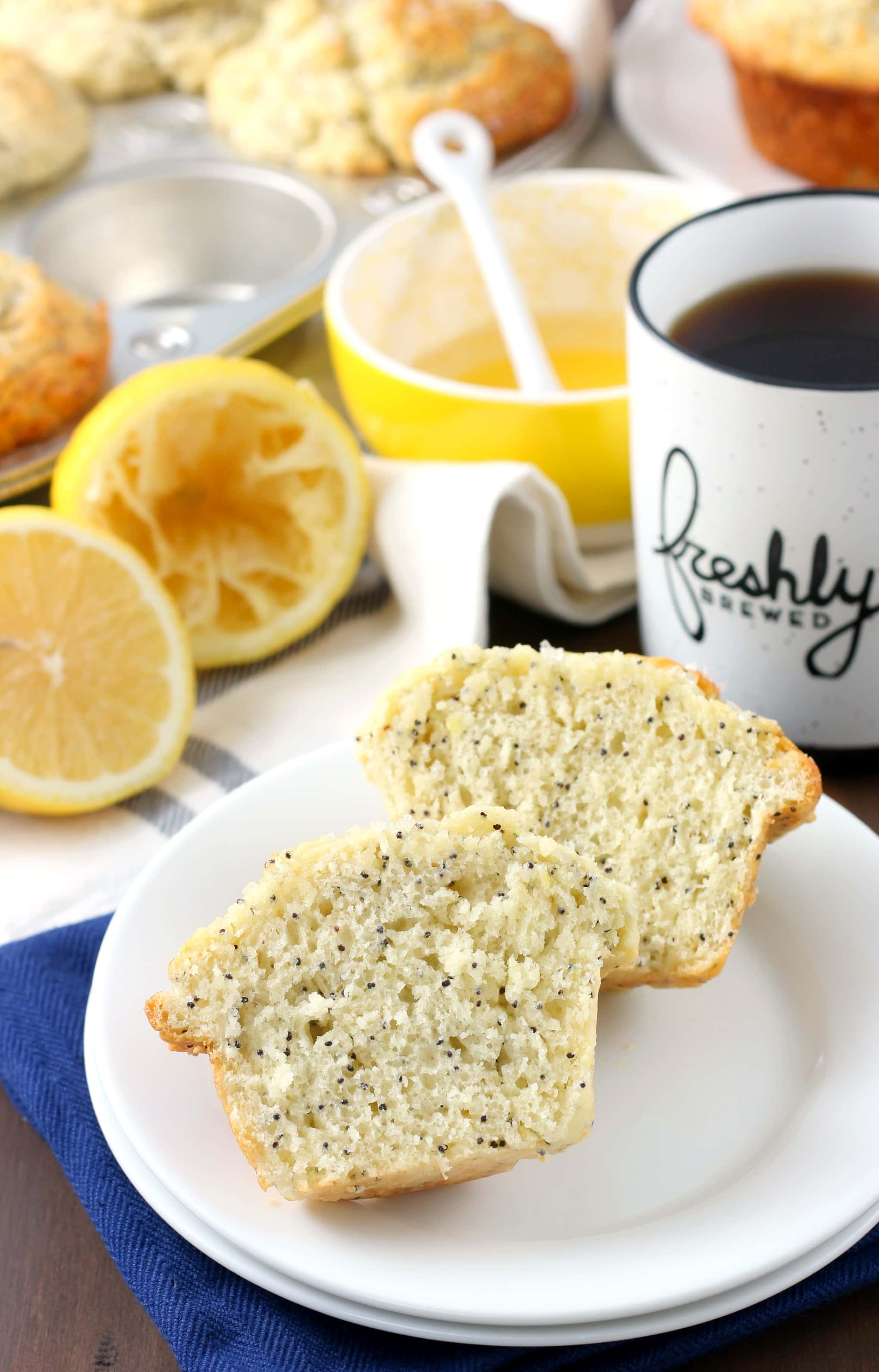 This post may contain affiliate links.