A creamy layer of cheesecake is sandwiched between layers of chewy peanut butter chocolate chip oatmeal cookie in these irresistible Peanut Butter Chocolate Chip Cheesecake Bars!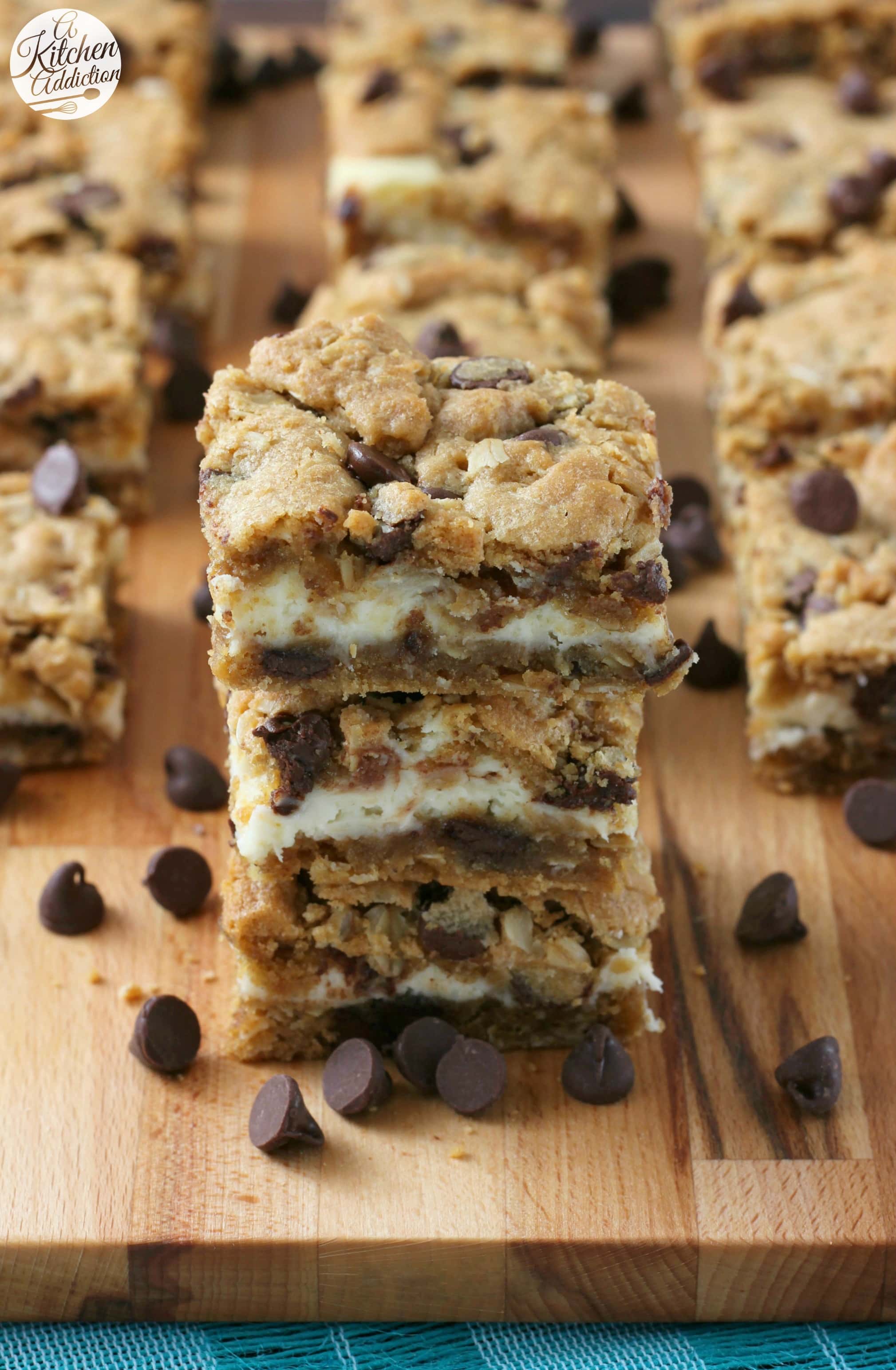 *Recipe posted 08/19/13. Images updated 07/13/16.
Since I made maple glazed french toast scones for my mom when we went up to visit this weekend, I had to make sure to make something for my dad so he wasn't left out.
I've made these peanut butter chocolate chip cheesecake bars a few times before and knew that he would love them. Plus, I would finally get to share them with you!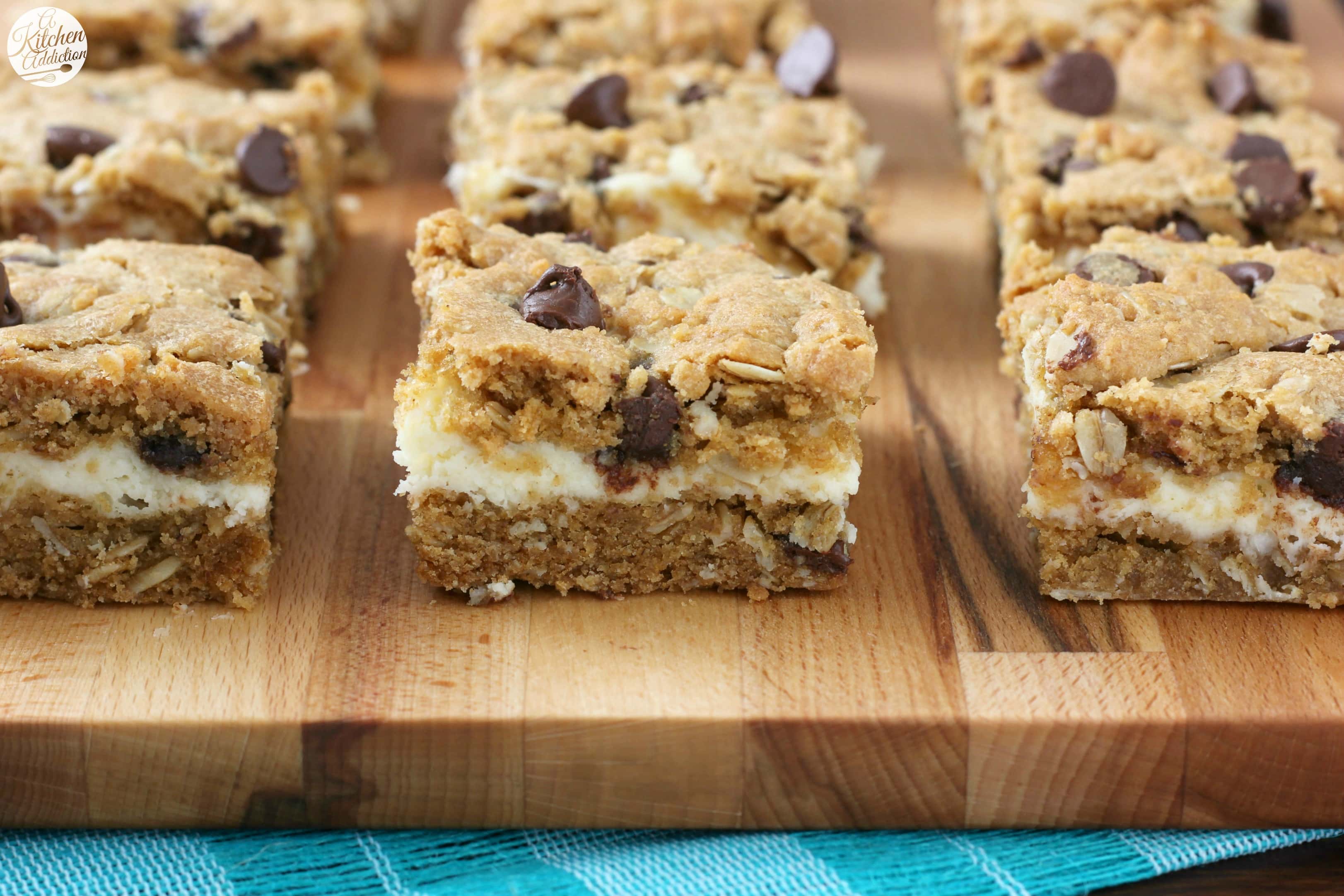 These bars are easy to assemble and a lot quicker to bake than a regular cheesecake. A creamy layer of cheesecake is sandwiched between layers of chewy peanut butter chocolate chip oatmeal cookie.
Just enough oatmeal is mixed in to give the cookie layers a slight nutty flavor while without making them too heavy. Peanut butter is added in because peanut butter is the perfect pairing to oatmeal cookies and cheesecake!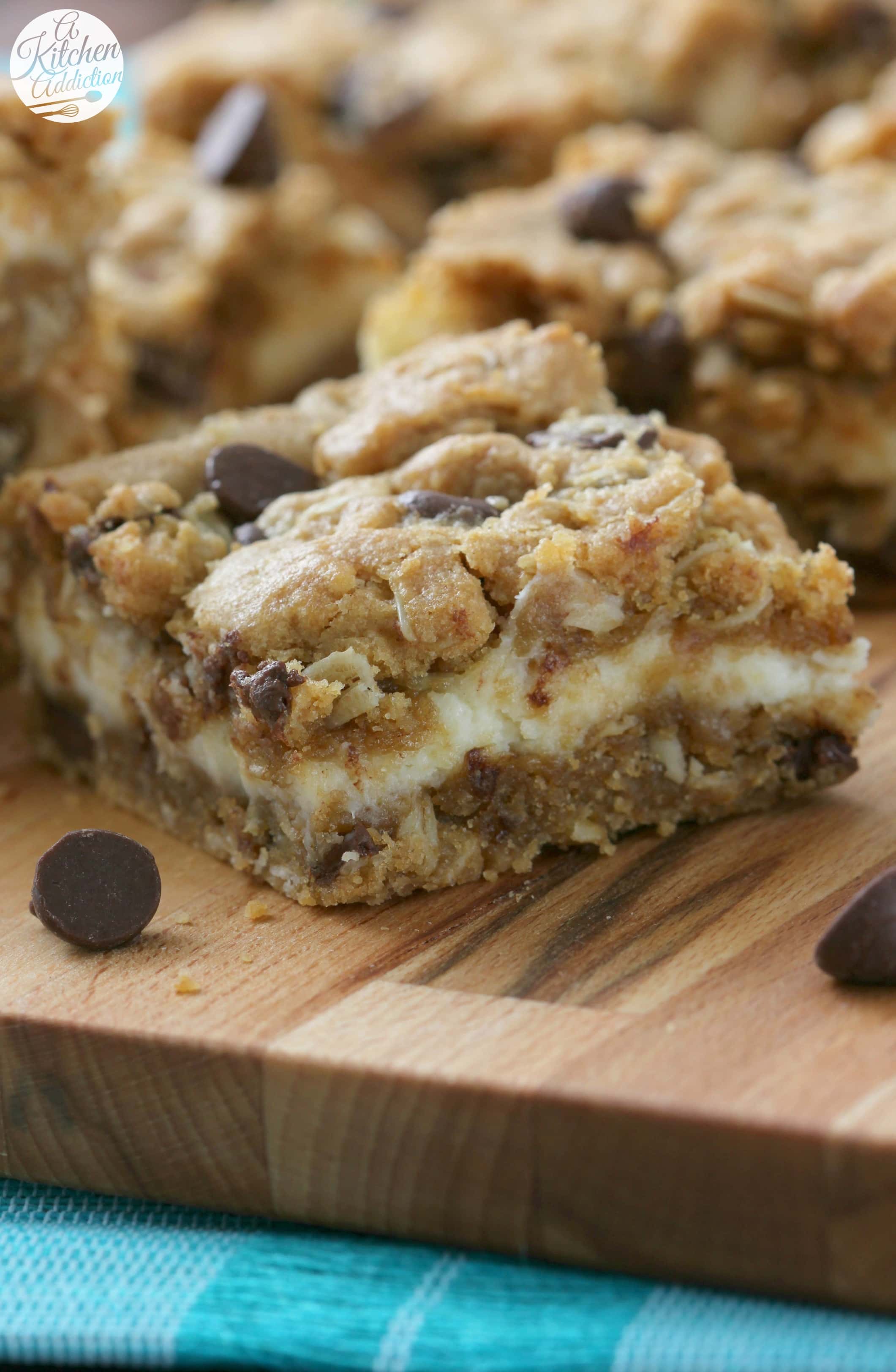 You really can't go wrong with baking peanut butter oatmeal cookies and cheesecake together!
Throw in enough chocolate chips to add flavor but not too much sweetness, and you'll have a hard time eating just one or two. . .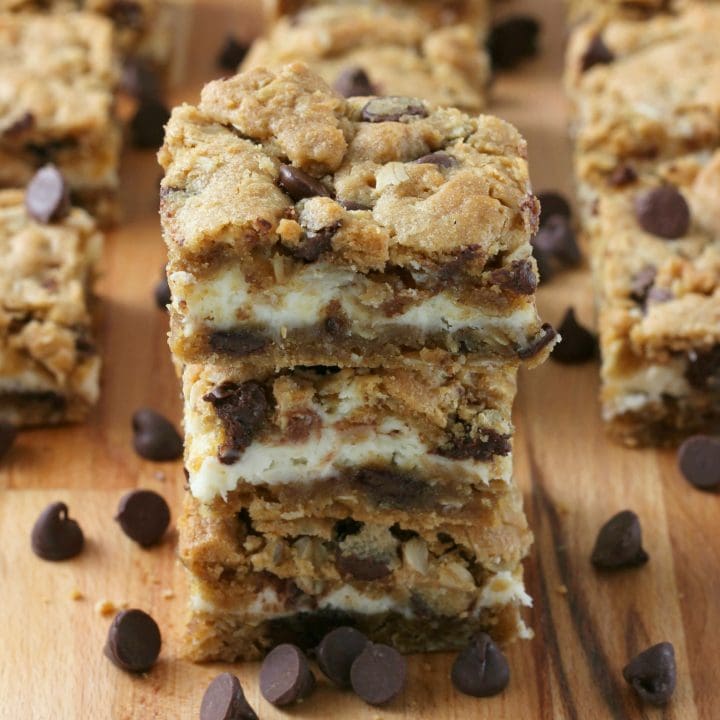 Peanut Butter Chocolate Chip Cookie Cheesecake Bars
Yield: 36 cheesecake bars

Prep Time: 25 minutes

Bake Time: 40 minutes

Total Time: 1 hour 5 minutes
Ingredients
For the Cookie Layers
2/3 C butter, softened
2/3 C no-stir natural peanut butter
1/2 C sugar
2/3 C brown sugar
2 eggs
2 tsp vanilla extract
1 C white whole wheat flour
1 C all-purpose flour
2 tsp baking soda
1/4 tsp baking powder
3/4 tsp salt
1 1/4 C rolled or quick oats
1 C chocolate chips
For the Cheesecake Layer
16 oz. 1/3 of the fat cream cheese, softened
1 egg
1/2 C sugar
1 tsp vanilla extract
1/8 tsp salt
Instructions
Preheat oven to 325. Lightly spray a 9x13 baking pan with non-stick cooking spray.
In the bowl of a stand mixer (or with a handmixer), cream together butter, peanut butter, and sugars. Add in eggs and vanilla extract and beat until creamy.
In a separate bowl, whisk together flours, baking soda, baking powder, and salt.
Add to creamed butter mixture and beat until combined. Stir in oats and chocolate chips.
Prepare cheesecake layer by beating cream cheese, egg, sugar, vanilla extract, and salt until creamy.
Press half of cookie dough into the bottom of prepared baking dish. Spread cream cheese mixture over the top. Drop remaining cookie dough evenly over the top.
Bake for 30-40 minutes or until edges are golden brown and center is set.
Serve warm or cool. Store leftovers in the refrigerator.
Recommended Products
As an Amazon Associate and member of other affiliate programs, I earn from qualifying purchases.