Skip the endless batches of cookies! Just press all of the dough into the pan and make a batch of these super easy Monster Cookie Bars!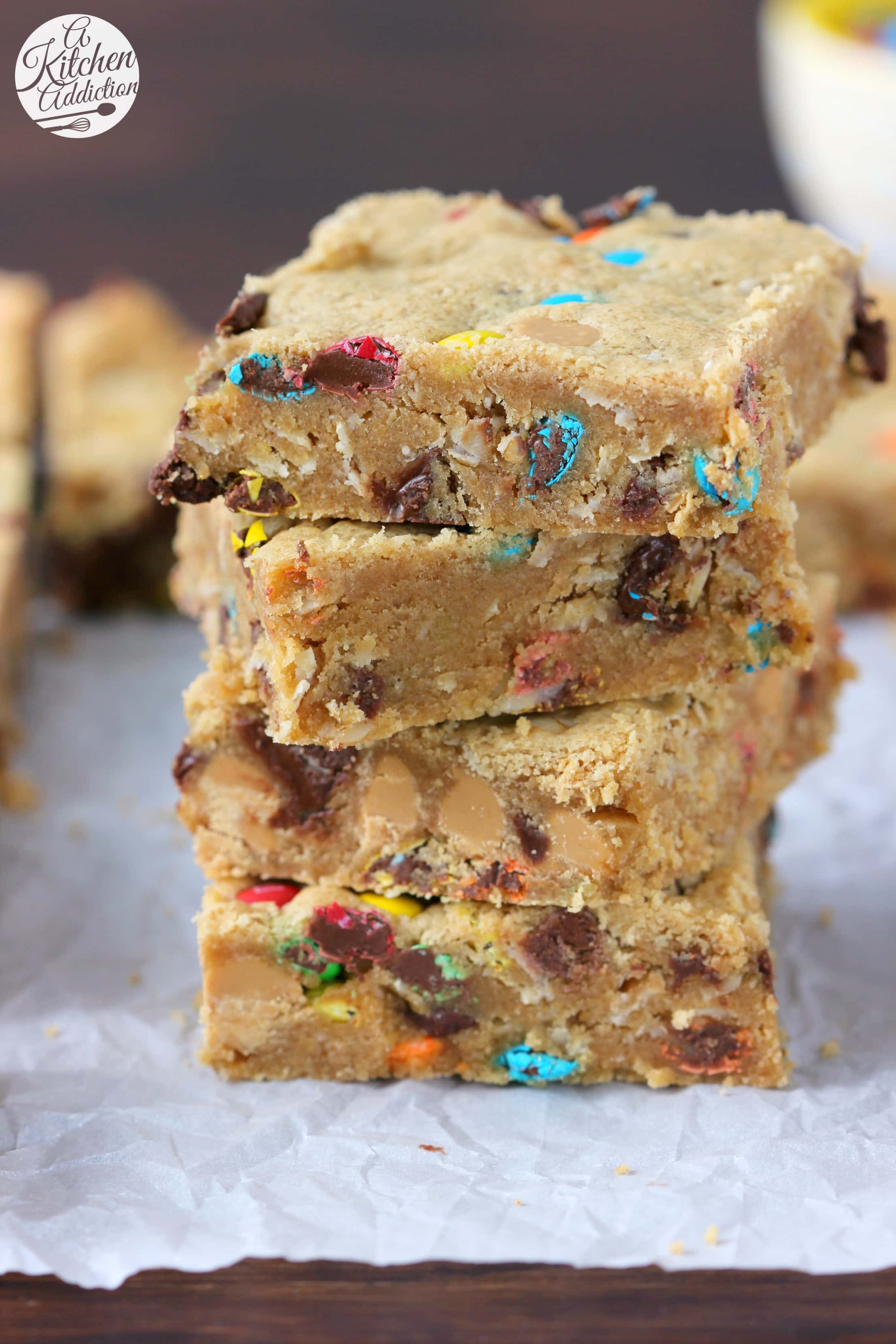 *This recipe was originally posted on 02/25/13.
Whoever decided to take their cookie dough, press it in a pan, bake it, and call it a cookie bar was smart. Now when you want a cookie, but you don't want to deal with shaping them, doing multiple batches, etc.
You can just stick the dough in a pan, bake it, and 10-15 minutes later have your cookie craving satisfied! Which is good when monster cookie bars are involved!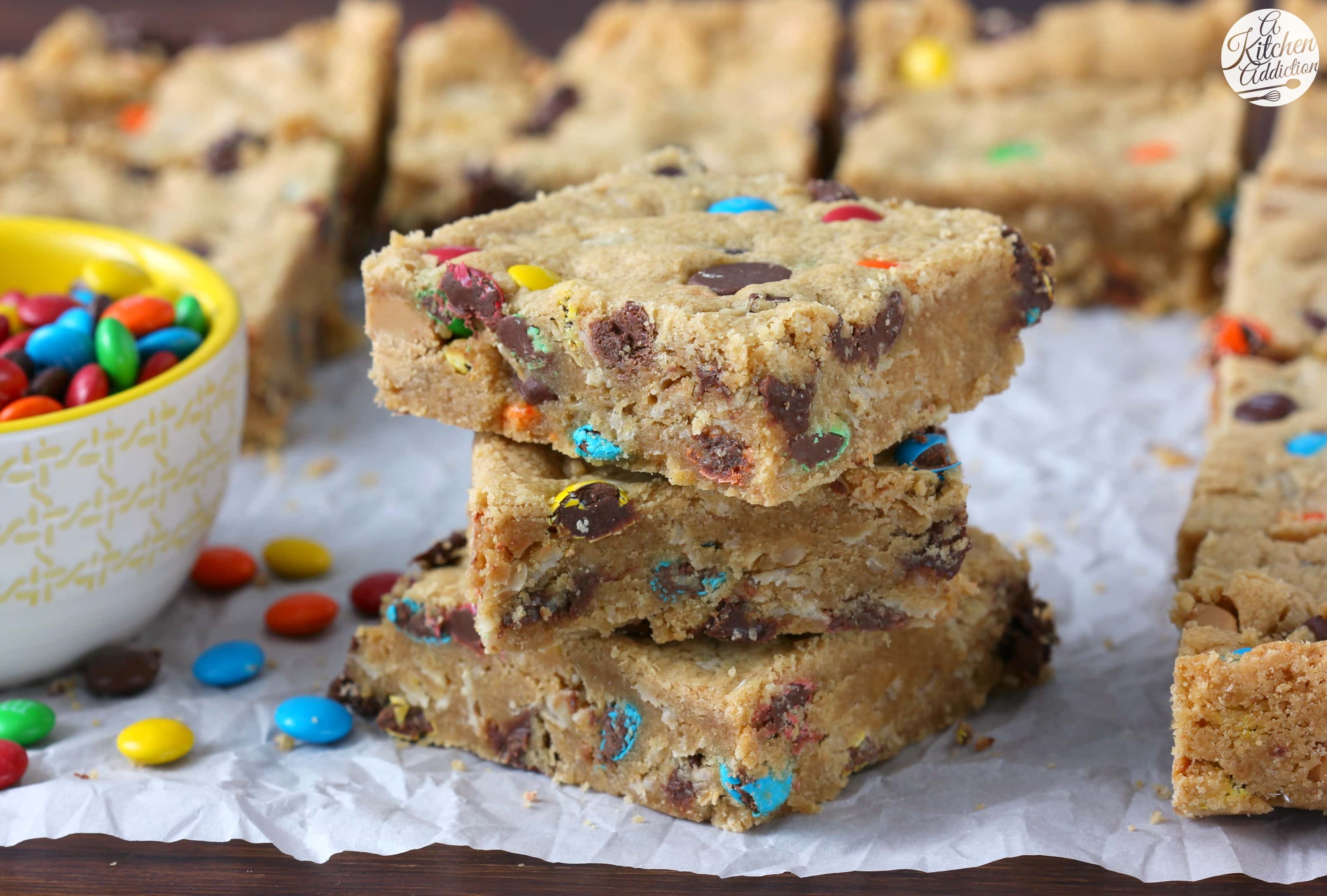 When it comes to making monster cookies, it's not that I don't have the patience to wait for shaping, baking, etc., it's that the longer the dough sits in front of me, the more I eat (what is it about peanut butter and oats that is so good?)!
Though I suppose that's not always a bad thing. . . You have probably noticed that monster cookies are a favorite around here. We have monster cookies, monster cookie pie, monster cookie granola bites, etc.
It's about time that I shared this easy recipe for monster cookie bars!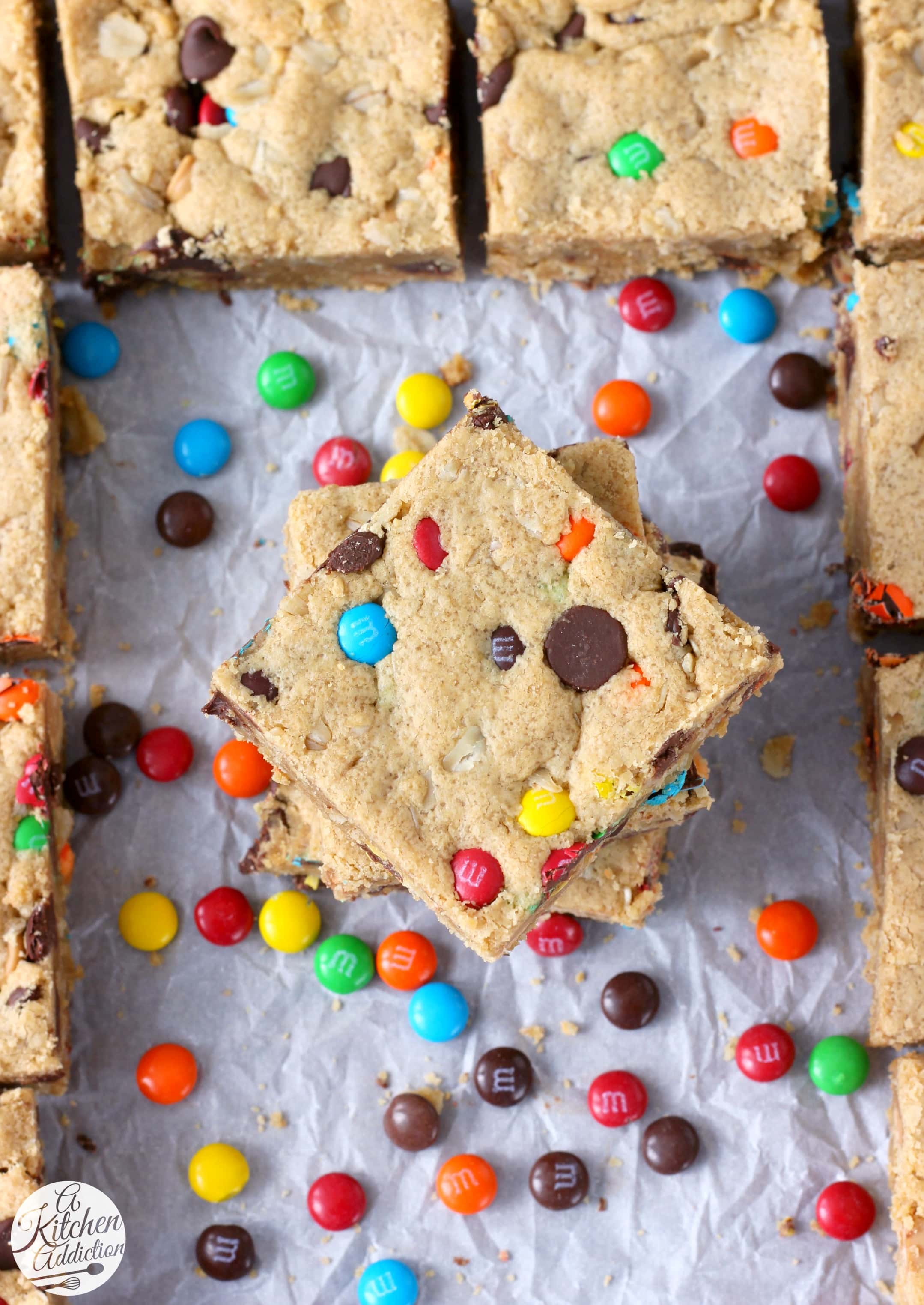 These cookie bars contain my favorite cookie combination of oats, peanut butter, and chocolate. (And just because peanut butter is so good, I've added in some peanut butter chips!)
Feel free to use your favorite kind of chocolate chips. I used a mixture of milk chocolate and semi-sweet to get a couple of different flavors of chocolate into these bars. I also used mini M&M's, because they make it seem like there are lots of M&M's in your cookie bars without going overboard!
Next time you want cookies, but don't have the time, give these cookie bars a try!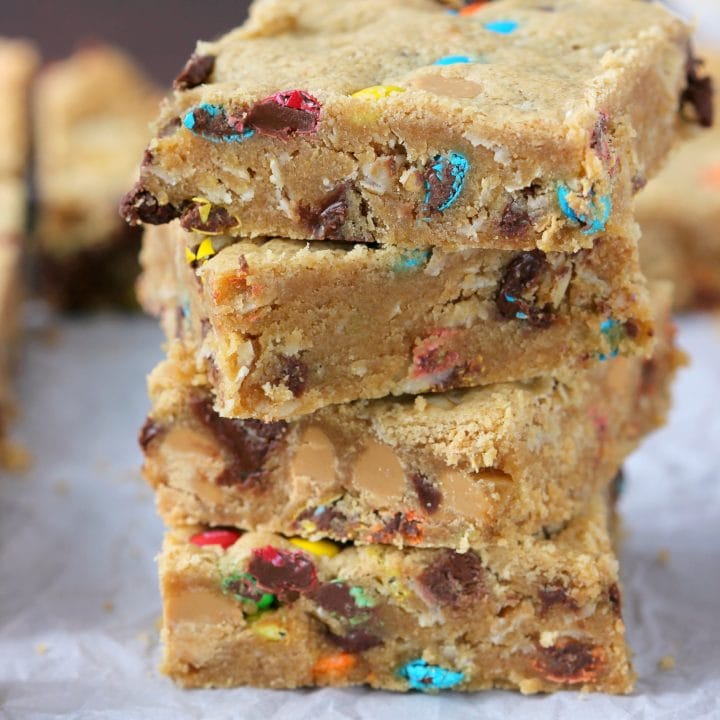 Monster Cookie Bars
Yield: 16 cookie bars

Prep Time: 15 minutes

Cook Time: 15 minutes

Total Time: 30 minutes
Ingredients
1/4 C butter, softened
3/4 C no-stir natural peanut butter
1/2 C brown sugar
1/4 C sugar
1 egg
1 tsp vanilla extract
3/4 C all-purpose flour
1/2 tsp salt
1/2 tsp baking soda
1/2 C quick oats
1/2 C mini M&M's
1/2 C chocolate chips (I used a mixture of milk and semi-sweet)
1/4 C peanut butter chips
Instructions
Preheat oven to 350. Lightly spray a 9x9 inch baking dish with non-stick cooking spray.

In the bowl of a stand mixture, beat together butter and peanut butter until smooth. Add in sugars and beat until well-combined. Add in egg and vanilla extract and beat until smooth.

In a small bowl, whisk together flour, salt, and baking soda. Slowly add flour mixture to wet ingredients and beat until combined. Stir in oats.

Add in M&M's, chocolate chips, and peanut butter chips. Stir until just combined.

Press dough into the bottom of prepared baking dish.

Baked for 12-15 minutes or until edges start to turn golden brown and center is set.

Allow to cool for 15-20 minutes and then cut into bars.
Recommended Products
As an Amazon Associate and member of other affiliate programs, I earn from qualifying purchases.

This recipe is adapted from The Baker Mama.