These Maple Oat Scones are lightly sweetened, hearty scones filled with the cozy flavors of maple and cinnamon with a hint of nuttiness from the oats! Days are better when they start with this simple scone recipe!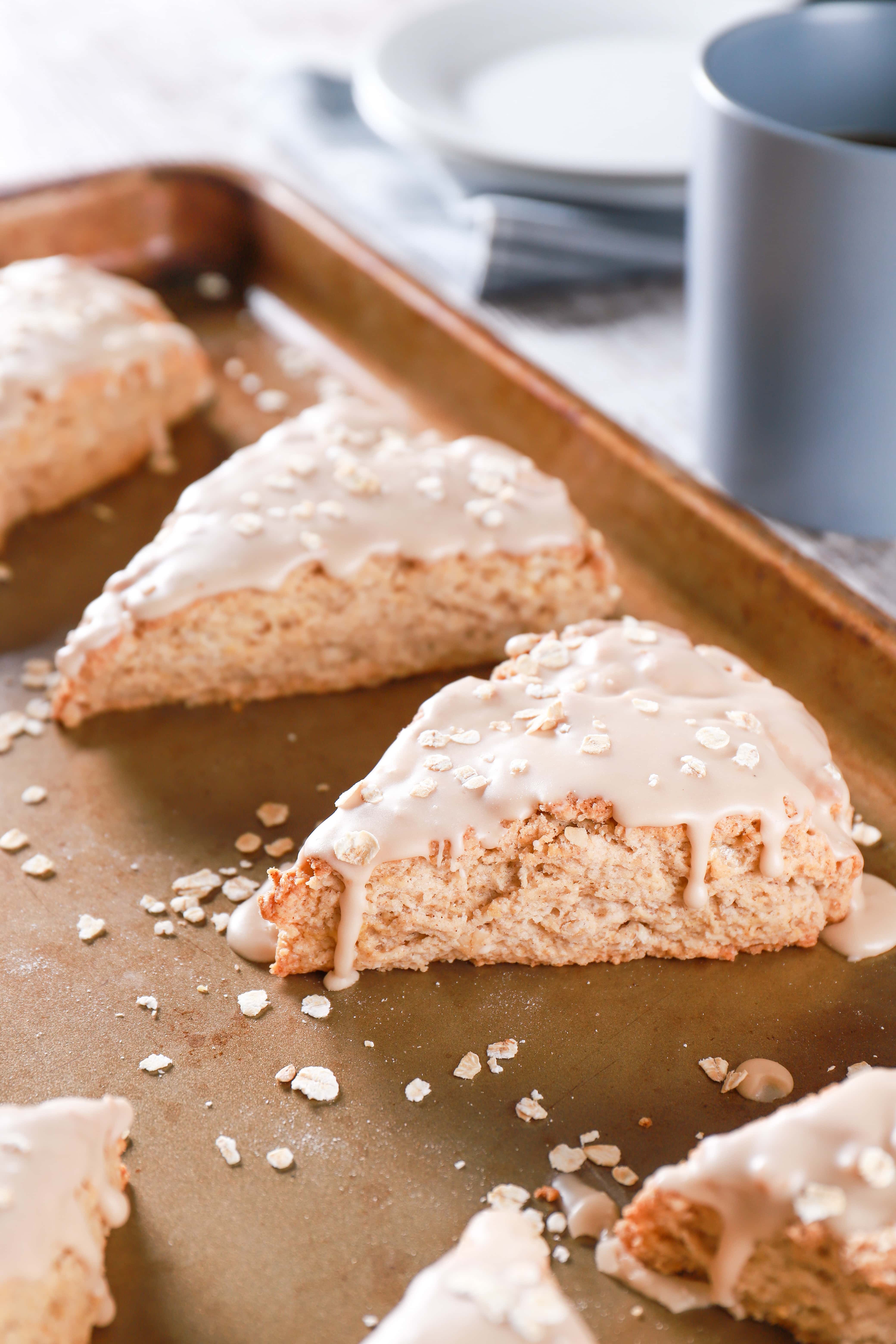 When mornings start to cool off and the leaves start changing, my brain automatically shifts to the cozy flavors and scents of fall.
As much as I have a hard time letting go of all of the fresh produce of summer and wish our garden produced all year, I gladly welcome maple, apple, pumpkin, chai, etc. once cool weather hits.
So, when we had a couple of nights that dropped into the 30's, plans for fall flavored scones started filling my mind.
These maple oat scones are just what cool, fall mornings call for! Heartier than a traditional scone, due to the oats, these scones are filled with maple and a hint of cinnamon that gets you in the mood for warm blankets, fuzzy sweaters, and large mugs of chai.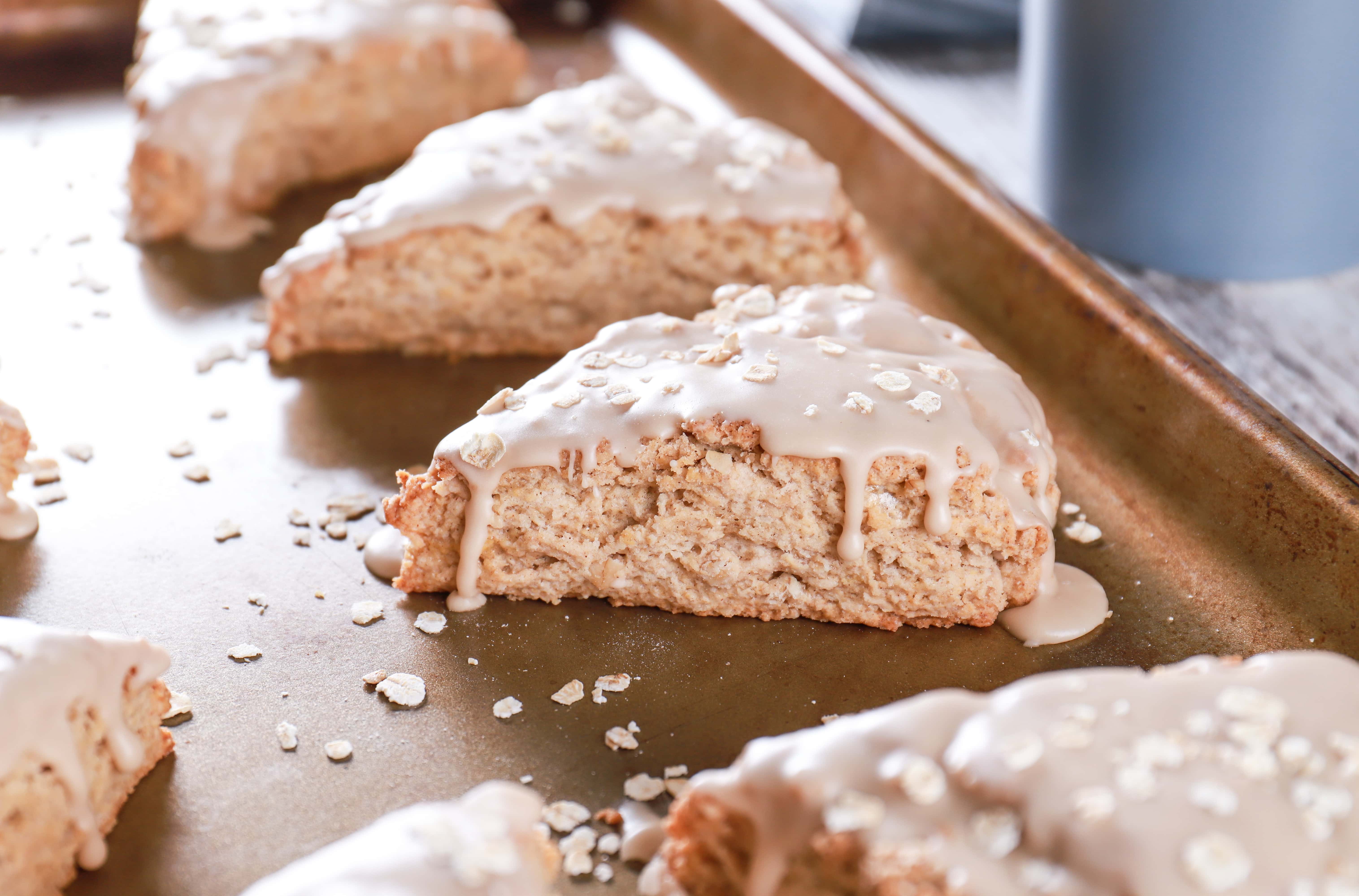 Unlike most of the scones that are on this blog, these scones are made with brown sugar instead of white sugar. This gives them more of a warm, caramel flavor that pairs well with the maple and oats.
The addition of oats not only give the scones a slight nutty flavor, but they also give the scones a bit of a chewy texture compared to a classic, all-flour scone.
The result is almost that of a big, soft oatmeal cookie. And since oatmeal cookies are some of my favorite, these scones didn't last long at our house!

Tips for Making Maple Oat Scones
Stir the wet ingredients in just until moistened. Don't worry if it isn't all wet. The dough will come together when you knead it.
Knead the dough only as much as is necessary to get dough to come together. It's okay if the circle looks shaggy. This will keep the scones from getting tough.
I like to use a dough scraper for cutting the scones and transferring them to the baking sheet. It makes it easy to both get even pieces and to keep the pieces together when moving them!
Make sure to use pure maple syrup. Not pancake syrup.
Don't have maple extract or just don't want to use it? You can leave it out of the scones, just know that the maple flavor won't be as strong. If you try to substitute maple syrup for the maple extract in the glaze there will be almost no maple flavor.
Different brands of maple extract are different colors. I have three different brands in my cupboard, and they are all a different color. Because of this, you may find that your glaze is lighter or darker than the glaze pictured.
Want to eat the scones over a few days? If I know that we'll be enjoying the scones over a few days, I like to only make half a batch of the glaze at a time and only glaze half of the scones right away. I will quick whip up another half batch of glaze when we've eaten half of the scones. This keeps the glaze from getting soggy if your house is humid and from too much of the glaze soaking into the scone over time and changing the texture.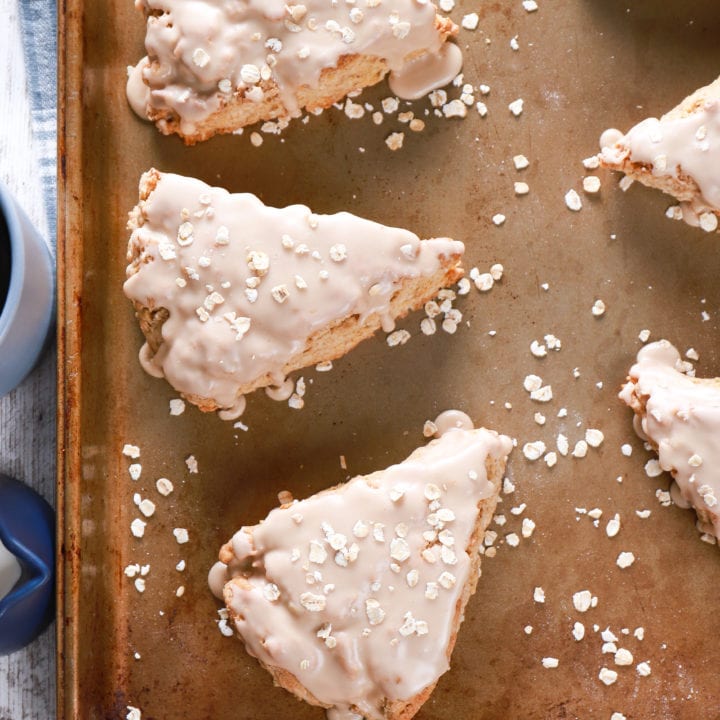 Maple Oat Scones
These Maple Oat Scones are lightly sweetened, hearty scones filled with the cozy flavors of maple and cinnamon with a hint of nuttiness from the oats!
Ingredients
For the Scones
2 Cups all-purpose flour
1/2 Cup quick oats
1/3 Cup brown sugar
2 teaspoons baking powder
1 teaspoon cinnamon
1/2 teaspoon salt
1/4 teaspoon baking soda
1/2 Cup (8 Tablespoons) cold butter, cut into pieces
5 Tablespoons whole milk (half and half or heavy cream can be used for a richer flavor)
3 Tablespoons pure maple syrup
1 egg
1 teaspoon maple extract
1 teaspoon vanilla extract
For the Glaze
1/2 Cup confectioner's sugar
2 teaspoons whole milk, half and half, or heavy cream
1/4 teaspoon maple extract
Instructions
Preheat oven to 400 degrees Fahrenheit. Line a baking sheet with parchment paper or a silicone baking mat.
In a large bowl, whisk together all-purpose flour, quick oats, brown sugar, baking powder, cinnamon, salt, and baking soda. Cut in butter until mixture resembles coarse crumbs.
Add in whole milk (or half and half/heavy cream), pure maple syrup, egg, maple extract, and vanilla extract. Stir just until dough begins to form.
Turn dough onto a lightly floured surface, and gently knead 5-6 times until dough comes together.
Gently pat into a 7 to 8 inch circle. Cut into 8 pieces, and place on prepared baking sheet.
Bake for 15-20 minutes or until edges just start to turn golden brown. Remove to a wire rack to cool.
Prepare glaze while scones are cooling. Stir together confectioner's sugar, half and half/heavy cream, and maple extract until smooth. Drizzle over cooled scones.
Allow glaze to harden and serve. Store leftovers in an airtight container.
Recommended Products
As an Amazon Associate and member of other affiliate programs, I earn from qualifying purchases.
Nutrition Information:
Yield:

8
Serving Size:

1 scone
Amount Per Serving:
Calories:

244
Total Fat:

4g
Saturated Fat:

2g
Trans Fat:

0g
Unsaturated Fat:

1g
Cholesterol:

31mg
Sodium:

330mg
Carbohydrates:

47g
Fiber:

1g
Sugar:

20g
Protein:

5g
Nutrition information shown is an estimate provided by an online calculator and may not always be accurate. It should not be considered a substitute for a medical professional's advice.
Love maple recipes as much as we do? Try these!