Easy and convenient, these Soft Baked Apple Almond Granola Bars are a healthy snacking option that can curb hunger any time of day!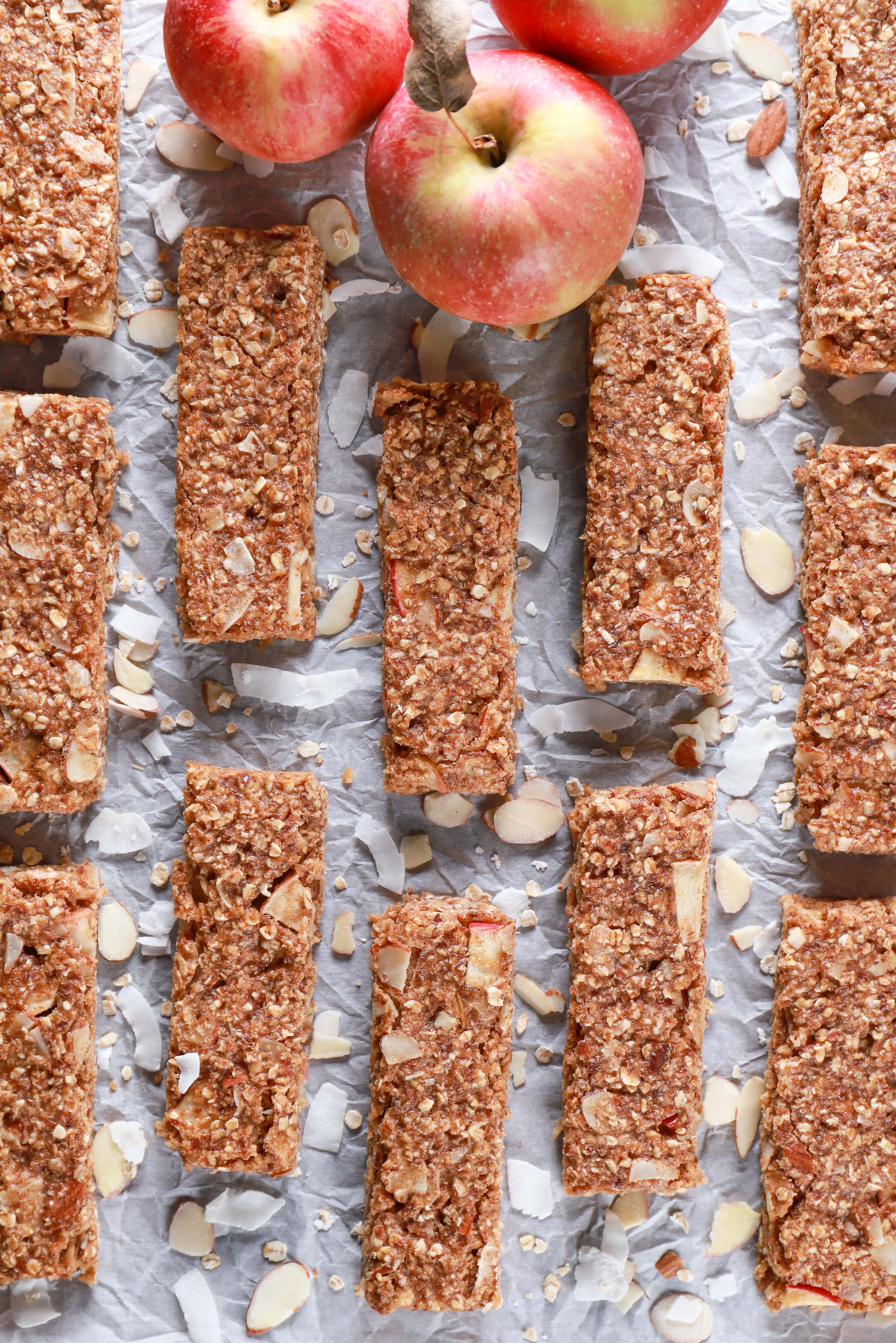 We go through a lot of granola and granola bars at our house, so I am constantly looking for new ways to change up the flavor. Since it's apple season around here, it made since that our next flavor combination would include apples in some form.
This was the first time I'd used fresh apples in my granola bars, since I prefer to just throw in dried apple slices. However, this time I had no dried apple slices on hand, but I did have plenty of fresh apples. I liked the results!
The granola bars smell like apple crisp while baking (especially when we used tart, fall apples!) and make it hard to wait the short amount of time it takes to bake. 🙂 The fresh apple combines with the cinnamon, nutmeg, and allspice for that classic fall smell and taste.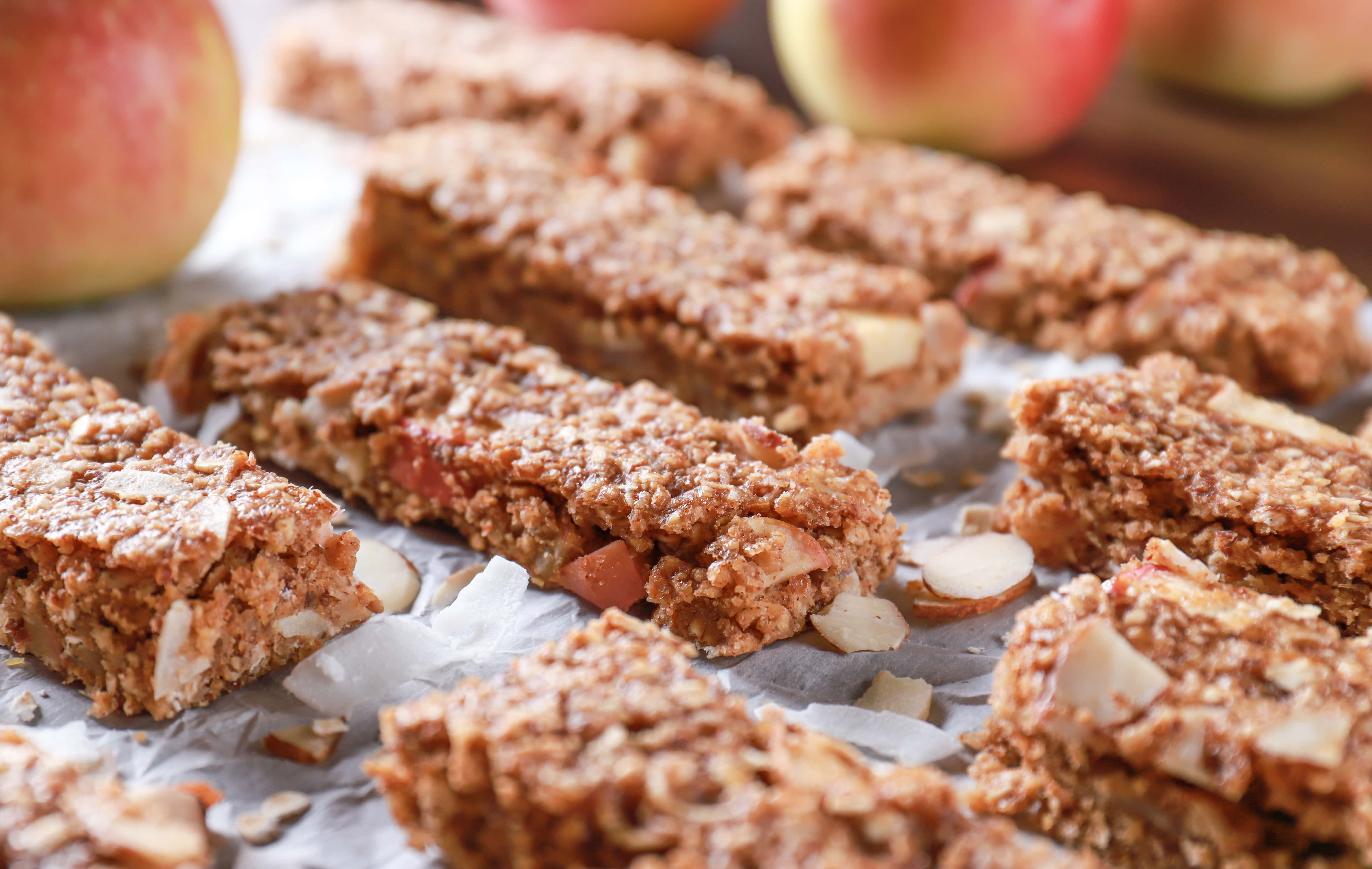 The sweetness and moisture of the apples and honey pairs perfectly with the nuttiness and crunchiness of the almonds and unsweetened dried coconut flakes.
Delicious, nutritious, packed with complex carbs and protein, moist, flavorful, crunchy, chewy. . .all packed into one soft baked granola bar! Your perfect breakfast or pick-me-up snack!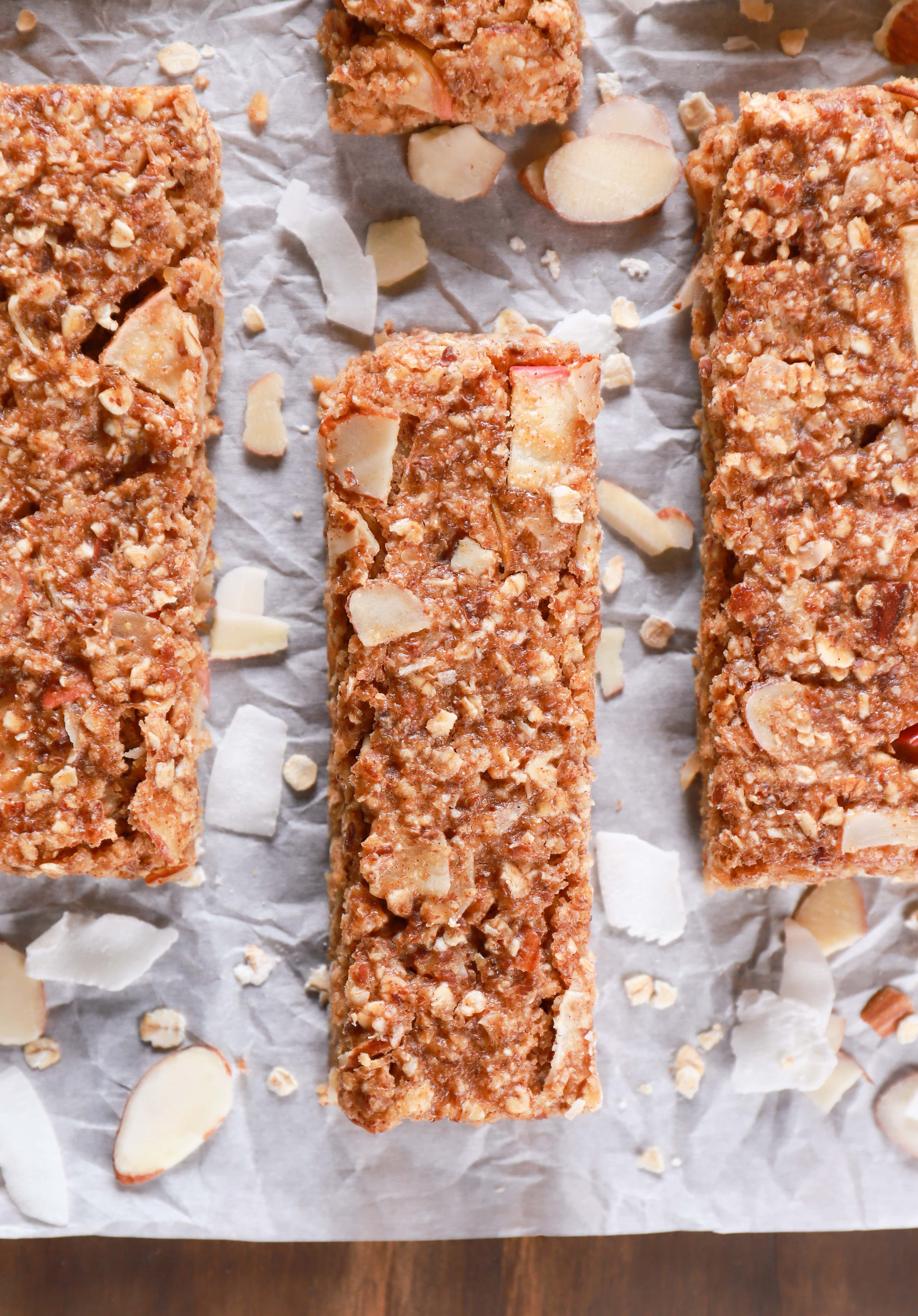 Tips for Making Homemade Apple Almond Granola Bars
We like to use tart apples for this recipe so that you get a stronger apple flavor. The better the flavor of the apple you use, the better the flavor of the granola bars.
Make sure to thoroughly stir together the almond butter before measuring even if the jar claims to be "no-stir."
You can use sweetened or unsweetened coconut, depending on sweetness preference.
If you don't want to use both oat bran and flaxseed, you can use all of one or the other.
Make sure to press the batter into the pan as you spread it. This will help the granola bars hold together.
If your house is warm, the granola bars will stay freshest if they are kept in the refrigerator since they contain fresh apples.
We like the granola bars the next day after the flavors have had a chance to blend.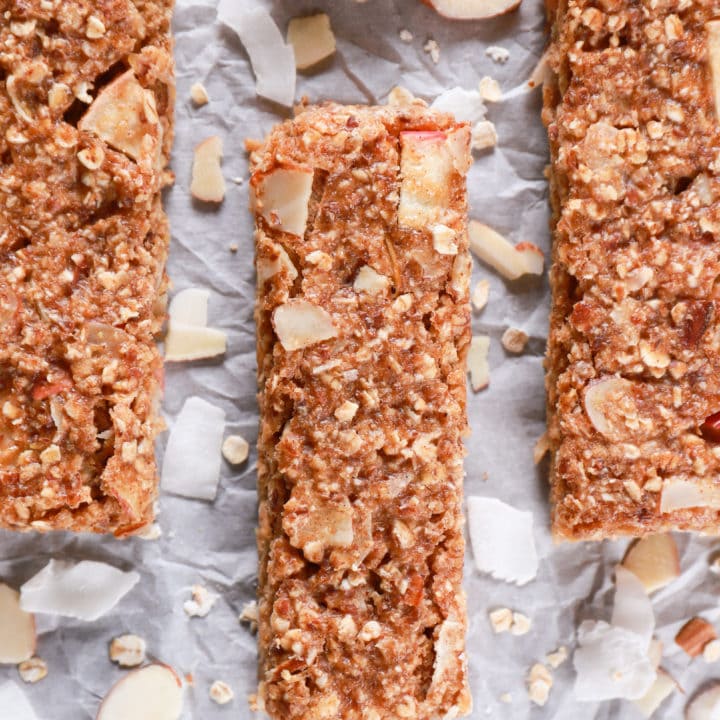 Homemade Apple Almond Granola Bars
Easy and convenient, these Soft Baked Apple Almond Granola Bars are a healthy snacking option that can curb hunger any time of day!
Ingredients
2 1/2 Cups quick oats
1/2 Cup oat bran
1/4 Cup ground flaxseed
2 teaspoons baking powder
1 1/2 teaspoons cinnamon
1/2 teaspoon nutmeg
1/4 teaspoon allspice
1/2 teaspoon salt
1/4 Cup unsweetened flaked coconut (You can use sweetened coconut, if you prefer)
3/4 Cup milk
1/2 Cup creamy almond butter (Make sure to thoroughly stir almond butter before measuring and using)
1/2 Cup honey (I prefer less sweetness in my granola bars, so if you like sweet, you may want to add 1-2 tablespoons more)
1 egg
1 teaspoon vanilla extract
1/2 Cup sliced almonds
1 small apple, finely chopped (about 1/2 - 3/4 cup)
Instructions
Preheat oven to 350 degrees Fahrenheit. Spray a 9×13 inch baking dish with non-stick cooking spray or line with parchment paper.
In a large bowl, stir together the oats, oat bran, flaxseed, baking powder, cinnamon, nutmeg, allspice salt, and flaked coconut until well combined.
Add in the milk, almond butter, honey, egg, and vanilla extract. Stir until combined. Stir in the sliced almonds and chopped apple.
Press into pan. Bake for 15-20 minutes or until edges start to brown and center looks dry.
Let cool for 10 minutes, then cut into bars. Let cool completely.
If your house is warm, store leftovers in the refrigerator.
Recommended Products
As an Amazon Associate and member of other affiliate programs, I earn from qualifying purchases.
Nutrition Information:
Yield:

18
Serving Size:

1
Amount Per Serving:
Calories:

167
Total Fat:

8g
Saturated Fat:

1g
Trans Fat:

0g
Unsaturated Fat:

7g
Cholesterol:

11mg
Sodium:

154mg
Carbohydrates:

20g
Fiber:

3g
Sugar:

10g
Protein:

5g
Nutrition information shown is an estimate provided by an online calculator. It should not be considered a substitute for a medical professional's advice.
Love granola bars and granola bites? More recipes to try!