We go through a lot of granola bars at our house, so I am constantly looking for new ways to change up the flavor. I had never tried using fresh fruit before this, and I liked the results! These smell like apple crisp while baking and make it hard to wait the few minutes it takes to bake. 🙂 Delicious, low-fat, packed with complex carbs, moist, flavorful, crunchy, chewy. . .all packed into one granola bar! Your perfect breakfast or pick me up snack!
The sweetness and moisture of the apples pairs perfectly with the nuttiness and crunchiness of the almonds.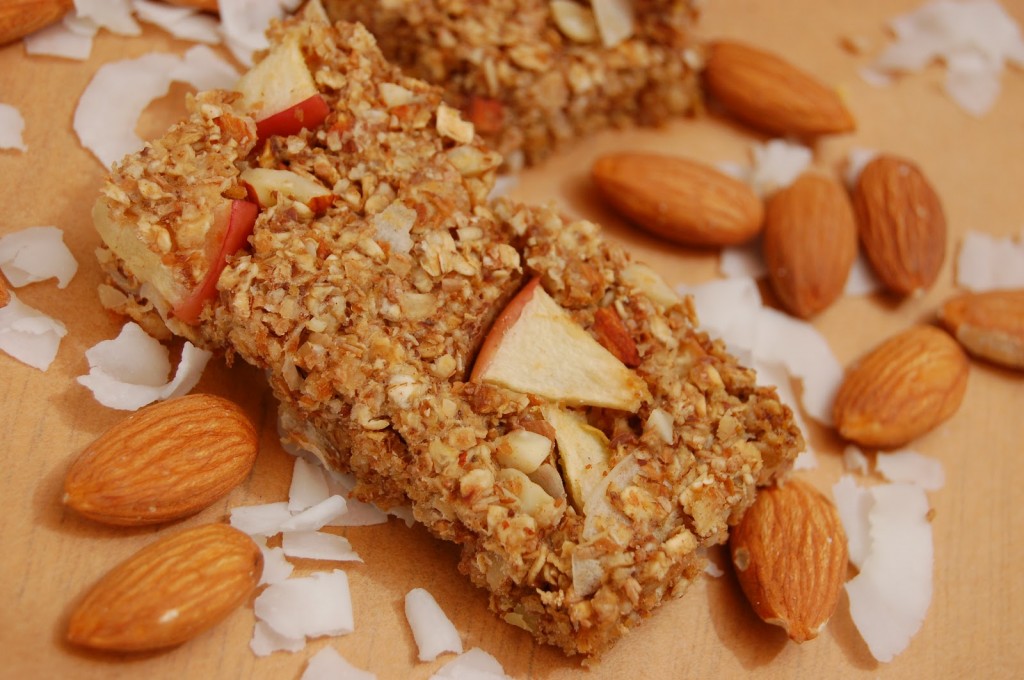 Homemade Apple Almond Granola Bars
Author:
A Kitchen Addiction
Ingredients
2½ C quick oats
½ C oat bran
¼ C ground flaxseed
2 tsp baking powder
1 tsp cinnamon
½ tsp salt
¼ C unsweetened flaked coconut (You can use sweetened coconut, if you prefer)
1 C milk
½ C honey (I prefer less sweetness in my granola bars, so if you like sweet, you may want to add 1-2 tablespoons more)
1 egg
1 tsp vanilla extract
⅔ C chopped almonds
1 small apple, finely chopped (about ½ - ¾ cup)
Instructions
Preheat oven to 350. Spray 9×13 pan with non-stick cooking spray or line with parchment paper.
In a large bowl, stir together the oats, flax seed, oat bran, baking powder, salt, cinnamon, salt, and coconut until well combined.
Add in the milk, honey, egg, and vanilla. Stir until combined. Stir in the apples and almonds.
Press into pan. Bake for 15-20 minutes or until edges start to brown.
Let cool for 10 minutes, then cut into bars. Let cool completely.