These Peanut Butter Apple Crisp Bars are made up of a layer of maple apples sandwiched between two layers of rich, peanut butter oat streusel and topped with a sweet maple drizzle! An easy recipe that's sure to become a family favorite!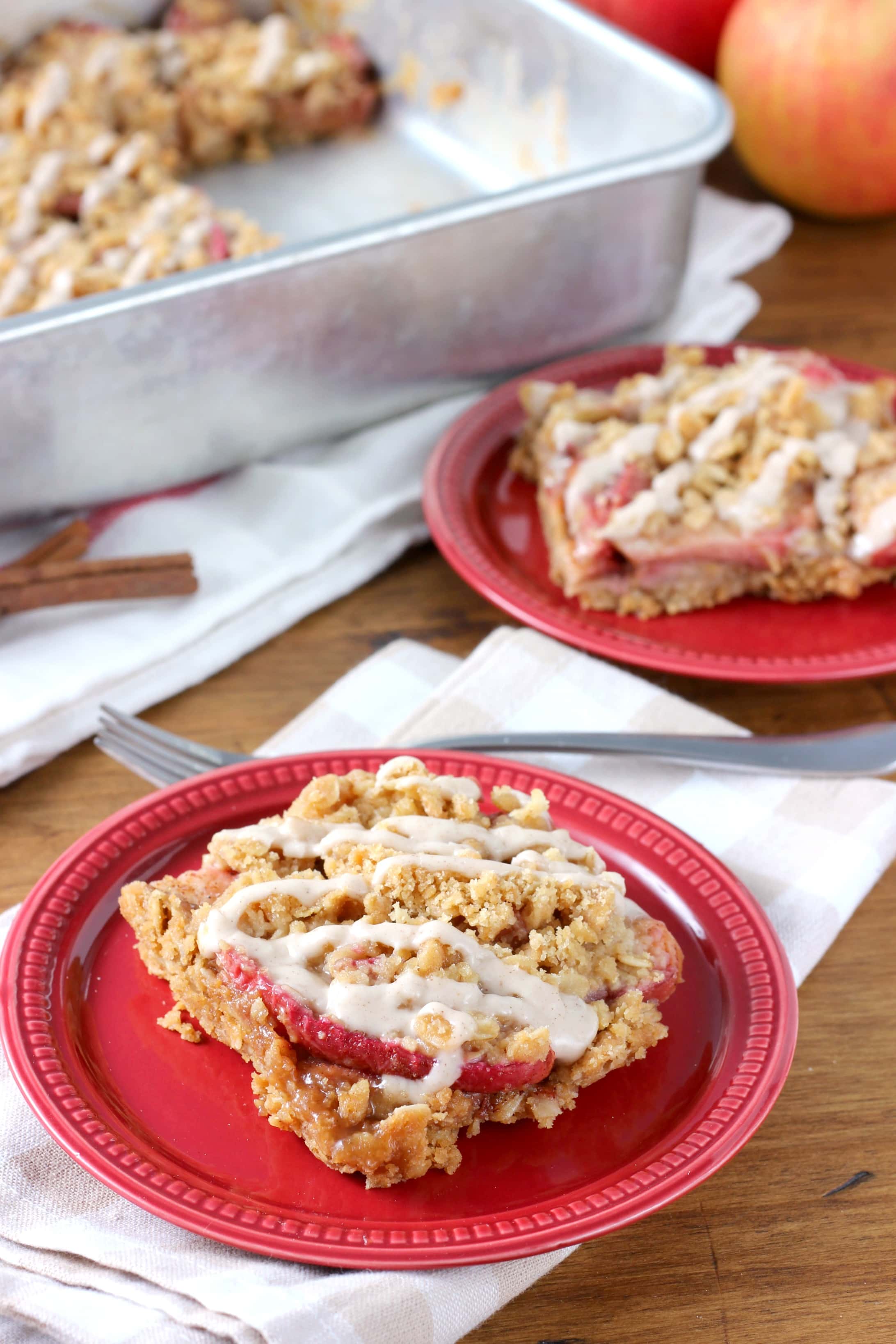 We picked up our first bag of fresh fall apples last week. And then had to go back a couple days later for more, because we had eaten through the first batch so quickly! There's nothing like the flavor of fall apples. I like apples any time of year, but the flavor is so much better in the fall.
So, as soon as they're ready, I snatch up my favorite varieties for eating and baking. These peanut butter apple crisp bars with maple drizzle were the first dessert out of the oven.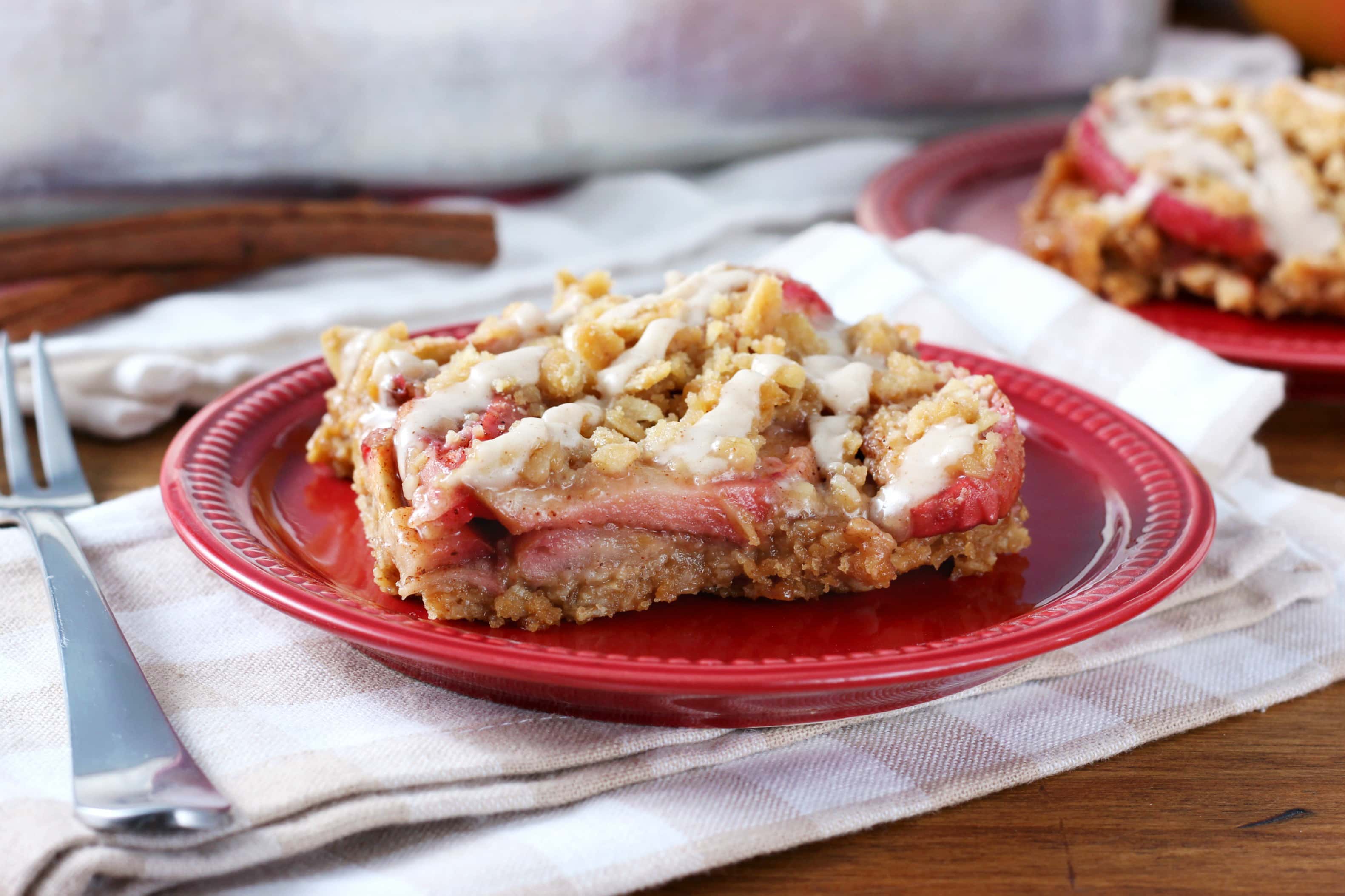 As soon as my husband took a bite, he proclaimed, "I could go all fall without tasting pumpkin, but I couldn't go without fall apple desserts!" While, I couldn't agree with him on not tasting pumpkin all fall, I do have to agree with him that I couldn't go without apple desserts!
These peanut butter apple crisp bars are based off of our favorite easy peanut butter apple crisp. We are always making a version of that crisp, so I decided to switch things up and turn it into bars. Because apple crisp is even better when you have two layers of rich, buttery oat streusel!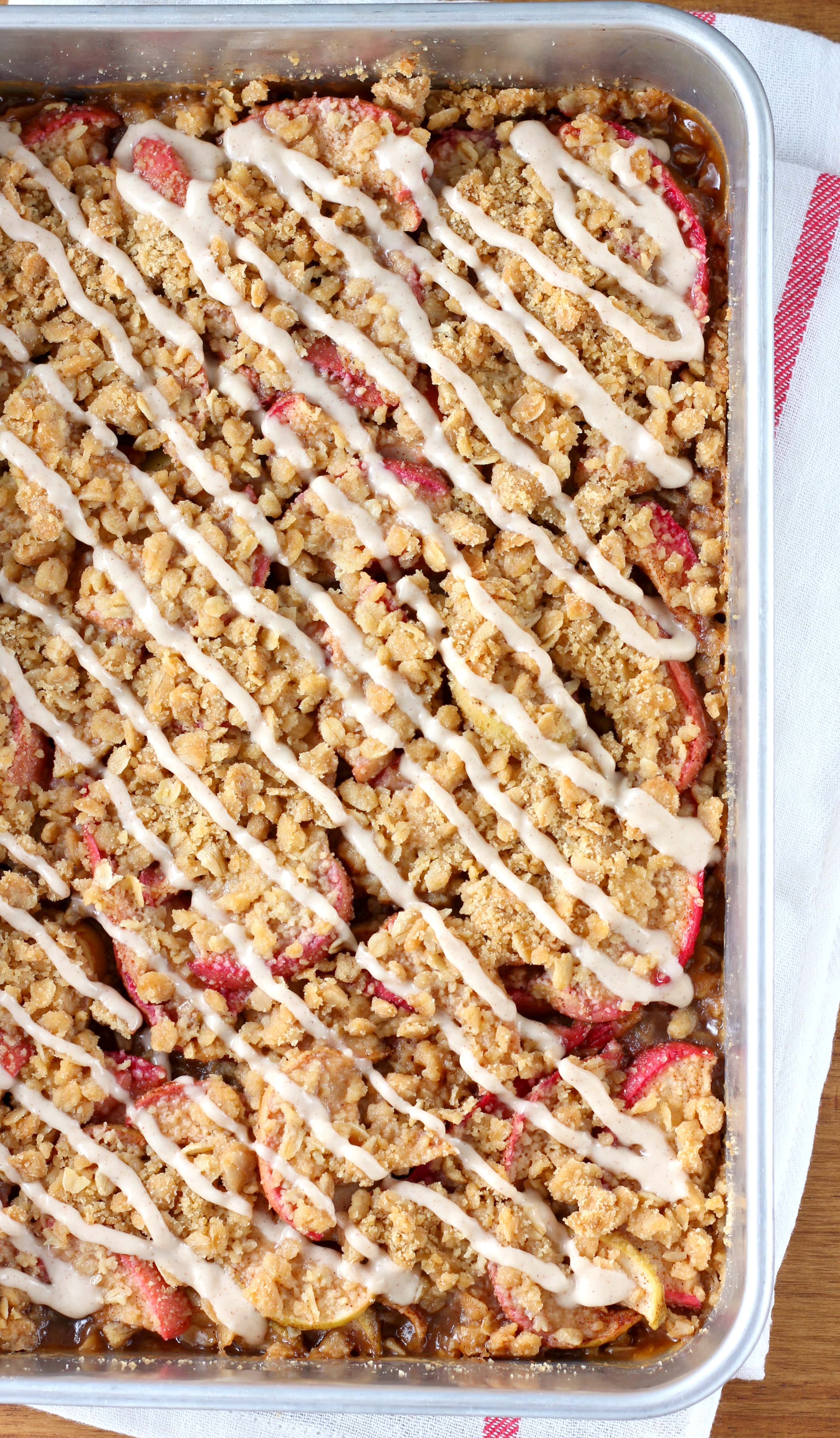 Along with combining peanut butter with the oats for added richness, these bars also have maple syrup in the filling and drizzle. I discovered last year how much I like the maple peanut butter combination, so I've been adding it to all kinds of desserts. Combined with apples, the maple peanut butter combination is even better!
Fall is almost here, so get in the mood for crisp air, colorful leaves, and all things apple with these peanut butter apple crisp bars!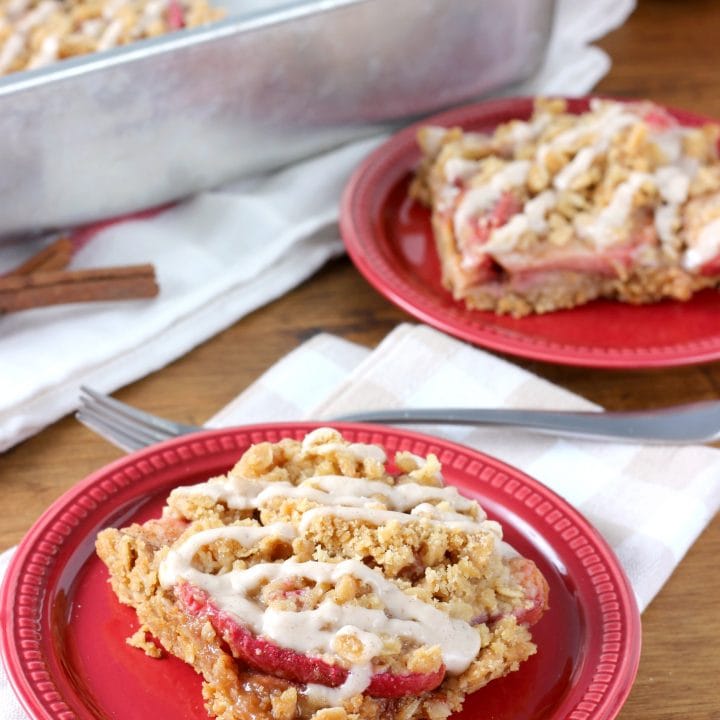 Peanut Butter Apple Crisp Bars
Yield:
16 apple crisp bars
Ingredients
For the Crust
2 C rolled oats
1/2 C + 1/4 C flour (all-purpose or white whole wheat), divided
1/3 C brown sugar
1/4 C sugar
1/8 tsp salt
1/2 C creamy no-stir natural peanut butter
1/2 C butter, softened
For the Filling
6 C thinly sliced apples
1/2 C sugar
3 tbsp pure maple syrup
1 tsp cinnamon
1/2 tsp nutmeg
1/4 tsp allspice
For the Glaze
3/4 C confectioner's sugar
1/4 tsp cinnamon
2 1/2 -3 tbsp milk
1 tsp maple extract
Instructions
Preheat oven to 350. Spray a 9x13 inch baking dish with non-stick cooking spray.
In a large bowl, toss apples with sugar, maple syrup, cinnamon, nutmeg, and allspice. Set aside.
In a medium bowl, stir together oats, flour, sugars, and salt. Cut in peanut butter and butter with fork until resembles coarse crumbs. Reserve 1 cup of mixture.
Press remaining oat mixture into the bottom of prepared baking dish. Spread apples over the top. Stir in remaining 1/4 cup of flour into remaining oat mixture until combined. Sprinkle over the top.
Bake for 40-45 minutes or until filling is bubbling and topping is golden brown.
Remove to a wire rack to cool for 15 minutes.
Stir together all ingredients for glaze until smooth, adding additional milk as needed to reach desired consistency. Drizzle over cooled bars.
Cut into pieces and serve.
Recommended Products
As an Amazon Associate and member of other affiliate programs, I earn from qualifying purchases.