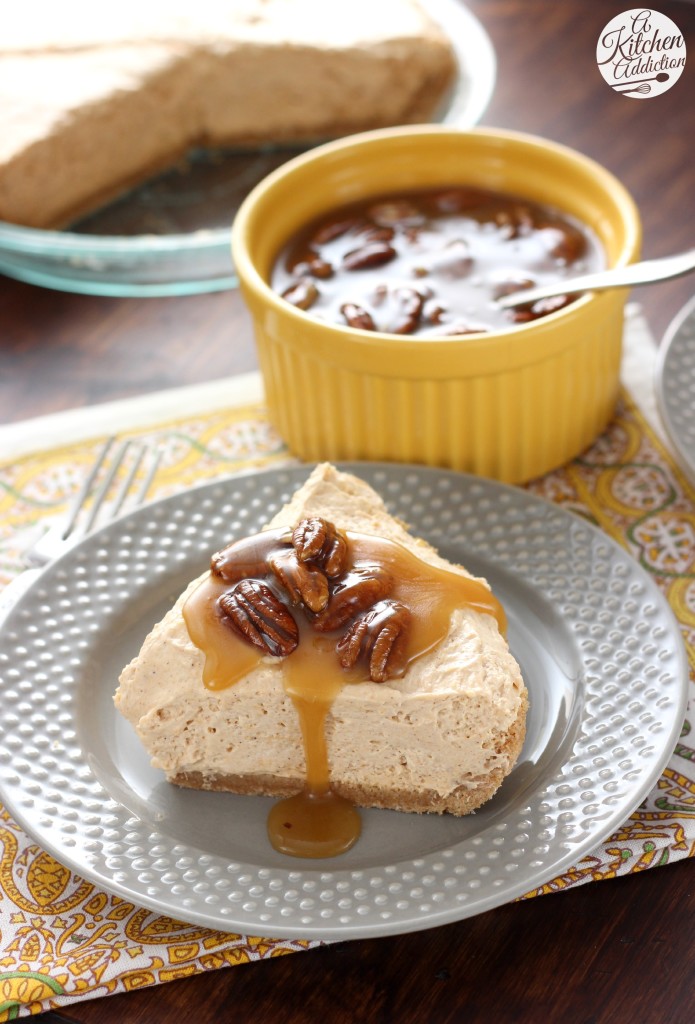 Here is the last easy Thanksgiving recipe that I have for you before the big day later this week! I'm pretty sure I saved the best for last. While I would happily eat more of the sweet potatoes and turkey that I shared last week, I could really go for another piece of this no bake maple pumpkin cheesecake!
Extra pecan praline topping, please! As far as easy Thanksgiving desserts go, I don't think it gets much better than this.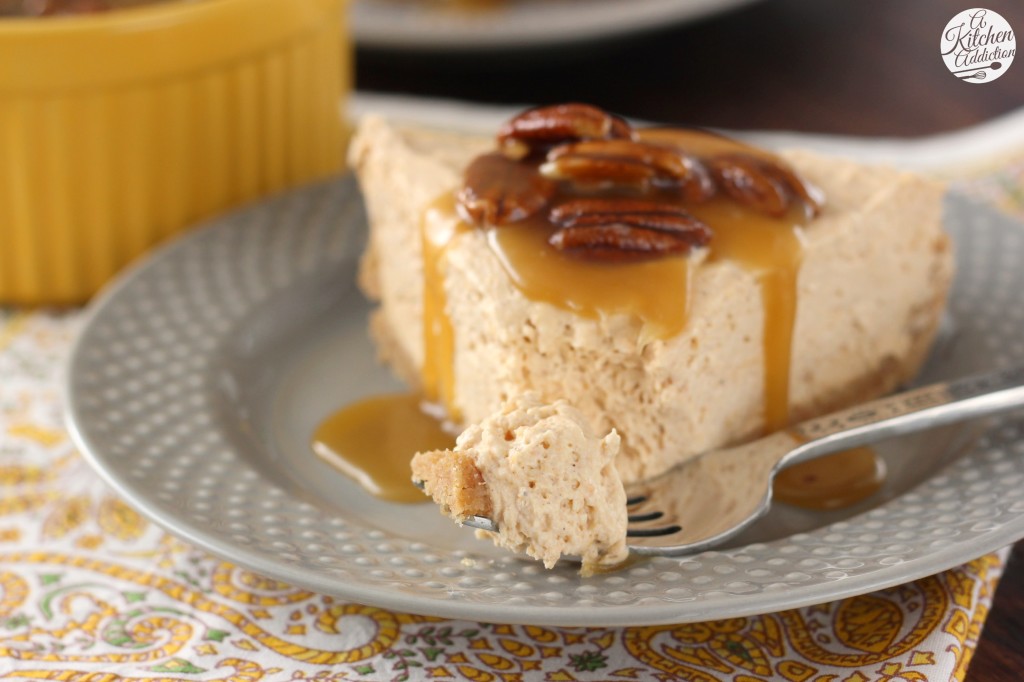 Light, fluffy cheesecake is filled with my new favorite fall flavor combination this year. . .pumpkin and maple. Now I know people have widely varying opinions on what the true texture of cheesecake really is.
Take my husband and me for instance. My husband likes a dense, rich cheesecake. I, on the other hand, prefer a light, airy cheesecake.
You can see who wasn't in the kitchen the day I made this cheesecake! (But don't worry, I also made him a cheesecake the way he likes it!) Whether or not you refuse to call this type of cheesecake an actual cheesecake, I am confident you will like this "dessert".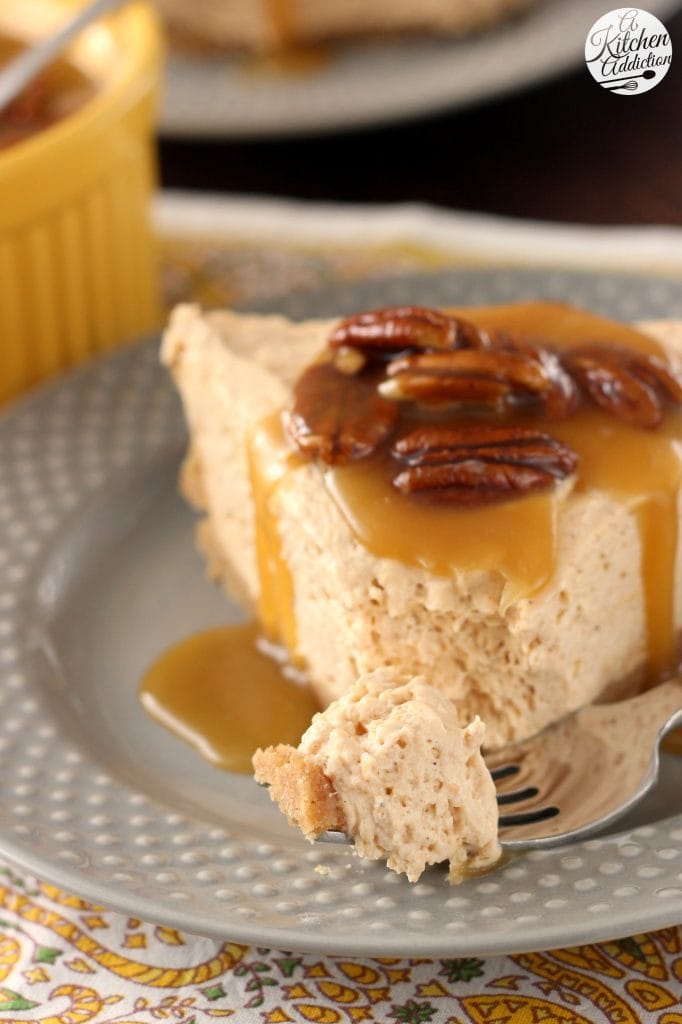 I strongly recommend you use real whipped cream for this cheesecake, it only adds an additional 10-15 minutes of prep and the flavor is completely worth it.
The rich praline topping is made with a simple homemade caramel sauce and pecans. Plus, it can be made ahead of time and warmed right before serving to save you a bit of time in your planning. If you find that you have some leftover, it makes a great topping for ice cream or french toast.
Actually, you may want to make extra just so you can have leftovers! So, if you need an easy recipe and pie isn't your thing, this cheesecake is worthy of a place at your Thanksgiving table!

Maple Pumpkin Cheesecake with Pecan Praline Topping
Author:
A Kitchen Addiction
Ingredients
For the Crust
½ C graham cracker crumbs
¼ C sugar
⅛ tsp salt
6 tbsp butter, melted
For the Filling
12 oz cream cheese, softened
½ C confectioner's sugar
¼ C brown sugar
¾ C pumpkin puree, not pumpkin pie filling
1½ tsp cinnamon
½ tsp nutmeg
¼ tsp ginger
⅛ tsp cloves
2 tsp maple extract
3 C homemade whipped cream (or 1 (8 oz) tub whipped topping, thawed)
For the Pecan Praline Topping
¾ C unsalted butter
½ C brown sugar
½ C heavy whipping cream
⅛ tsp salt
¾ C pecans
Instructions
Preheat oven to 350. Lightly spray a 9 inch pie plate with non-stick cooking spray.
In a small bowl, whisk together graham cracker crumbs, sugar, and salt. Stir in melted butter until combined.
Press into the bottom and sides of prepared pie plate. Bake for 8 minutes or until just starting to turn light golden brown. Remove from oven to a wire rack to cool completely.
In the bowl of stand mixer, beat together cream cheese, confectioner's sugar, and brown sugar until creamy. Beat in pumpkin, cinnamon, nutmeg, ginger, cloves, and maple extract until well combined.
Gently fold in whipped cream until combined.
Pour filling into prepared crust. Smooth top with a spatula. Refrigerate for 3 hours or until set.
In a medium saucepan, combine butter and brown sugar over medium heat. Cook over medium heat until butter is melted and sugar is dissolved. Stir occasionally to prevent scorching.
Stir in whipping cream and salt. Bring to a boil and boil for 5 minutes. Stir constantly to prevent scorching.
Remove from heat and cool for 10 minutes. Stir in pecans. Allow to cool for 15 more minutes before pouring over cheesecake pieces right before serving.
Store leftover cheesecake and praline topping in refrigerator.