These Baked Apple Fritters require just a handful of simple ingredients and 30 minutes from start to warm and ready to eat! With a caramelized, crunchy outside and soft, fluffy inside, these baked apple fritters are the perfect way to start a fall morning!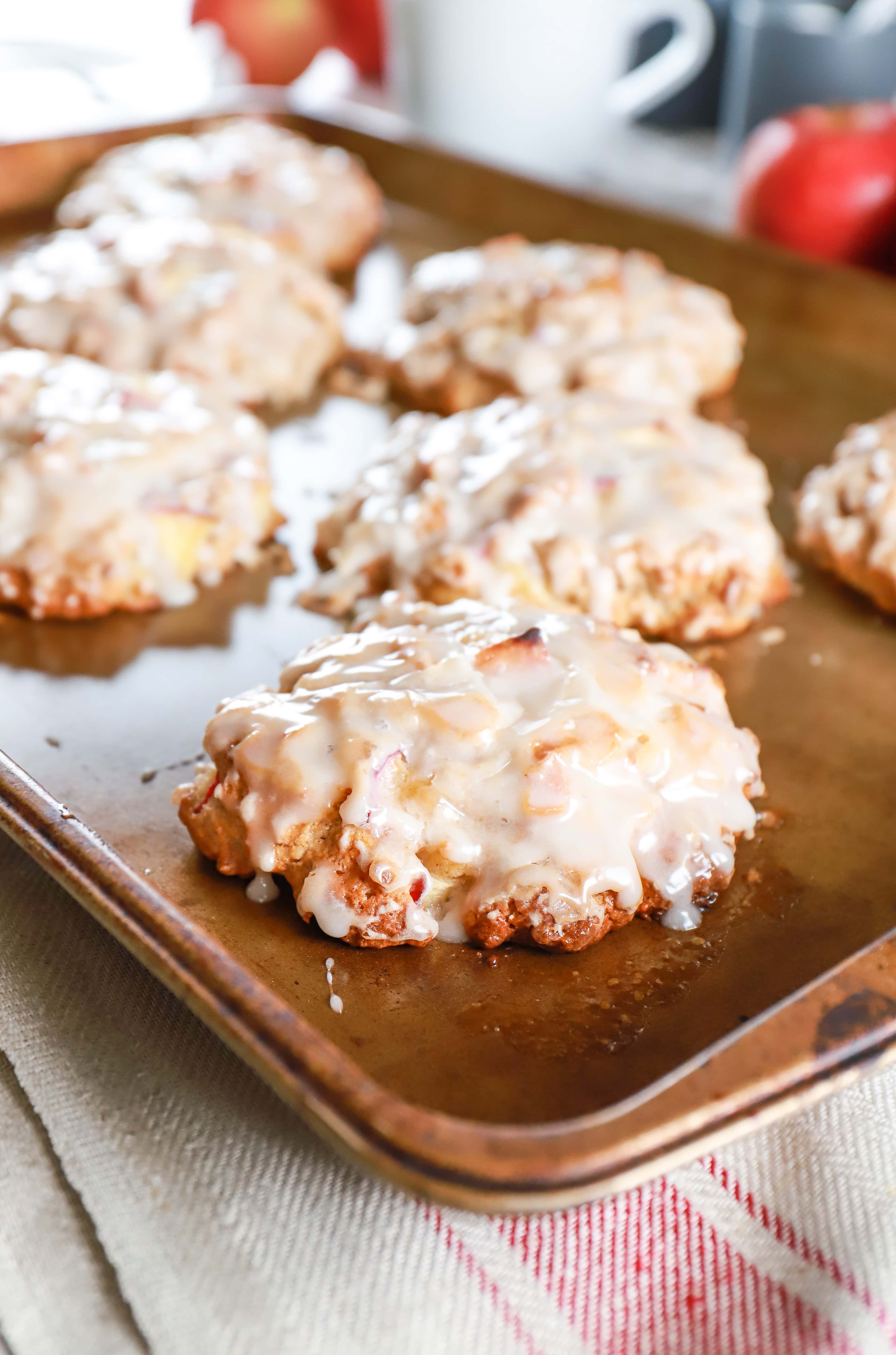 This time of year our kitchen is full of apples. I can't get enough of all the different varieties that are available in the fall. That usually means that I end up buying way more than we can eat fresh, so our kitchen is also full of apple baked goods this time of year!
The latest apple recipe to make an appearance in our kitchen? These baked apple fritters.
Based off of our Baked Pumpkin Fritters, these baked apple fritters are a fun fall breakfast that happen to be baked, not fried. I've had an apple variation on my baking list for quite awhile, but this fall I finally got around to making them.
They just take a handful of simple ingredients to make. Plus, these fritters just take 30 minutes from start to sitting warm on your plate ready to eat!
(Though we've found that we actually like them more after they've had a bit of time to cool and let the flavors blend. But if warm, gooey fritters are your favorite, dig in!)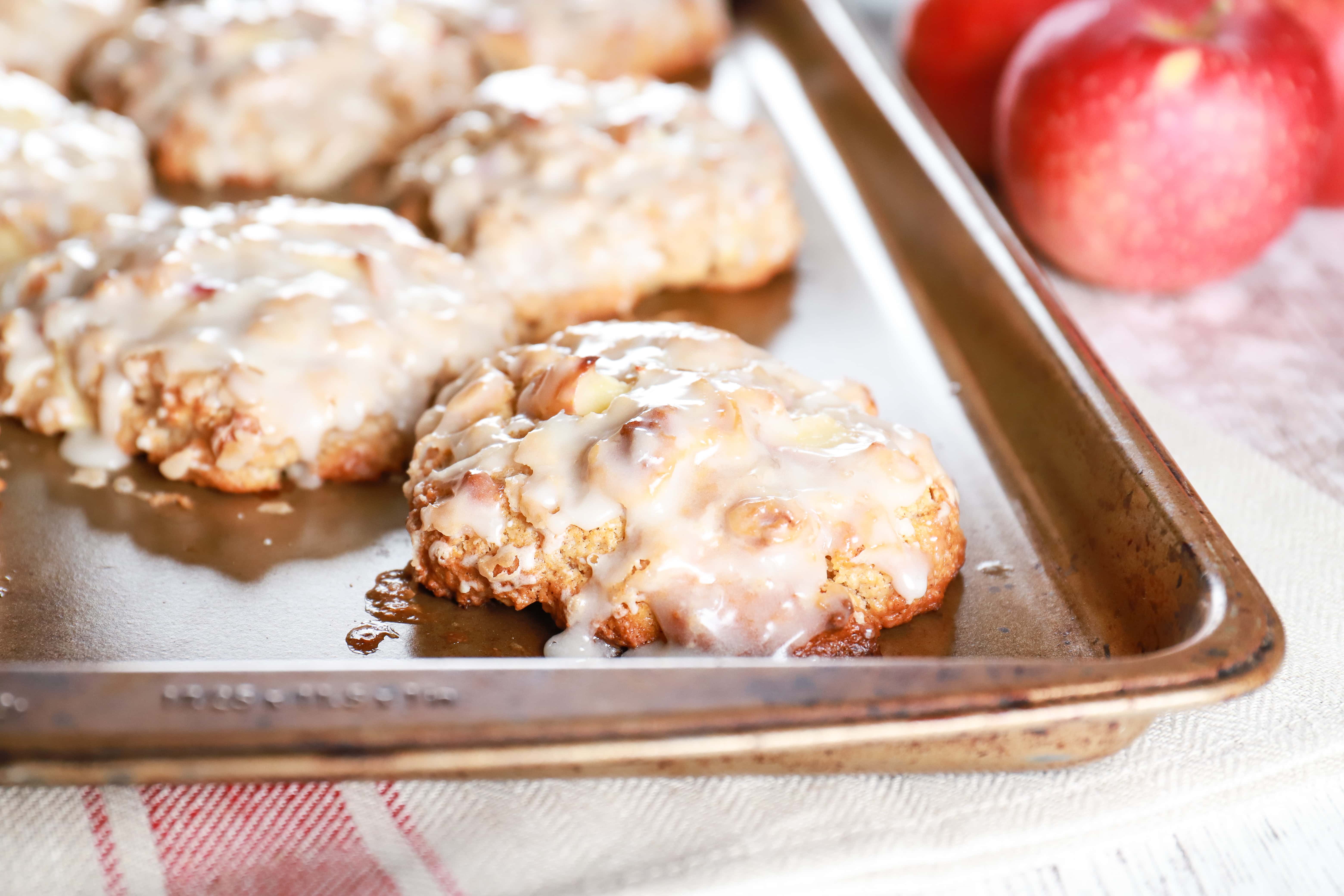 Making these fritters is a lot like making scones, just with more wet ingredients. You whisk together your dry ingredients, cut in your butter, add in your combined wet ingredients, and stir it all together until just combined. Then you fold in the chopped apples until just combined, scoop the batter onto a prepared baking sheet, and bake. Simple.
To achieve that caramelized, crunchy outer texture and soft, fluffy inside, we lightly glaze the fritters when they're almost done baking and then stick them under the broiler for a couple of minutes to finish off the bake time.
Brush the remaining glaze on them after they've been under the broiler, and serve (when they're cooled enough that you won't burn your mouth!)!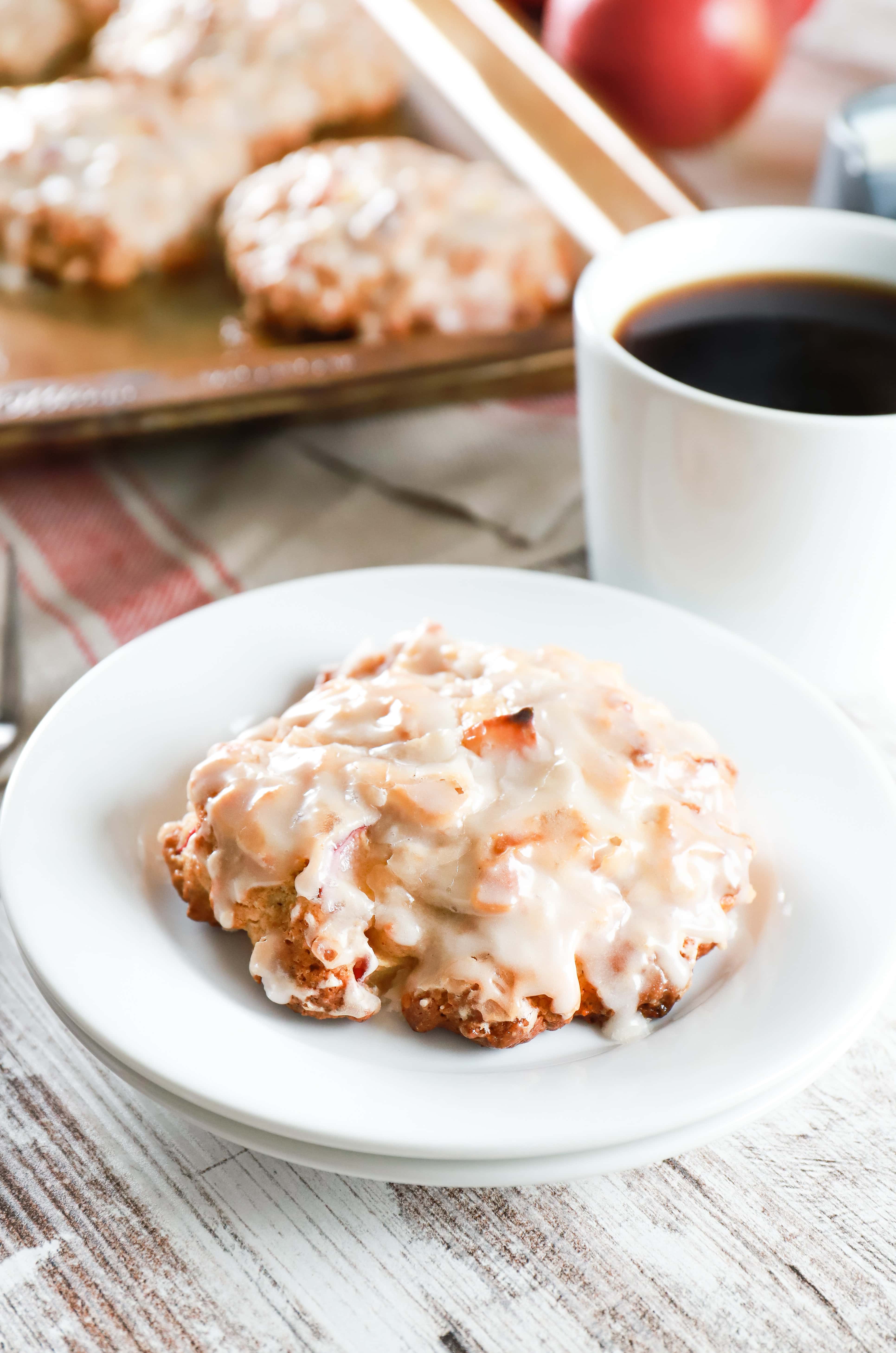 Tips for Making Baked Apple Fritters
While I normally am all for using whole wheat flour in recipes, I really recommend that you stick to white whole wheat flour or all-purpose flour. The texture is noticeably different, as well as the flavor. So, if you want to go all whole wheat, just know that it will change things.
Do not overmix. It will be tempting to mix the batter until everything is smooth. It's a lot like a muffin mix where you just need to stir until combined. The result will be a soft, melt-in-your-mouth fritter.
The more flavor your apples have, the more flavor the fritters will have. We like to use firm, tart apples.
Like the apple and maple flavor combination? Substitute the vanilla extract for maple extract in the glaze.
To get the batter on the baking sheet you can either use a 1/4 cup measuring cup or an ice cream scoop like this one. The measuring cup gives you more nooks and crannies in your fritters for the glaze to settle into once baked. However, the ice cream scoop is less messy.
Unlike the baked pumpkin fritters, the batter does not need to be flattened at all after scooping onto the baking sheet. It may look like it's too thick, but it isn't. When I've tried flattening the batter, they end up spreading too much during baking.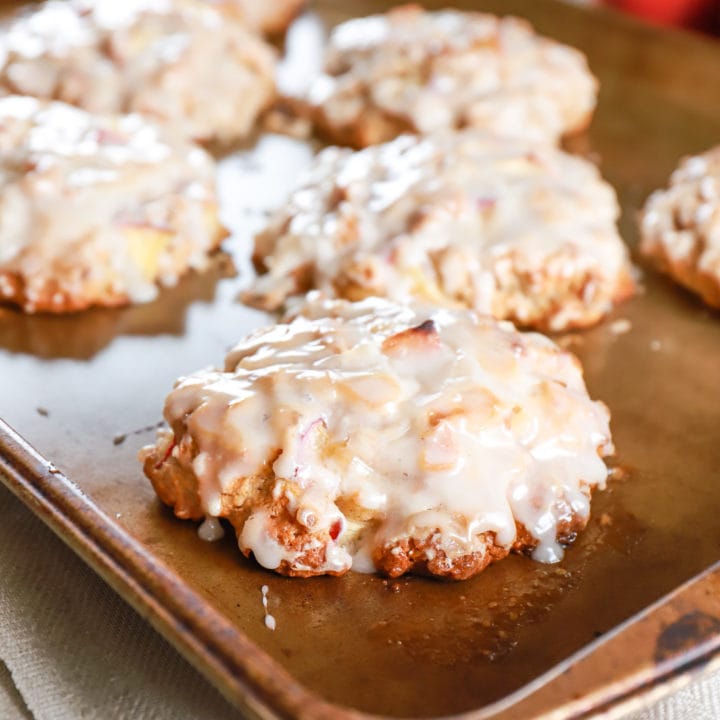 Baked Apple Fritters
Yield:
8 large fritters or 16 mini fritters
These Baked Apple Fritters require just a handful of simple ingredients and 30 minutes from start to warm and ready to eat! With a caramelized, crunchy outside and soft, fluffy inside, these baked apple fritters are the perfect way to start a fall morning!
Ingredients
For the Fritters
3/4 Cup all-purpose flour
3/4 Cup white whole wheat flour**
1/2 Cup brown sugar
2 teaspoons baking powder
1 teaspoon cinnamon
1/2 teaspoon nutmeg
1/4 teaspoon allspice
1/4 teaspoon salt
6 Tablespoons butter, cold and cut into pieces
1/2 Cup milk (the higher the fat content, the richer the flavor)
1 egg
1 teaspoon vanilla extract
1 Cup chopped apple***
For the Glaze
1 Cup confectioner's sugar
2 Tablespoons milk (a higher percentage of fat works the best)
1 teaspoon vanilla extract
Instructions
Preheat oven to 400 degrees Fahrenheit. Line a baking sheet with a silicone baking mat. (Make sure that the mat you are using can be used under a broiler. If not, these fritters will work without a mat. The pan will just be a littler dirtier.)
In a large bowl, whisk together all-purpose flour, white whole wheat flour, brown sugar, baking powder, cinnamon, nutmeg, allspice, and salt. Cut in butter until mixture resembles coarse crumbs.
In a small bowl, whisk together milk, egg, and vanilla extract. Add to flour mixture and stir until just combined. Gently stir in chopped apple. ****
Drop by 1/4 Cup-full onto prepared baking sheet. (If you want to make small fritters, use a heaping tablespoon-full.)
Bake for 11-13 minutes, or until bottoms are golden brown and center is set. (If you are making small fritters, start checking for doneness at 8 minutes.) Remove to a wire rack and turn oven to broil.
After turning oven to broil, prepare glaze. Whisk together confectioner's sugar, milk, and vanilla extract until smooth. Brush a thin layer of glaze over fritters. Place under broiler. Broil for 2-4 minutes, or until tops start to turn golden and the glaze bubbles.
Carefully remove baking sheet to a wire rack. Brush remaining glaze over the warm fritters.
Allow glaze to harden and serve.
Best eaten same day.
Notes
**Don't have white whole wheat flour? You can substitute all-purpose flour for the amount of the white whole wheat flour.
***Tart apples give the fritters the best flavor.
****Because some apples are extra juicy, you may find that your batter seems too thin. If that is the case, add an additional 2-4 Tablespoons of flour. Batter should hold its shape when dropped on the baking sheet.
Recommended Products
As an Amazon Associate and member of other affiliate programs, I earn from qualifying purchases.
Nutrition Information:
Yield:

8
Serving Size:

1
Amount Per Serving:
Calories:

286
Total Fat:

10g
Saturated Fat:

6g
Trans Fat:

0g
Unsaturated Fat:

3g
Cholesterol:

48mg
Sodium:

280mg
Carbohydrates:

46g
Fiber:

2g
Sugar:

26g
Protein:

4g
Nutrition information shown is an estimate provided by an online calculator and may not always be accurate. It should not be considered a substitute for a medical professional's advice.
More apple recipes to try!