These Frosted Maple Peanut Butter Bars are soft, chewy and completely irresistible! A fluffy maple buttercream tops the bars and salty peanuts create that favorite sweet and salty combo!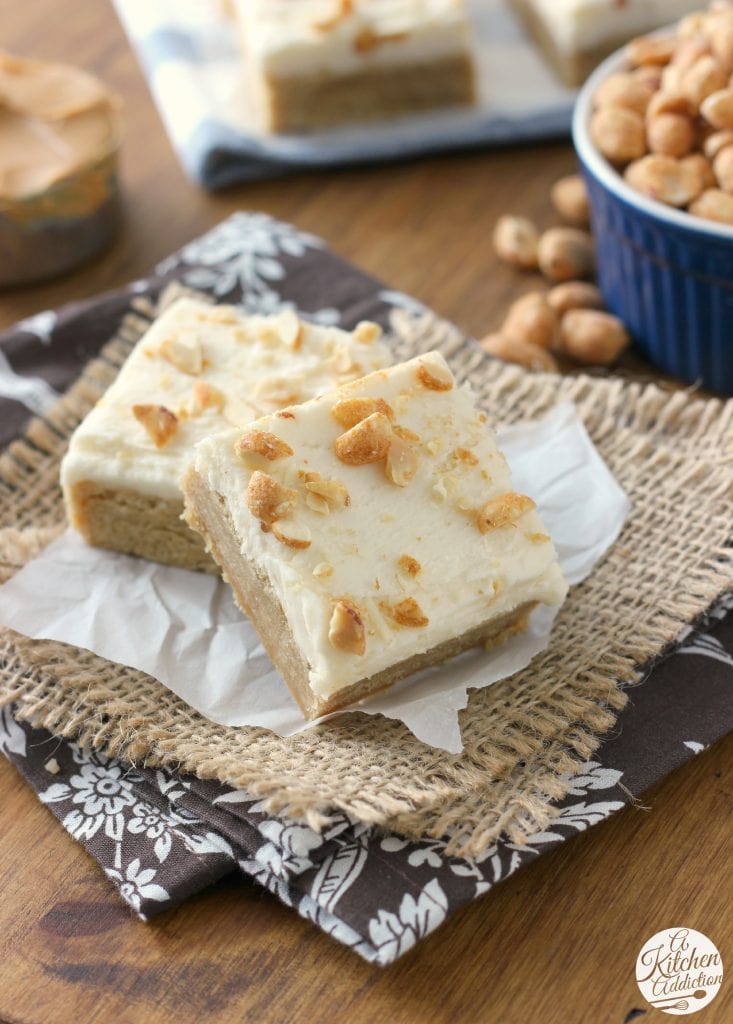 I've been seeing the maple peanut butter combination popping up in recipes lately, and since maple seems to be the theme of the blog this fall, I just had to give it a try. I was a little skeptical at first, but the smell that came from the oven while these maple peanut butter bars were baking got rid of any worries!
Ever had peanut butter and maple syrup on your pancakes? If not, you should try it. If you have, these bars taste like that, only better!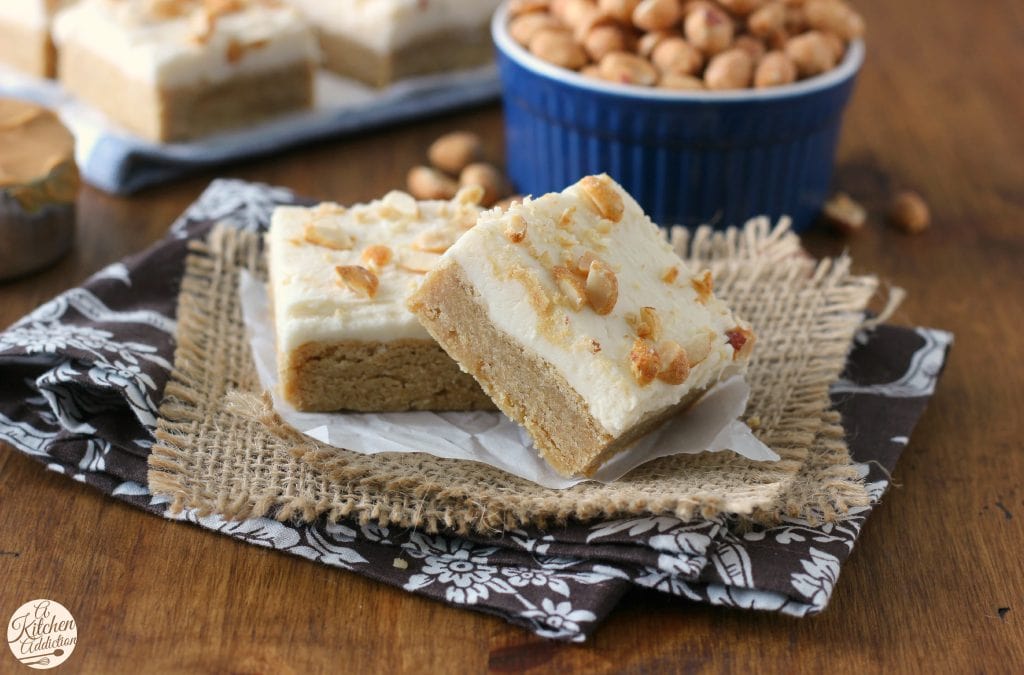 This recipe is an adaptation of one of my go-to peanut butter bars recipes, which I noticed when searching the blog for it, hasn't been posted! (I'll have to remember to share it, because it is so easy to throw together at the last minute!)
Maple extract gives the cookie bars a light maple flavor without being too overpowering or making the bars too sweet.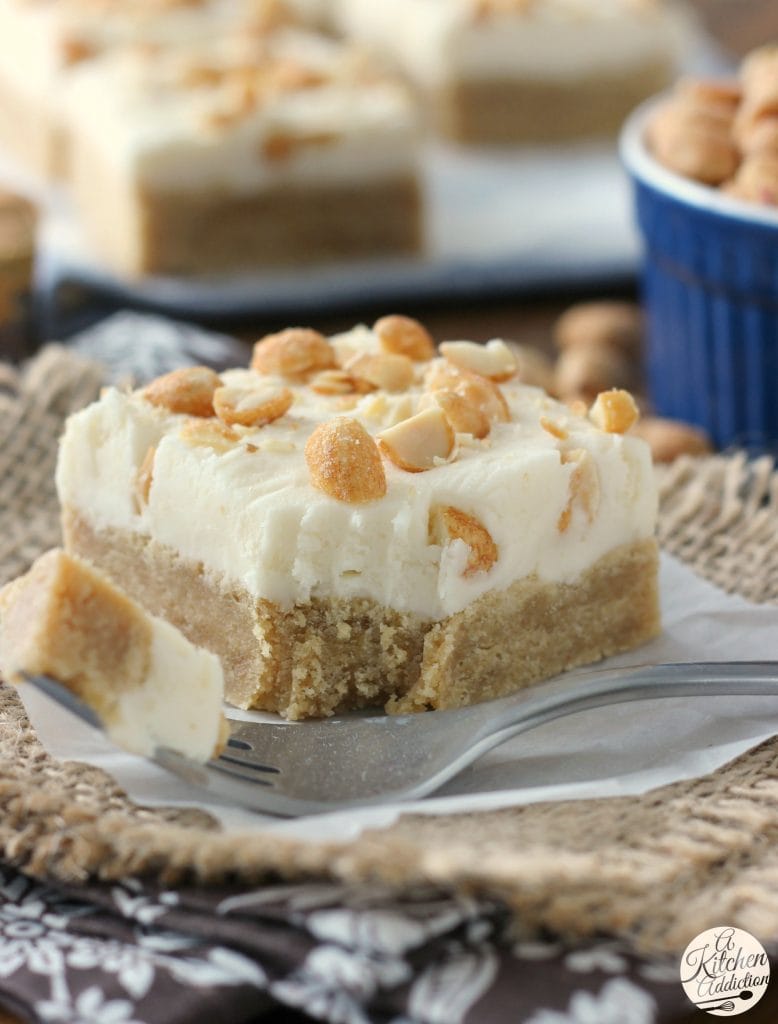 A maple buttercream frosting tops these chewy cookie bars, and some coarsely chopped honey roasted peanuts ties the flavors together and adds a bit of crunch. That and it adds a bit of color.
Something about a white frosting topping a light brown bar that doesn't make it the most festive dessert you've seen. But don't let the color (or lack thereof!) fool you.
These bars are rich, chewy, and loaded with flavor!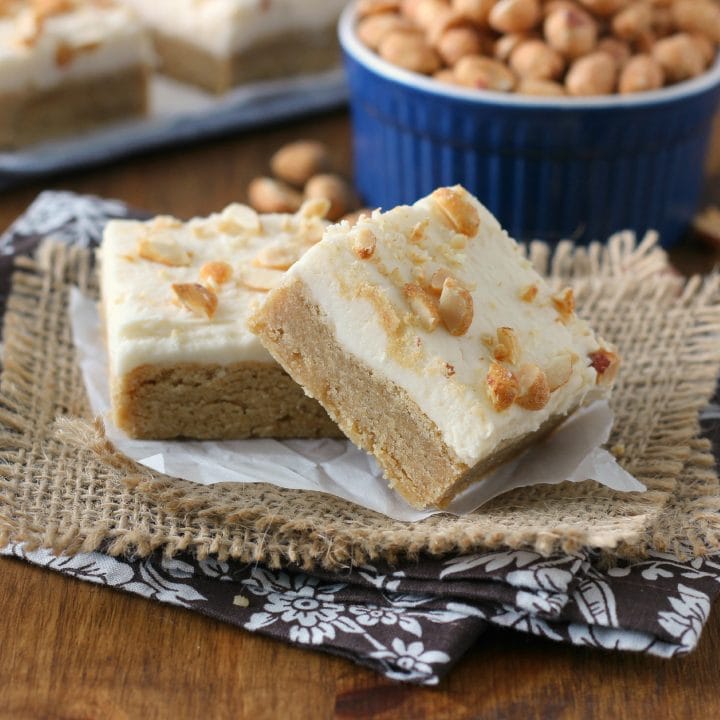 Frosted Maple Peanut Butter Bars
Ingredients
For the Bars
1/2 C butter, softened
1/2 C brown sugar
1/4 C sugar
1/3 C creamy peanut butter
1 egg
2 C white whole wheat or all-purpose flour
1 tsp baking soda
1/2 tsp salt
For the Frosting
1/2 C butter, softened
3 C confectioner's sugar
2 tbsp pure maple syrup
1 1/2 tbsp milk
coarsely chopped peanuts, for garnish
Instructions
Preheat oven to 350. Line a 9x9 inch baking dish with parchment paper or spray with non-stick cooking spray.
Cream together butter and sugars in a large bowl. Beat in peanut butter, egg, and maple extract until creamy.
In a medium bowl, whisk together flour, baking soda, and salt. Add dry ingredients to wet ingredients and beat until combined.
Press cookie dough into the bottom of prepared baking dish. Bake for 13-15 minutes or until edges just start to turn light golden brown. Remove to a wire rack to cool.
While bars are cooling, prepare frosting. Beat together butter and confectioner's sugar. Add in maple syrup and milk. Beat until creamy. Add another teaspoon milk, if needed. Spread frosting over cooled bars. Sprinkle with chopped peanuts. Cut into bars and serve.
Notes
If you don't have pure maple syrup you can use milk in place of it. Add 1 teaspoon maple extract for flavor.
Recommended Products
As an Amazon Associate and member of other affiliate programs, I earn from qualifying purchases.


This post contains affiliate links.