Making turkey has never been easier with this Slow Cooker Maple Herb Butter Turkey Breast with Apple Cider Glaze! With lots of flavor and very little prep work, this is one Thanksgiving turkey that you'll want to make all year!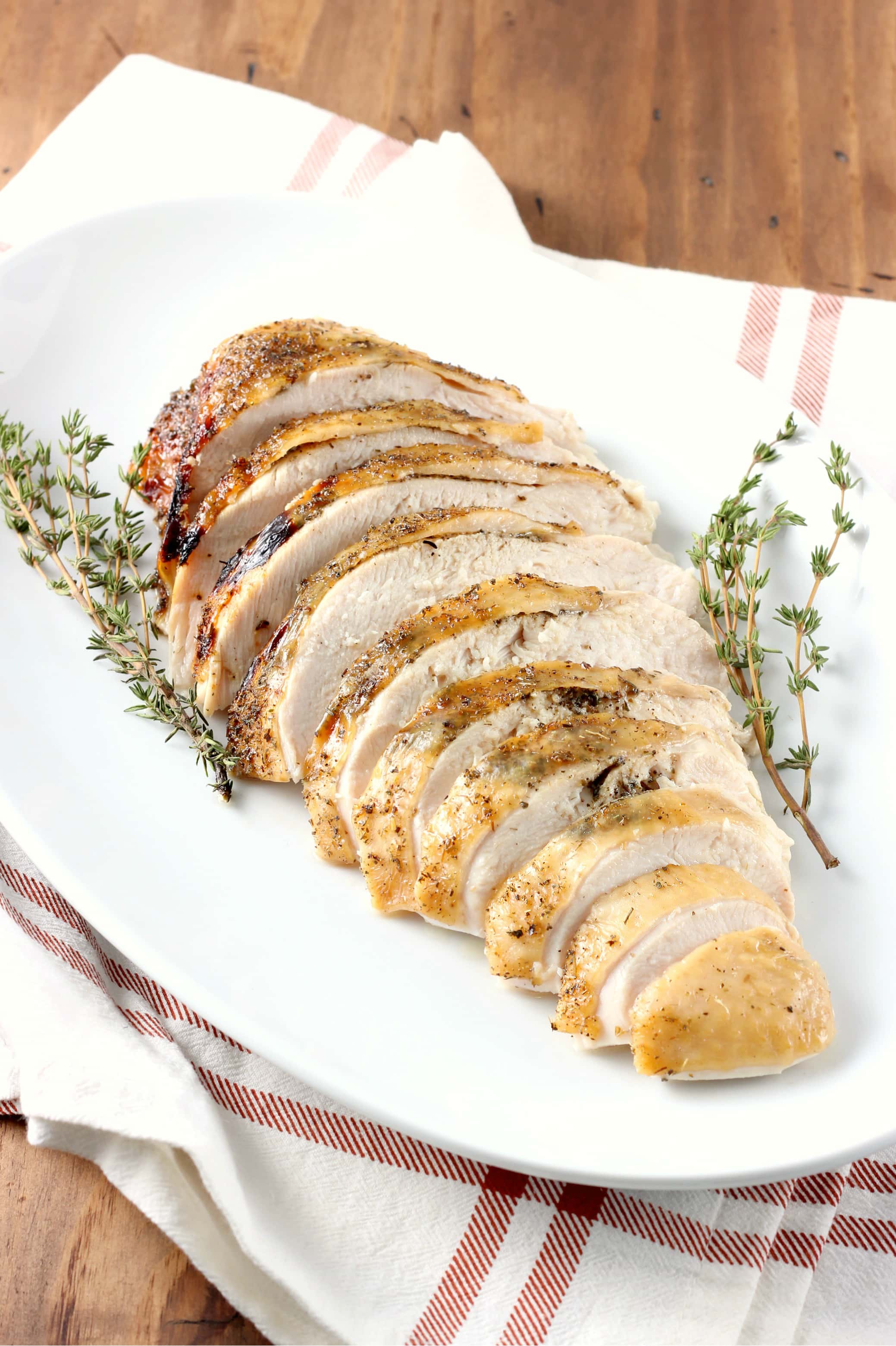 *This post is sponsored by the Minnesota Turkey Growers Association. All opinions are still my own. This post contains affiliate links.
My husband and I have a tradition where we always have a Thanksgiving meal together, just the two of us, either on the actual day when we couldn't make it to family or close to it.
We make a turkey and all the sides and dessert that go with it!
Yes, we usually end up with a lot of leftovers, but it's fun and we love the leftovers! One thing we've cut back on the last few years is going from making a whole turkey to just preparing a turkey breast.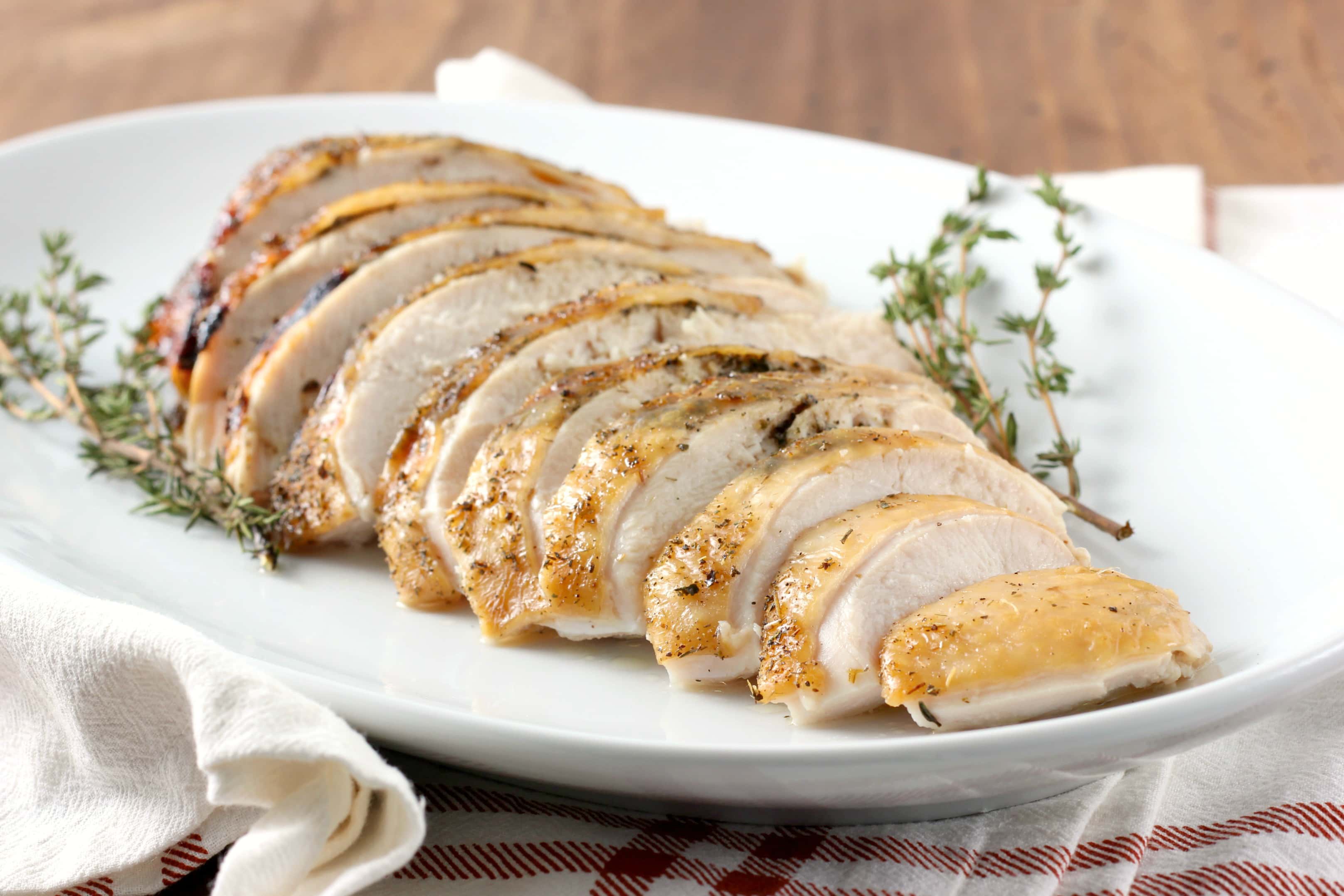 This slow cooker maple herb butter turkey breast with apple cider glaze is our new favorite addition to the menu.
It's pretty obvious that two people don't need an entire turkey, and making just a turkey breast is so much faster!
It's also super easy when you can throw it in the slow cooker with minimal prep and then let the slow cooker do the work for you until you're ready to pull it out and serve.
Sometimes I think the poor turkey gets a bad rap because I'm sure most of us have had a dried out, bland turkey experience. But that's not the turkey's fault.
There are so many easy, good ways to prepare turkey!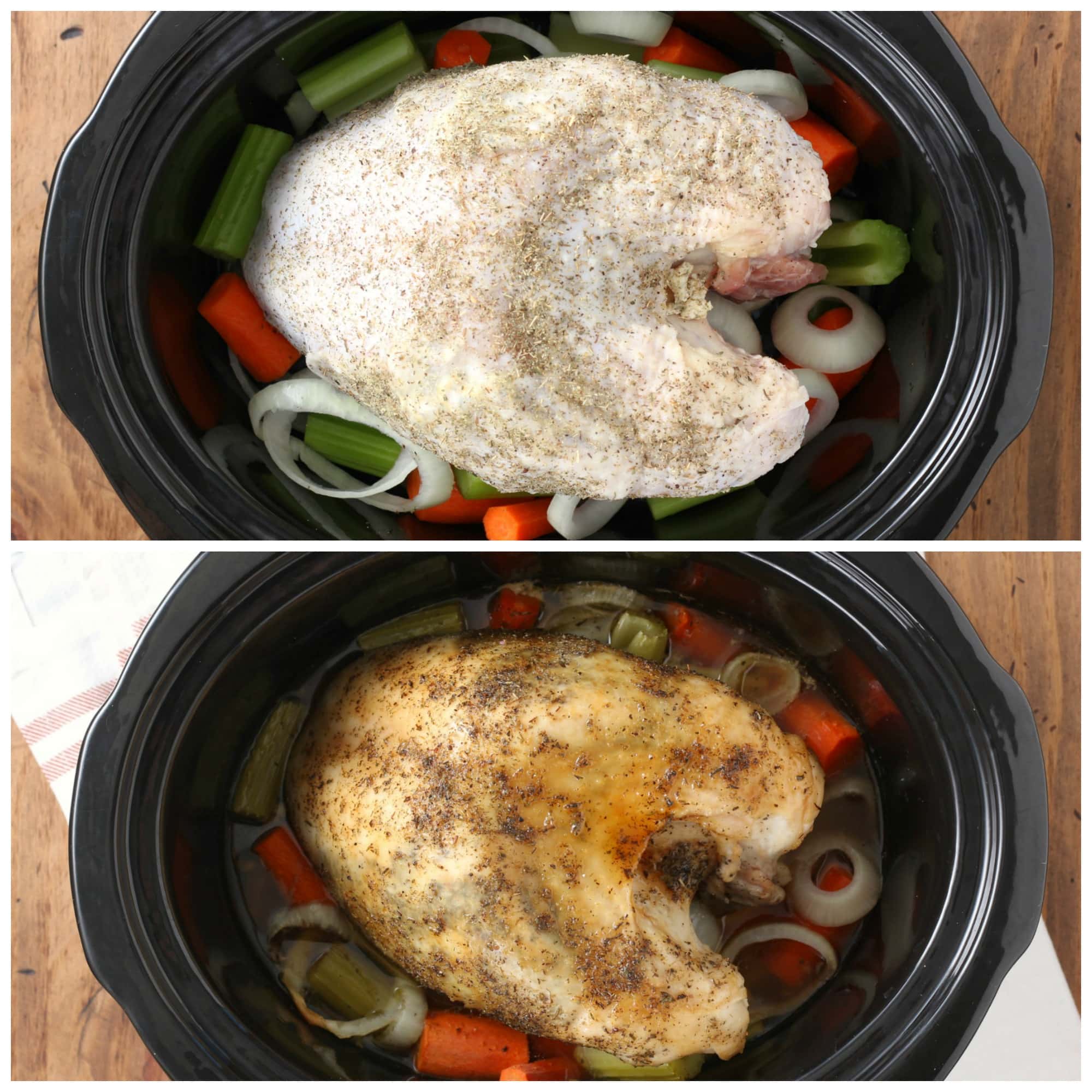 I've teamed up with the Minnesota Turkey Growers Association this year to help you make sure your Thanksgiving turkey preparation goes as smoothly as possible and to give your some facts about the turkey industry in my home state of Minnesota. Did you know Minnesota ranks #1 nationally in turkey farming?
Minnesota turkey growers provide the best care possible for their flocks to ensure that the turkeys are healthy and safe. Turkeys live in free-roaming (never in cages) barns to protect them from the weather and predators and where they always have access to fresh food and water.
In fact, all turkeys in the U.S. are raised without any added growth hormones and steroids. (There are no growth hormones or steroids approved by the FDA for use in poultry.)
You can meet the Minnesota turkey farmers who may produce your Thanksgiving turkey by checking out these videos.
Tips for Picking out your Thanksgiving Turkey:
allow 1 pound of turkey per person for a fresh or frozen bird
allow approximately 24 hours for every 4-5 pounds of bird weight for thawing in the refrigerator
let a turkey stand for 20 minutes after removing from oven before carving to allow juices to set
make this slow cooker maple herb butter turkey breast with apple cider glaze 😉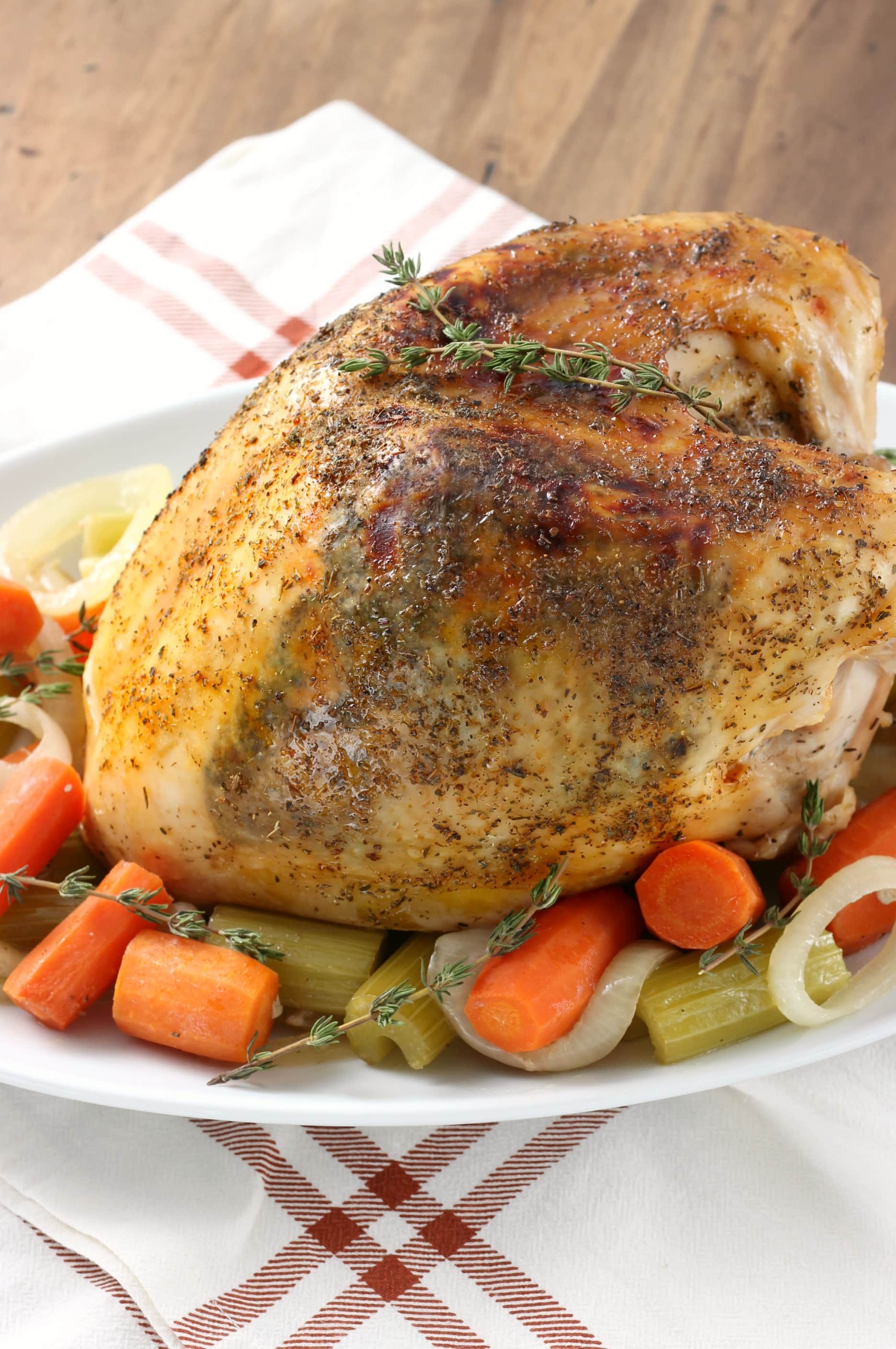 I've made herb butter turkey breast before but never with the addition of maple syrup. I won't be leaving out the maple syrup again!
As the turkey cooks, the maple herb butter melts and not only imparts it's rich buttery flavor into the skin but also helps the maple herb flavor sink in as well.
While this makes the meat tender all by itself, it certainly doesn't hurt to baste the turkey a few times while cooking! So I did. With an apple cider reduction.
Just three-four simple brushes of apple cider glaze (I like to use this basting brush) at the end of the cooking time and this turkey breast was not only super juicy, but also full of flavor.
No dried out, flavorless turkey here!
In fact, after trying this turkey, my husband looked at me and asked why we only eat turkey at Thanksgiving. This turkey is good enough to have all year round!
Want more Slow Cooker Turkey Breast Recipes?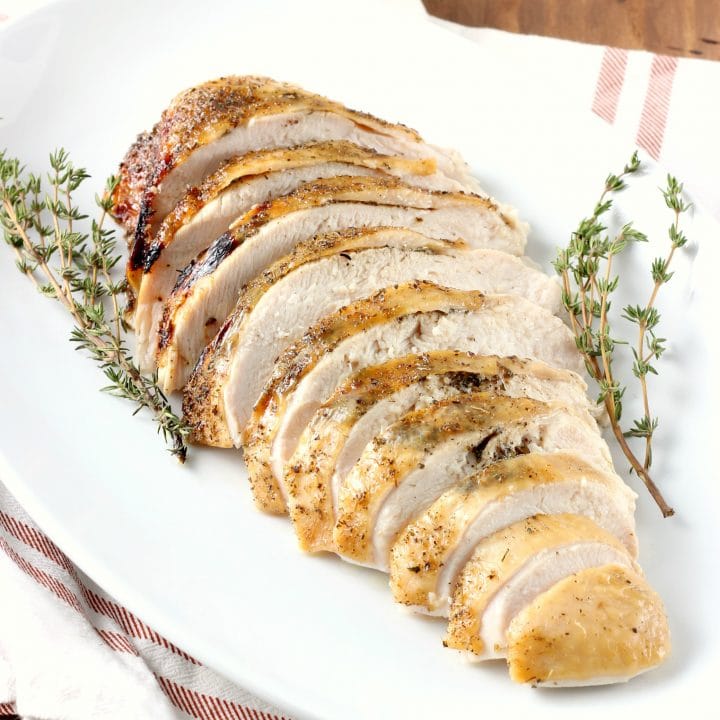 Slow Cooker Maple Herb Butter Turkey Breast with Apple Cider Glaze
Ingredients
For the Turkey
1 (5-7 lb) bone-in turkey breast, thawed and patted dry with paper towels
¼ C butter, softened
2 tbsp maple syrup
1 tsp maple extract
1 tsp garlic powder
1 tsp thyme
1 tsp basil
1 tsp sage
½ tsp salt
½ tsp pepper
1 C chicken broth
½ C onion, sliced
3 medium carrots, peeled and cut into 2 inch pieces
3 ribs celery, rinsed and cut into 2 inch pieces
2 garlic cloves, roughly chopped
For the Glaze
2 C apple cider
3 tbsp brown sugar
1/8 tsp salt
1/8 tsp ground black pepper
Instructions
In a small saucepan, combine apple cider and brown sugar. Bring to a boil over medium heat, reduce to medium-low and allow to simmer until reduced to about 3/4 cup or a little less than half. Remove from heat, stir in salt and pepper, and set aside.
In a small bowl, whisk together garlic powder, thyme, basil, sage, salt, and pepper.
In a separate small bowl, stir together softened butter, maple syrup, maple extract, and half of herb mixture.
Spread herb butter underneath the skin of turkey breast. (You can use a spoon to get to the edges and spread it around with your hand on the top of the skin.) Sprinkle remaining herb mixture over the top.
Pour chicken broth into a 6 quart slow cooker. Add onion, carrots, celery, and garlic cloves. Place turkey breast on top.
Cook for 6-8 hours on low or until internal temperature at the thickest part of the breast reaches 165 degrees F. Two hours before the turkey is done, brush the apple glaze over the top and sides of the turkey breast every 30 minutes with a basting brush. You can check the temperature of the meat at 4 hours to see if the turkey breast will be done at 6 hours or closer to 8 hours. (If you find that your glaze has gotten too sticky, just put the glaze back on over low heat and stir in some more apple cider until it becomes runny enough to brush over the turkey again.)
Allow to rest for 20 minutes before slicing into pieces and serving.
Notes
Optional: Place the turkey breast in a broiler-safe dish and broil for 5-7 minutes to brown the skin.
Recommended Products
As an Amazon Associate and member of other affiliate programs, I earn from qualifying purchases.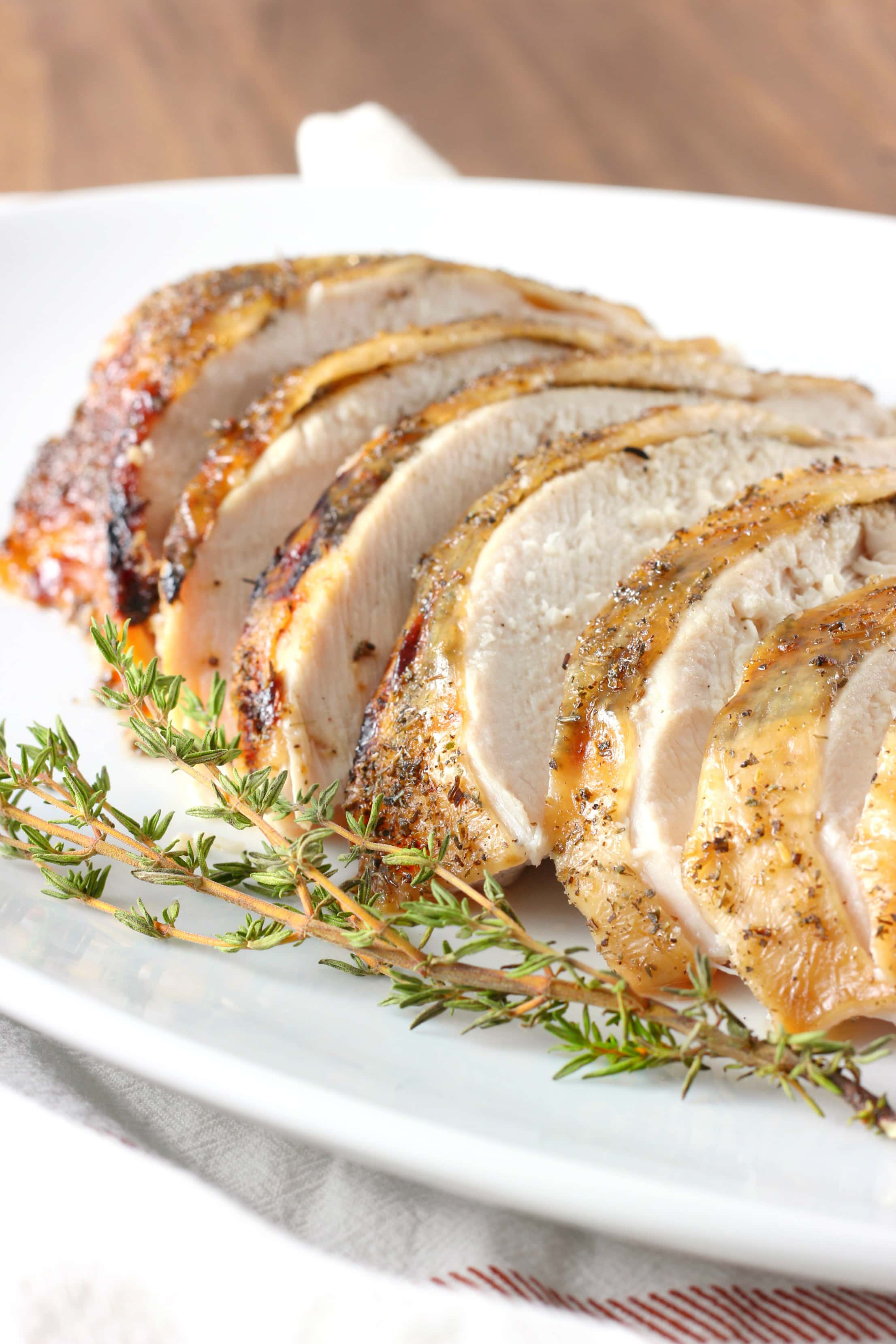 This recipe is made possible by the Minnesota Turkey Growers Association. As always, all opinions are my own. Thanks for supporting brands that make A Kitchen Addiction possible!
Be sure to follow the Minnesota Turkey Growers Association on Facebook, Twitter, and Pinterest for more Thanksgiving tips and tricks! Feel free to join the conversation using #ServeTurkey!