These Maple Chai Scones are filled with the warm spices of chai and topped with a sweet maple glaze! A simple scone recipe that will make your mornings better!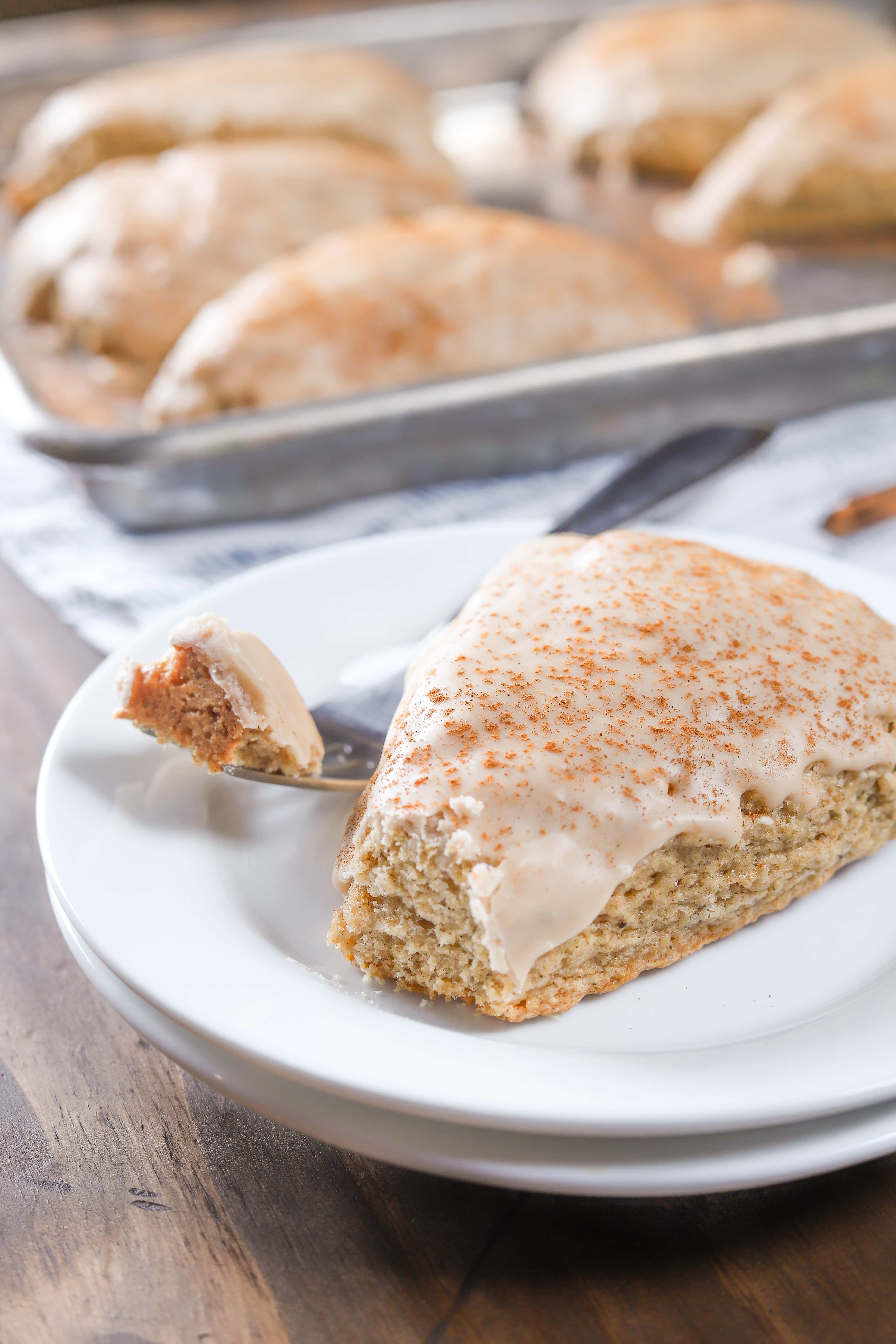 The other day when I was looking for a cookie recipe on the site, I came across these white chocolate maple chai cookies. I couldn't get the maple chai combination out of my mind. So when I went to make scones, it only seemed right to use that combo.
Since I already was planning on making chai scones, it was easy to include maple in both the base and glaze!
You've probably noticed that maple is a favorite flavor this time of year for us. It pairs well with so many different fall flavors. We love it with both sweet and savory apple, pumpkin, and other squash recipes. And now, we love it with chai baked goods!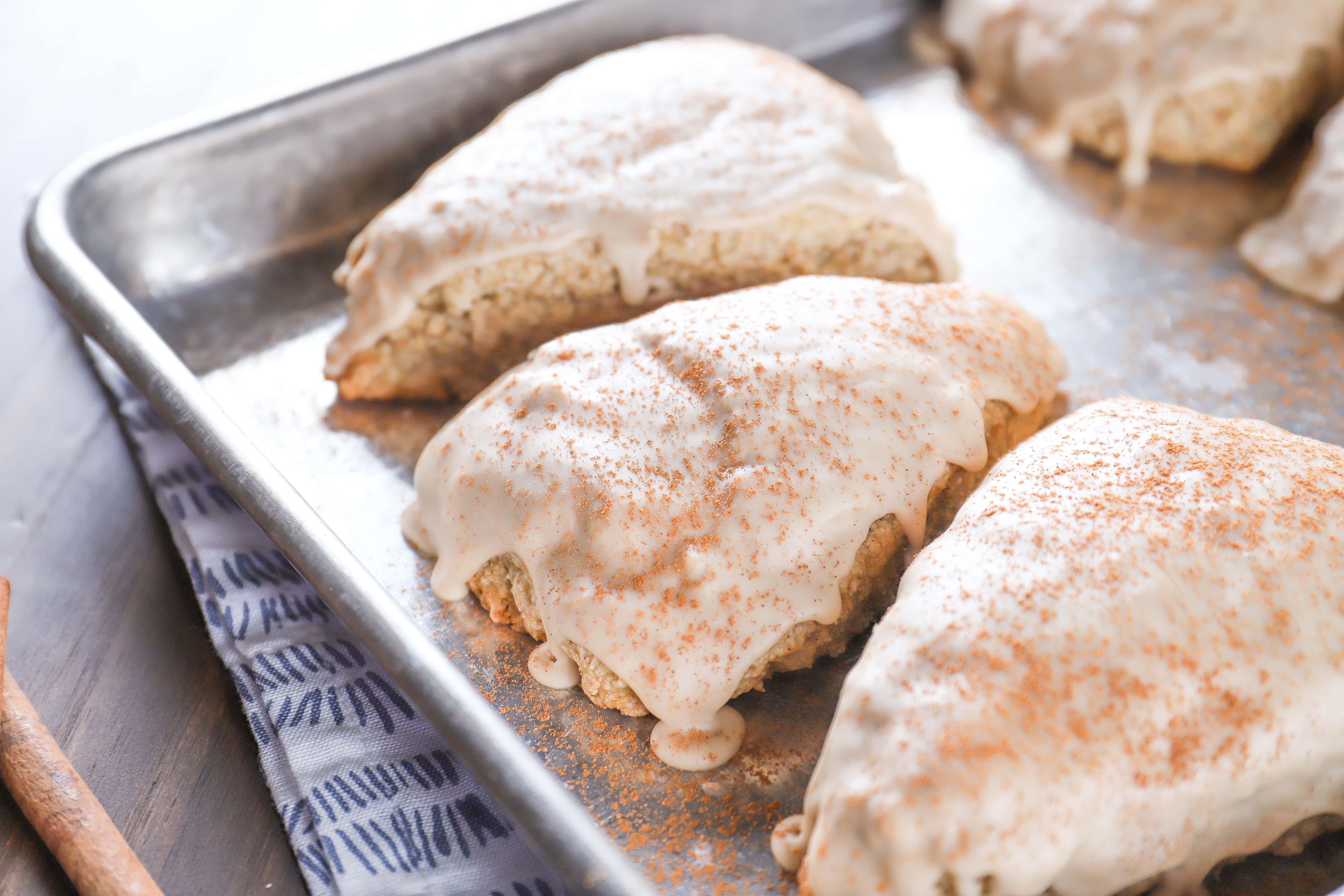 The classic warm, spicy chai flavors that you associate with the classic drink are all found in these scones. I've always associated chai with cold weather. It's a perfect drink to warm up on a chilly winter day. And now while you're warming up with a mug of chai, you can enjoy a scone with those same cozy flavors!
To round out the spicy flavors of the scones, they're dipped in a sweet maple glaze with more chai spices. A sprinkle of cinnamon tops them off. Let the glaze harden, and enjoy!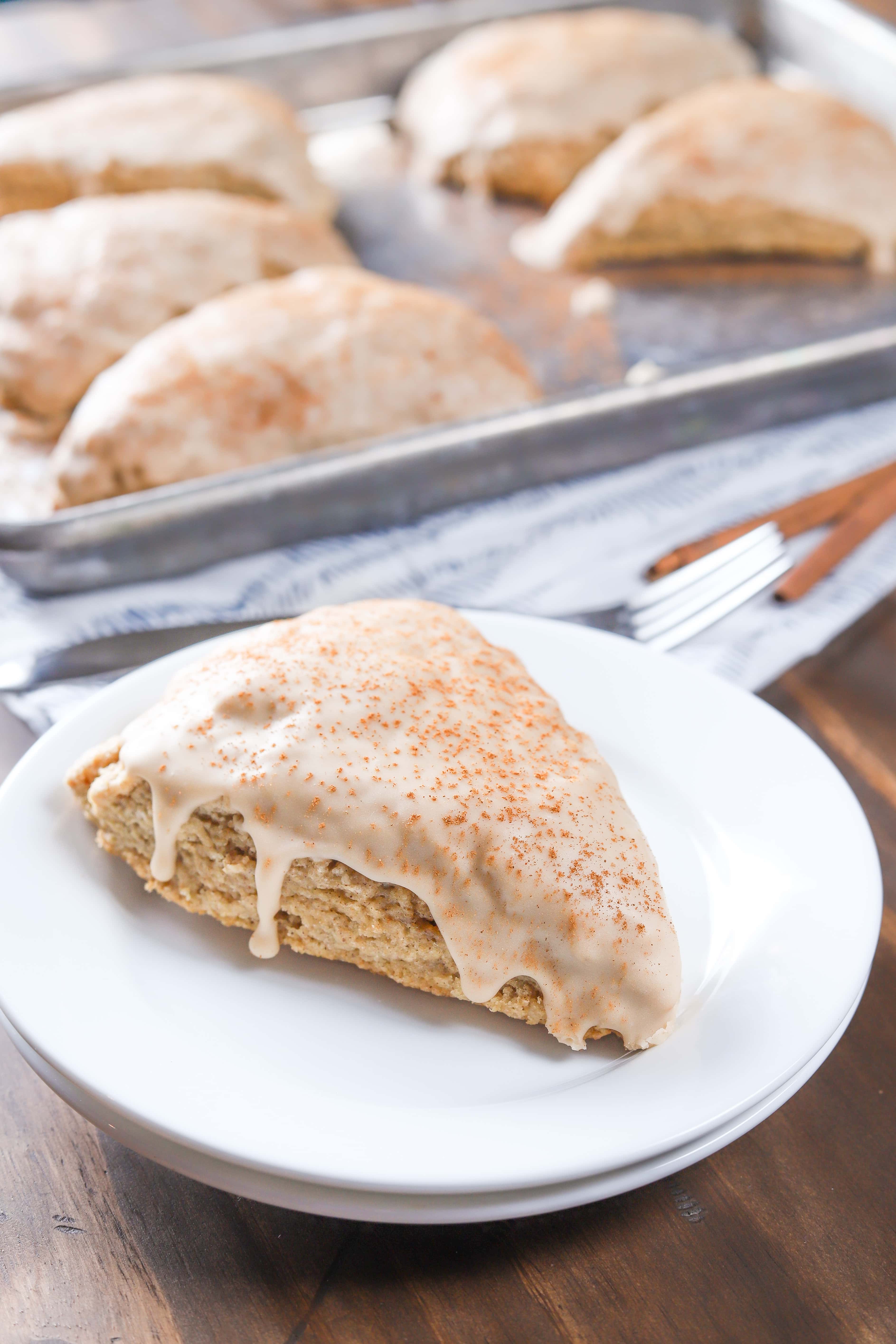 Tips for Making Maple Chai Scones
Stir the wet ingredients into the dry ingredients just until moistened. Don't worry if it isn't all wet. The dough will come together when you knead it.
Knead the dough only as much as is necessary to get dough to come together. It's okay if the circle looks shaggy. This will keep the scones from getting tough.
I like to use a dough scraper for cutting the scones and transferring them to the baking sheet. It makes it easy to both get even pieces and to keep the pieces together when moving them!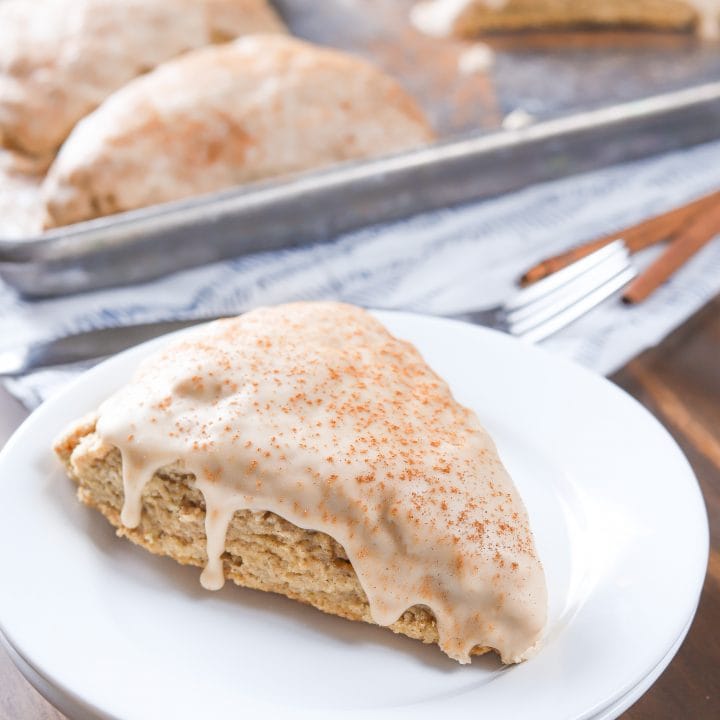 Maple Chai Scones
These Maple Chai Scones are filled with the warm spices of chai and topped with a sweet maple glaze! A simple scone recipe that will make your mornings better!
Ingredients
For the Scones
2 Cups all-purpose flour
1/3 Cup sugar
1 teaspoon baking powder
1/2 teaspoon baking soda
1/2 teaspoon salt
1 1/2 teaspoons cinnamon
1/2 teaspoon nutmeg
1/4 teaspoon ginger
1/4 teaspoon cloves
1/8 teaspoon cardamom
1/8 teaspoon freshly ground black pepper
1/2 Cup unsalted butter, cold and cut into pieces
1/2 C whole milk (heavy cream or half and half can be used for a richer flavor)
1 egg
1 teaspoon maple extract
1 teaspoon vanilla extract
For the Glaze
1 Cup confectioner's sugar
2-4 Tablespoons whole milk or heavy cream/half and half
1 teaspoon maple extract
Instructions
Preheat oven to 350. Line a baking sheet with a silicone baking mat or parchment paper.
In a large bowl, whisk together flour, sugar, baking powder, baking soda, salt, cinnamon, nutmeg, ginger, cloves, cardamom, and black pepper. Cut in butter until mixture resembles coarse crumbs.
In a small bowl, stir together whole milk, egg, maple extract, and vanilla extract until combined. Add to dry mixture and stir until just combined.
Turn dough out onto floured surface. Gently knead 5-6 times or until dough just comes together.
Gently pat into 8 inch circle. Cut into 8 pieces, and place on prepared baking sheet.
Bake for 15-20 minutes or until edges just start to turn golden brown. Remove to a wire rack to cool.
Stir together confectioner's sugar, 2 tablespoons whole milk, and maple extract. until smooth. Stir in additional whole milk, as needed, to reach desired consistency. Dip tops of scones in glaze or spoon glaze over the top.
Allow glaze to harden and serve.
Recommended Products
As an Amazon Associate and member of other affiliate programs, I earn from qualifying purchases.
Love maple recipes as much as we do? Try these!