This Spiced Apple Cider Brined Turkey Breast is made in the slow cooker and results in flavorful, juicy meat thanks to an easy apple cider brine! It's so easy you'll want to make it year round!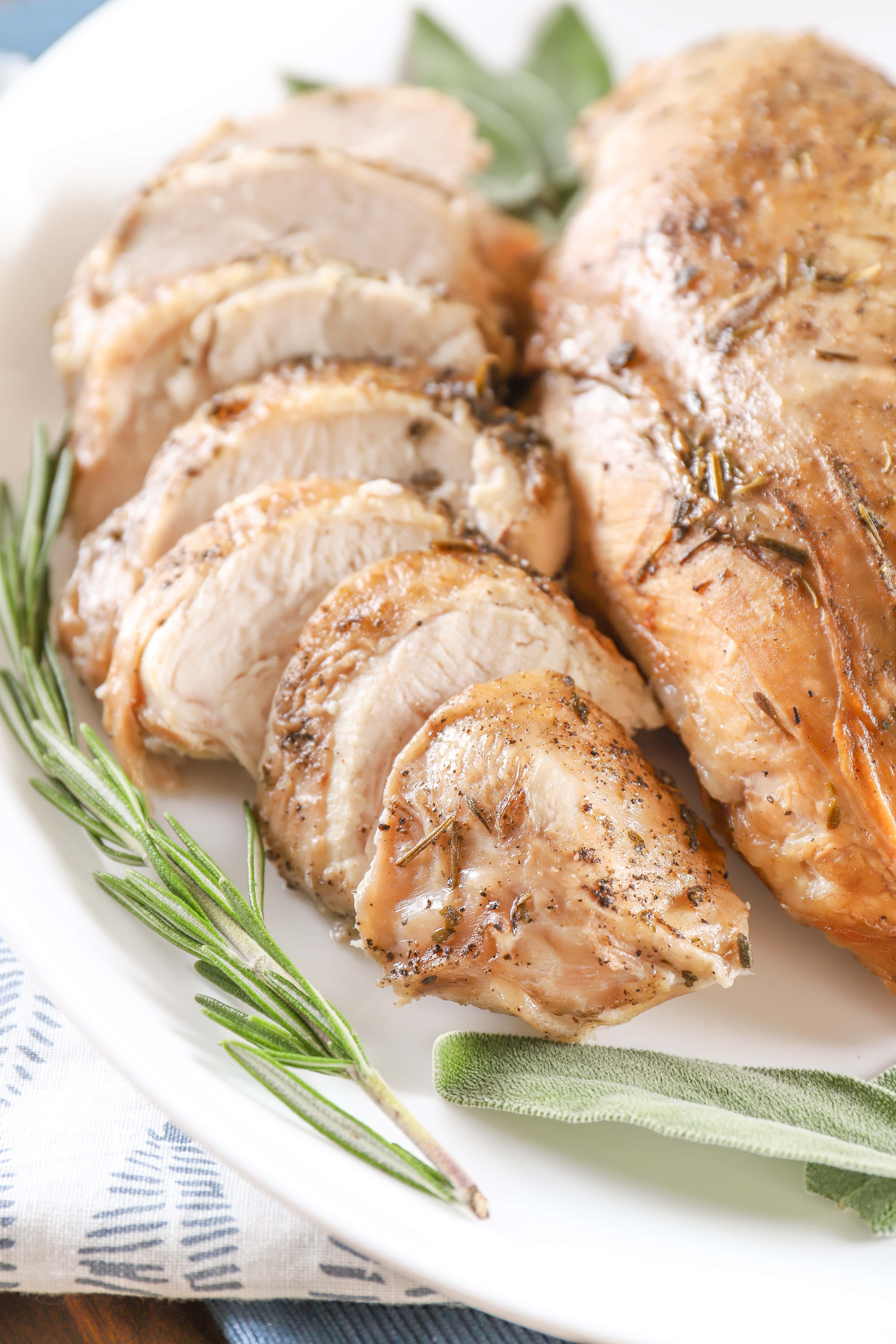 This recipe is made in partnership with the Minnesota Turkey Growers Association. As always, all opinions are my own.
It's already that time of year again! Thanksgiving! If you've been reading this blog for awhile now, you'll know that my husband and I have a tradition of having our own little Thanksgiving celebration. Each year we like to try new recipes for everything from the sweet potatoes to the turkey.
Obviously, the two of us don't need an entire turkey. (Though we have made an entire turkey before and we had leftovers for weeks!) Enter the often overlooked turkey breast. The perfect size for a small gathering and super easy to prepare.
We've started almost exclusively using turkey breast when celebrating our Thanksgiving or when we want to enjoy turkey other times of the year. It's the perfect cut of meat to start with if you've never prepared a turkey before, because the work to prepare the meat is a lot less and the cook time is a lot shorter.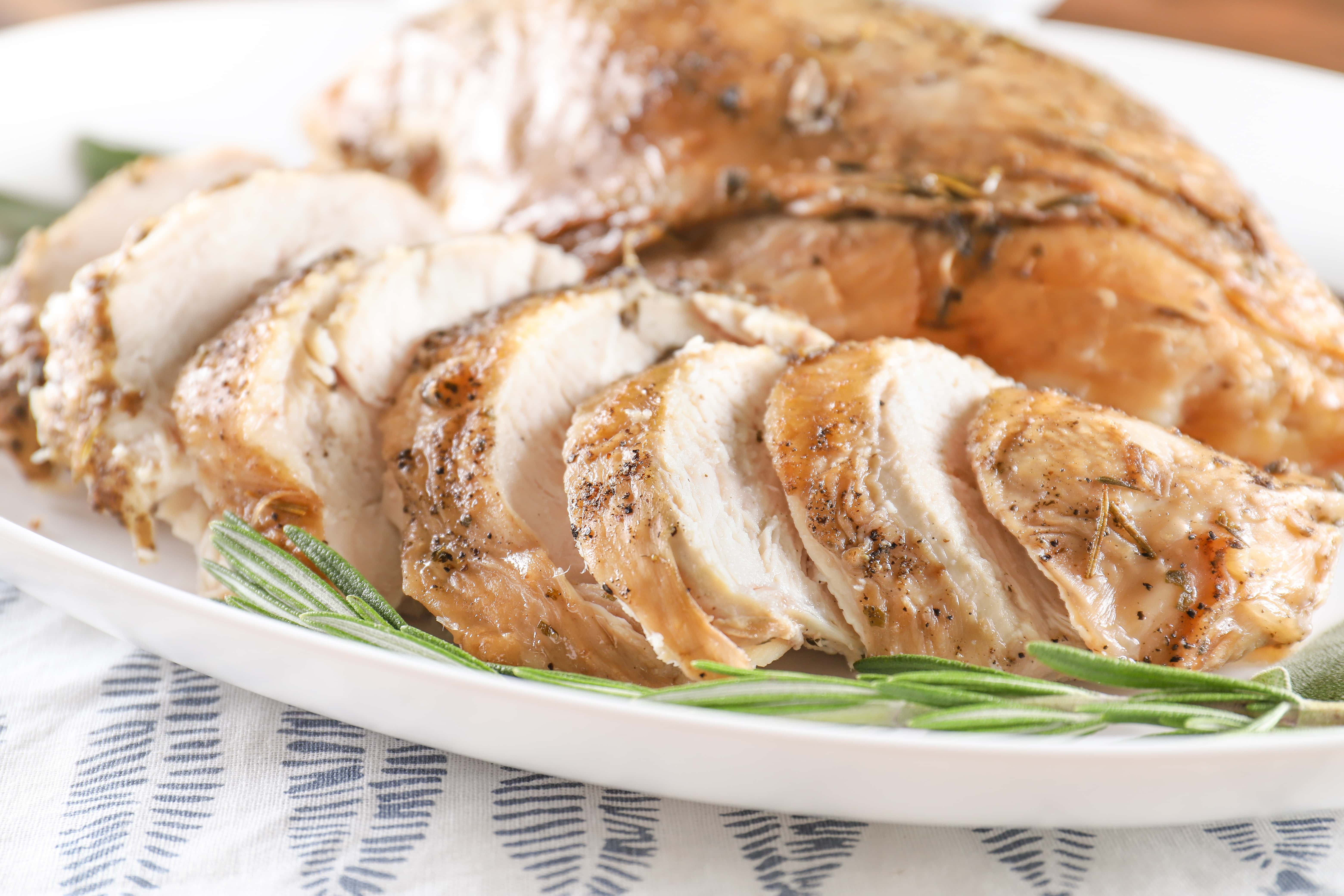 This year I get to partner with Minnesota Turkey Grower's Association again to share an easy and delicious way to prepare a turkey for your Thanksgiving and holiday meals! We love turkey year round, especially grilling it in the summer, and look forward to trying out new flavor combinations each year!
Did you know Minnesota ranks #1 in turkey farming with 450 turkey farm families? These farmers raise about 42.5 million turkeys, all of which are raised without added growth hormones or steroids.
An amazing 95% of Americans eat turkey for Thanksgiving! Meet the Minnesota turkey farmers who may produce your Thanksgiving turkey and be sure to check out the helpful tips below regarding choosing and preparing your Thanksgiving turkey!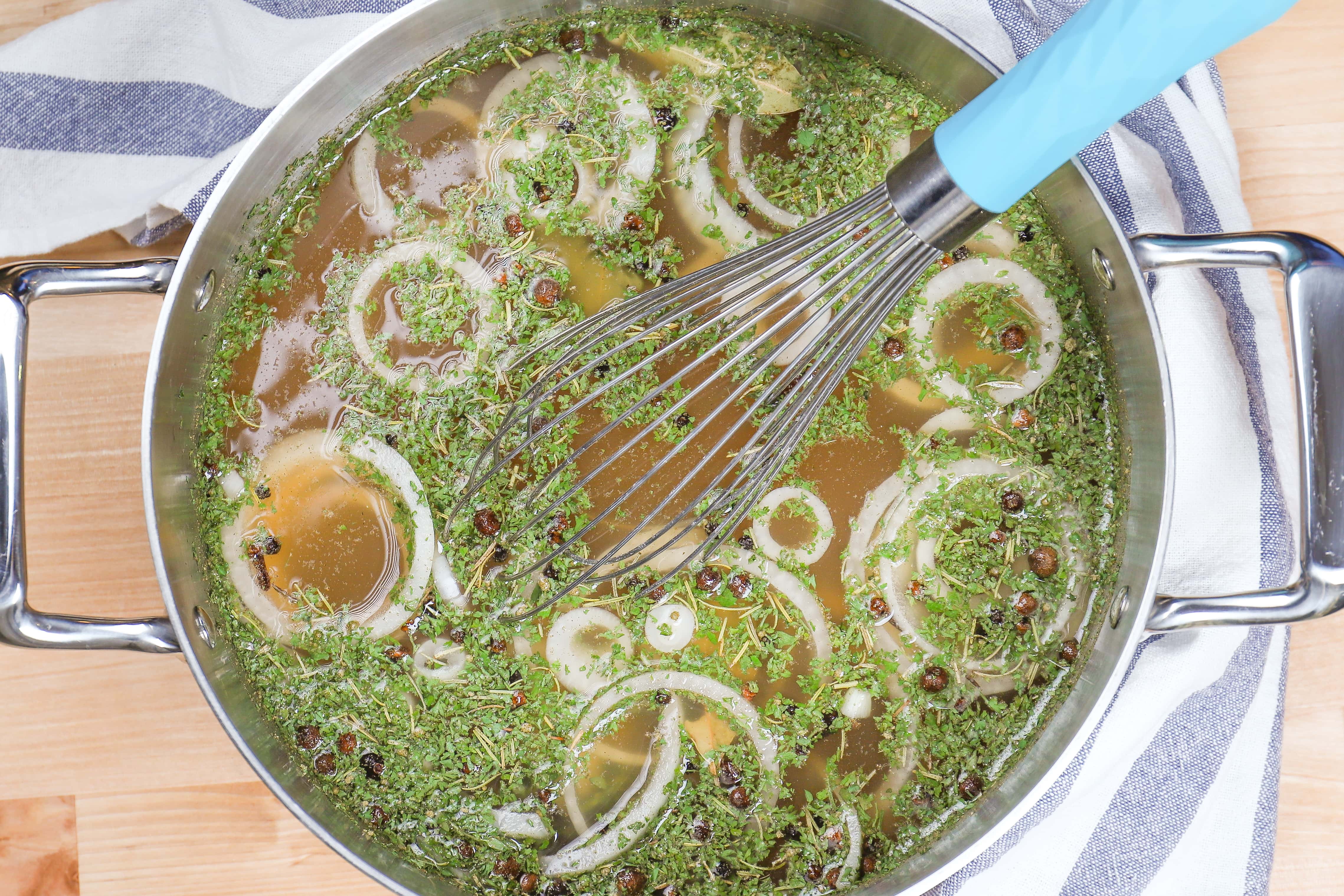 When thinking about what flavor turkey to try this year, my mind went straight to apple cider. While I love the flavor of apple cider and the spices that are usually associated with it, I also didn't want to leave out the classic spices that you expect to find when making a turkey! Most recipes I saw had one or the other, so I did a bit of both. Hence, the longer list of ingredients.
What you need to make a spiced apple cider brine
Brining bag or other food-safe bag large enough for your turkey breast
Apple cider
Brown sugar
Kosher salt
Bay leaves
Onion
Cloves of garlic
Sprigs of thyme
Whole peppercorns
Whole allspice
Whole cloves
Dried rosemary
Dried sage
Dried parsley
However, they are all recognizable and combine for a delicious turkey!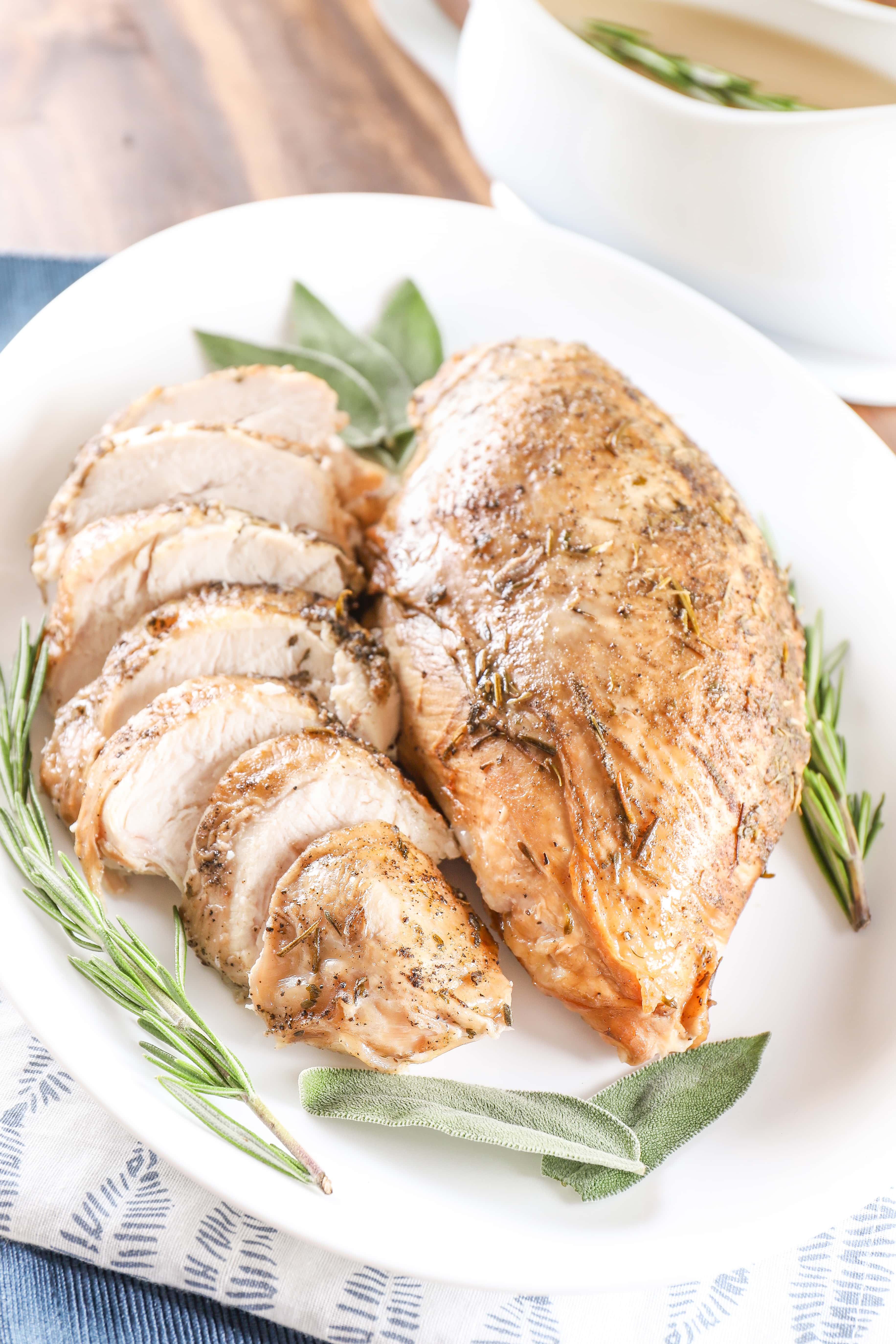 Tips for Making a Spiced Apple Cider Brined Turkey Breast
You may be tempted to use whatever bag you find that is large enough to hold your turkey breast. It doesn't have to be a specific brining bag, but please make sure that the bag you are using is food safe!
Prevent leaks in your refrigerator by placing your brining bag with turkey inside of a baking pan. A 9×13 inch baking pan works nicely for a small turkey breast. Your bag shouldn't tear, but just in case!
The best way to tell if the turkey is done is to wait to pull it out until the internal temperature at the breast reads 165°F and at the thigh reads 175°F. This will insure proper doneness and you won't have dry meat.
If you happen to end up with leftovers, they go really well in this Turkey Sweet Potato Quinoa Bake. (And, if you don't have leftovers, make another one, so you have turkey to make this quinoa bake!)
More Slow Cooker Turkey Breast Recipes!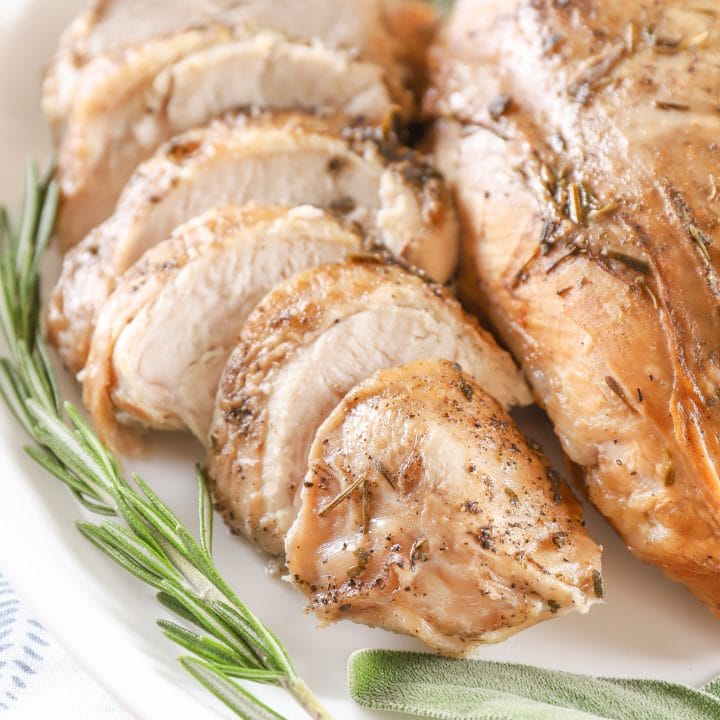 Slow Cooker Spiced Apple Cider Brined Turkey Breast
Yield:
5-7 pound turkey breast
Total Time:
18 hours
15 minutes
This Spiced Apple Cider Brined Turkey Breast is made in the slow cooker and results in flavorful, juicy meat thanks to an easy apple cider brine! It's so easy you'll want to make it year round!
Ingredients
For the Brine
6 Cups apple cider
1/3 Cup brown sugar
1/4 Cup kosher salt
1 small onion, chopped
4 sprigs fresh thyme
3 cloves garlic, chopped
3 dried bay leaves
1 Tablespoon dried parsley
2 teaspoons whole peppercorns
2 teaspoons whole cloves
2 teaspoons whole allspice
1 teaspoon ground sage
1 teaspoon dried rosemary
5-7 pound turkey breast, thawed and patted dry with paper towels
For the Cooking
1 Cup no salt added or reduced-sodium chicken broth
1 Cup apple cider
2 small or 1 large apple, sliced into 4-8 pieces
1 small onion, sliced
1/2 teaspoon dried rosemary
1/2 teaspoon dried sage
1/2 teaspoon dried thyme
1/4 teaspoon ground black pepper
Instructions
Combine all ingredients (minus the turkey!) for the brine into a large stock pot.
Stir together ingredients over medium heat until sugar and salt are dissolved. Remove from heat and allow to cool completely.
Place turkey in a large brining bag (Make sure you're using a food safe bag!). If possible, place bag in another pan to prevent a leak if something happens to the bag. Pour cooled brine over turkey and seal the bag as tightly around the turkey as possible to allow the brine to cover as much of the turkey as possible. If you want, you can put the turkey inside the bag upside down so more of the breast meat is covered in the brine.
Place bag with turkey, preferably on another pan, in refrigerator. Refrigerate for 12-24 hours.
Remove turkey from brine and pat dry with paper towels. Some of the spices will stay on the skin, that is okay. Just remove the big spices like the whole peppercorns, allspice, etc.
Add chicken broth, apple cider, sliced onion, and apple slices to the bottom of a 6 quart slow cooker. Place turkey breast on top. Sprinkle with dried rosemary, dried sage, dried thyme, and ground black pepper
Cook for 6-8 hour on low, or until internal temperature at the thickest part of the breast reaches 165 degrees Fahrenheit or 175 degrees Fahrenheit at the thigh. Check the meat at 4 hours to help determine whether the meat will be done closer to 6 hours or 8 hours.
Remove turkey breast from slow cooker. Allow to rest for 20 minutes before slicing and serving.
Store leftovers in the refrigerator.
Recommended Products
As an Amazon Associate and member of other affiliate programs, I earn from qualifying purchases.
Nutrition Information:
Yield:

7
Serving Size:

1
Amount Per Serving:
Calories:

307
Total Fat:

10g
Saturated Fat:

3g
Trans Fat:

0g
Unsaturated Fat:

6g
Cholesterol:

363mg
Sodium:

675mg
Carbohydrates:

13g
Fiber:

3g
Sugar:

9g
Protein:

37g
Nutrition information shown is an estimate provided by an online calculator and may not always be accurate. It should not be considered a substitute for a medical professional's advice.

Helpful Tips for a Perfect Thanksgiving Turkey from Minnesota Turkey Farmers
Allow one (1) pound of turkey per person for a fresh or frozen bird.
Allow approximately 24 hours for every 4-5 pounds of bird weight for thawing in the refrigerator.
Plan for 20 minutes per pound in a 350°F oven for a defrosted turkey and 10-15 minutes per pound
for a fresh turkey.
Don't take the turkey out of the oven until a meat thermometer reads 165°F at the breast and 175
at the thigh.
Let a turkey stand for 20 minutes after removing from oven before carving to allow juices to set.
Reheat leftover turkey to 165 degrees Fahrenheit before serving, and enjoy leftovers within 3-4 days.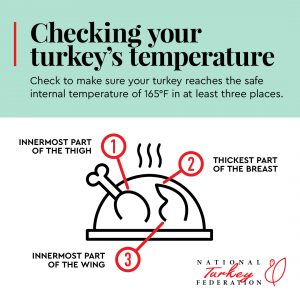 Be sure to check out the Minnesota Turkey Growers Association on Facebook, Twitter, and Pinterest for more Thanksgiving tips and tricks!