All of the makings of an almond joy candy bar are found in these Almond Joy Granola Bars, just without the added fat, preservatives, and loads of sugar!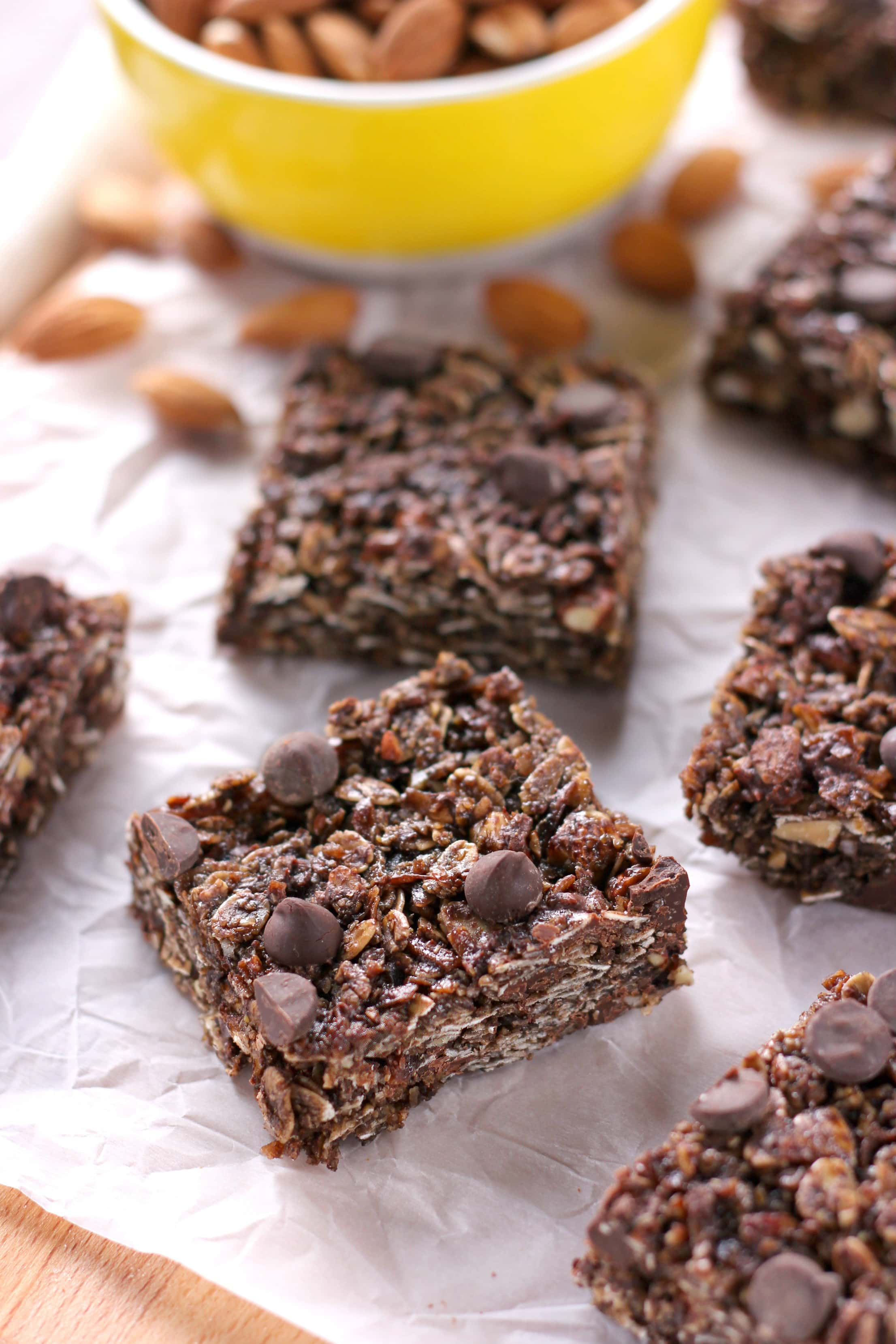 *Recipe and text from 01/09/13. Images updated 04/26/17.
You know how sometimes you want something that tastes really unhealthy but isn't unhealthy for you? Let me rephrase that. . .you know how a lot of times you want something really unhealthy but you know you shouldn't? 😉
Well, I really like dark chocolate and coconut and recently I couldn't get the Almond Joy combination out of my head, but I didn't want the candy bar.
Even if I did, we don't keep candy in the house very often, and we rarely buy it except maybe around the holidays.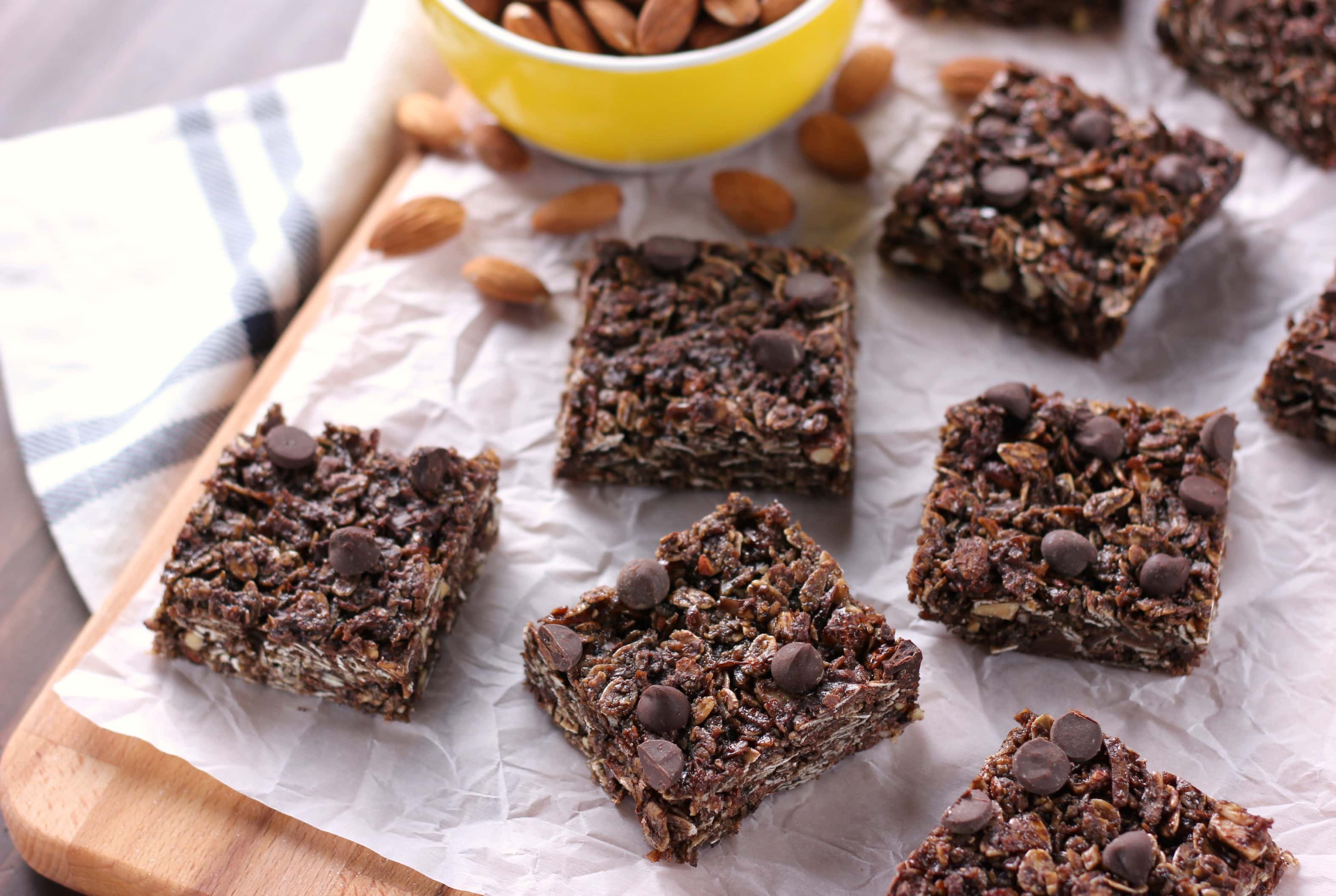 My solution? Well, make something healthy that tastes like an Almond Joy, of course! 🙂 These granola bars are just that. All of the rich flavor of dark chocolate, coconut, and almonds without all of the added sugars, fats, and preservatives that are found in the candy bar.
Plus, there's a little added oat bran and flaxseed thrown in for good measure. 😉
There is an option to add a bit of brown sugar to make the granola a bit richer, but feel free to just add a bit more honey in place of the brown sugar if you want to leave it out.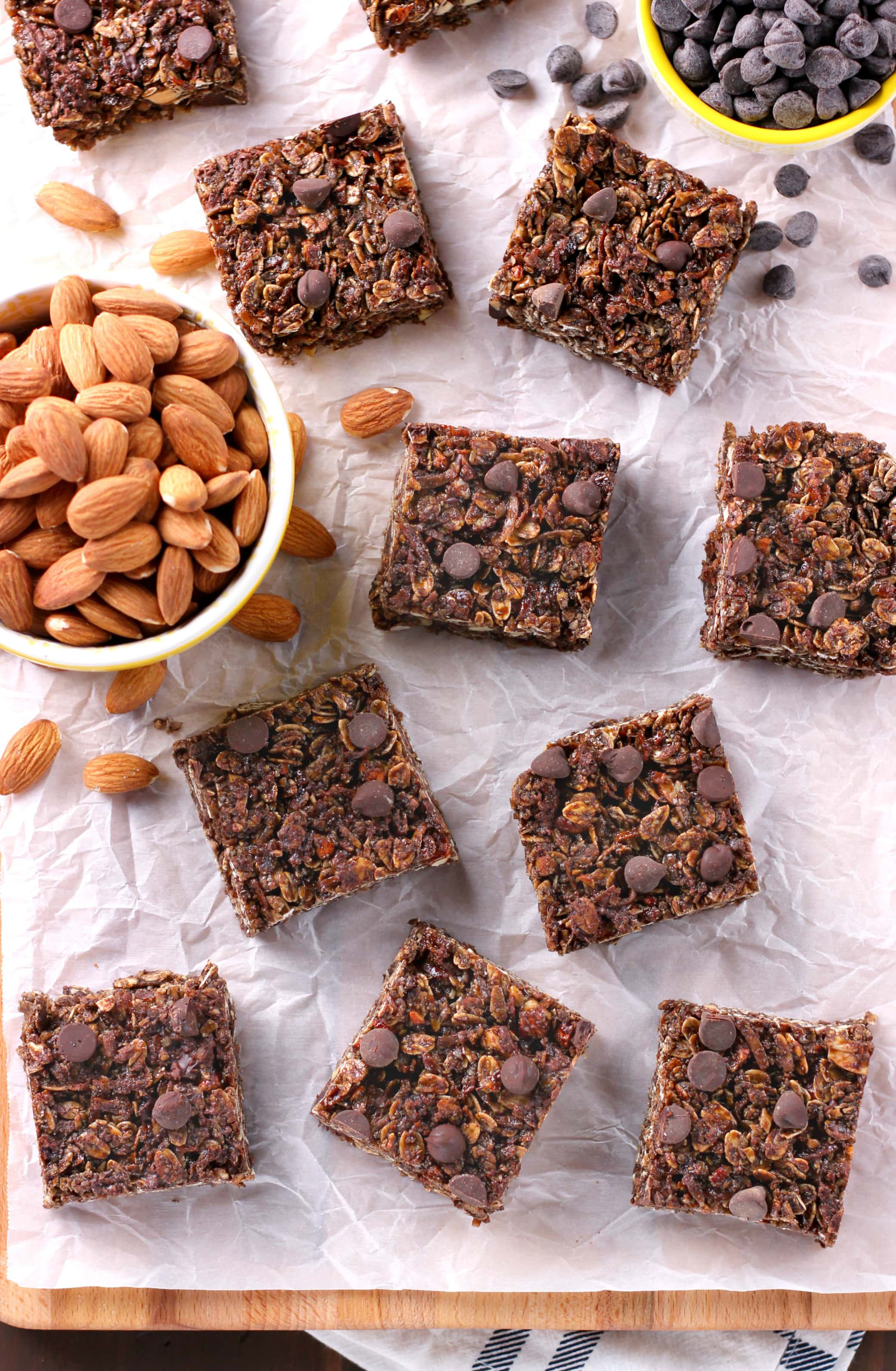 So the next time you want a candy bar, try these granola bars instead! They are well worth the little extra prep work of toasting the almonds and coconut. The toasted flavor adds so much to the overall flavor combination.
If you really can't wait, I suppose you could skip that step, but you'd be missing out!
Almond Joy Granola Bars
Author:
Ingredients
1 1/2 C shredded coconut (sweetened or unsweetened depending on preference)
3/4 C chopped almonds
2 C regular oats
1/4 C oat bran
1/4 C ground flaxseed
1/2 C honey
1/4 C milk of your choice
1/4 C brown sugar, optional (can substitute 3 tbsp honey)
2 tbsp dark chocolate unsweetened baking cocoa
2 tbsp butter/coconut oil
2 tsp vanilla extract
1/2 tsp salt
1/2 C dark or semi-sweet chocolate chips
Instructions
Preheat oven to 300 degrees F.
Line a 9×9 inch baking dish with parchment paper or lightly spray with non-stick cooking spray.
Spread out coconut and almonds on a baking sheet. Toast for for 10-15 minutes or until lightly browned. Stir occasionally to prevent burning. Remove baking sheet from oven and leave oven at 300.
In a large heat-safe bowl, stir together oats, oat bran, and flaxseed. Set aside.
In a medium saucepan, stir together honey, milk, brown sugar, baking cocoa, butter, vanilla, and salt. Heat over medium-low heat just until mixture starts to boil, stirring occasionally to prevent scorching. Remove from heat and stir a couple of times to cool.
Stir toasted coconut and almonds into oat mixture until combined.
Add liquid mixture to dry ingredients and stir until combined. Stir in chocolate chips. Pour mixture into prepared baking dish and press firmly into bottom of dish. Sprinkle with additional chocolate chips, if desired.
Bake for 20-25 minutes or until edges start to appear dry. Remove dish to a wire rack.
Allow to cool completely before cutting into bars. Store in an airtight container.
This recipe is adapted from One Hungry Mama.