Enjoy the flavor of s'mores in a healthier option with these Peanut Butter S'mores Granola Bites! These granola bites are portable s'mores that are super easy to make, full of healthier ingredients, and don't make a mess when you try to eat them!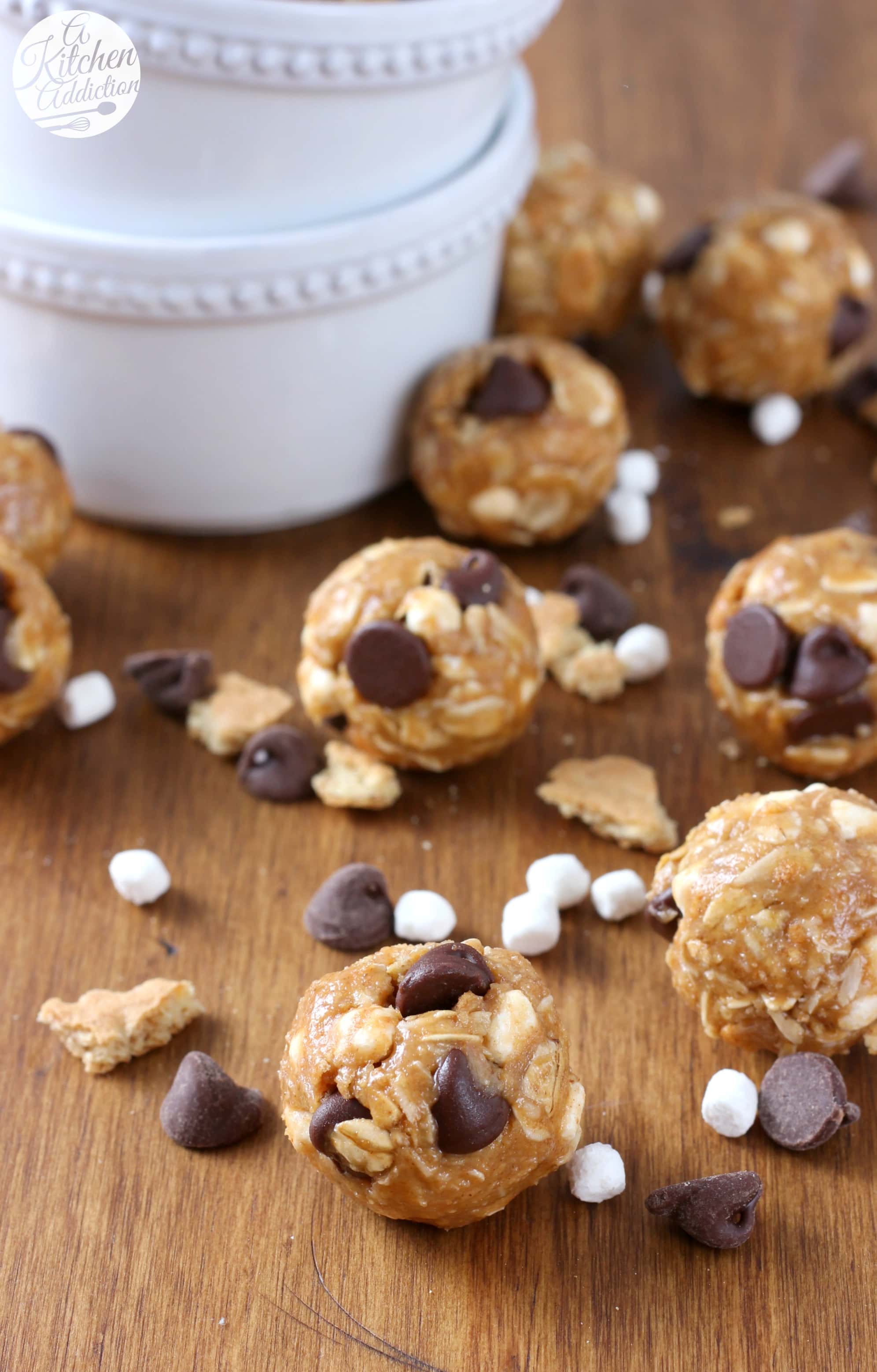 *Recipe originally posted 08/01/13. Images updated 06/14/16.
Well, we made it back from our road trip! (Though with Cassie and Carla filling in, I'm sure you didn't miss me!) My husband commented, at about hour 10 of 17, "Real road trips aren't nearly as glamorous as those pictures of road trips I see you pin on Pinterest."
You know those pictures where everyone is all bright-eyed and excited with huge smiles on their faces?! I have to say I agree with him. My hair and make up doesn't stay perfect for that long.
Though I have to confess that when I get up at 5 a.m. and know that I'll be spending the next 17 hours in the car, I don't exactly spend the greatest care on my hair and make up!
We definitely didn't have bright-eyed excited looks on our faces when he made the comment, more like looks of "Well, who's going to try to stay awake and drive the next leg?!"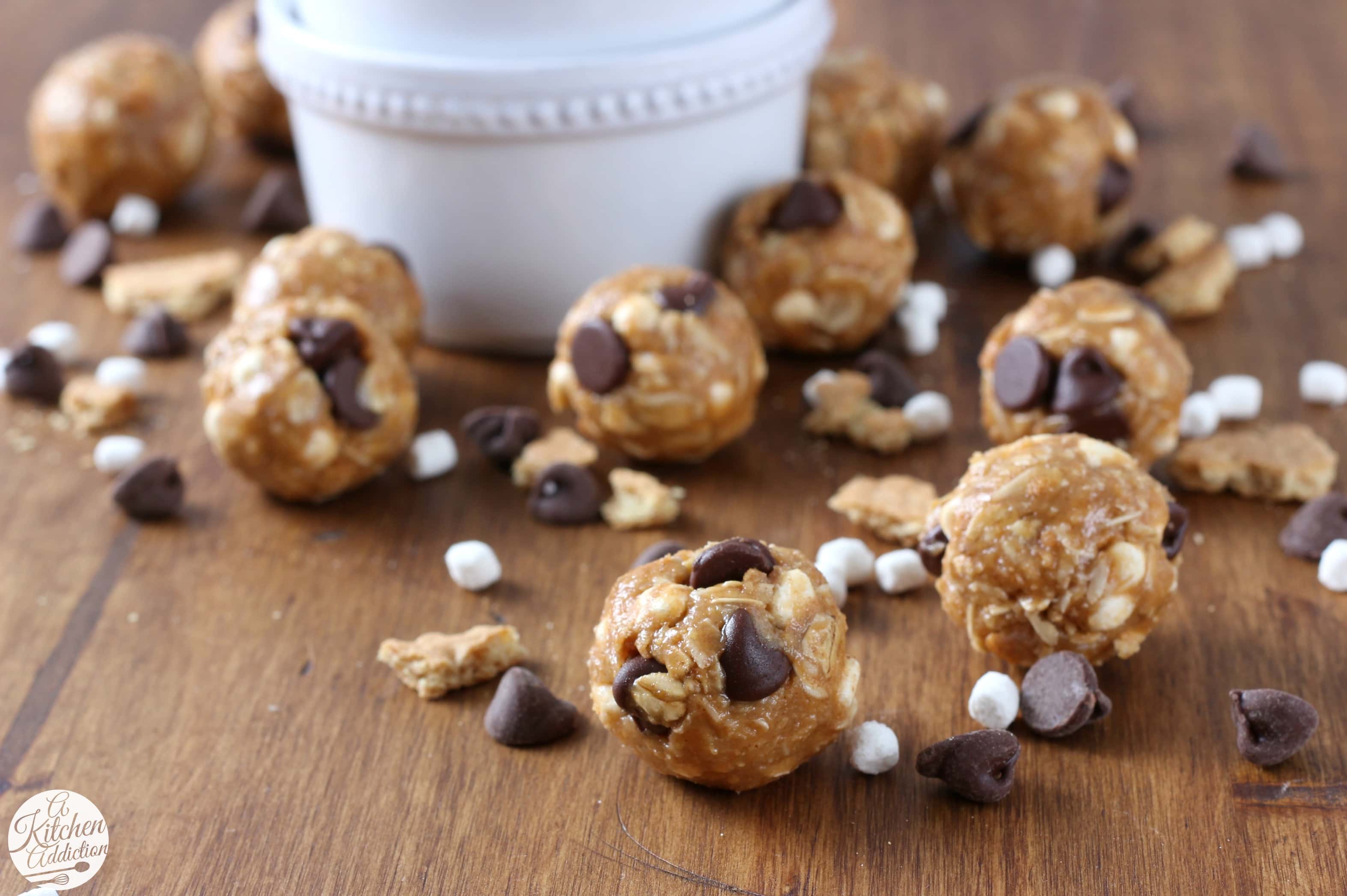 All that to say we made it, and despite the drive, we enjoyed our time. 🙂 These peanut butter s'mores granola bites have absolutely nothing to do with a 17 hour car ride.
However, you can easily make these in under 17 hours and your hair and make up will stay perfect from start to finish. That is something to stay bright-eyed and excited about!
These little granola bites are filled with oats, wheat flour, and crushed graham crackers. The only sweetener used to hold these bites together is honey and a bit of salt is added to boost the flavors.
Stir in some marshmallow bits and chocolate chips and you have portable s'mores that are super easy to make and don't make a mess when you try to eat them.
Perfect to pack for road trips, hiking trips, school, work, etc.!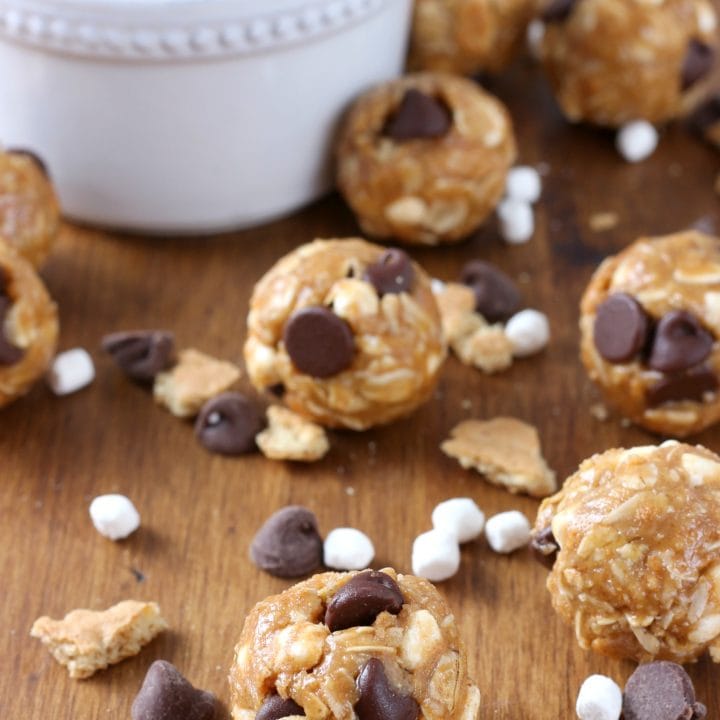 Peanut Butter Smore's Granola Bites
Yield: 24 granola bites

Prep Time: 15 minutes

Total Time: 15 minutes
Ingredients
1 1/2 C quick oats
1/4 C whole wheat flour
2/3 C crushed graham crackers
1/2 tsp salt
1/2 C no-stir natural peanut butter
1/2 C honey
1/4 C chocolate chips
Instructions
In a large bowl, stir together oats, wheat flour, crushed graham crackers, and salt. Add in peanut butter and honey and stir until well-combined.
Stir in marshmallow bits and chocolate chips.
If dough is sticky, refrigerate for 15 minutes to allow to firm up before forming into 1-inch balls.
Store leftovers in the refrigerator.
Recommended Products
As an Amazon Associate and member of other affiliate programs, I earn from qualifying purchases.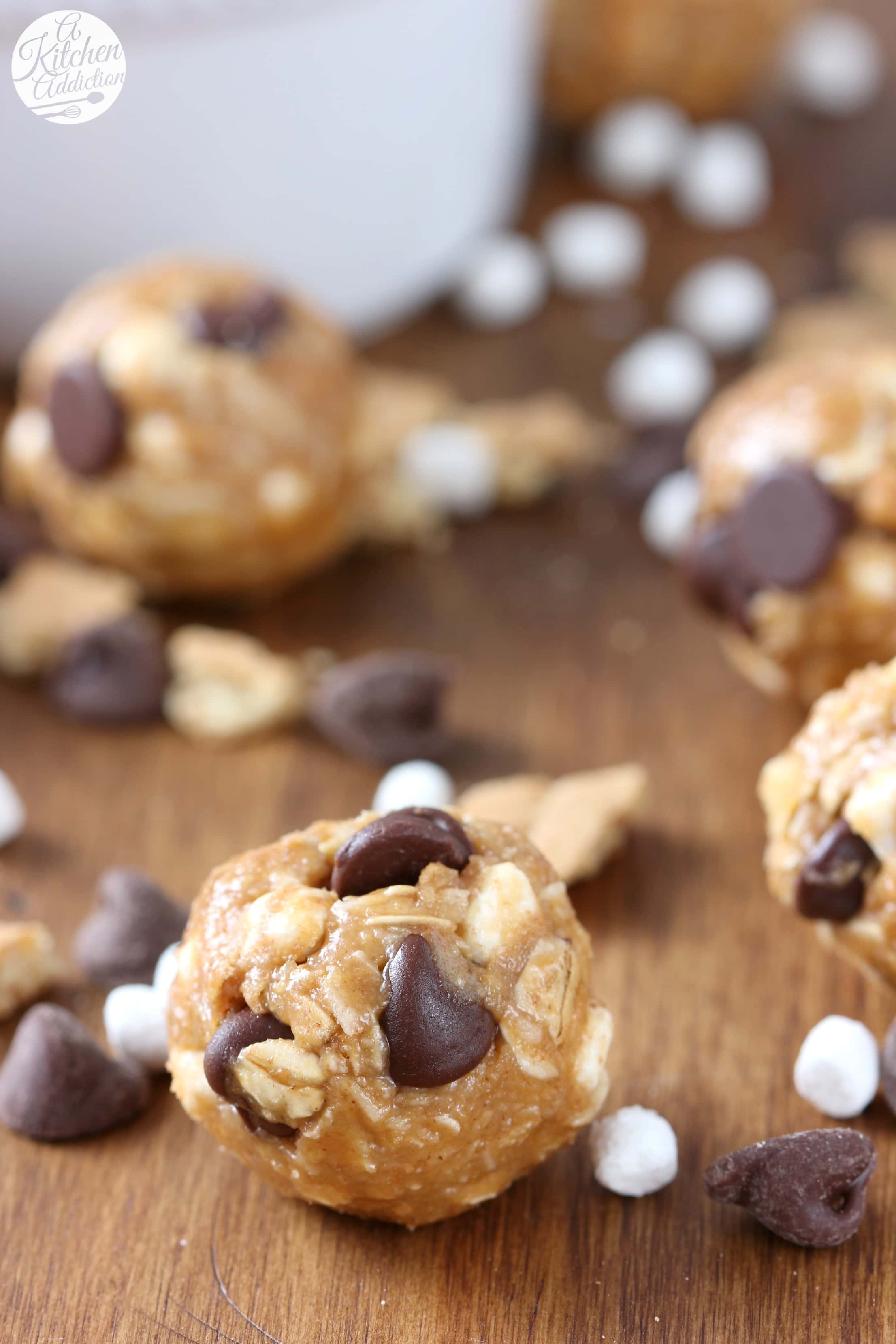 This post contains affiliate links.