These Dark Chocolate Blueberry Pistachio Granola Bites are a healthier snack option that are filled with the sweet and salty combination of crunchy pistachios and sweet blueberries and dark chocolate! Make a batch of these no bake energy bites to have a convenient snack on hand ready to curb hunger whenever it hits!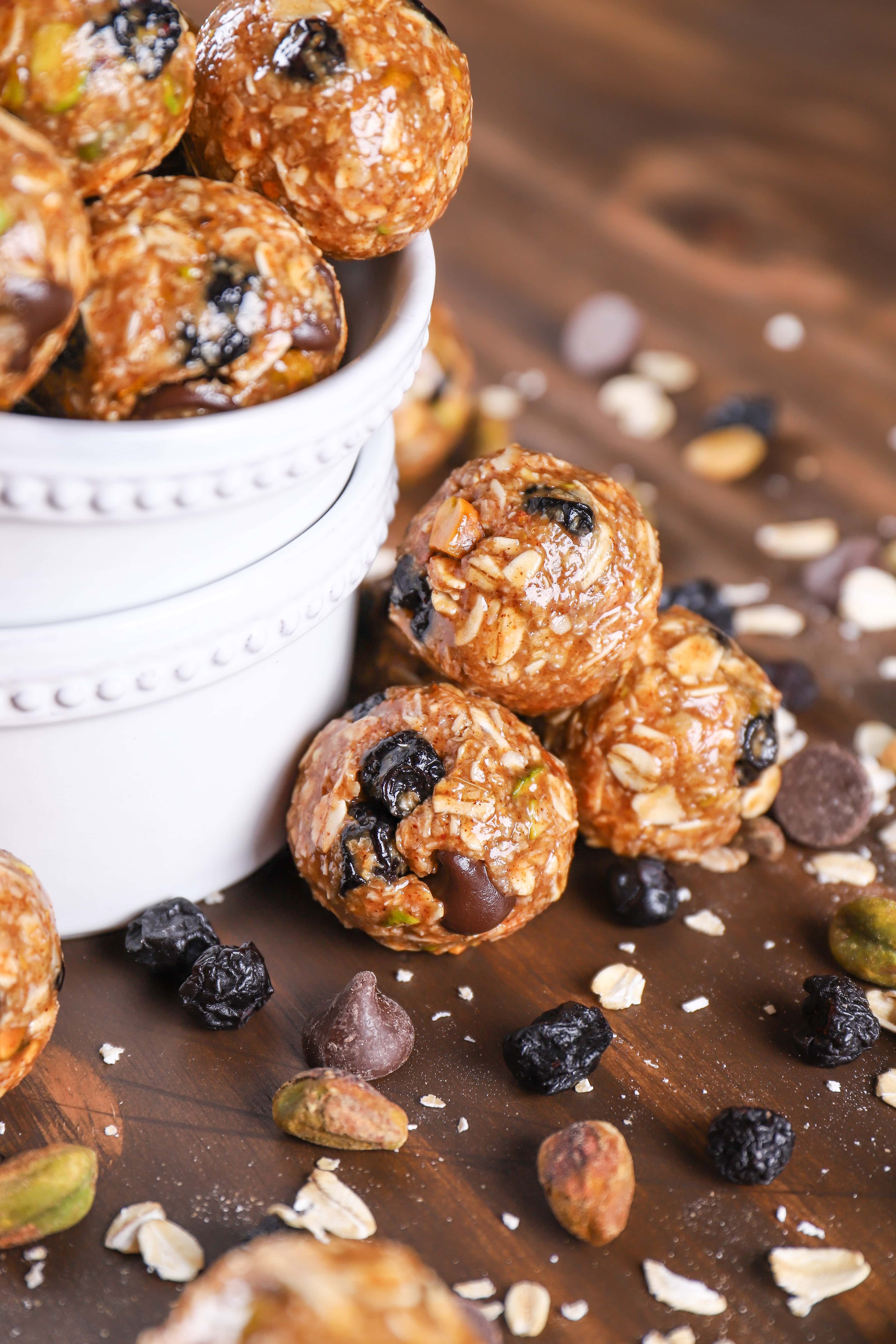 It's that time of year where the oven spends most of its time off, and I look for all the ways to spend as little time as possible in the kitchen! Why spend time in the kitchen when you can be busy outdoors soaking up the sun?!
While our winter snacking consists of baked granolas, protein muffins, and other foods that generally require time spent in front of the oven, our summer snacks are all about the no-bake options! Granola bites are definitely the most common snack once warm weather hits.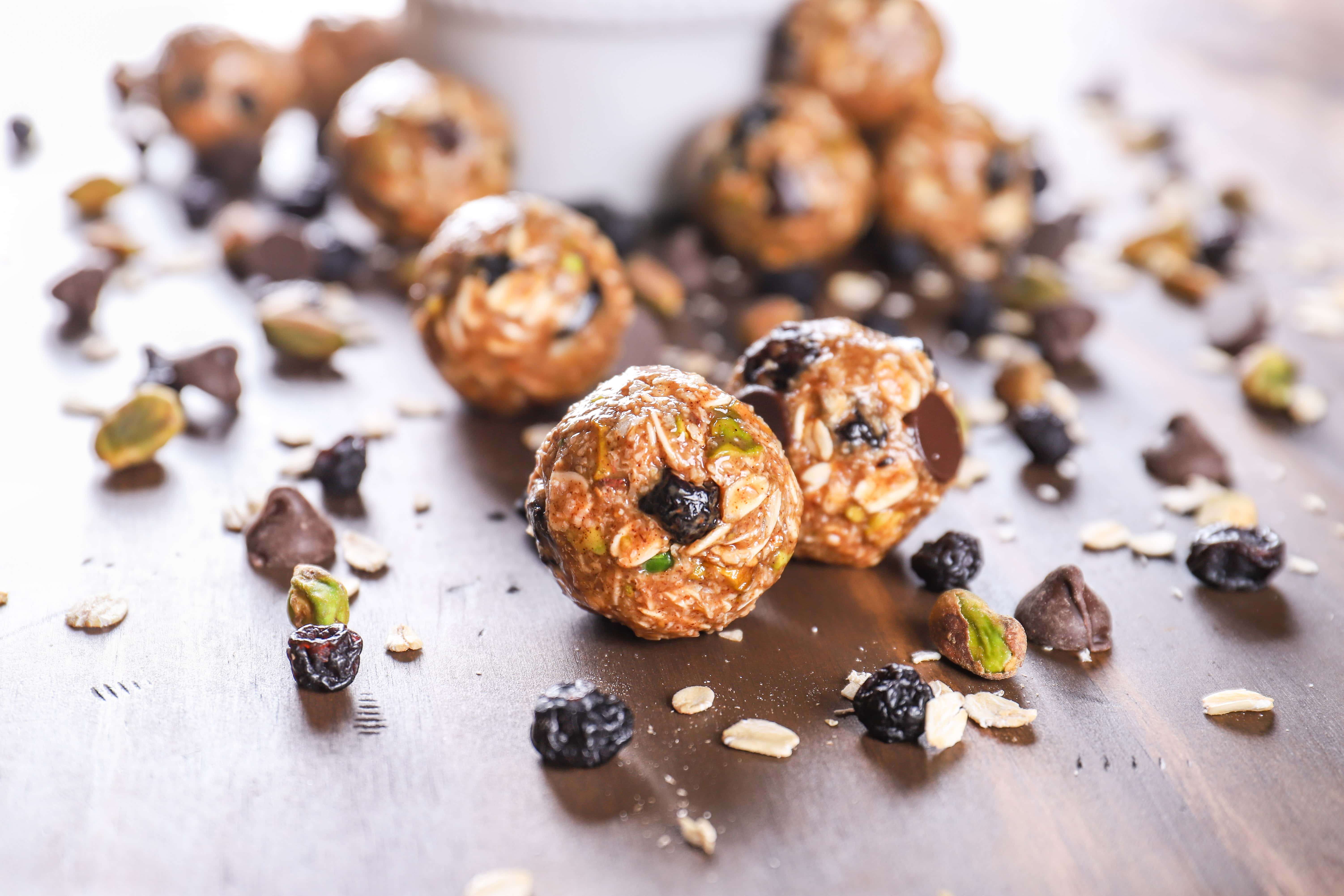 So, on our most recent 90 degree day I found myself staring into our pantry wondering what to make to have on hand to snack on for the weekend.
Oats, honey, and almond butter are always in our pantry and from there it was simply a matter of what needed to be used up before the expiration date hit.
Enter dried blueberries from a giant bag of organic dried blueberries from Costco and an open bag of roasted pistachios. The sweetness of the fruit and the saltiness of the nuts sounded like a good combination for our next batch of energy bites.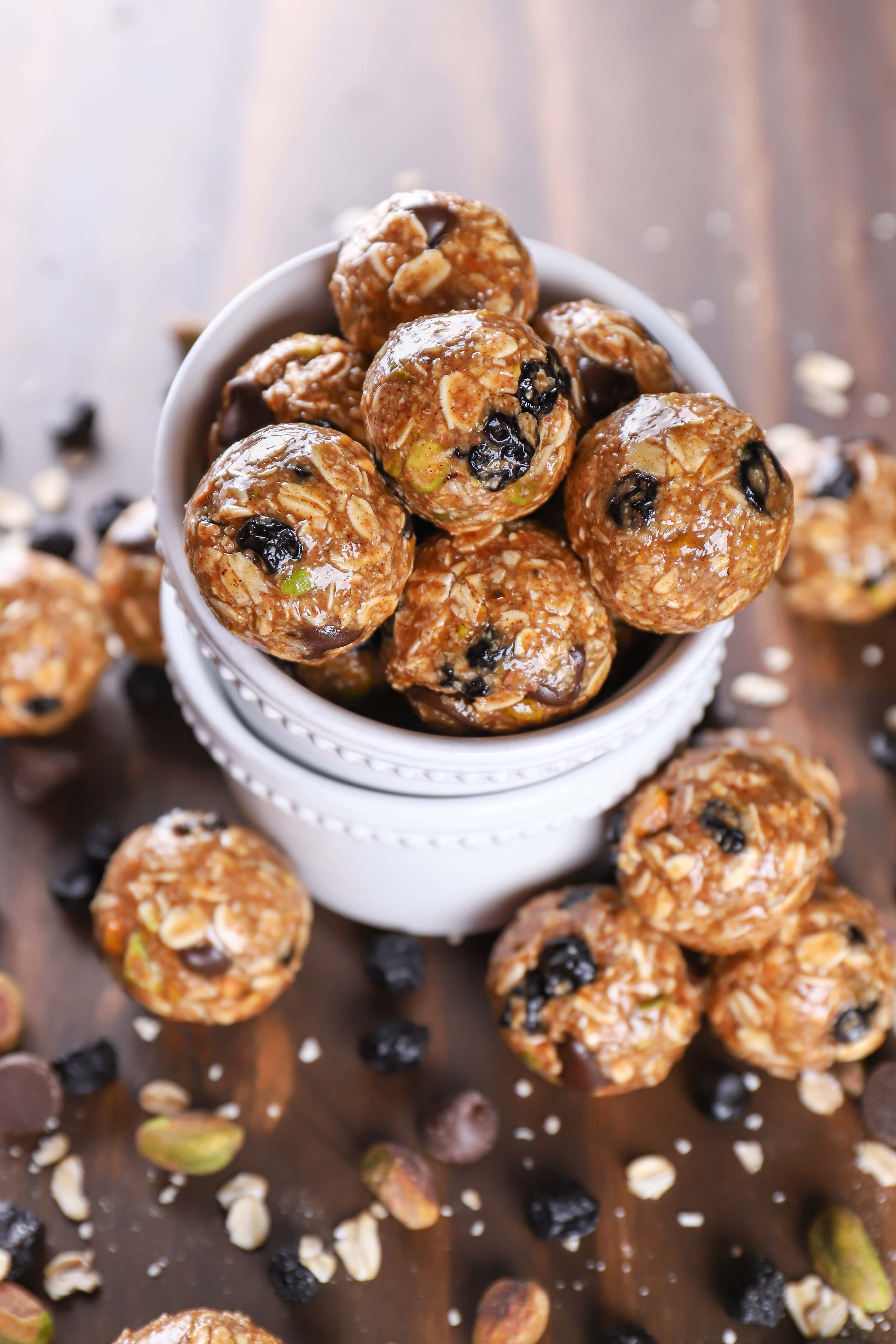 Of course, once I started mixing all the ingredients together I couldn't resist throwing in a smattering of dark chocolate chips!
A handful of simple ingredients is all you need to make these irresistible snack bites. Combine the ingredients together. Shape into bites. Pop a few into your mouth while shaping, and try to save some for later!
Tips for Making Dark Chocolate Blueberry Pistachio Granola Bites
Because almond butter can be really oily, make sure to stir it thoroughly before measuring to use.
Don't have dried blueberries? Dried cherries or dried cranberries work well, too.
Due to the difference in almond butters, and even honey, you may find that your granola mixture still seems too "wet" after mixing all of the ingredients together. If the mixture doesn't hold together when pressed, add in more oat bran or ground flaxseed, a tablespoon at a time, until the mixture holds together.
Coat your hands with coconut oil before forming mixture into granola bites to help keep your hands from getting as sticky.
If you want to avoid the stickiness, use about a 1 tablespoon sized cookie scoop and scoop the mixture onto a baking sheet. After refrigerating for 1 hour, roll them into nicer looking bites.
If your kitchen is warm, these bites will stay freshest in the fridge.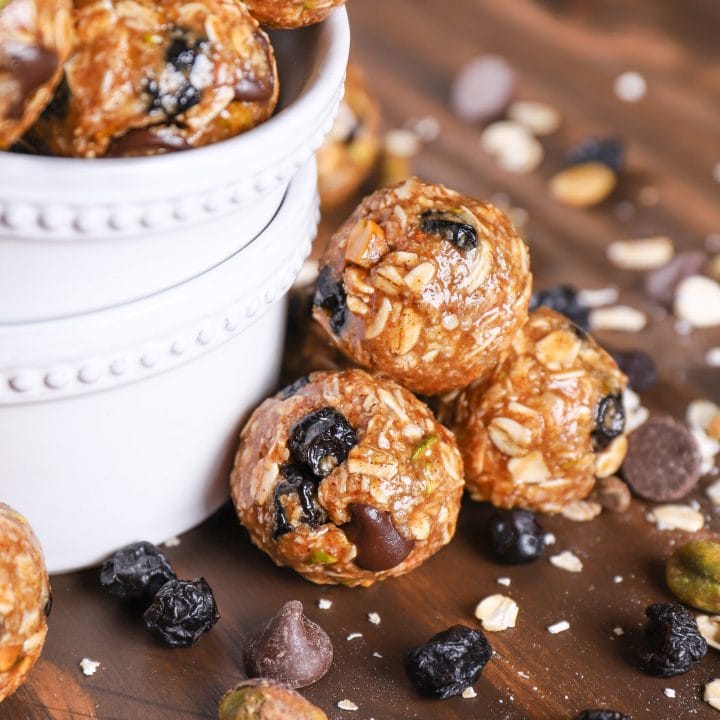 Dark Chocolate Pistachio Granola Bites
Yield: 30-36 granola bites, depending on size
Ingredients
1 1/2 Cups rolled oats or quick oats
1/2 Cup oat bran or ground flaxseed
1/2 teaspoon cinnamon
1/8 teaspoon salt
1/2 Cup almond butter (make sure that the oil is thoroughly stirred in before measuring)
1/2 Cup honey
1/2 Cup chopped roasted and salted pistachios
1/2 Cup dried blueberries (dried cherries or dried cranberries also work)
1/4 Cup dark chocolate chips
Instructions
In a large bowl, stir together oats, oat bran or flaxseed, cinnamon, and salt. Add in almond butter and honey, and stir until well-combined. Stir in chopped pistachios, dried blueberries, and dark chocolate chips.
If dough is sticky, refrigerate for 15-30 minutes to allow mixture to firm up before forming into granola bites. Form mixture into balls using about 1 tablespoon per granola bite.
Allow to set, and enjoy.
If your kitchen is warm, the granola bites will stay fresh longer if stored in the refrigerator.
Notes
If the mixture sticks to your hands while shaping, try lightly coating your hands with coconut oil. This will keep your hands from getting sticky and won't affect the flavor of the granola bites.
Recommended Products
As an Amazon Associate and member of other affiliate programs, I earn from qualifying purchases.