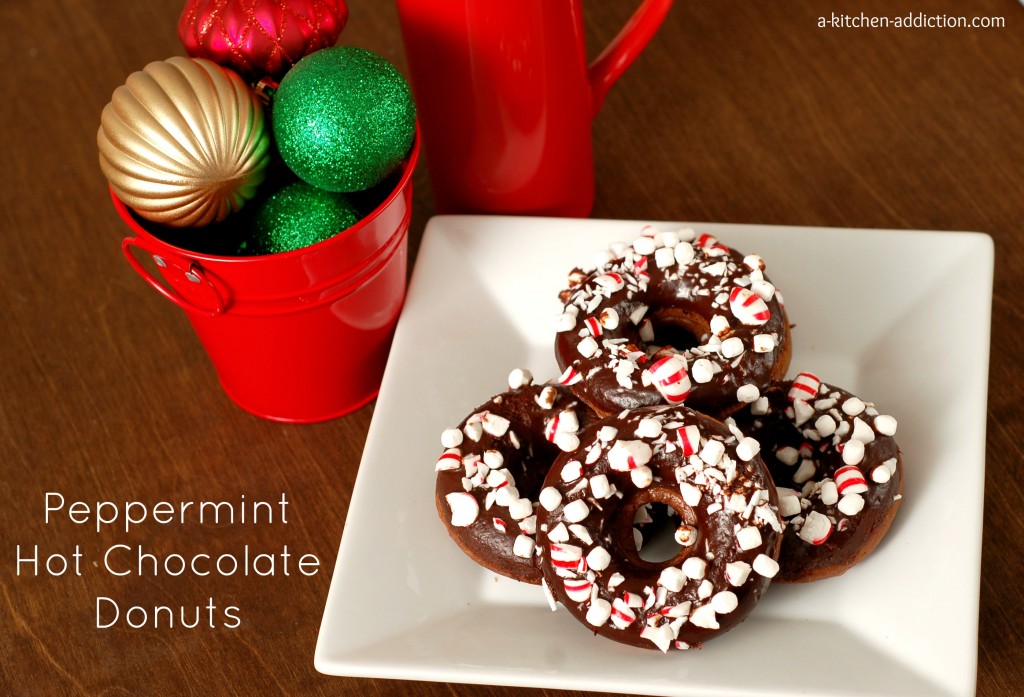 Good news: We have lot of snow! The interstates around us have reopened! Presents are wrapped! I'm mostly packed! Bad news: Though the interstate has been reopened, travel is still not advised on the interstate we need to travel on this evening. . .Hopefully the sun comes out and melts the ice and the wind stop blowing so we can travel. If not, I guess we'll be stuck at home drinking hot chocolate and eating these peppermint hot chocolate donuts! 🙂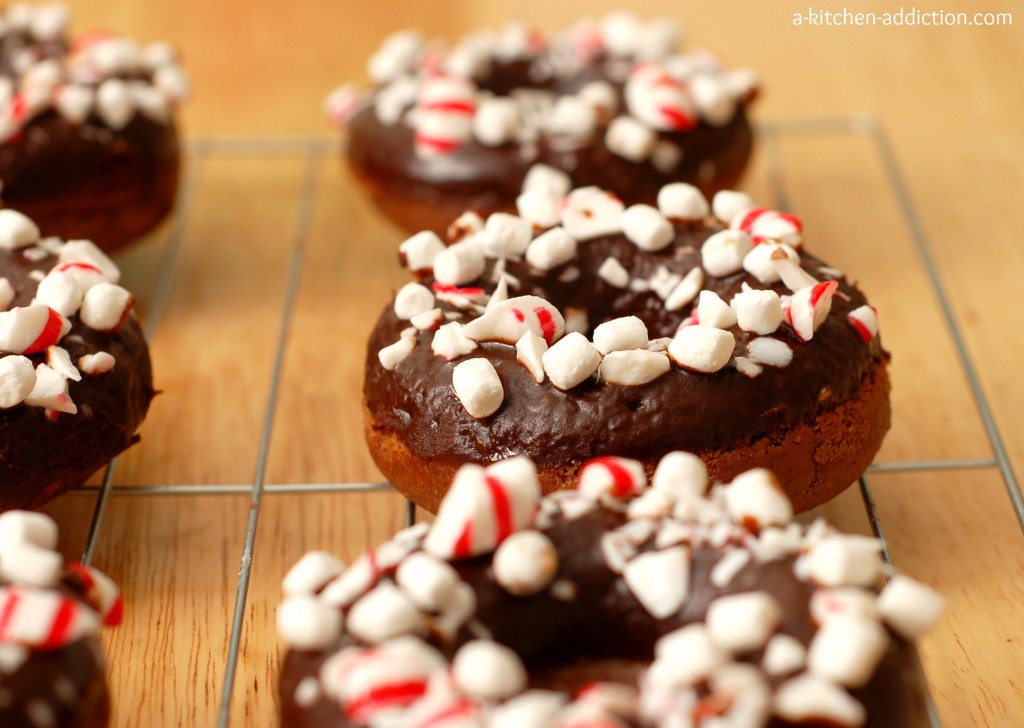 I had to sneak in one more peppermint and chocolate recipe before Christmas! Peppermint mochas and hot chocolates are perfect this time of year, so why not drink them while eating peppermint hot chocolate dontus? The use of hot chocolate mix in the donut with a hint of peppermint extract brings out the favorite drink flavor. Top it off with a rich chocolate glaze covered with crushed peppermint candies and marshmallow bits, and you have the perfect pairing!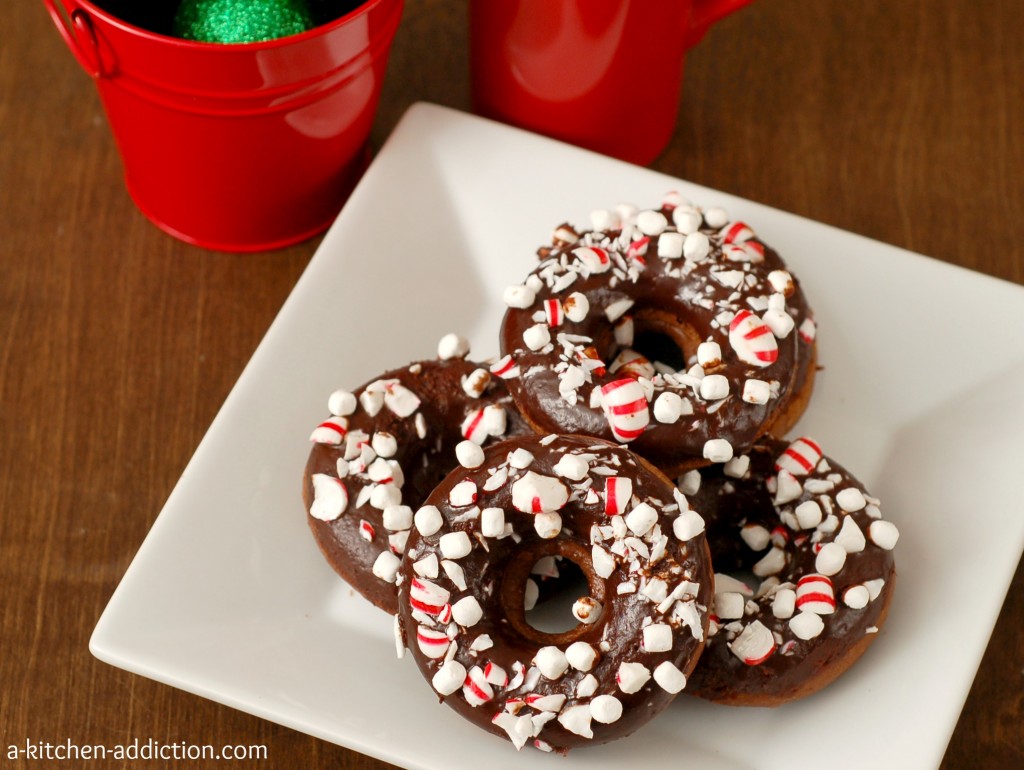 I hope you all have a wonderful Christmas with family and friends! That being said, I am taking off the entire next week from blogging. I want to thoroughly enjoy my time with my family and friends and not worry about posting, commenting, etc. Thanks for understanding. Merry Christmas, friends!!

Peppermint Hot Chocolate Donuts
Author:
A Kitchen Addiction
Ingredients
For the Donuts
1¼ C all-purpose
½ C hot chocolate mix
2 tbsp unsweetened baking cocoa
¼ C brown sugar
1 tbsp baking powder
¾ C milk
1 egg
¼ C plain Greek yogurt
¼ C butter, melted and cooled
½ tsp peppermint extract
For the Glaze
½ C semi-sweet chocolate chips
2 tbsp butter
2 tsp honey or corn syrup
2 tbsp milk
1 tsp vanilla extract
⅓ C crushed peppermint candies
⅓ C marshmallow bits
Instructions
Preheat oven to 350. Lightly spray donut pan with non-stick cooking spray.
In a large bowl, whisk together flour, hot chocolate mix, baking cocoa, brown sugar, and baking powder.
In a small bowl, whisk together buttermilk, egg, yogurt, melted butter, and peppermint extract. Add wet ingredients to dry ingredients and stir to combine.
Spoon batter into a pastry bag or ziploc bag with the corner cut off. Pipe batter into donut pan filling donut indentation about ⅔ full.
Bake for 8-10 minutes or until a toothpick inserted in the middle comes out clean. Remove pan to a wire rack. Allow donuts to cool for 3-5 minutes before removing from pan.
While donuts are cooling, begin preparing glaze. In a medium saucepan, melt together chocolate chips, butter, honey, and milk over medium-low heat. Stir to prevent burning. When chocolate chips are melted, stir in vanilla until smooth and glossy. Turn heat to low. **If you want more a sweet, thick glaze, add a couple of tablespoons of sifted powdered sugar.
Dip the tops of the donuts into the chocolate. Sprinkle with crushed peppermint candies and marshmallow bits. Allow glaze to harden before serving.
Store leftovers in an airtight container, though they are best eaten the same day.