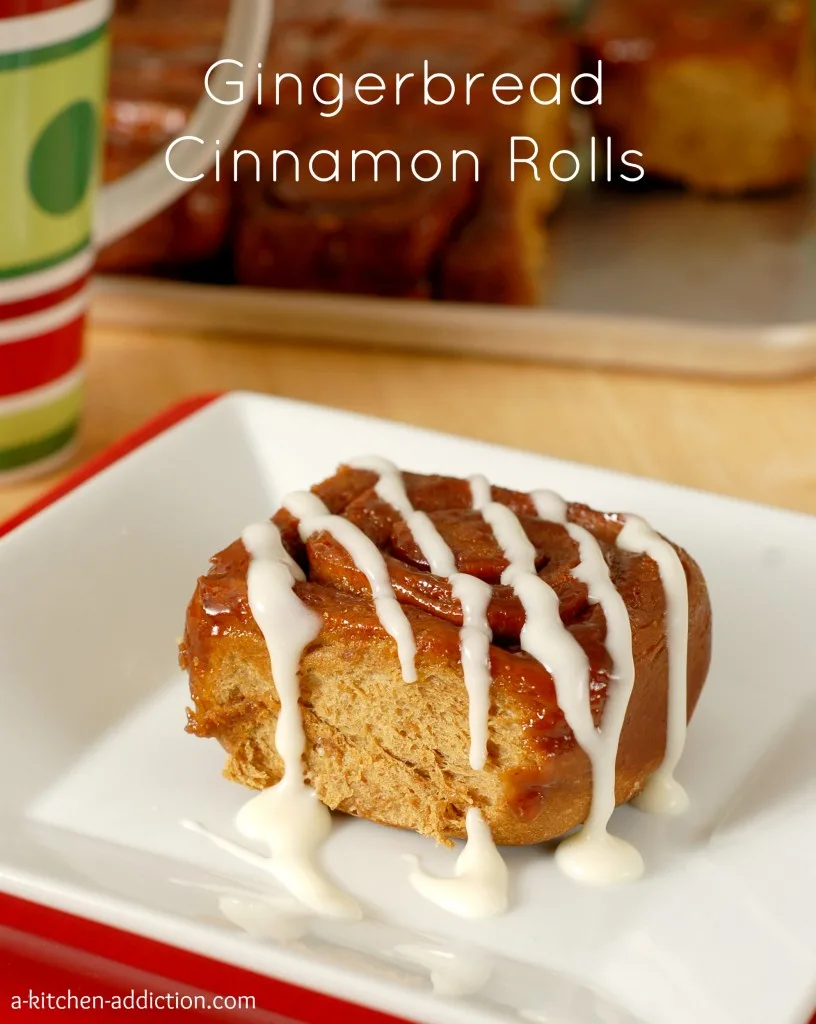 We are officially in the middle of a blizzard. I am so excited that we are finally getting snow! Plus, my husband's work is closed until noon, so I get to sit, drink chai, and eat these cinnamon rolls with him! Sounds like a good way to start the day to me. 🙂 Even if you aren't in the middle of winter wonderland, these gingerbread cinnamon rolls are still a great way to start your day.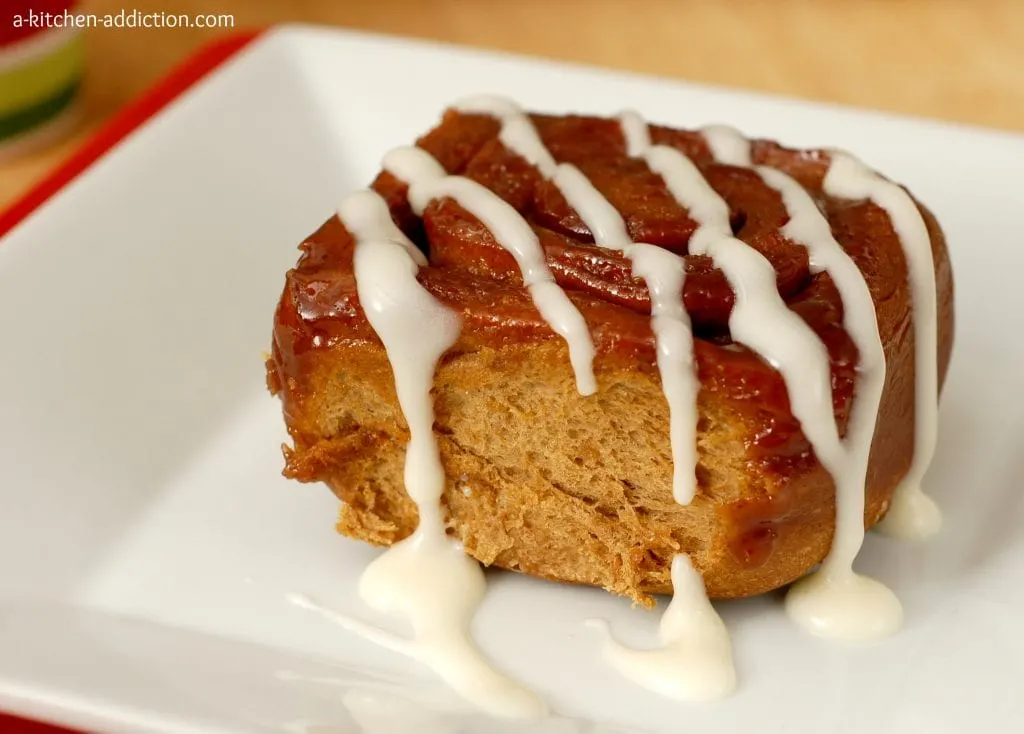 You may be thinking, "I thought it was just yesterday when you said that you liked quick and easy recipes for the holidays?" While cinnamon rolls can be involved, these are not. These rolls use the bread machine. I love my bread machine, because it does all of the work for me. All I have to do is roll the dough out, prepare the filling, and cut them into pieces. Throw them in the oven and 25 minutes later you will be enjoying soft, tender gingerbread spiced cinnamon rolls with a light caramel-y coating!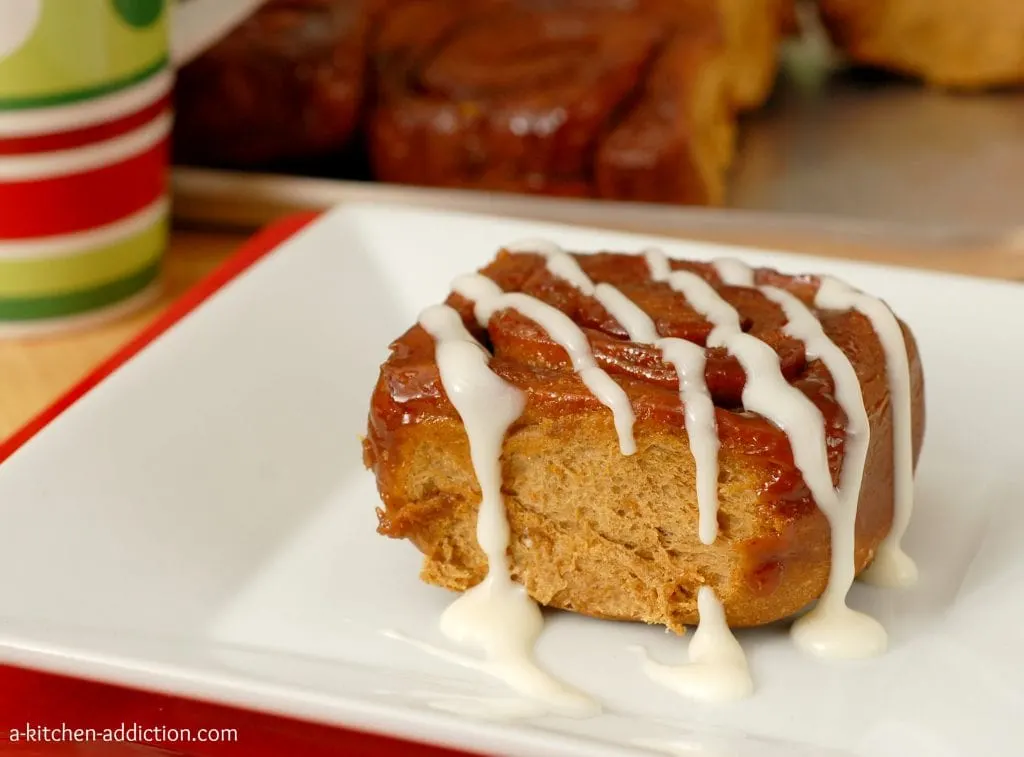 See? Easy. Plus, these rolls can be prepared the night before and baked the next morning, so that you don't have to get up early to enjoy fresh-baked cinnamon rolls! These rolls are a great addition to a holiday brunch or a fun breakfast to enjoy while opening presents on Christmas morning!
Gingerbread Cinnamon Rolls
Yield: 12 rolls
Ingredients
For the Rolls
1 C warm milk (about 110 F)
1/2 C molasses (I used "full flavor"/"cooking" molasses so my cinnamon rolls are darker than if you were to use a lite molasses)
1 egg, room temperature and lightly beaten
2 tbsp canola oil
3 3/4 C unbleached all-purpose flour
1/2 tsp salt
1 tsp ginger
3/4 tsp cinnamon
1/4 tsp nutmeg
1/4 tsp cloves
1 tbsp vital wheat gluten
1 tbsp instant dry yeast
For the Filling
1/4 C butter, softened
1/2 C brown sugar
1 tbsp cinnamon
1 1/2 tsp ginger
For the Frosting
1 (8 oz) pkg 1/3 of the fat cream cheese
1/4 C butter, softened
1/8 tsp salt
1 C confectioner's sugar
1 tsp vanilla extract
Directions
Place ingredients for Rolls in bread pan of bread machine according to manufacturer's instructions. Select dough cycle and start.
After dough cycle has finished or dough is doubled in size, turn dough out onto a well-floured surface. Cover with a clean towel and allow it to rest for 10 minutes.
Roll dough out into a 16×22 inch rectangle. Spread softened butter over dough. Sprinkle with brown sugar, cinnamon, and ginger. Roll dough up lengthwise and cut into 12 rolls.
Place rolls into a buttered 9×13 inch baking dish. (I like to sprinkle a little brown sugar on the bottom, too, to get a nice caramel layer on the rolls.) Cover and let rise for 45 minutes or until doubled in size.
Meanwhile, preheat oven to 350. (If you plan on making these the next morning, place covered rolls in the refrigerator after allowing them to rise for 45 minutes. The next morning, place rolls in a cold oven and preheat to 350. Bake for 20-25 minutes or until they just turn light golden brown.)
Bake for 20-30 minutes or until just starting to turn light golden brown.
Remove pan to a wire rack to cool.
While rolls are cooling, prepare frosting. Beat together cream cheese and butter until smooth. Add in salt, confectioner's sugar, and vanilla. Beat until creamy.
Spread frosting on warm cinnamon rolls. Serve.
Store leftovers in the refrigerator.
This recipe is linked with What's In Your Kitchen Wednesday.