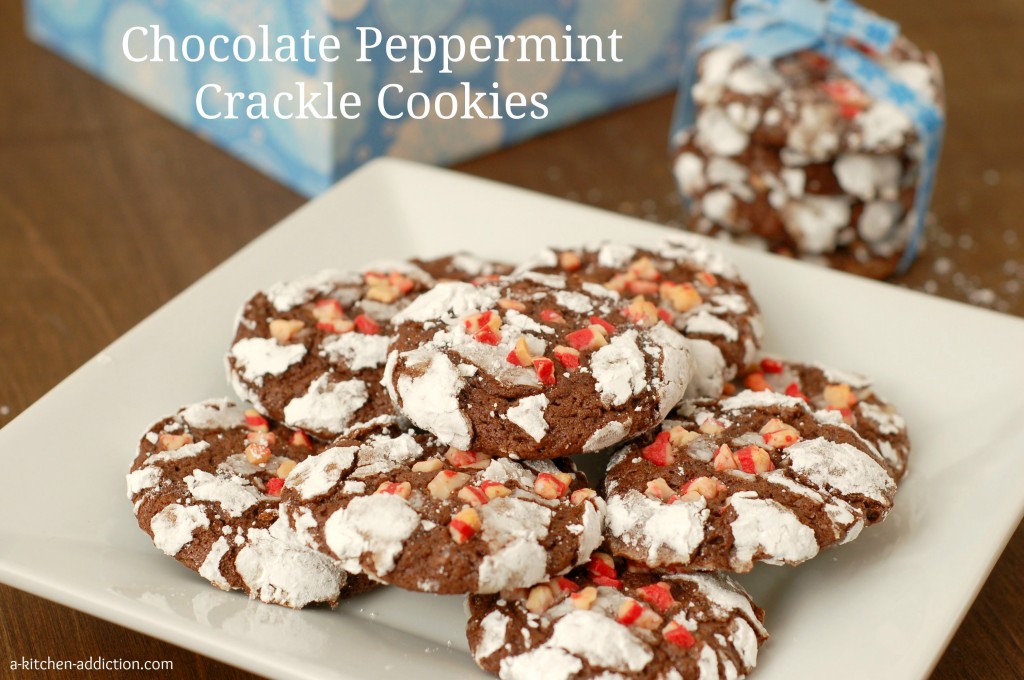 It's that time of year for cookie swaps! When I think of the holiday season and Christmas cookies, my mind instantly goes to peppermint and chocolate. There is just something about the combination that reminds me of winter and the holidays.
So, when I thought about what cookies to make for The Great Food Blogger Cookie Swap, I knew right away that they had to have the peppermint and chocolate combination! What better chocolate cookie to add peppermint to than the chocolate crackle cookie?!
They turned out wonderfully, and I think I now have a new cookie that will be making an appearance on our Christmas cookie platter!
Hopefully Bailey (from Bailey Bakes), Allison (from Fridgg Blog), and Brynn (from wikiKitchen) enjoyed eating them as much as I enjoyed taste-testing them! 🙂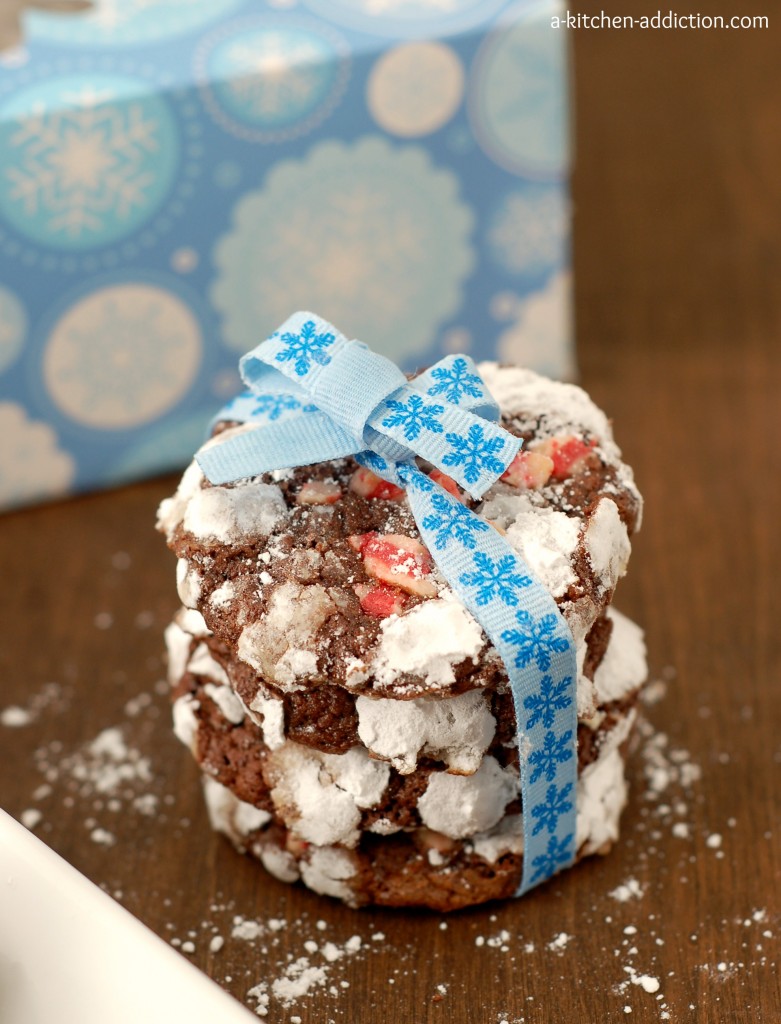 I also received these delicious cookies from some wonderful fellow food bloggers!
Triple Chocolate Crackle Cookies from Carla's Confections (I guess we were thinking along the same lines! 🙂 )
Honey Ginger Orange Cookies from The Orange Bee
Candy Filled Cookies from Fleur-De-Licious
I can't wait to get the recipes from these ladies so that I can make them for friends and family! If you didn't get a chance to participate in the cookie swap this year, go here to sign up for updates for next one!
Chocolate Peppermint Crackle Cookies
Yield: approx. 3 dozen
Ingredients
1 C semi-sweet chocolate chips
1 1/4 C all-purpose flour
1/2 C unsweetened baking cocoa
2 tsp baking powder
1/4 tsp salt
1/2 C butter, softened
3/4 C brown sugar
1/2 C sugar
2 eggs
1 tsp vanilla extract
1/3 C milk
1 C confectioner's sugar, for rolling dough in
1 C Andes Peppermint Crunch Baking Chips
Directions
Preheat oven to 350. Line cookie sheet with parchment paper or silicone liner.
Melt chocolate in a small saucepan or double boiler over low heat. Set aside.
Sift together flour, baking cocoa, baking powder and salt.
Beat butter and sugars until creamy. Beat in eggs and vanilla until well combined. Slowly beat in melted chocolate.
Alternate between beating in flour and milk until incorporated and dough forms.
Form dough into a ball and cover with plastic wrap. Refrigerate for at least 2 hours.
Roll dough into 1 inch balls. Roll dough in confectioner's sugar.
Place cookies on prepared cookie sheet. Bake for 8 minutes.
Remove from oven. Sprinkle the tops with peppermint baking chips. Lightly press chips into tops of cookies. Return to oven and bake for another 4-7 minutes.
Transfer cookies to a wire rack to cool completely. Store in an airtight container.
This recipe is adapted from Martha Stewart.