These Mini Dark Chocolate S'mores Scones are stuffed with all the ingredients of a gooey s'mores! A rich dark chocolate base is filled with mini chocolate chips, crushed graham crackers, and marshmallow bits and topped with a sweet marshmallow glaze and graham cracker crumbs!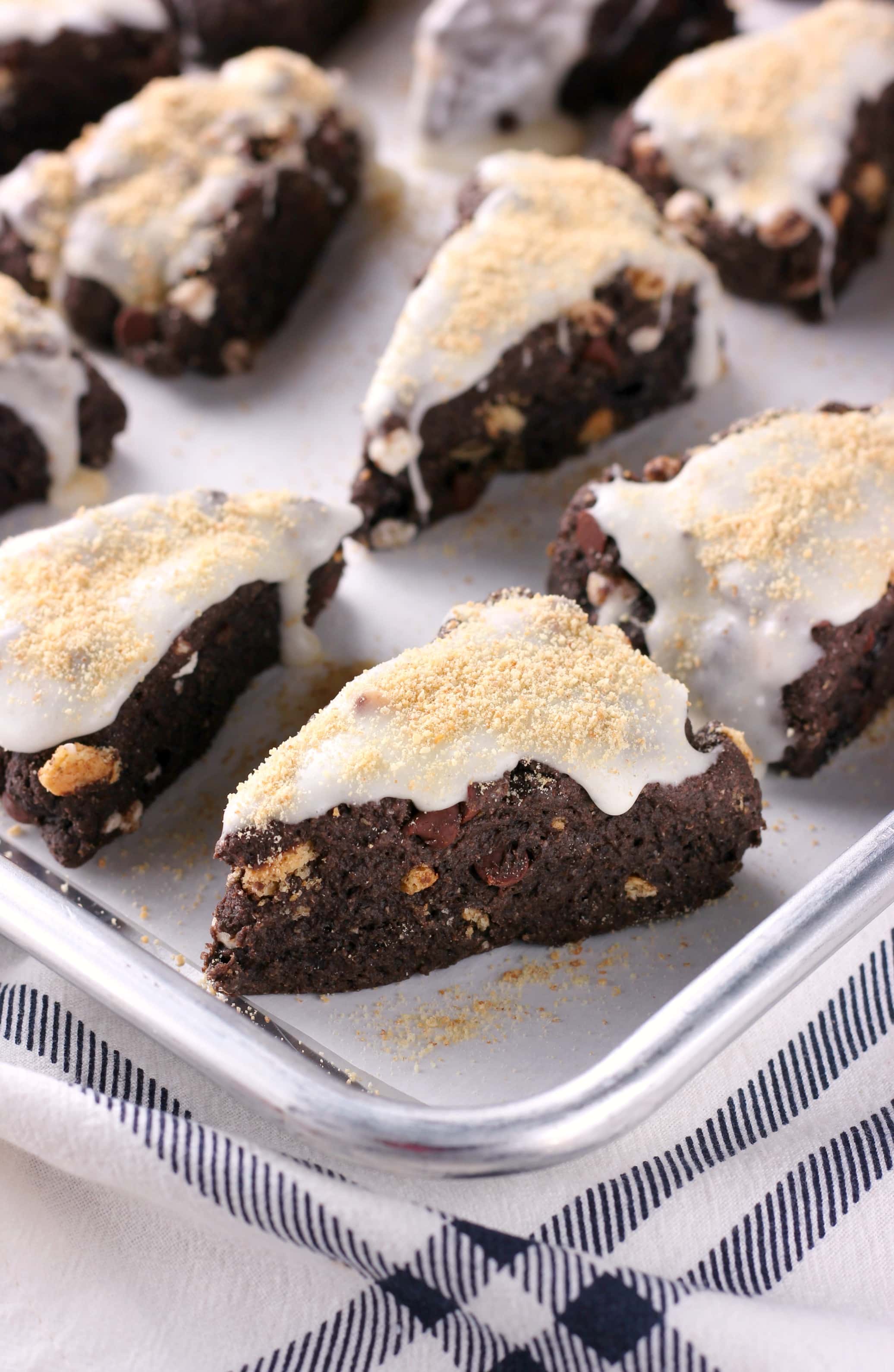 It's the season of s'mores! S'mores over the campfire, s'mores flavored drinks, and lots of different s'mores desserts.
But how about s'mores for breakfast! I was going to make another batch of s'mores seven layer bars the other day and realized that I didn't have all of the ingredients.
So, I turned to scones instead! They turned out so well that I knew I needed to make them again to share these mini dark chocolate s'mores scones with you!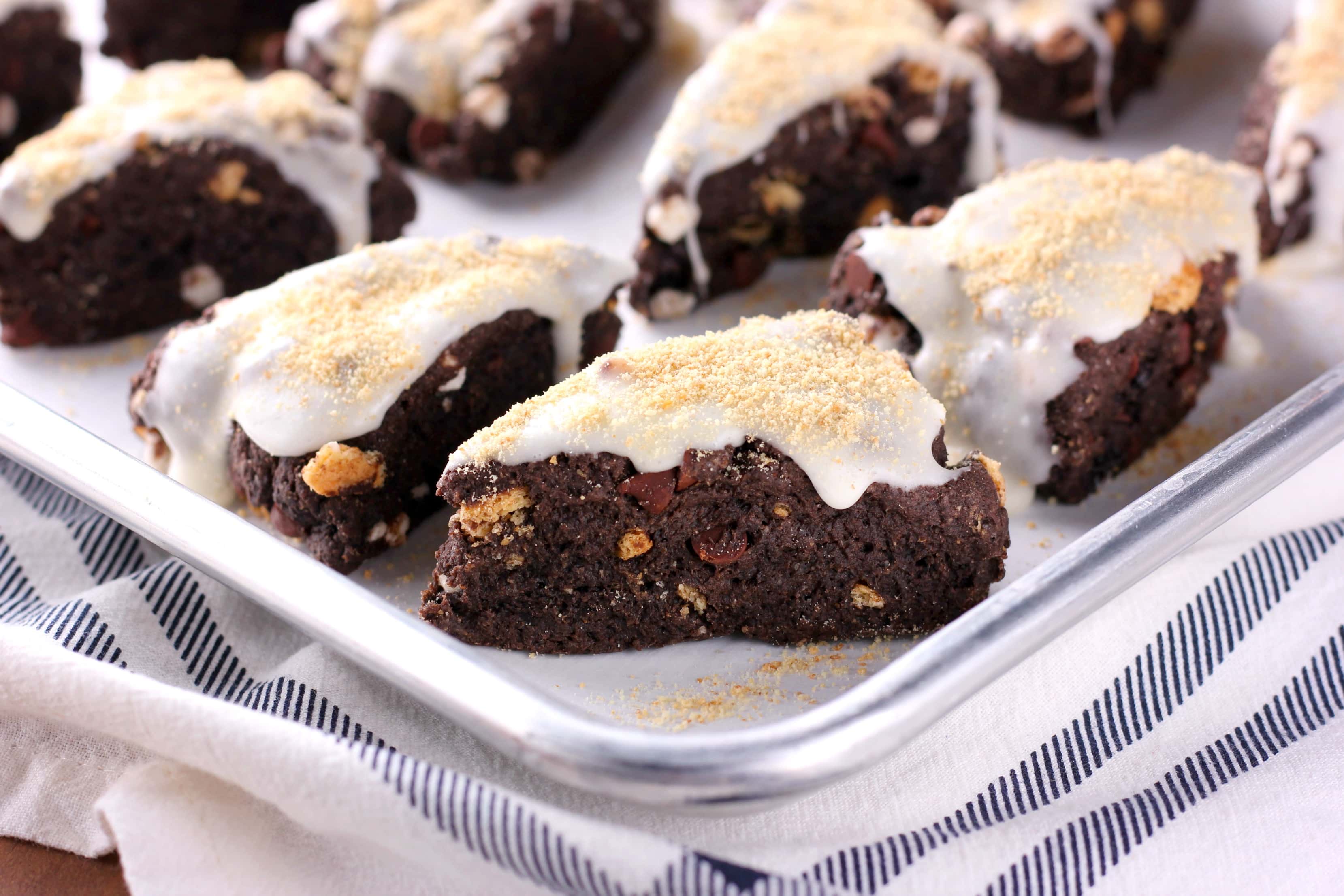 Ever since making these mini sprinkle scones, I've wanted to make all my scones mini. So, it's no surprise that my next scone recipe for the blog ended up being mini!
Mini scones that that are stuffed with all of the delicious ingredients of s'mores. Chocolate, marshmallows, and graham crackers! These scones didn't last long!
And since I like dark chocolate, the base of these scones is made with unsweetened dark chocolate baking cocoa. And so you get a bit more chocolate in each bite, mini chocolate chips are sprinkled throughout.
Crushed graham crackers give these scones a bit of texture and a lot of graham flavor! I've made previous scones with graham cracker crumbs, and while that tastes good, I've found that the crushed graham crackers give you a stronger flavor.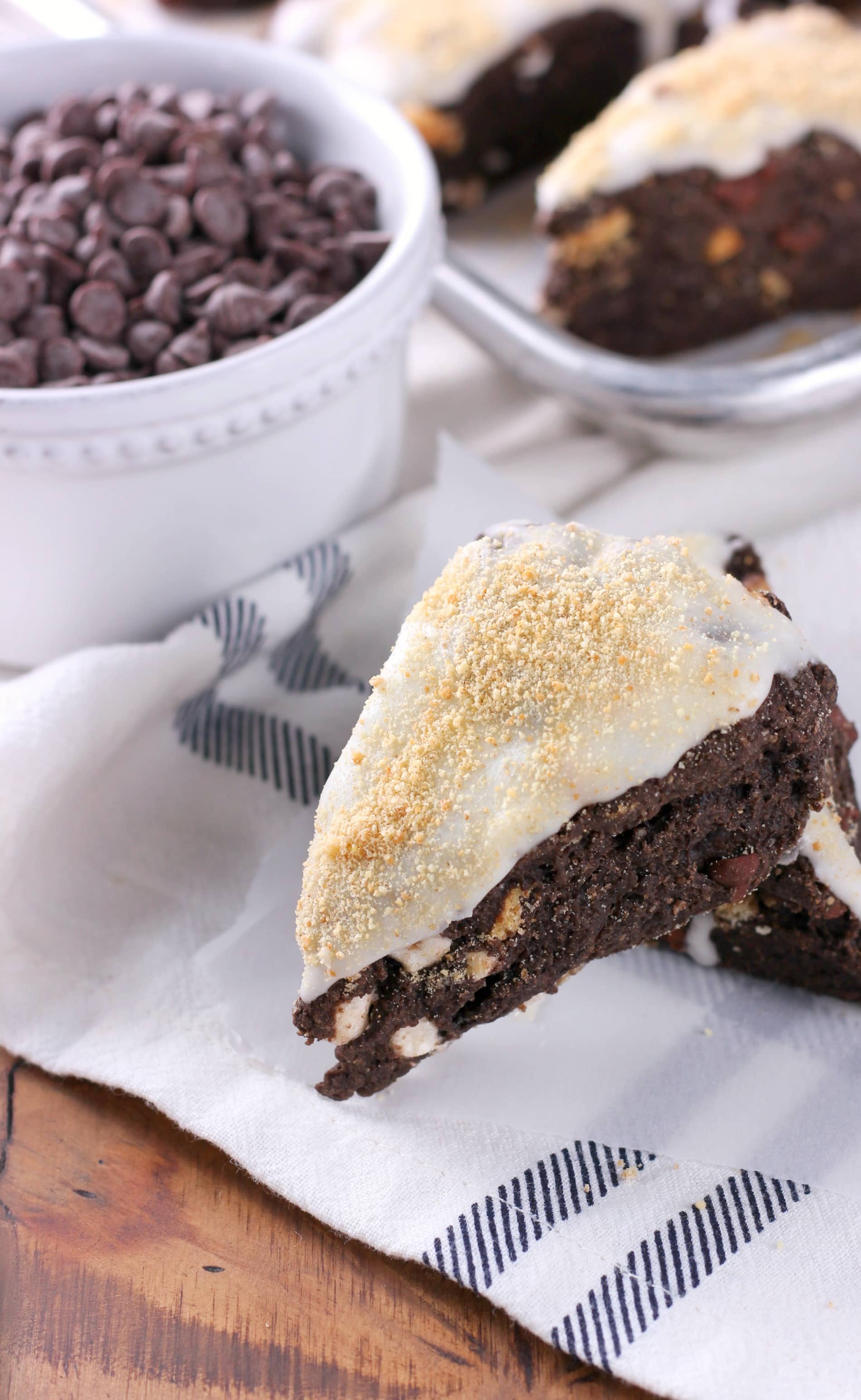 To make these scones even better, they're topped with a simple marshmallow glaze. Marshmallows are melted down with a bit of butter and confectioner's sugar.
What's not to love?! It's then topped with a sprinkling of graham cracker cracker crumbs and allowed to set before serving.
Have one for breakfast. Have one for dessert. Stick one in your bag for an afternoon snack. They are just that good!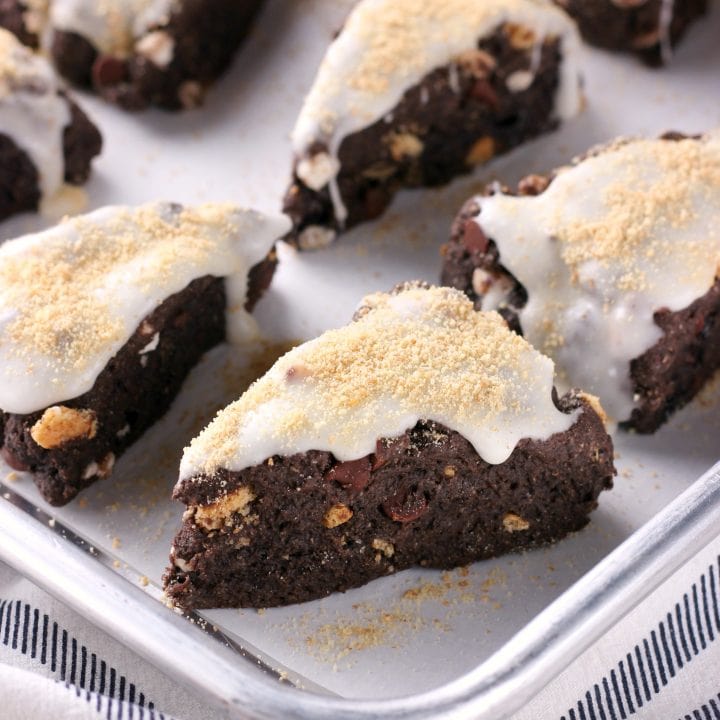 Mini Dark Chocolate S'mores Scones
Ingredients
For the Scones
1 C all-purpose flour
1 C white whole wheat flour (can use all-purpose flour instead)
1/3 C sugar
1/3 C unsweetened dark chocolate baking cocoa
1 tsp baking powder
1/2 tsp baking soda
1/2 tsp salt
1/2 C unsalted butter, cold and cut into pieces
1/2 C plain yogurt
1 egg
2 tsp vanilla extract
1/2 C coarsely crushed graham cracker crumbs
1/2 C marshmallow bits
1/2 C mini chocolate chips
For the Glaze
1/2 C confectioner's sugar
1/8 tsp salt
1 1/2 tbsp water
1 tbsp butter
1/2 C mini marshmallows
3 tbsp graham cracker crumbs
Instructions
Preheat oven to 350. Line a baking sheet with a silicone baking mat or parchment paper.
In a large bowl, whisk together flours, sugar, unsweetened baking cocoa, baking powder, baking soda, and salt. Cut in butter until mixture resembles coarse crumbs.
In a small bowl, stir together yogurt, egg, and vanilla extract until combined. Add to dry mixture and stir until just combined. Carefully stir graham cracker crumbs, marshmallow bits, and mini chocolate chips.
Turn dough out onto floured surface. Gently knead 5-6 times or until dough just comes together.
Divide dough into 3 pieces. Gently pat each piece of dough into a 5 inch circle. Cut each circle into 8 pieces and place pieces on prepared baking sheet.
Bake for 15-18 minutes or until edges just start to turn golden brown. Do not over-bake, as they will end up dry. Transfer to wire rack to cool.
While scones are cooling, prepare glaze. Whisk together confectioner's sugar and salt. Melt butter and water together over medium low heat. Add in marshmallows and stir until melted. Add to sugar mixture and whisk until combined and smooth. Dip the tops of scones into glaze. Sprinkle with graham cracker crumbs. Allow glaze to harden and serve.
Notes
If you want to make these a day of time, I would recommend not making the glaze until the day you want to serve the scones. If your house is warm or humid, the glaze may soften and get a bit soggy.
Recommended Products
As an Amazon Associate and member of other affiliate programs, I earn from qualifying purchases.