Mornings are better when they start with a couple of these tender, flaky Mini Sprinkle Scones to go with your perfect cup of coffee!
I'm sharing #NESCAFE  in my life as part of a NESCAFE sponsored series for Socialstars™. As always, all opinions are my own.
Are you someone who has to have something to eat in the morning? I can't skip breakfast. Morning hunger needs to be dealt with or the morning just isn't going to go well! Even if it's just something small, like a few of these mini sprinkle scones! And the perfect pairing to a couple of mini sprinkle scones? A cup of coffee!
Before the day starts I like to sit down with a good cup of coffee and plan out what I want to accomplish. It gives me a bit of time to think before the craziness of the day begins. To help simplify my morning routine so I have more time to prepare for the day ahead, I turn to NESCAFÉ® Dolce Gusto®.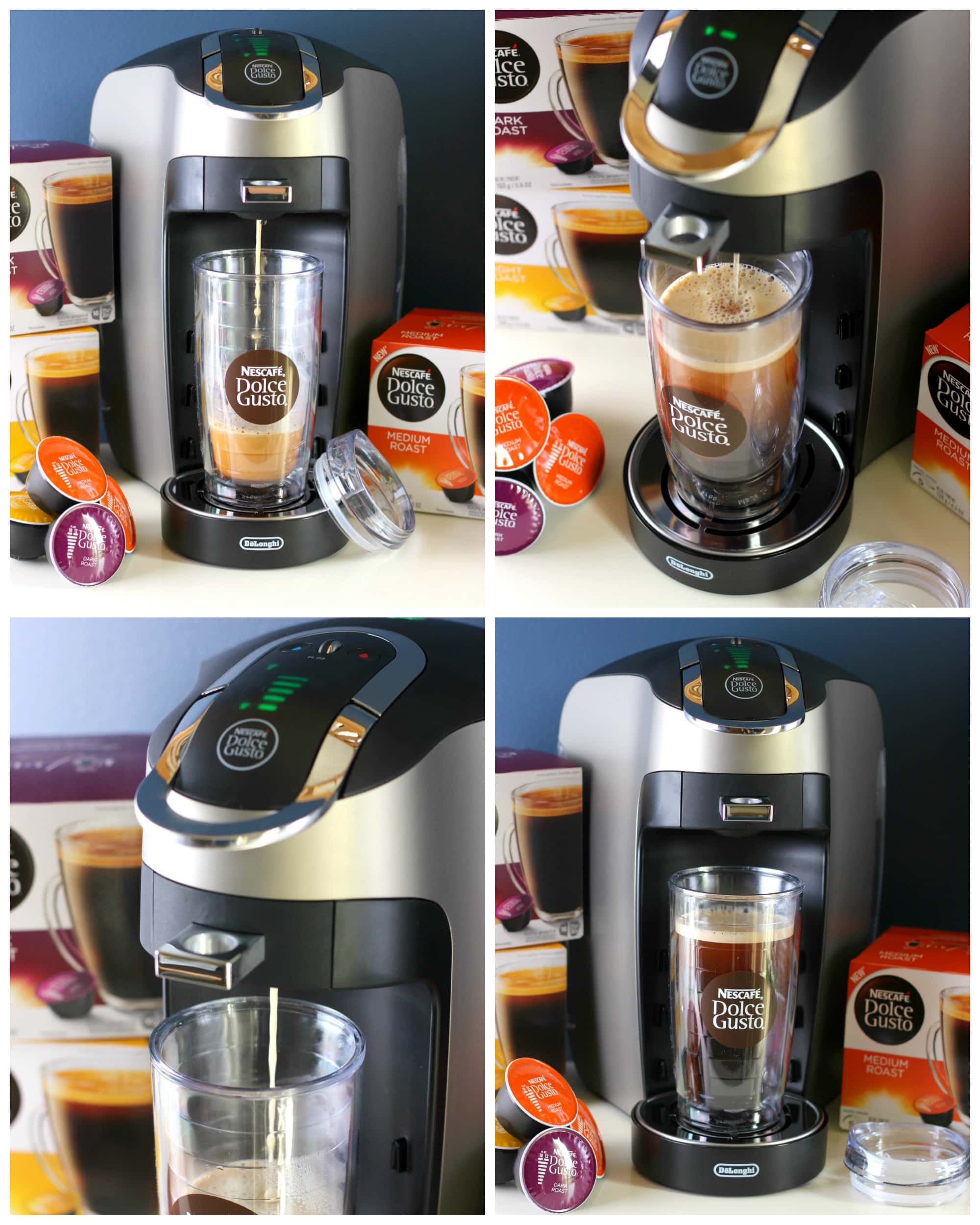 I normally turn to my pour over for a flavorful, strong cup of coffee in the morning. I grind the beans each morning, heat the water, and get pouring. So, when I first gave the machine a try, I was a little wary of the quality of coffee I would be drinking.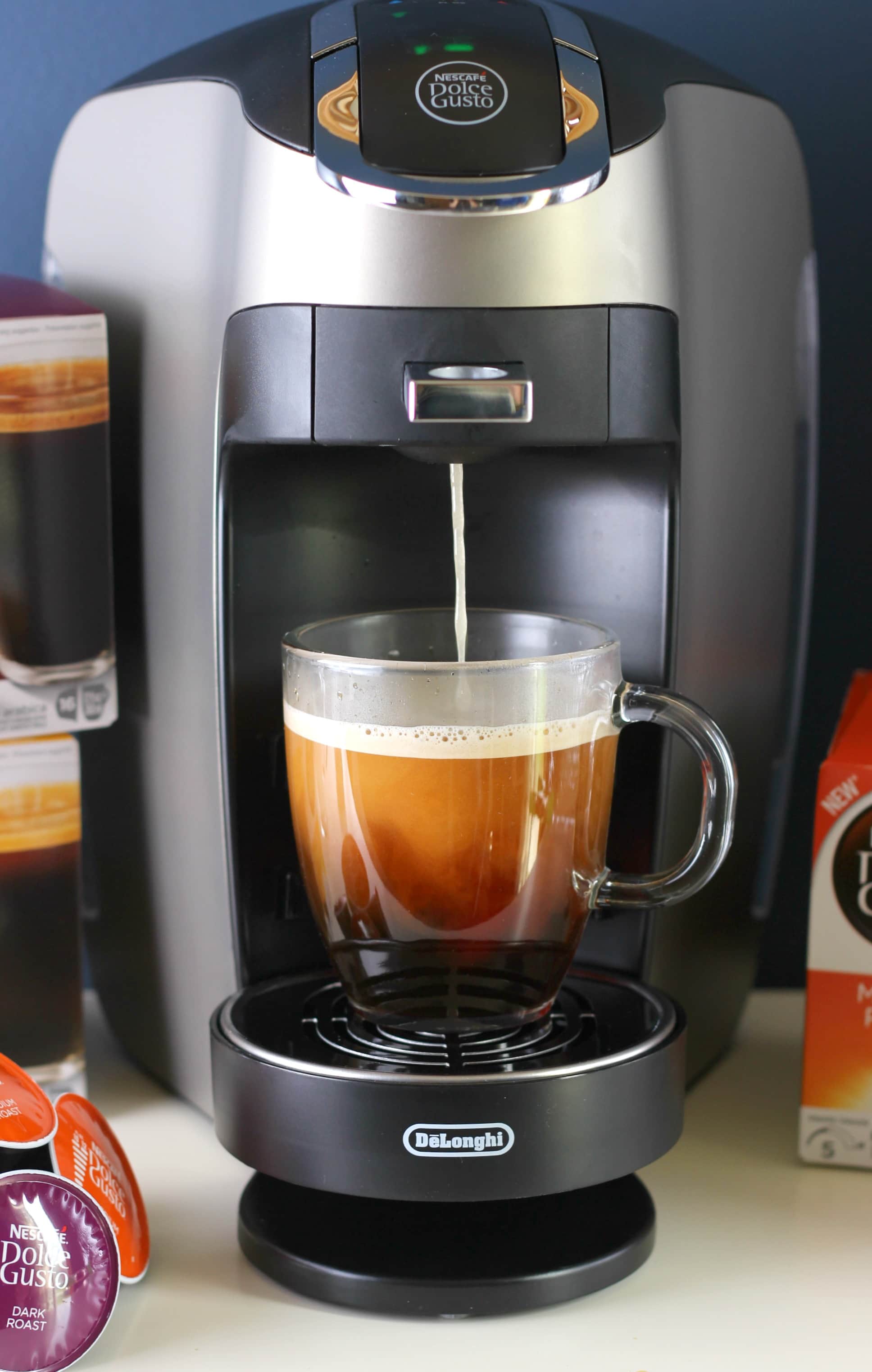 No watered down, flavorless coffee here! The NESCAFÉ Dolce Gusto has a professional-grade pressure system (15 bars of pressure!) that extracts deep, rich flavors and aromas out of every cup! (Check out the froth!)
Flavorful and rich. Just what my morning needs!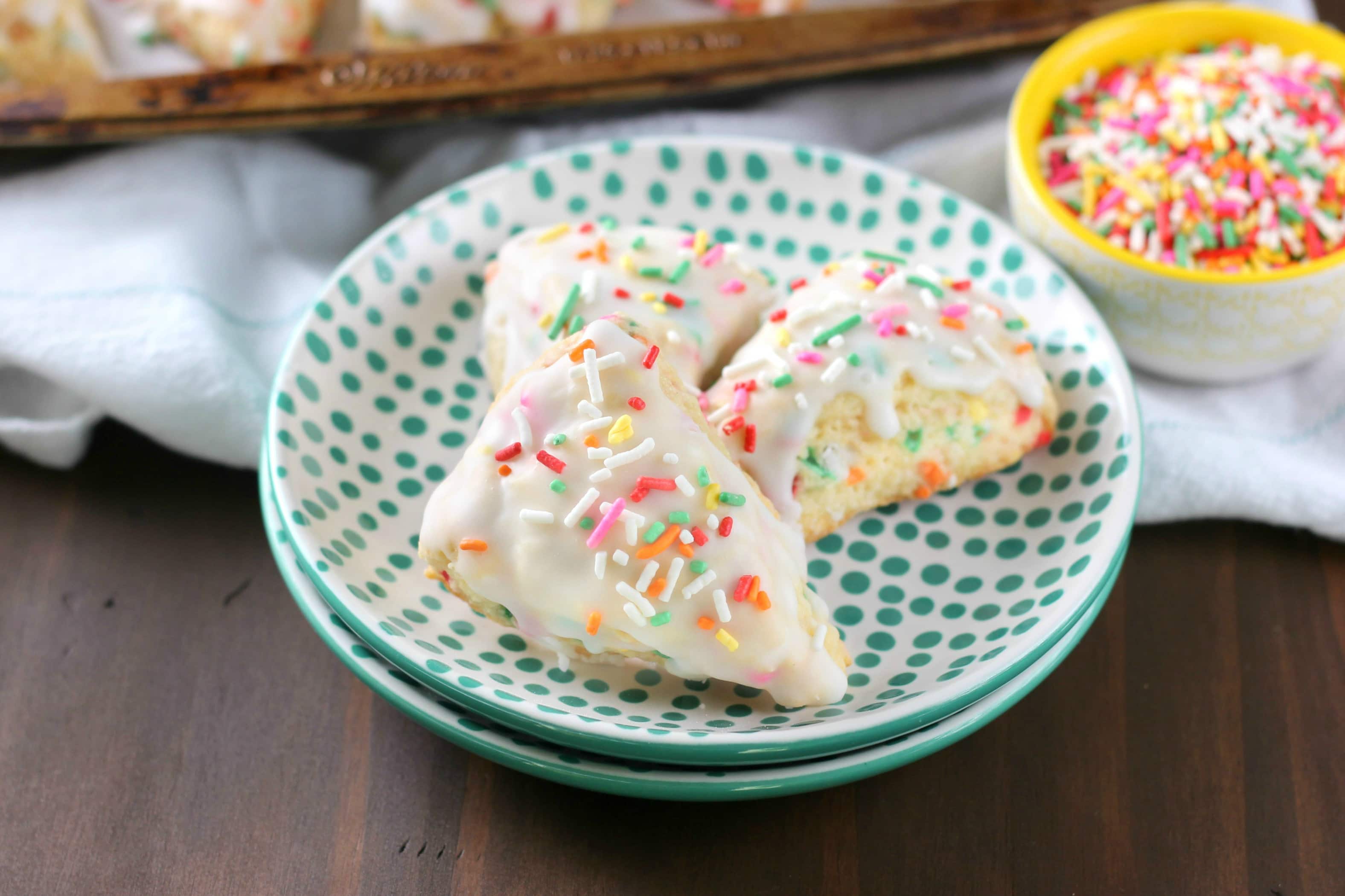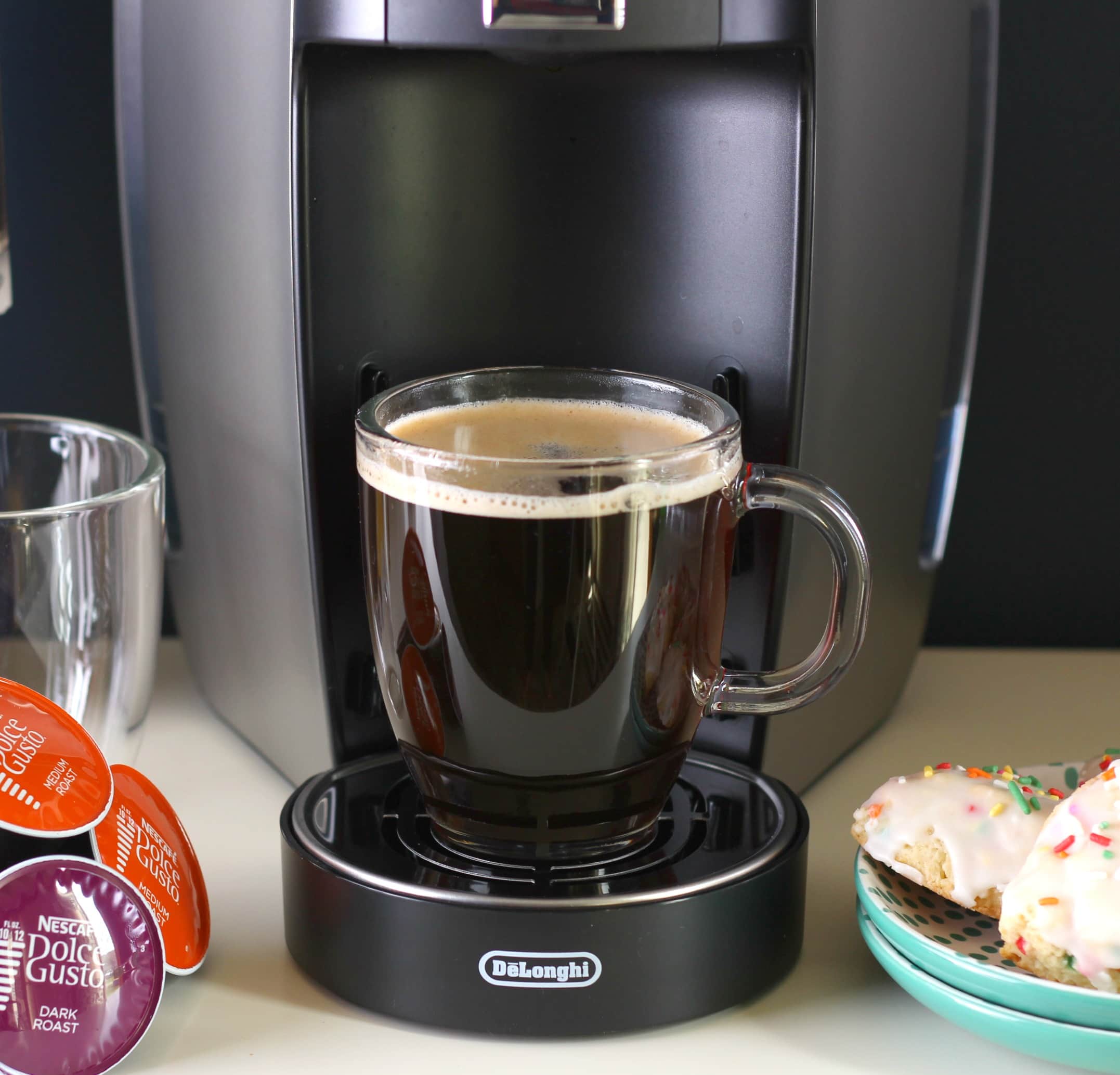 The best part is you can customize your coffee to your liking. Don't like your coffee as strong as I do? You can customize it to make it lighter. Don't want it hot? Make it iced! Want a different size every morning? Well, you're in luck.
This coffee machine can make anywhere from a 2 ounce to a 12 ounce cup! (Oh, and the NESCAFÉ Dolce Gusto also makes tea, lattes, cappuccinos, espresso, and hot chocolate!)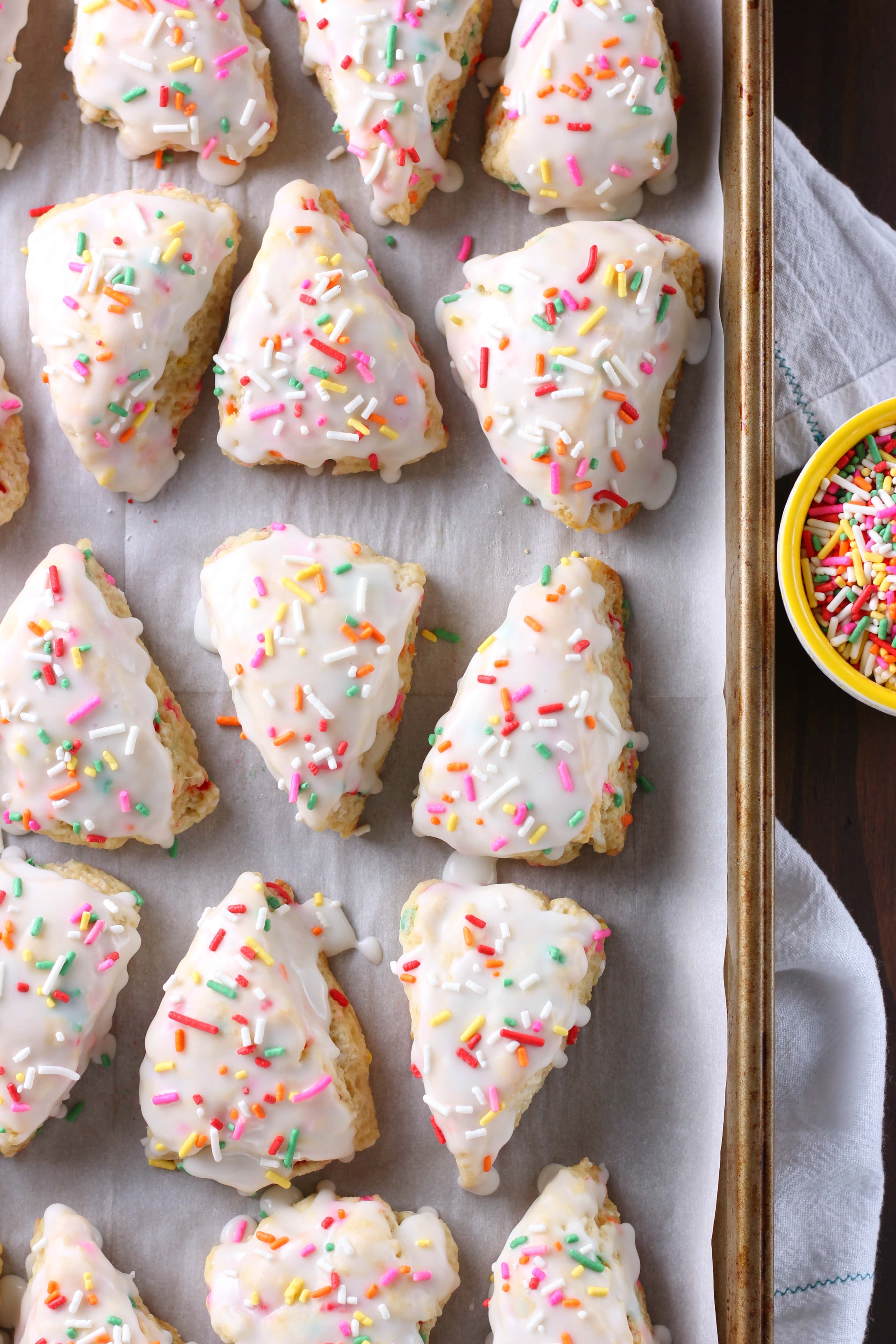 Now while I'm grabbing a couple of these tender, flaky scones, I can let the NESCAFÉ Dolce Gusto make my coffee for me so I have more time to figure out how to seize the day ahead (and to enjoy another scone!)!
**Want to get a NESCAFÉ Dolce Gusto for yourself (or for a friend/newlywed/graduate)? Use the code AKitchenBlog to get 40% off the purchase of one machine on their site!! Check out the machines on their site: https://www.dolce-gusto.us/

Mini Sprinkle Scones
Author:
A Kitchen Addiction
Ingredients
For the Scones
2 C all-purpose flour (1 C all-purpose flour and 1 C white whole wheat flour)
⅓ C sugar
1 tsp baking powder
½ tsp baking soda
½ tsp salt
½ C unsalted butter, cold and cut into pieces
½ C plain yogurt
1 egg
2 tsp vanilla extract
¼ C sprinkles
For the Glaze
1 C confectioner's sugar
2 - 3 tbsp half & half
¼ tsp vanilla extract
additional sprinkles, optional
Instructions
Preheat oven to 350. Line a baking sheet with a silicone baking mat or parchment paper.
In a large bowl, whisk together flour, sugar, baking powder, baking soda, and salt. Cut in butter until mixture resembles coarse crumbs.
In a small bowl, stir together yogurt, egg, and vanilla extract until combined. Add to dry mixture and stir until just combined. Carefully stir in sprinkles.
Turn dough out onto floured surface. Gently knead 5-6 times or until dough just comes together.
Divide dough into 3 pieces. Gently pat each piece of dough into a 5 inch circle. Cut each circle into 8 pieces and place pieces on prepared baking sheet.
Bake for 15-18 minutes or until edges just start to turn golden brown. Transfer to wire rack to cool.
While scones are cooling, prepare glaze. Whisk together confectioner's sugar, 2 tablespoons half & half, and vanilla extract until smooth. Add additional half & half, one teaspoon at a time, as needed to reach desired consistency. Dip the top of each scone into the glaze. Place back on baking sheet. Sprinkle with additional sprinkles. Allow glaze to harden and serve.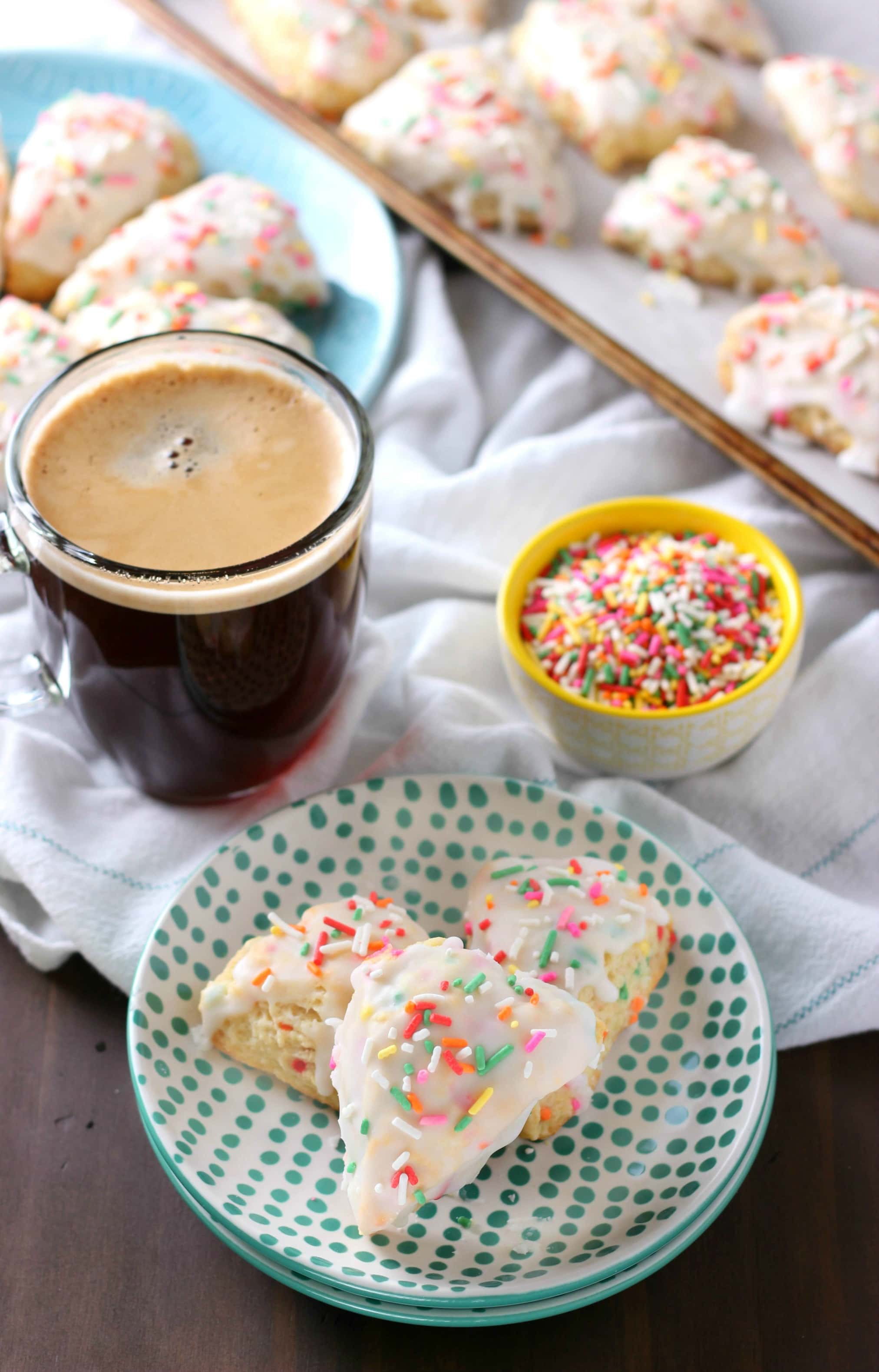 Disclosure: I'm sharing #NESCAFE  in my life as part of a NESCAFE sponsored series for Socialstars™. As always, all opinions are my own. Thanks for supporting brands that make A Kitchen Addiction possible!