Easy and convenient, these Strawberry White Chocolate Granola Bites make a great on-the-go snack to keep you fueled for all your summer adventures!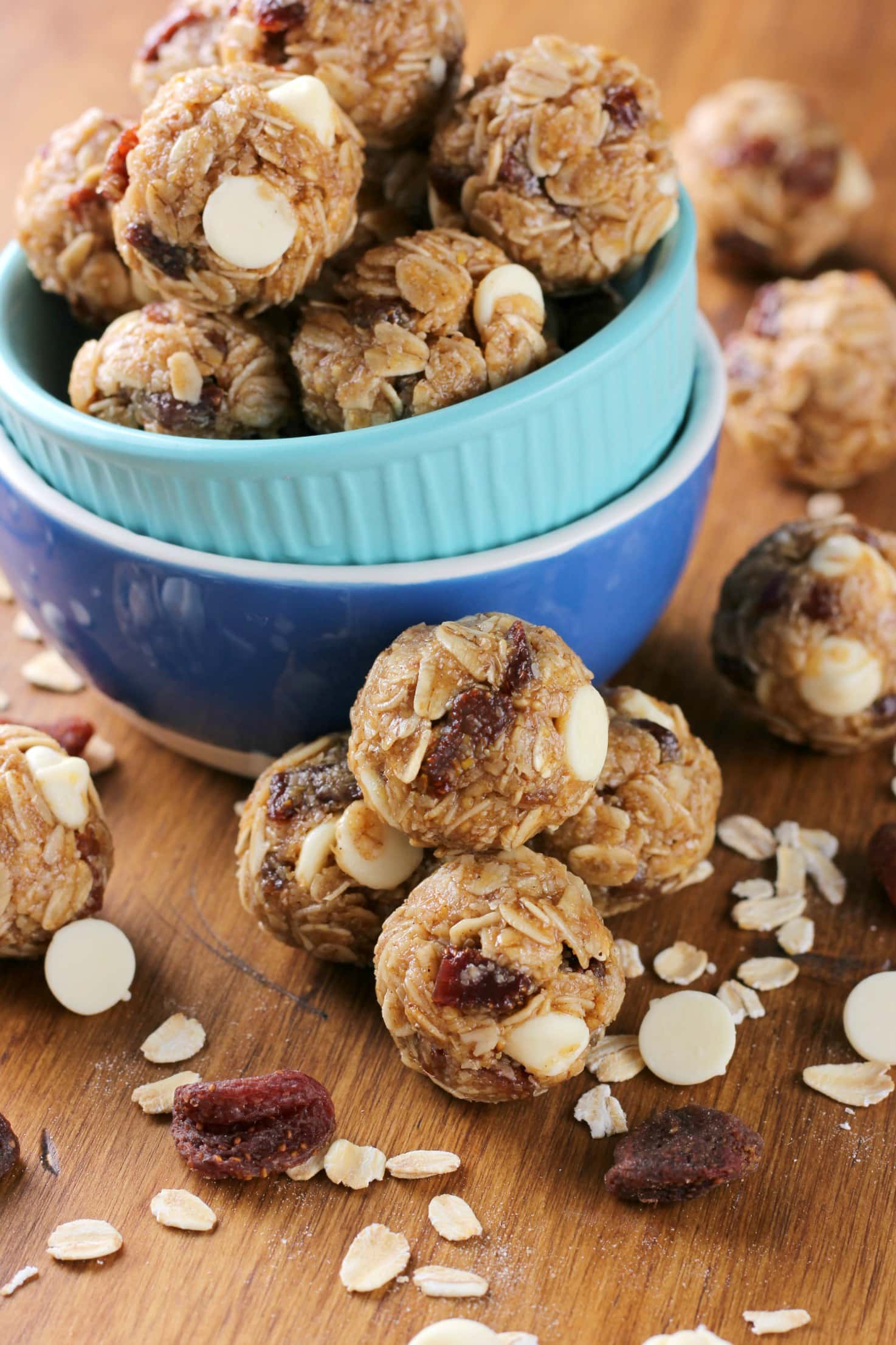 One of my favorite snacks to quick whip up when we need something to munch on is granola bites. They are super easy to make and versatile. If you don't have a certain ingredient in the pantry, you can usually swap it out for a different ingredient.
Don't like something? Change it!
With the long holiday weekend ahead of us, you might be looking for a quick snack to take with you to snack on while you travel or have something on hand to snitch while you're preparing the main meal.
We'll be doing some shorter road trips, but that doesn't stop us from wanting something to snack on!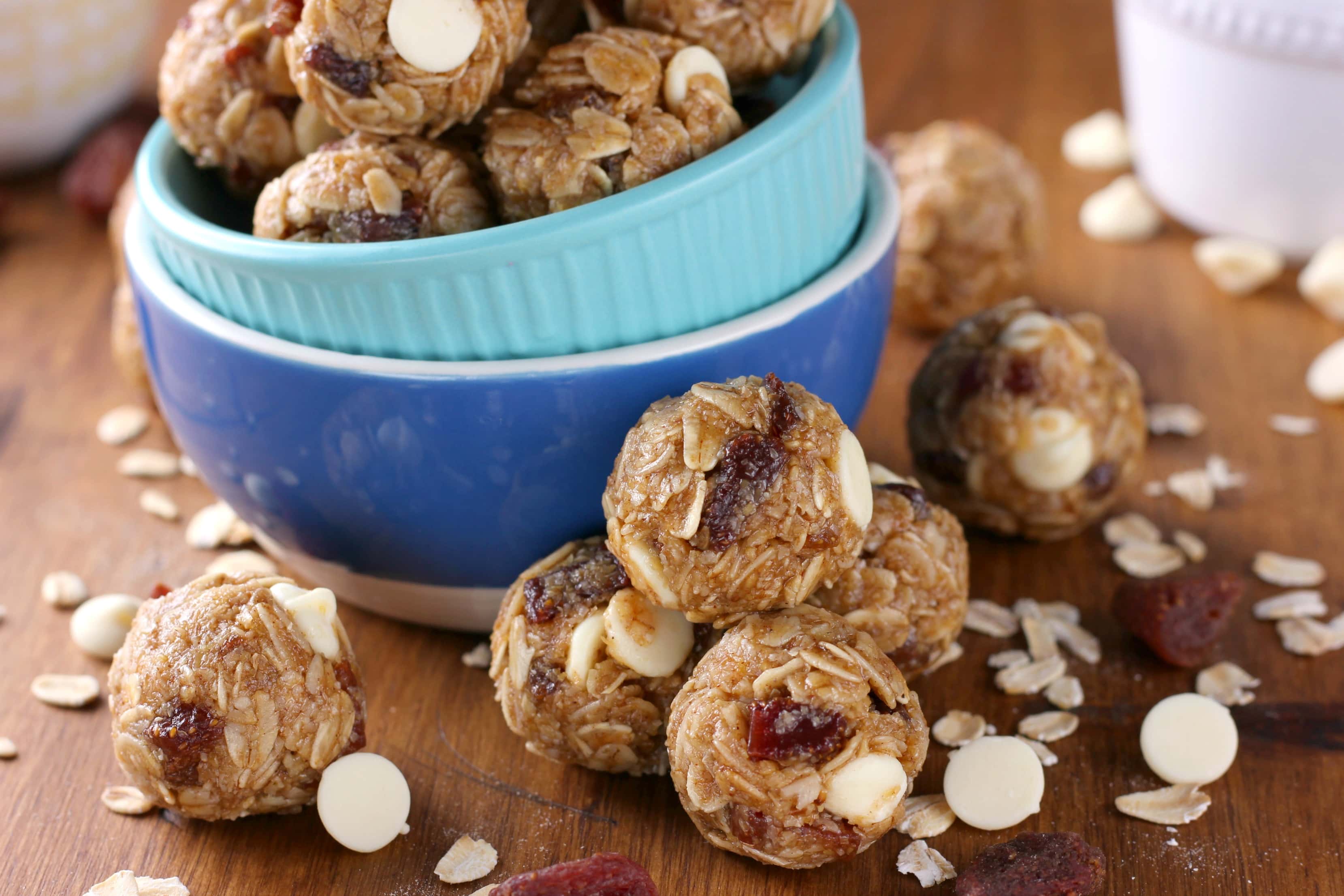 So, I made a batch of granola bites. Strawberry white chocolate granola bites. I usually end up making these of peanut butter dark chocolate chip granola bites, but this time I wanted something with fruit in it.
Chopped dried strawberries combine with honey, maple syrup, cinnamon, and a hint of nutmeg to create the main flavor of these addicting granola bites.
While I was in the middle of making them, I saw an almost empty bag of white chocolate chips sitting on the shelf.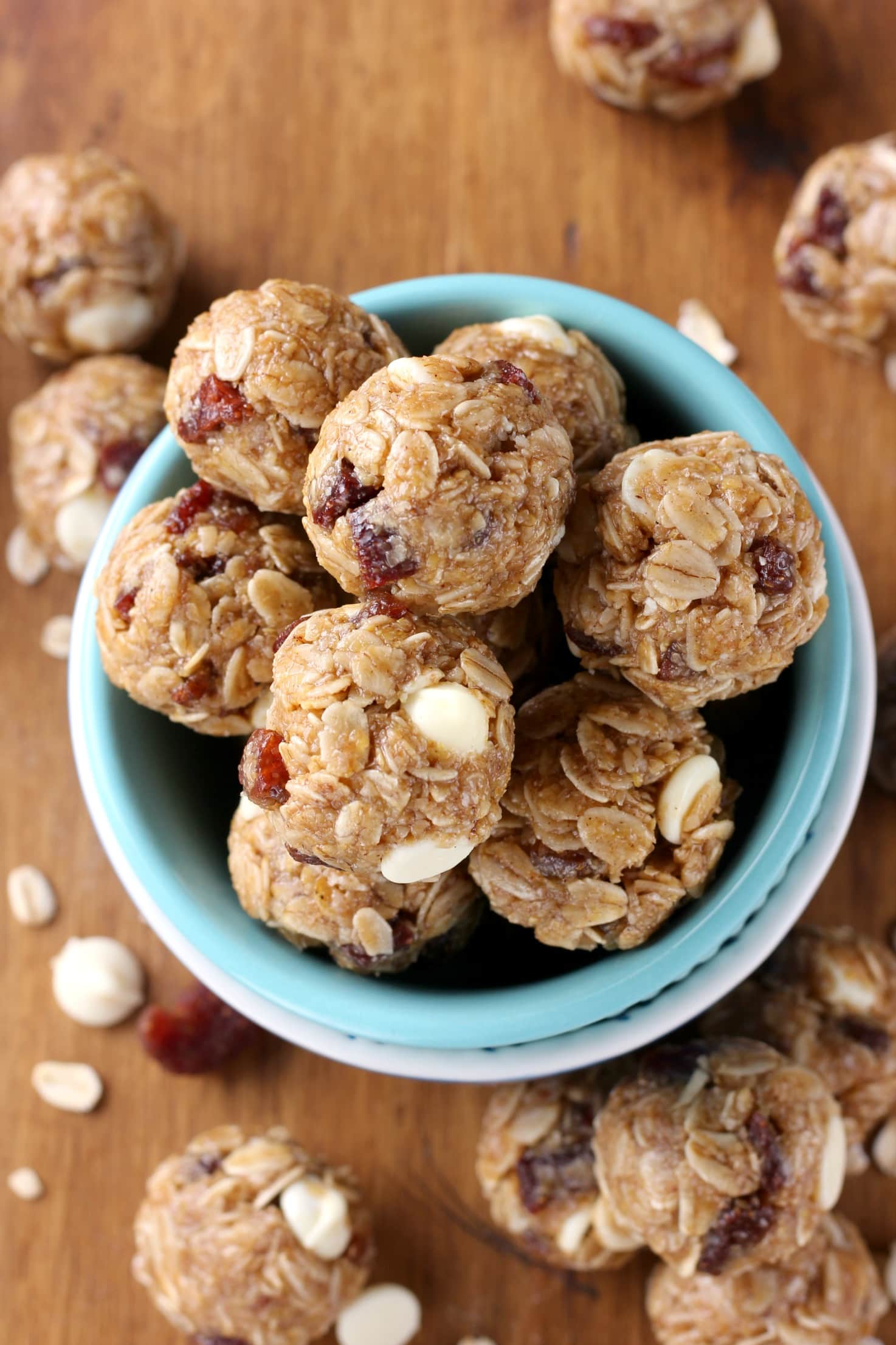 I couldn't let it just sit there, so a handful of white chocolate was thrown in at the last minute for a bit of creamy sweetness!
You can leave them out if you don't like white chocolate or substitute semi-sweet instead. It's up to you!
Add to that some coconut oil to help hold them together along with some wholesome oats, oat bran, and flaxseed for a super easy way to enjoy a bit of sweetness when mid-afternoon hunger hits without going overboard with fat and sugar.
Or when you're bored on a road trip and want something to snack on that has some nutritional benefit!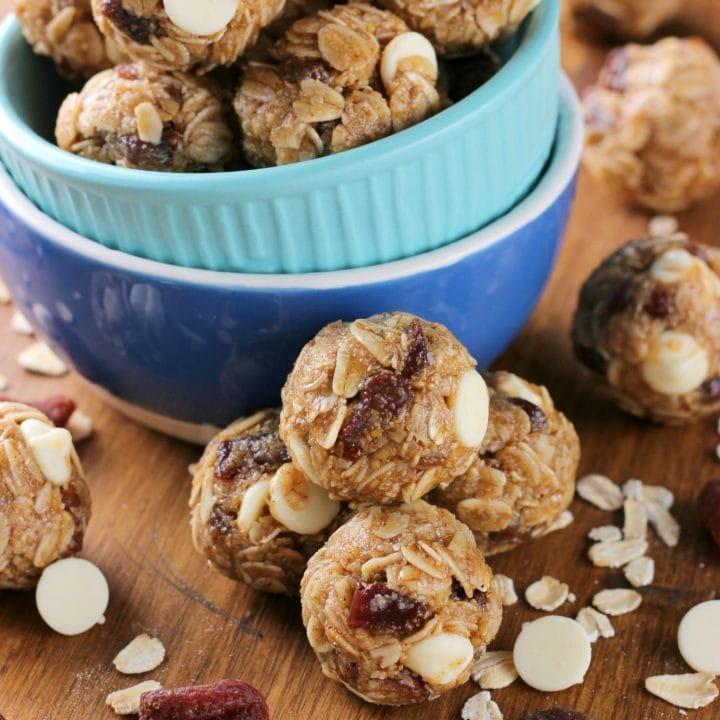 Strawberry White Chocolate Granola Bites
Yield: 40 granola bites

Prep Time: 25 minutes

Refrigeration Time: 1 hour

Total Time: 1 hour 25 minutes
Ingredients
2 1/4 C quick oats
6 tbsp ground flaxseed
1/4 C oat bran
1 tsp cinnamon
1/4 tsp nutmeg
1/4 tsp salt
½ C honey
⅓ C maple syrup
¼ C coconut oil
1 tsp vanilla extract
2/3 C chopped dried strawberries
1/4 C white chocolate chips/chopped white chocolate
Instructions
In a large bowl, stir together oats, oat bran, flaxseed, cinnamon, nutmeg, and salt.
In a small saucepan, heat together honey, maple syrup, coconut oil, and vanilla extract over medium heat until coconut oil is melted. Bring to a boil, stirring constantly for 4 minutes. Remove from heat.
Pour over oat mixture. Stir until completely combined. Let sit for 5 minutes. Stir in chopped dried strawberries and white chocolate chips. If you don't mind the white chocolate melting and getting your hands dirty, form mixture into 1 inch balls. (I like to wait at least 15 minutes) Or cover and place in refrigerator for at least 30 minutes to allow the white chocolate to harden and then form into 1 inch balls.
Refrigerate for 1 hour or until completely cooled and set.
Notes
The granola mixture will be sticky. In order to keep your hands from getting too sticky with the mixture, lightly coat with coconut oil or non-stick cooking spray.
Recommended Products
As an Amazon Associate and member of other affiliate programs, I earn from qualifying purchases.