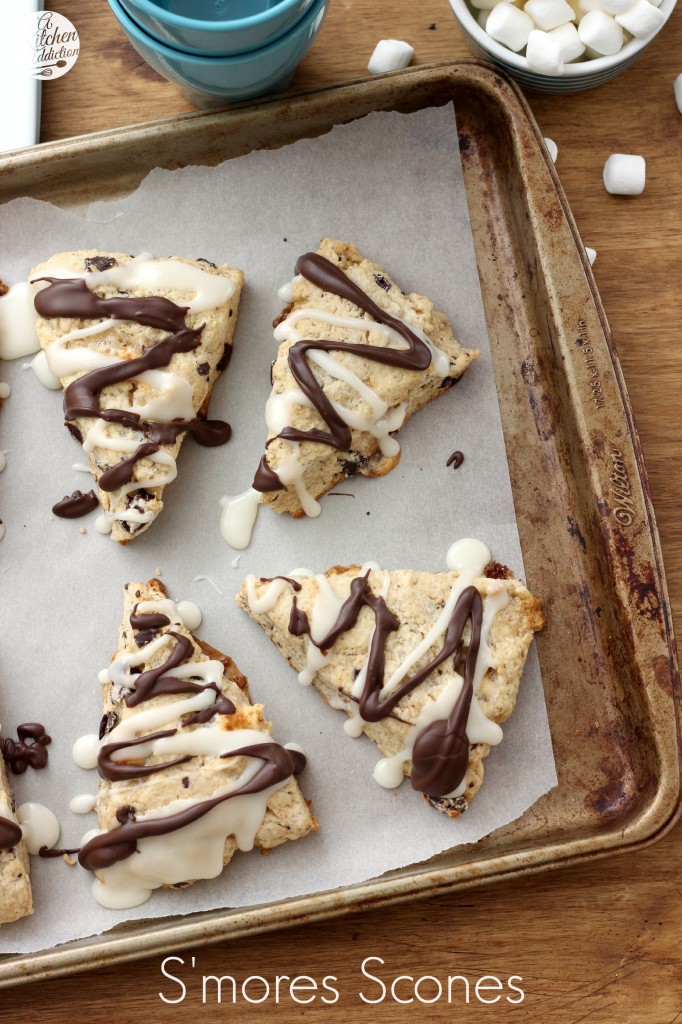 Meet my new favorite scone. . the s'mores scone! This scone has been in the making for the last few weeks. When I first told my husband of my idea, he said, "We eat a lot of scones, don't we?!" Yes, yes we do.
Just so you know, he is completely fine with it. As long as I make sure that manly food, such as steak, makes an occasional appearance!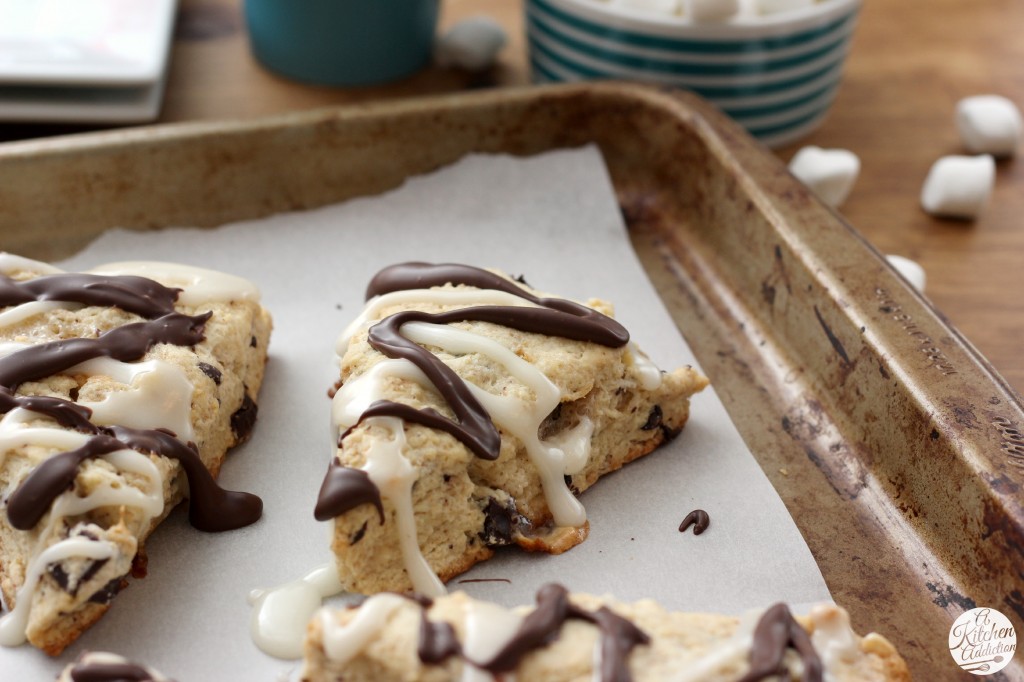 It took awhile for me to finally settle on how I wanted to make it, but the wait was worth it. These s'mores scones taste just like a gooey s'mores (especially if you snitch one while they're still warm!).
Mini marshmallows are stirred into the dough so they can melt into the scone and leave little gooey pockets of sweetness. The marshmallows on the top and sides toast just like a s'more!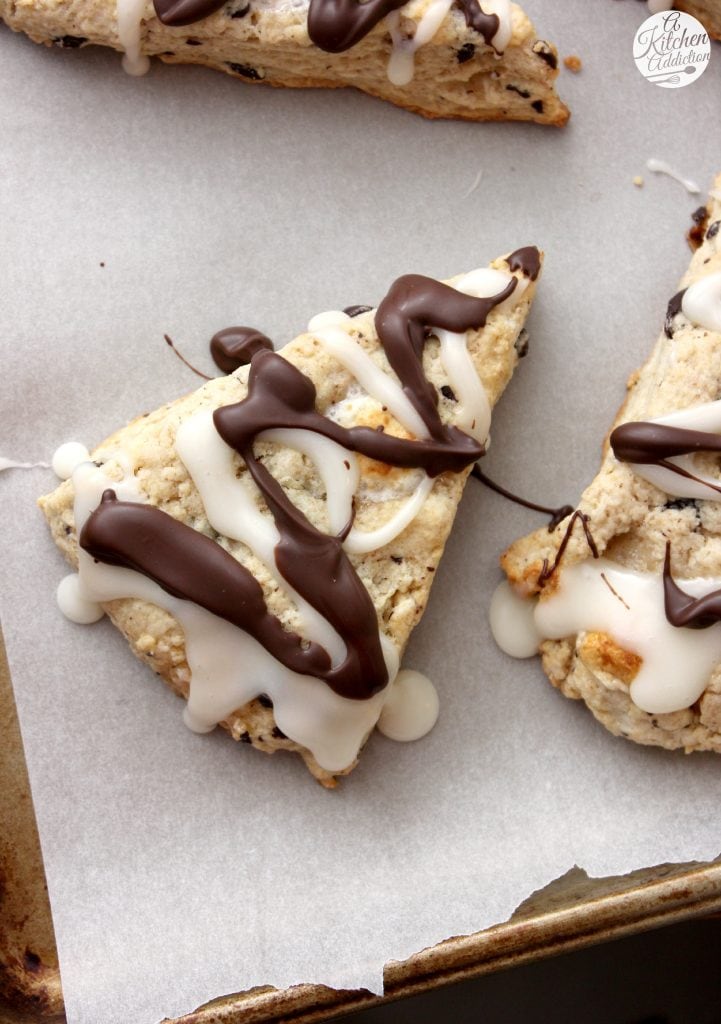 Chocolate chunks and graham cracker crumbs are also mixed in to finish off the authentic flavor. To make the scones even more irresistible, a sweet marshmallow glaze and more dark chocolate are drizzled over the top!
Make these, and they'll become your new favorite scone, too!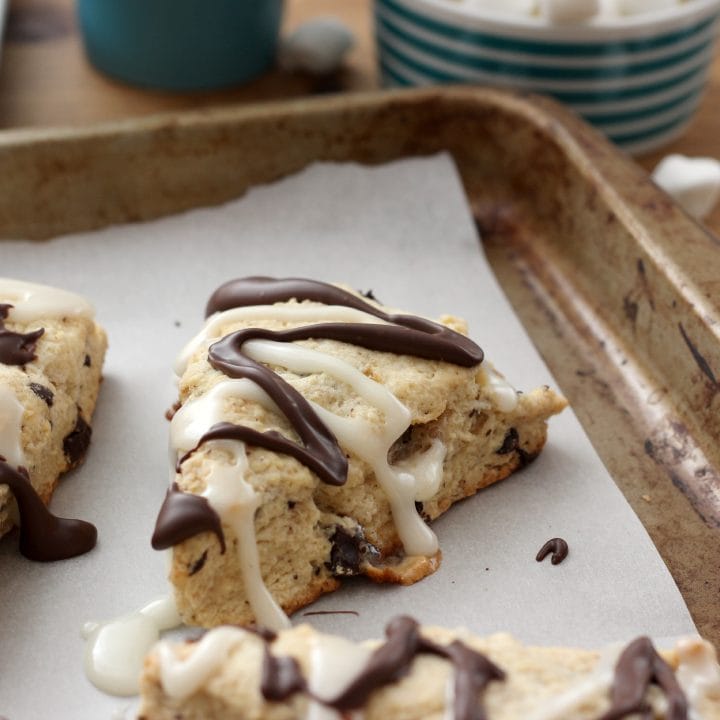 S'mores Scones
Ingredients
For the Scones
1 Cup white whole wheat flour
1 Cup all-purpose flour
1/2 Cup graham cracker crumbs
1/3 Cup sugar
1 teaspoon baking powder
1/2 teaspoon baking soda
1/2 teaspoon salt
1/2 Cup unsalted butter
1/2 Cup plain yogurt
1 egg, slightly beaten
1 Tablespoon vanilla extract
2 Tablespoons milk
1/2 Cup chocolate chunks/chocolate chips
1/2 Cup mini marshmallows or marshmallow bits
For the Glazes
1 Tablespoon butter
1 1/2 Tablespoons water
1/2 Cup mini marshmallows
1/2 Cup confectioner's sugar
1/8 teaspoon salt
1/3 Cup dark chocolate chips or chocolate melting wafers
Instructions
Preheat oven to 350. Line a baking sheet with parchment paper or a baking mat.
In a large bowl, whisk together flours, graham cracker crumbs, sugar, baking powder, baking soda, and salt.
Cut in butter with pastry blender or two forks until mixture resembles coarse crumbs.
Add in yogurt, egg, vanilla, and milk. Mix until just combined. Stir in chocolate chunks and marshmallows.
Turn dough out onto a lightly floured surface. Knead 5 to 6 until dough just comes together. Shape dough into an eight inch circle. Cut into 8 pieces and place on prepared baking sheet.
Bake for 15-18 minutes or until just starting to turn light golden brown. Remove from the oven and allow to cool.
While scones are cooling, whisk together confectioner's sugar and salt. Melt butter and water together over medium low heat. Add in marshmallows and stir until melted. Add to sugar mixture and whisk until combined and smooth. Drizzle over cooled scones.
Melt dark chocolate according to package instructions. Drizzle over scones. Allow to cool and harden before serving.
Serve.
Recommended Products
As an Amazon Associate and member of other affiliate programs, I earn from qualifying purchases.