Tomorrow is the big day. We're loading up the moving truck and leaving the 496 square foot house we've been renting. The one good thing about living in a tiny house is you can fit everything in the smallest moving truck! That and while you're in the midst of packing and deep cleaning, you're thankful for the fact that the house is only as big as it is!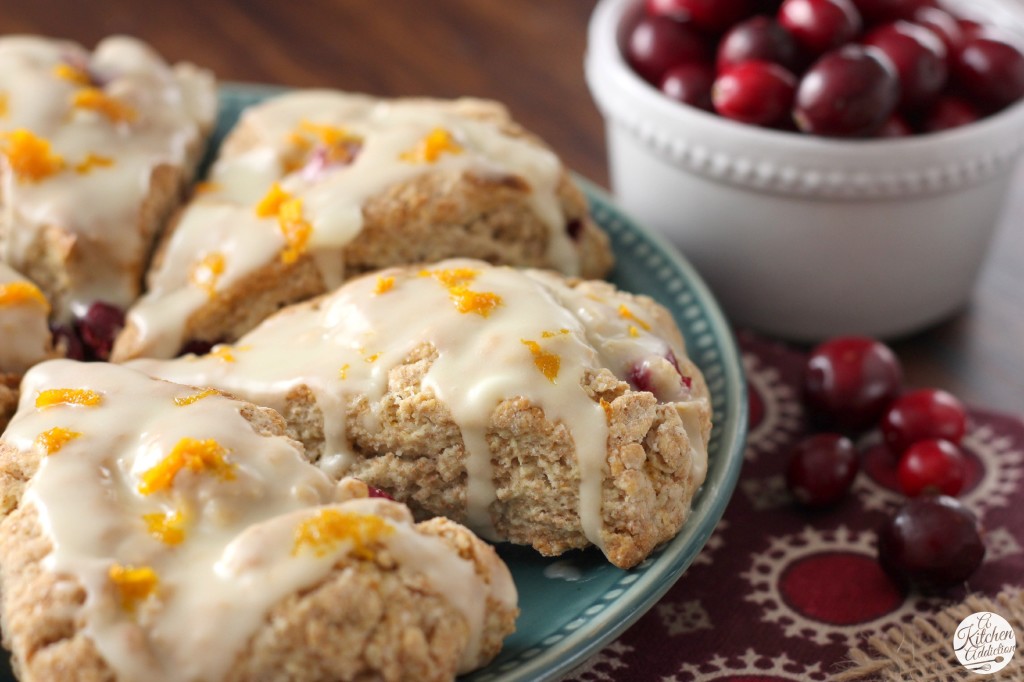 Before my kitchen disappeared into an array of boxes, I did some last minute baking to hold me over until I'd be able to get back into a functioning kitchen. First up were these scones. Fresh, tart cranberries combine with orange zest and juice in these cranberry orange scones. I love the cranberry orange combination this time of year and always seem to forget about cranberries after Thanksgiving. This year I'm trying to change that. Fresh cranberries give the scones a fresh, fruity flavor that you just don't get from dried cranberries.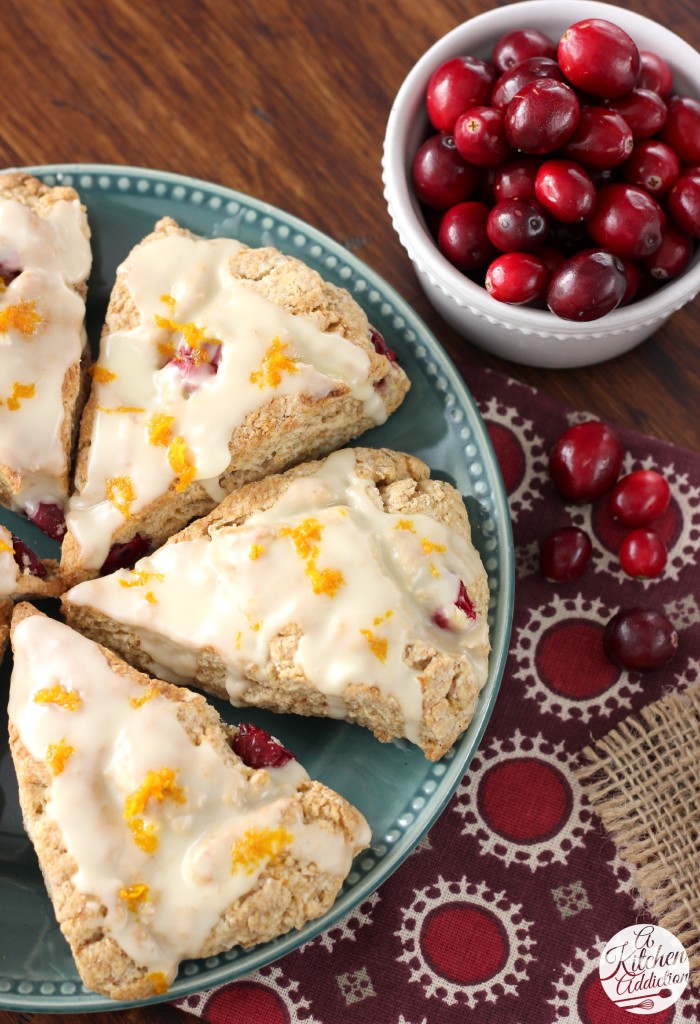 To help cut down on the tartness, a sweet orange glaze tops these scones. A perfect balance of tart and sweet. Whole wheat flour combines with all-purpose flour to give the scones a dose of whole grains while keeping their tender texture. Seasonal scones at their best! Forget the coffee shop, you can make your own scones that will taste just as good (if not better!)! Then grab a cup of your favorite coffee or tea and sit down and a take a minute to relax in the middle of this busy holiday season!

Cranberry Orange Scones
Author:
A Kitchen Addiction
Ingredients
For the Scones
1 C whole wheat flour
1 C all-purpose flour
⅓ C sugar
2 tsp orange zest
1¼ tsp baking powder
½ tsp baking soda
½ tsp salt
⅓ C butter, cold and cut into pieces
½ C milk or cream
½ C fresh cranberries
For the Glaze
1 C confectioner's sugar
1 tbsp orange juice
orange zest, optional
Instructions
Preheat oven to 400. Line a baking sheet with parchment paper or a silicone mat.
In a medium bowl, whisk together flours, sugar, orange zest, baking powder, baking soda, and salt.
Using a pastry blender or fork, cut in butter until mixture resembles coarse crumbs. Add milk and cranberries. Stir until dough just comes together.
Transfer dough to a lightly floured surface. Knead dough gently until a shaggy ball forms. Pat dough into a circle about 1 inch thick.
Cut dough into 8 wedges and place on prepared baking sheet.
Bake for 18-20 minutes or until edges just start to turn golden brown.
Remove to a wire rack to cool.
While scones are cooling prepare glaze. Stir together confectioner's sugar and orange juice until smooth. Spoon over cooled scones. Sprinkle with orange zest.
Allow glaze to harden and serve.