These bright, citrusy Lemon Poppy Seed Scones are filled with fresh lemon juice and zest and topped with a sweet glaze! This easy scone recipe is sure to brighten any morning!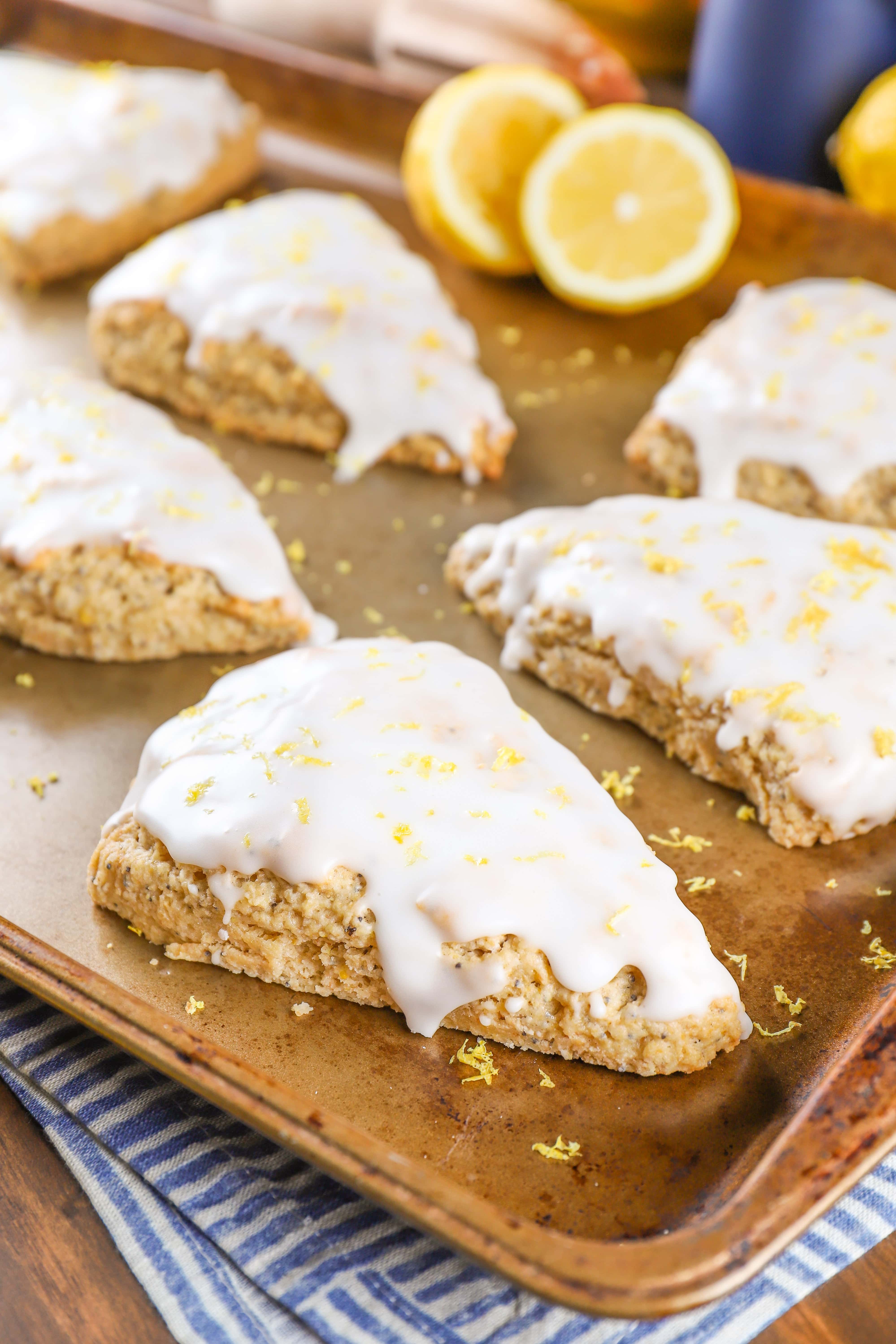 This time of year can be kind of dreary after the snow melts and we're left with the brown lawns, muddy patches, and overcast skies while we wait for warm, sunny spring weather to make an appearance.
While we soak up each moment the sun makes an appearance as much as possible, it always helps to have some cheery foods on hand! Right now it's all about bright, citrusy foods in our kitchen.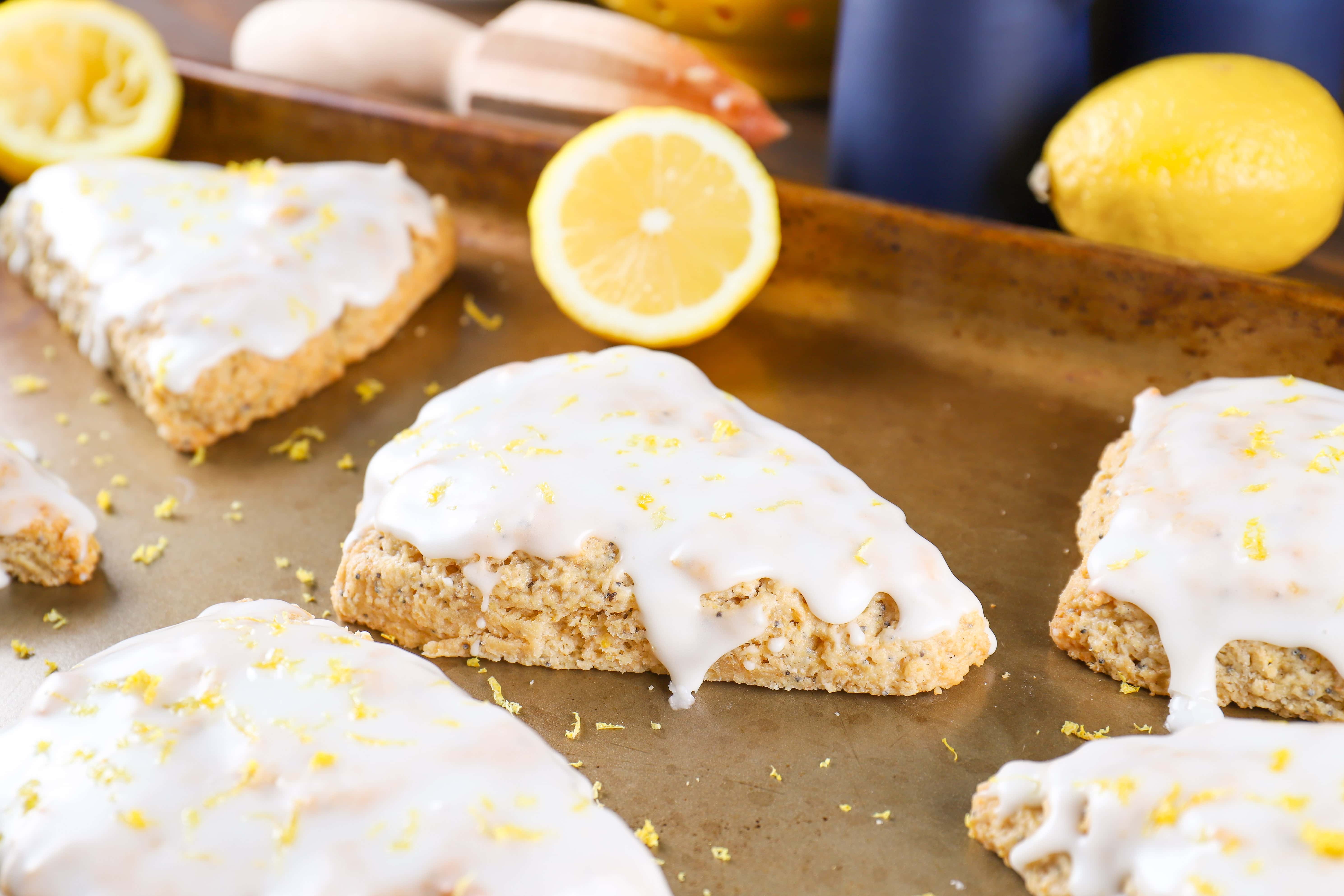 And lately for us, it's been batches of these lemon poppy seed scones. As soon as the last scone was consumed, my husband asked if we had the ingredients on hand to make another batch!
(Thankfully, no trip out to the crazy, depleted stores was necessary to get another batch made!)
With only a handful of ingredients and a short amount of prep time, these scones will soon be filling your kitchen with the bright, fresh smell of lemon!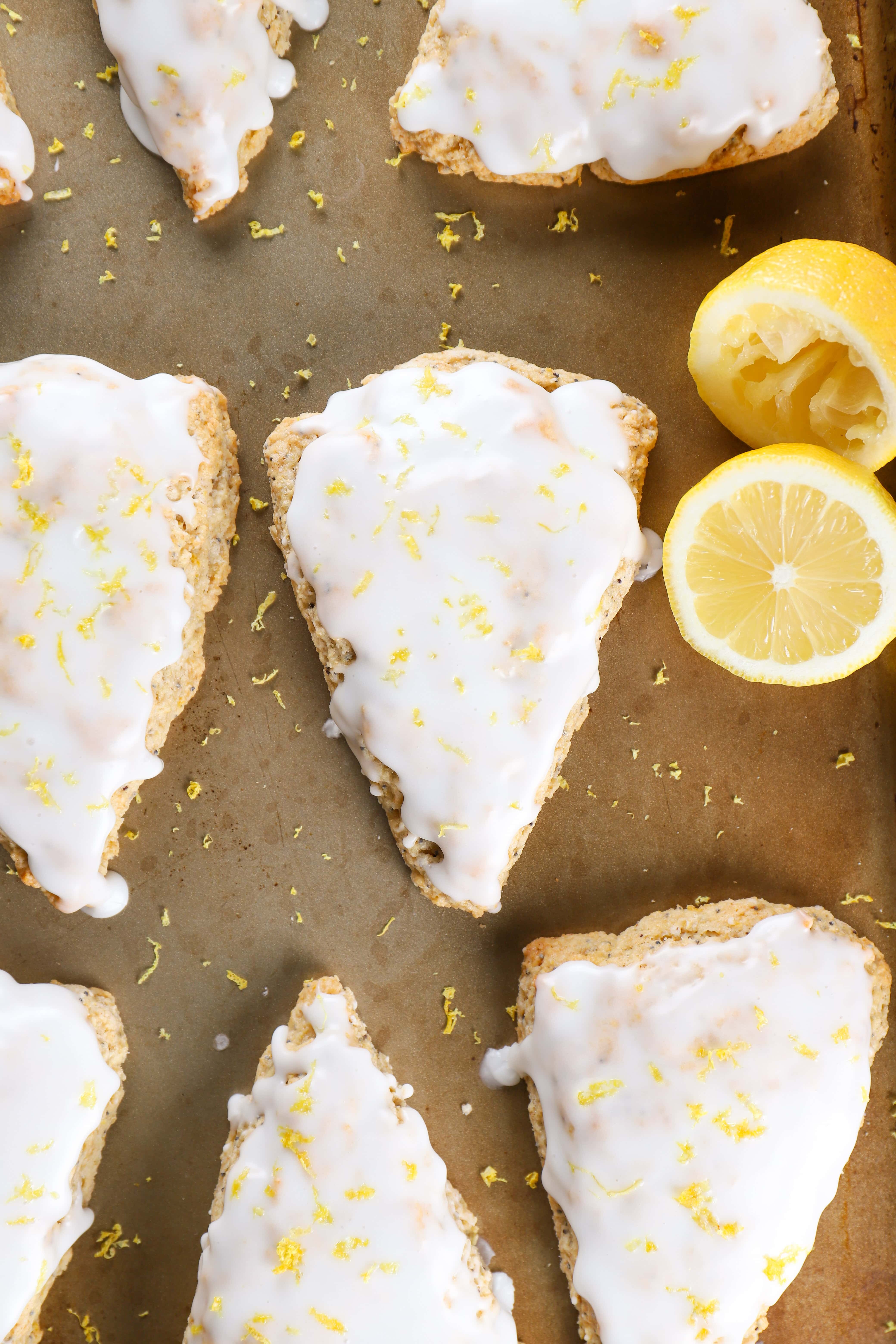 Tips for Making Lemon Poppy Seed Scones
Stir the wet ingredients into the dry ingredients just until moistened. Don't worry if the dough isn't all wet. The dough will come together when you knead it.
Knead the dough just as much as necessary to get dough to come together. It's okay if the circle looks shaggy. This will keep the scones from getting tough.
I like to use a dough scraper for cutting the scones and transferring them to the baking sheet. It makes it easy to both get even pieces and to keep the pieces together when moving them!
Want to eat the scones over a few days? If I know that we'll be enjoying the scones over a few days, I like to only make half a batch of the glaze at a time and only glaze half of the scones right away. I will quick whip up another half batch of glaze when we've eaten half of the scones. This keeps the glaze from getting soggy if your house is humid and from too much of the glaze soaking into the scone over time and changing the texture.
If you can't get your hands on lemons right now, you can use the concentrated lemon juice that comes in the green bottles. You won't get the zing from the lemon zest, but you'll still get good lemon flavor.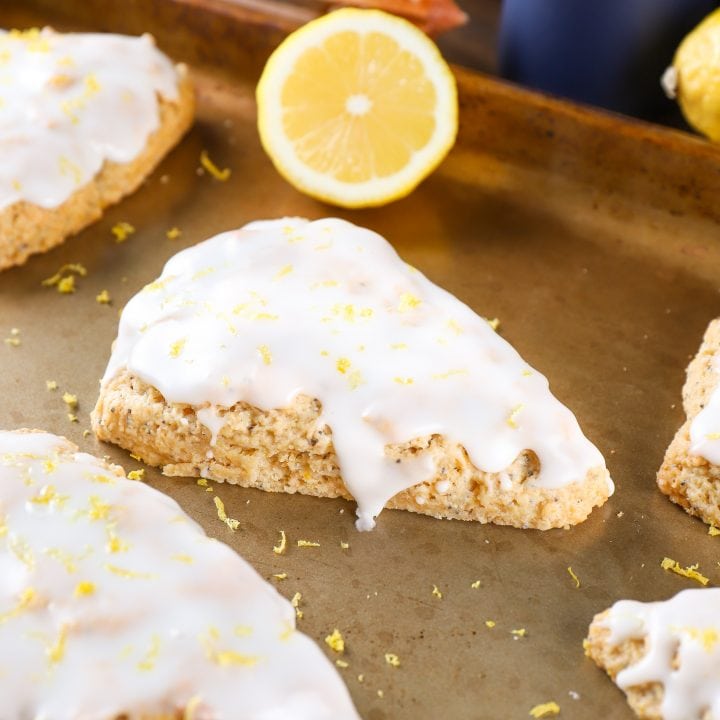 Lemon Poppy Seed Scones
Yield: 8 scones

Prep Time: 10 minutes

Bake Time: 15 minutes

Total Time: 25 minutes

These bright, citrusy Lemon Poppy Seed Scones are filled with fresh lemon juice and zest and topping with a sweet glaze! This easy scone recipe is sure to brighten any morning!
Ingredients
For the Scones
1 Cup white whole wheat flour
1 Cup all-purpose flour
1/3 Cup sugar
1/2 Tablespoon poppy seeds
1 teaspoon lemon zest
1 teaspoon baking powder
1/2 teaspoon baking soda
1/2 teaspoon salt
1/2 Cup unsalted butter, cold and cut into pieces
1/2 Cup plain yogurt
3 Tablespoons fresh lemon juice
1 teaspoon vanilla extract
1 egg
For the Glaze
1 Cup confectioner's sugar
2-4 teaspoons fresh lemon juice
1-2 teaspoons milk
lemon zest
Instructions
Preheat oven to 375 degrees Fahrenheit. Line a baking sheet with a silicone baking mat or parchment paper.
In a large bowl, whisk together flours, sugar, poppy seeds, baking powder, baking soda, salt, and lemon zest. Cut in butter until mixture resembles coarse crumbs.
In a small bowl, whisk together yogurt, lemon juice, vanilla extract, and egg until combined. Add wet ingredients to dry ingredients, and stir until just combined.
Turn dough out onto a lightly floured surface. Gently knead a few times until dough comes together.
Gently shape dough into an 8 inch circle. Cut into 8 pieces and place onto prepared baking sheet making sure to leave an inch between pieces of dough.
Bake for 15-20 minutes or until edges just start to brown. Remove to a wire rack to cool.
While scones are cooling, prepare glaze. Stir together confectioner's sugar, 2 teaspoons fresh lemon juice, and 1 teaspoon milk until smooth. Add additional lemon juice and milk until desired consistency is reached.
Dip tops of scones into glaze or spoon glaze over the top. Sprinkle with lemon zest.
Allow glaze to harden and serve.
Recommended Products
As an Amazon Associate and member of other affiliate programs, I earn from qualifying purchases.
Nutrition Information:
Yield: 8 Serving Size: 1 scone
Amount Per Serving: Calories: 320Total Fat: 13gSaturated Fat: 8gTrans Fat: 0gUnsaturated Fat: 5gCholesterol: 55mgSodium: 294mgCarbohydrates: 47gFiber: 2gSugar: 23gProtein: 5g

Nutrition information shown is an estimate provided by an online calculator and may not always be accurate. It should not be considered a substitute for a medical professional's advice.