These tender Honey Cinnamon Banana Bread Scones are filled with the comforting flavor of banana bread and are topped with a cinnamon sugar dusting and a simple cinnamon brown sugar glaze!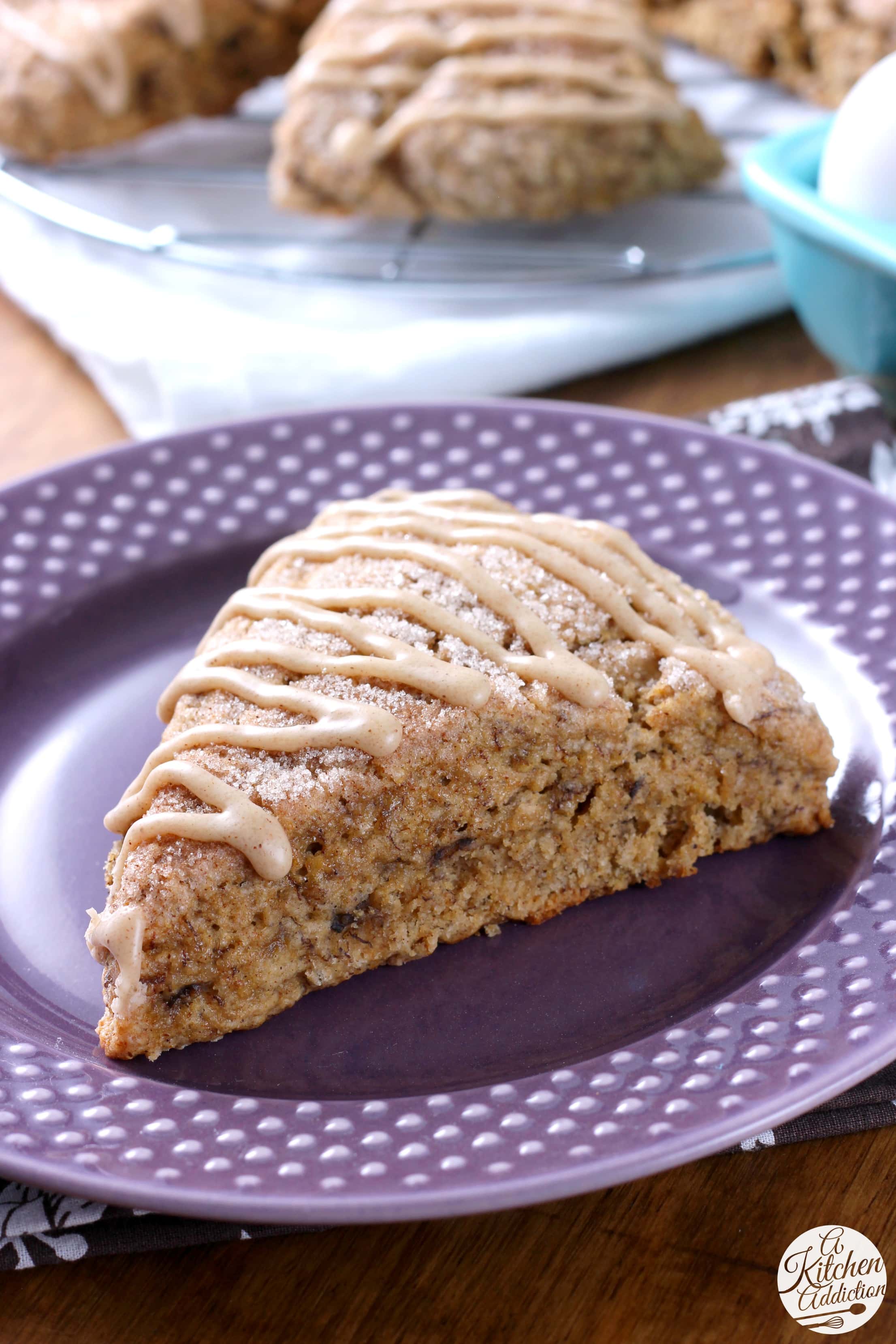 It's Friday! Some weeks making it to Friday is more of an accomplishment than others, right?! This was one of those weeks.
I can't think of a better way to start off Friday morning than with a fresh baked scone to go with a big mug of coffee.
Soft, tender honey cinnamon banana bread scones make the end of a long week just a bit better!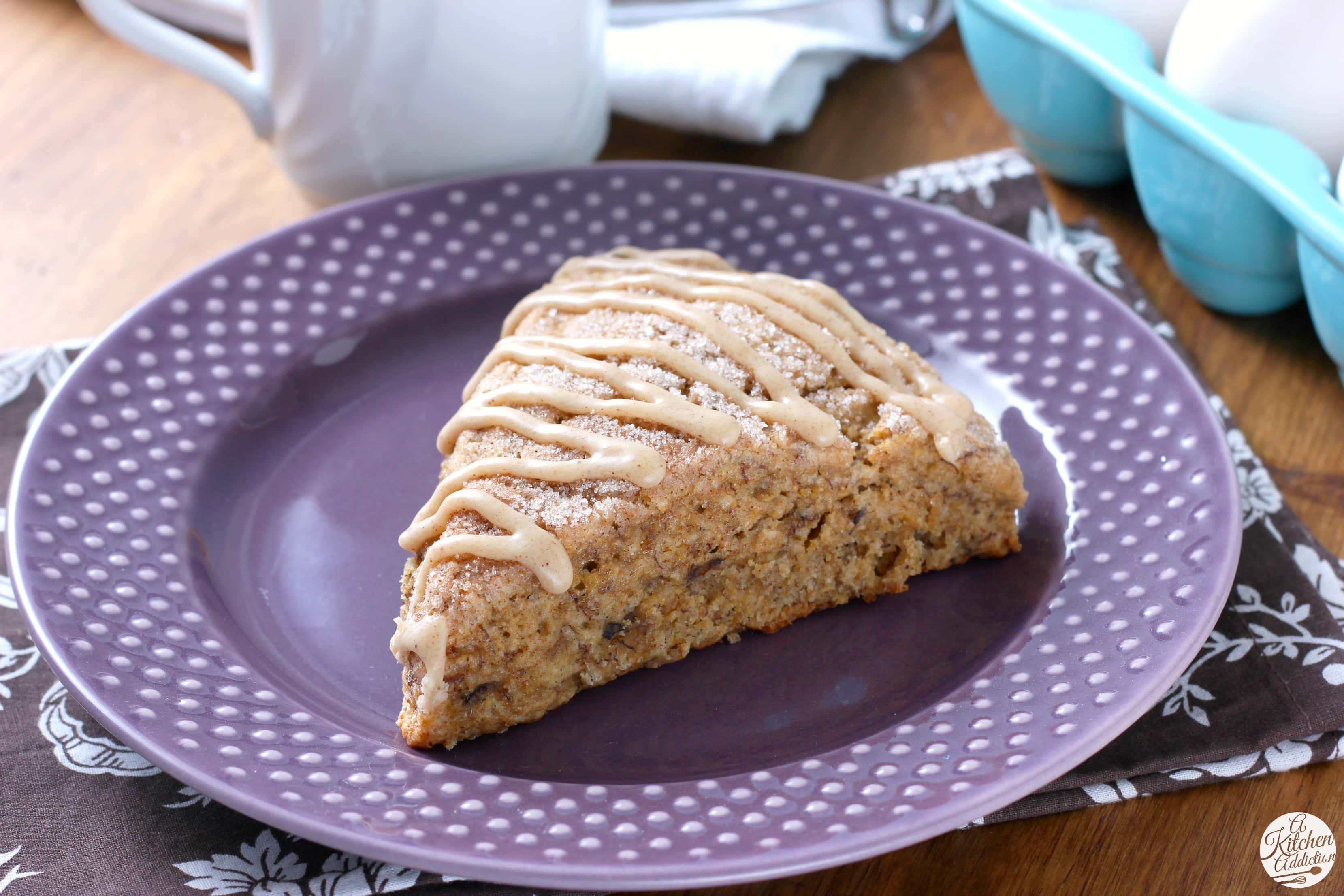 I often buy bananas just to let them go brown, so I can bake with them. Anything banana bread flavored is enjoyed around here.
These banana bread scones were no different.
Bananas, cinnamon, a hint of nutmeg, and a bit of brown sugar all combine to give these scones the classic banana bread flavor.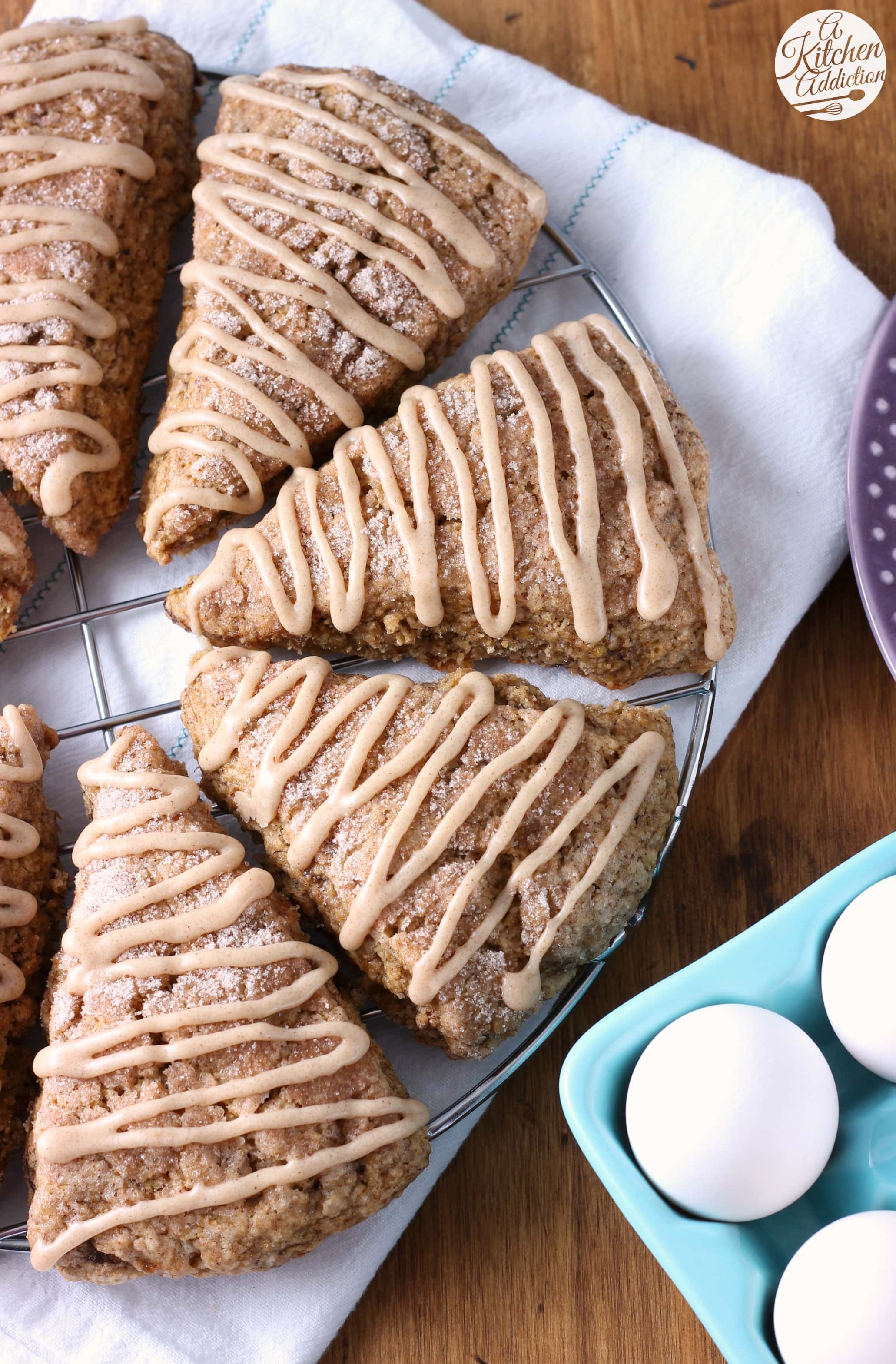 A little cinnamon sugar dusting is added right before baking and a simple cinnamon brown sugar glaze is drizzled over the top after the scones are cooled.
These add more cinnamon and just the right amount of sweetness without going overboard.
A good reason to go buy some bananas and let them go brown so you can get baking!
Don't forget that there's an America's Test Kitchen Cookbook giveaway going on right now! Entry details at the bottom of this post!

Honey Cinnamon Banana Bread Scones
Author:
A Kitchen Addiction
Ingredients
For the Scones
1¼ C all-purpose flour
1 C white whole wheat flour
⅓ C brown sugar
1½ tsp cinnamon
½ tsp nutmeg
1 tsp baking powder
½ tsp baking soda
½ tsp salt
½ C unsalted butter, cold and cut into pieces
¾ C mashed, ripe banana (about 2 bananas)
¼ C honey
1 egg, lightly beaten
For the Cinnamon Sugar Topping
1 tbsp water
2 tbsp sugar
¼ tsp cinnamon
For the Brown Sugar Cinnamon Glaze
½ C confectioner's sugar
2 tbsp brown sugar
¼ tsp cinnamon
2-3 tsp milk
Instructions
Preheat oven to 350. Line a baking sheet with parchment paper or a silicone baking mat.
In a large bowl, whisk together flours, brown sugar, cinnamon, nutmeg, baking powder, baking soda, and salt.
Cut in butter until mixture resembles coarse crumbs. Stir in mashed banana, honey, and egg until just combined.
Turn dough out onto well-floured surface. Dough will be soft and somewhat sticky. Knead 5-6 times until dough comes together.
Shape into an 8 inch circle. Brush top of dough with water. Stir together sugar and cinnamon for topping and sprinkle over the top. Cut into 8 pieces and place on prepared baking sheet.
Bake for 15-18 minutes or until light golden brown. Transfer to a wire rack to cool.
In a small bowl, whisk together confectioner's sugar, brown sugar, and cinnamon. Stir in milk until you reach desired consistency. Drizzle over the top of cooled scones. Allow glaze to harden and serve.