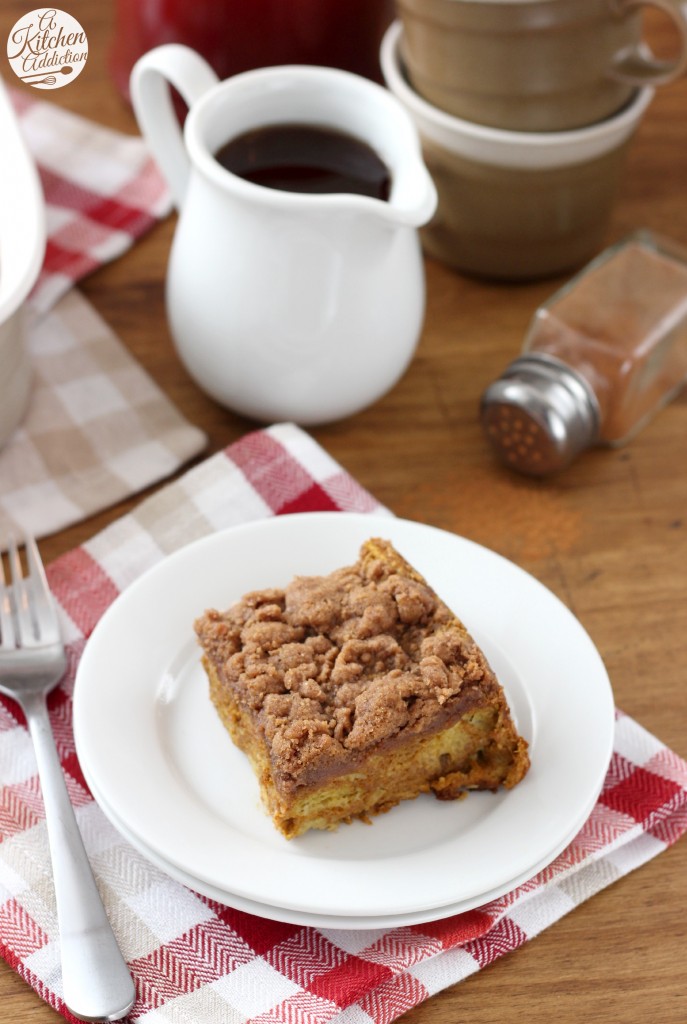 This pumpkin french toast bake came about as somewhat of diversion to household chores. Please tell me I'm not the only one who doesn't like to unpack.
I don't know if it's the thought of the dirty clothes that will come piling out or what, I just don't get excited about unpacking. As I went to unpack our suitcase from this weekend, my mind suddenly went to french toast bake.
Weird, I know. But then I thought about pumpkin french toast bake, and just like that the suitcase was forgotten (Don't worry, the dirty clothes got washed!) and this french toast bake was in the oven!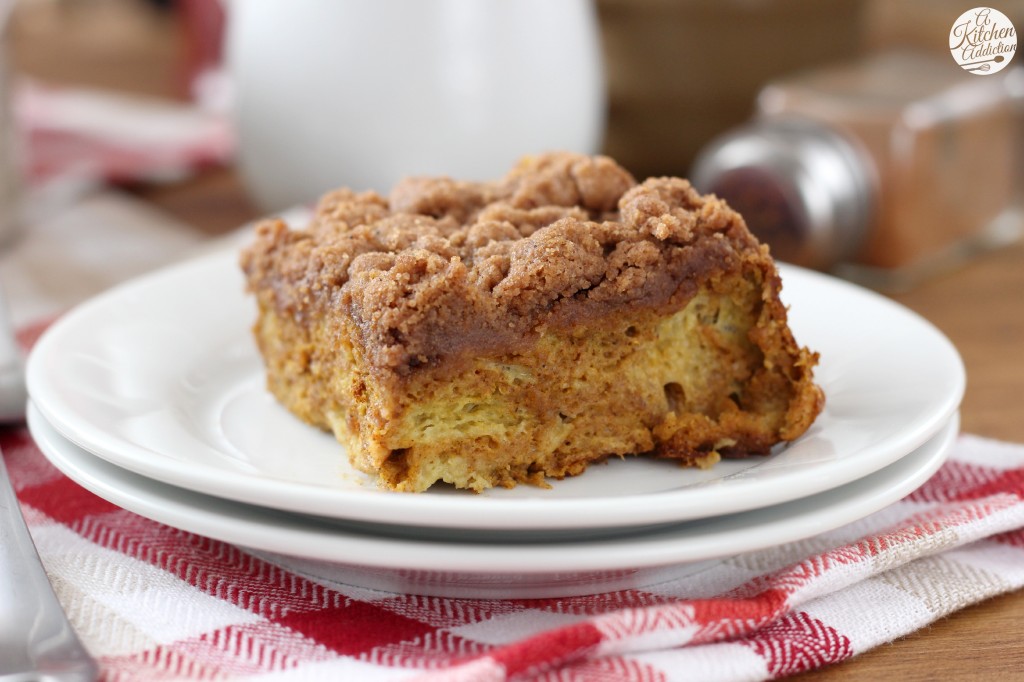 A whole cup of pumpkin and some pumpkin spices combine to create a french toast bake bursting with fall flavor. The layer of cinnamon streusel gives it a sweet, crunchy top.
I strongly suggest that you make the streusel into large pieces so you can bite into the big, buttery chunks of streusel once baked!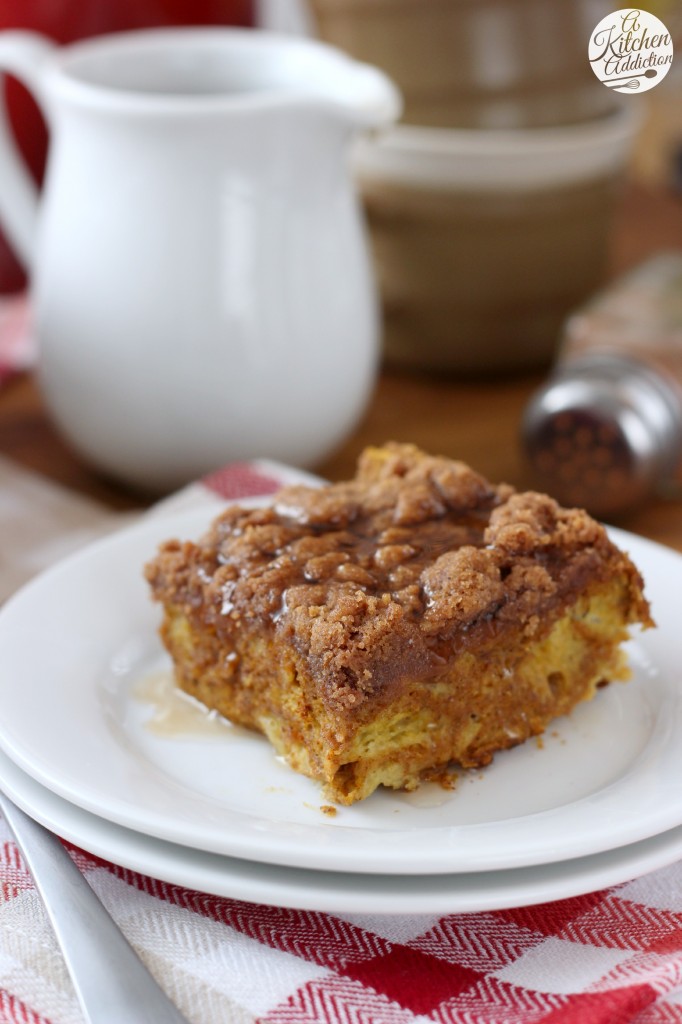 Since you can make it the night before and bake it the next morning, this french toast bake allows you to enjoy what might usually be a weekend breakfast for a weekday breakfast.
Or at least that's the way it is around here. We hardly ever have the time to prepare and bake something for breakfast during the week!
Eat it plain or serve it with your favorite syrup. This pumpkin french toast bake makes a great diversion to housework (if you need it!) or a hot, delicious breakfast.
Either way, your family will enjoy this fall twist to french toast bake!

Pumpkin French Toast Bake
Author:
A Kitchen Addiction
Ingredients
For the French Toast
6½ C day old French bread, cubed
5 eggs
¼ C maple syrup
1 C milk
1 C pumpkin puree (not pumpkin pie filling)
2 tsp vanilla extract
1 tbsp cinnamon
1 tsp nutmeg
½ tsp ginger
⅛ tsp cloves
For the Streusel Topping
¼ C butter, softened
¼ C brown sugar
¼ C all-purpose flour
1½ tsp cinnamon
½ tsp nutmeg
¼ tsp ginger
¼ tsp salt
Instructions
Preheat oven to 350. Lightly spray an 8x8 inch baking dish with non-stick cooking spray.
Place bread cubes in a large bowl.
In a medium bowl, whisk together eggs, syrup, milk, pumpkin, and vanilla. Add in cinnamon, nutmeg, ginger, and cloves. Whisk until combined.
Pour over bread. Stir to combine.
In a small bowl, whisk together brown sugar, flour, cinnamon, nutmeg, and ginger. Cut in butter until crumbly.
Pour bread mixture into prepared baking dish. Gently press with spatula. Sprinkle topping over the top.
If baking the next day, cover and place in refrigerator. If baking immediately, bake for 40-50 minutes or until topping browns and center is puffed. (Center will deflate as it cools.)
Remove from oven and allow to cool for 10 minutes before serving with your favorite syrup.
Store leftovers in the fridge.