Days are better when they start with these Coconut Cream Scones! This easy recipe results in lightly sweetened, tender scones filled with the coconut cream and toasted coconut!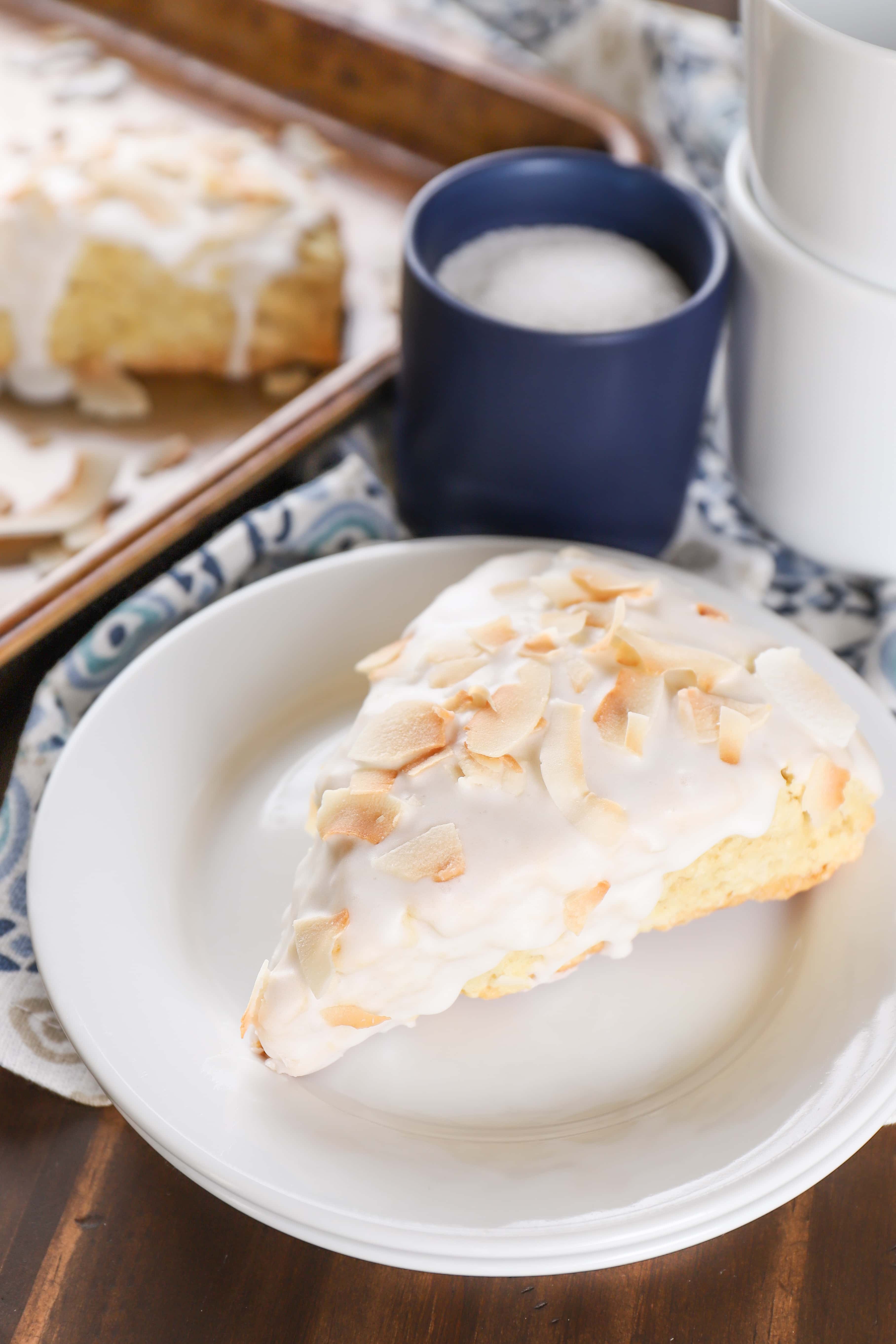 It's been awhile since a scone recipe has made its way to the blog. That doesn't mean that we haven't been making or eating scones, I just haven't had one that was worth sharing. Until now.
These coconut cream scones are the perfect combination of tender and flaky while being delicately sweet. Not too much sweetness that all you can taste is sugar and not so little that it seems like you're eating a savory scone.
Just enough sweetness that the light coconut flavor from the coconut cream and flaked coconut still shines through!
While you can use either sweetened or unsweetened shredded coconut for these scones, I've found that we prefer using unsweetened coconut. (But if you need to clean out the cupboards and you have an opened bag of sweetened coconut, go for it!)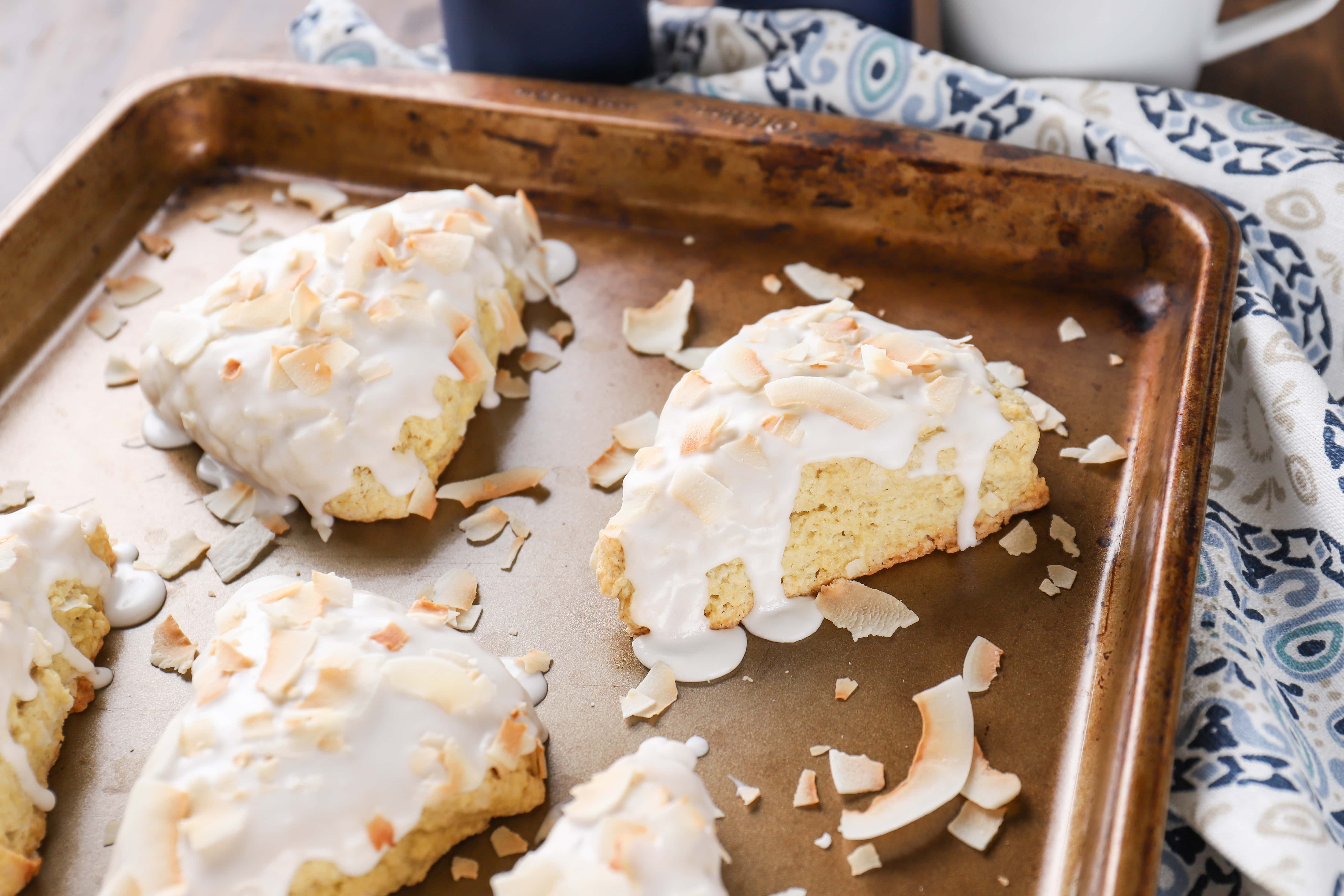 I also like using coconut "flakes" or "chips", depending on the brand, over shredded. It can be hard to find the flakes sometimes, so don't feel like you have to use them in order to make these scones.
(I get my unsweetened coconut flakes at Trader Joe's but you can also get them through amazon if you can't find them in a store.)
I've found the unsweetened flakes to give less of a chewy texture when you bite into the scone than if you were to use sweetened shredded coconut. It also gives more of an authentic coconut flavor.
To round out the coconut cream flavor, a simple glaze of coconut milk and confectioner's sugar tops the cooled scones and a bit of toasted coconut is sprinkled over the top. Just the right amount of sweetness and crunch to make the scones irresistible!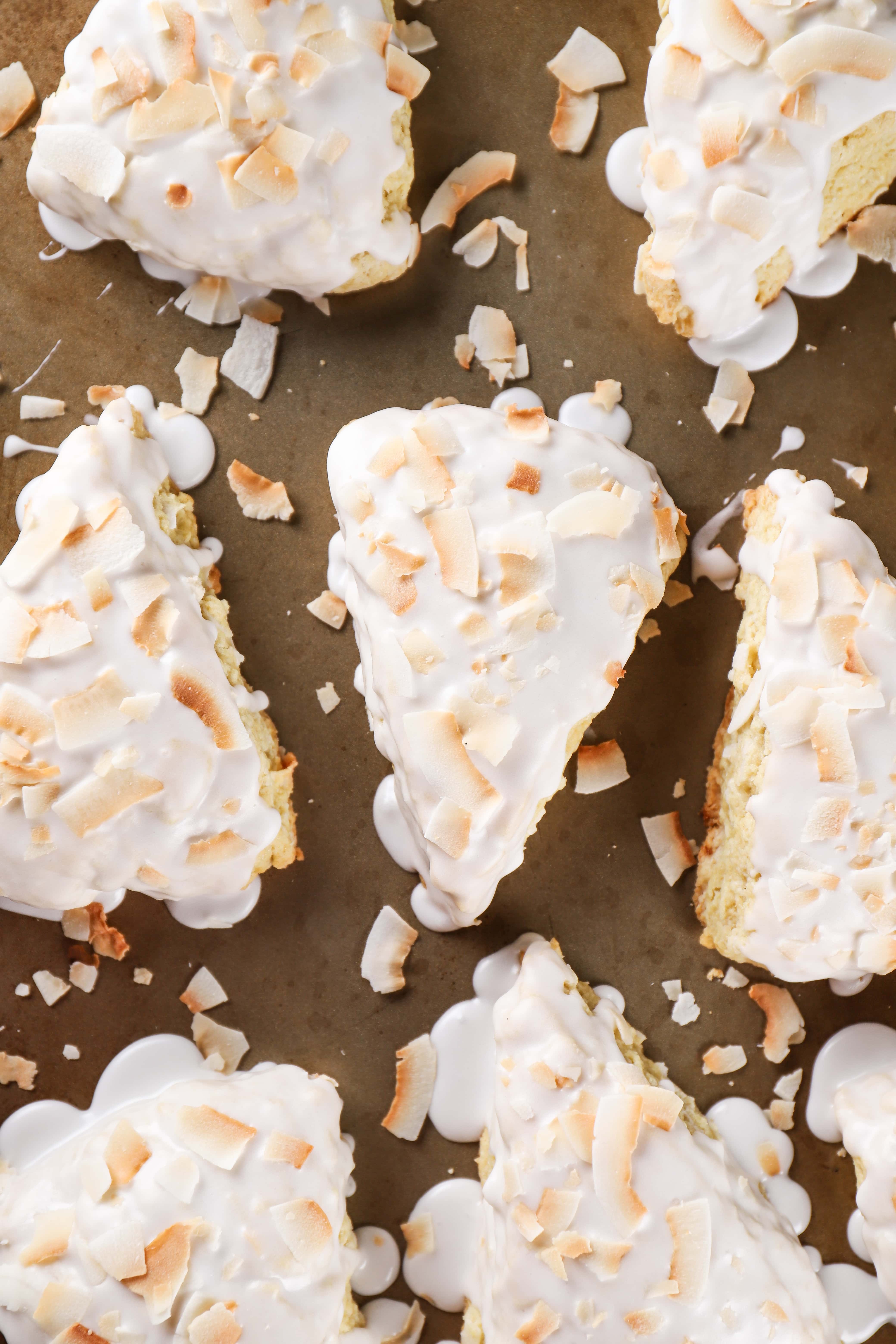 Tips for Making Coconut Cream Scones
The coconut milk listed in the ingredients is the kind that comes in a can. Not the dairy alternative that you can buy by the half-gallon. This liquid is too watery. If you use the watery variation, this will change both the consistency of the scones and the glaze.
Make sure you shake the coconut milk thoroughly before using.
Stir the wet ingredients in just until moistened. Don't worry if it isn't all wet. The dough will come together when you knead it.
Knead the dough only as much as is necessary to get dough to come together. It's okay if the circle looks shaggy. This will keep the scones from getting tough.
I like to use a dough scraper for cutting the scones and transferring them to the baking sheet. It makes it easy to both get even pieces and to keep the pieces together when moving them!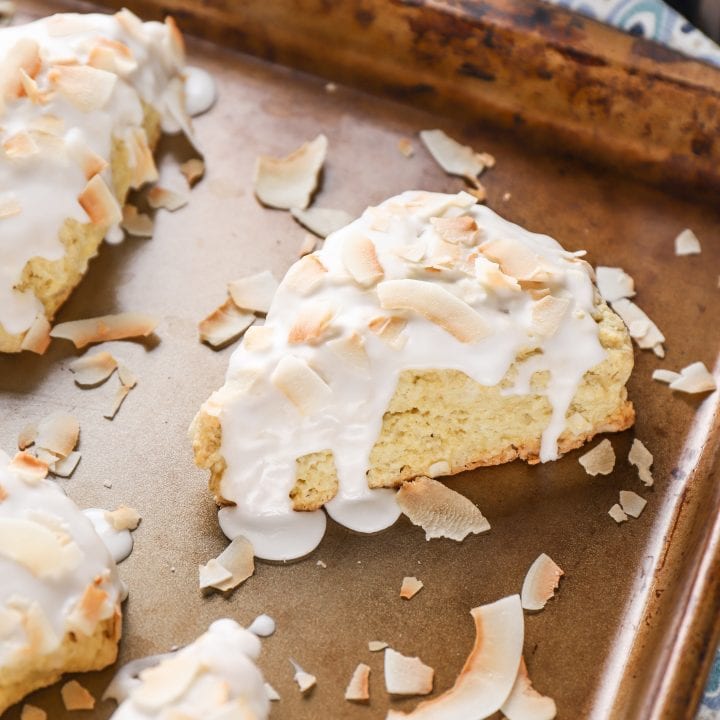 Coconut Cream Scones
Yield: 8 scones

Cook Time: 20 minutes

Total Time: 20 minutes
Ingredients
For the Scones
2 Cup all-purpose flour
1/3 Cup sugar
1 teaspoon baking powder
1/2 teaspoon baking soda
1/2 teaspoon salt
1/2 Cup unsalted butter, cold and cut into pieces
1/2 Cup unsweetened full-fat coconut milk (the kind that comes in a can) or heavy cream
1 egg
2 teaspoons vanilla extract
1/2 C shredded coconut (unsweetened or sweetened depending on preference)
For the Glaze
1 Cup confectioner's sugar
2-4 Tablespoons unsweetened full-fat coconut milk (the kind that comes in a can)
Instructions
Preheat oven to 350. Line a baking sheet with a silicone baking mat or parchment paper.
In a large bowl, whisk together flour, sugar, baking powder, baking soda, and salt. Cut in butter until mixture resembles coarse crumbs. Stir in shredded coconut.
In a small bowl, stir together coconut milk, egg, and vanilla extract until combined. Add to dry mixture and stir until just combined.
Turn dough out onto floured surface. Gently knead 5-6 times or until dough just comes together.
Gently pat into 8 inch circle. Cut into 8 pieces, and place on prepared baking sheet.
Bake for 15-20 minutes or until edges just start to turn golden brown. Remove to a wire rack to cool.
Stir together confectioner's sugar and 2 tablespoons coconut milk until smooth. Stir in additional coconut milk, as needed, to reach desired consistency. Dip tops of scones in glaze or spoon glaze over the top. Sprinkle with toasted coconut.
Allow glaze to harden and serve.
Recommended Products
As an Amazon Associate and member of other affiliate programs, I earn from qualifying purchases.