This easy recipe for Bakery Style Gingerbread Muffins is filled with the comforting spices of cinnamon, ginger, and cloves! Grab a muffin, and cozy up with your favorite warm drink!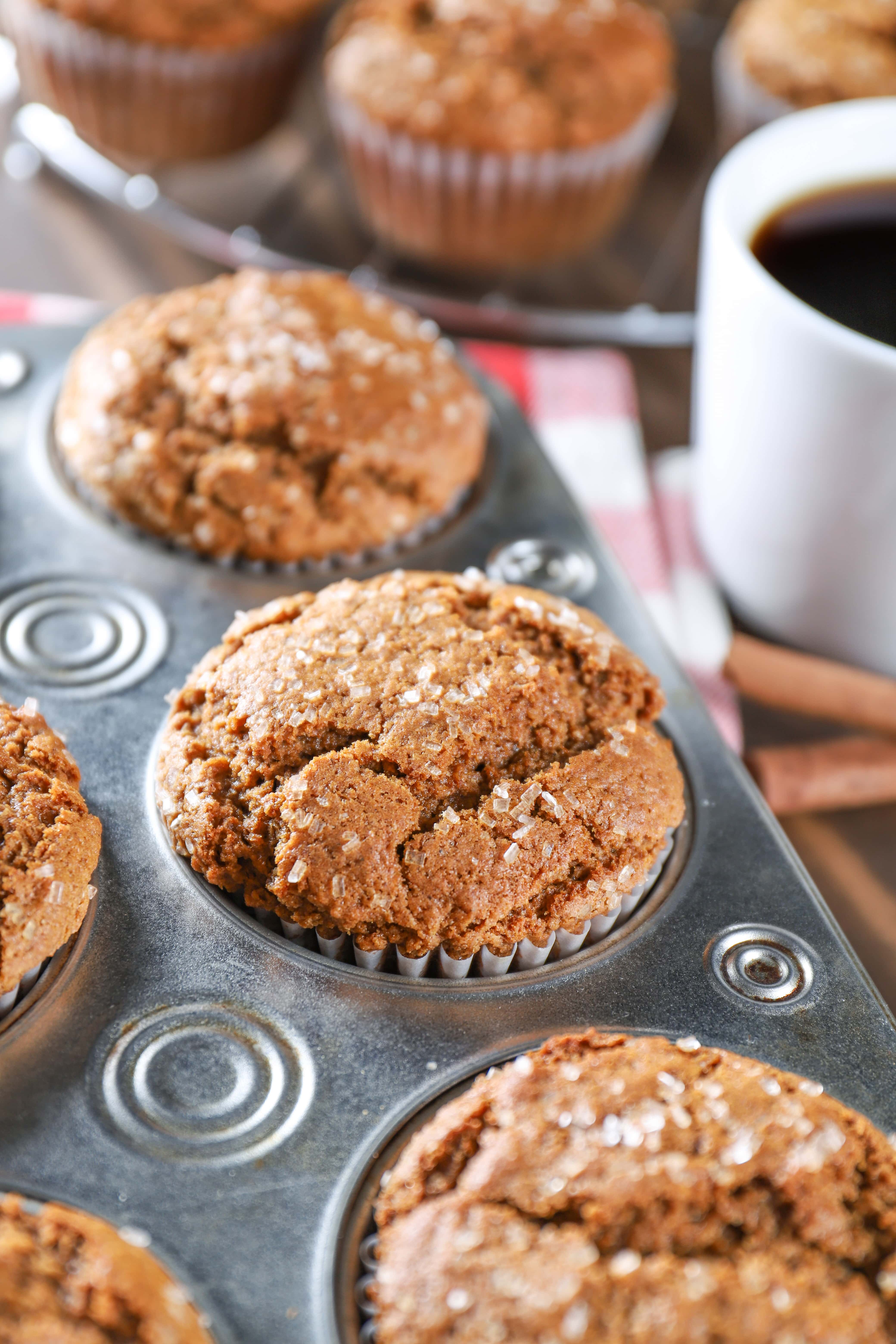 Over the years, gingerbread has risen to be my favorite holiday flavor. There's something about the warm, spicy flavors that make for the perfect cozy combination on cold, blustery days!
(I would say cold winter days. However, we've already had temps well below zero, and it's still technically fall!)
So, whether it's with gingerbread bars, gingerbread chex mix, ginger cookies, gingerbread donuts, or now with these bakery style gingerbread muffins, you can pair it with your favorite warm drink and cozy up to watch the snow fall!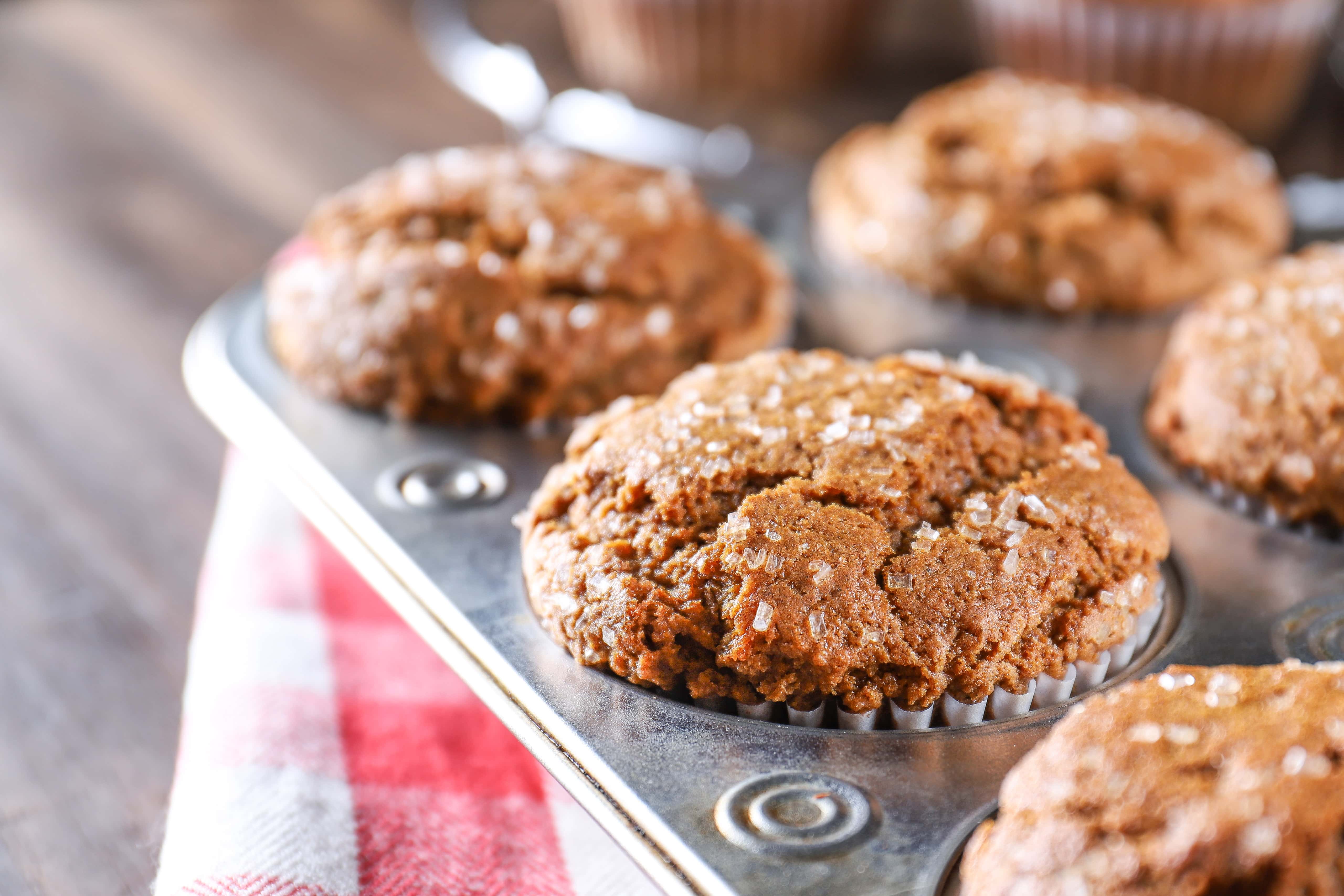 The smells that waft from the oven while the muffins are baking from the combination of cinnamon, ginger, cloves, and molasses is way better than any candle you can burn! And the muffins taste just as good as they smell!
Plus, they're super simple. Just whisk together the dry ingredients in one bowl and the wet ingredients together in another bowl. Then stir the wet ingredients into the dry ingredients until just combined.
A sprinkling of coarse sugar right before baking gives the muffins a bit of texture and crunch in each bite!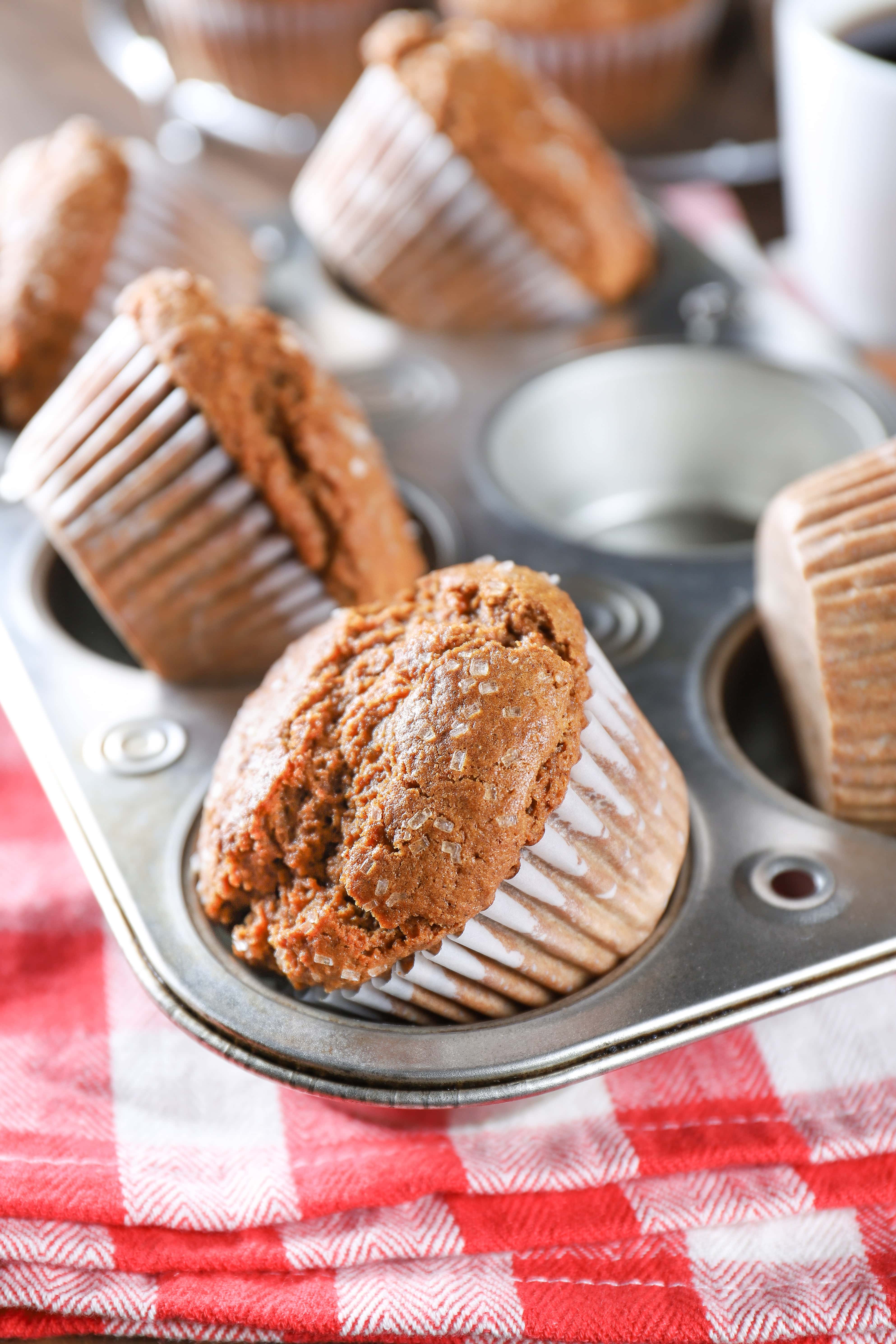 Tips for Making Bakery Style Gingerbread Muffins
Mix the wet ingredients into the dry ingredients until just combined. The batter will have lumps in it. This will keep the muffin texture soft and moist.
You can swap out the all-purpose flour for white whole wheat flour. I wouldn't recommend using whole wheat flour as that will make the muffins noticeably dense.
Sprinkling the batter with coarse sugar before baking gives the muffins a bit of crunch and texture.
The easiest way to see if the muffins are done is to stick a toothpick into the center of the muffin. If it comes out mostly clean, it's done. Over-baking the muffins will make them tough and dry.
Love muffins? More muffin recipes to try!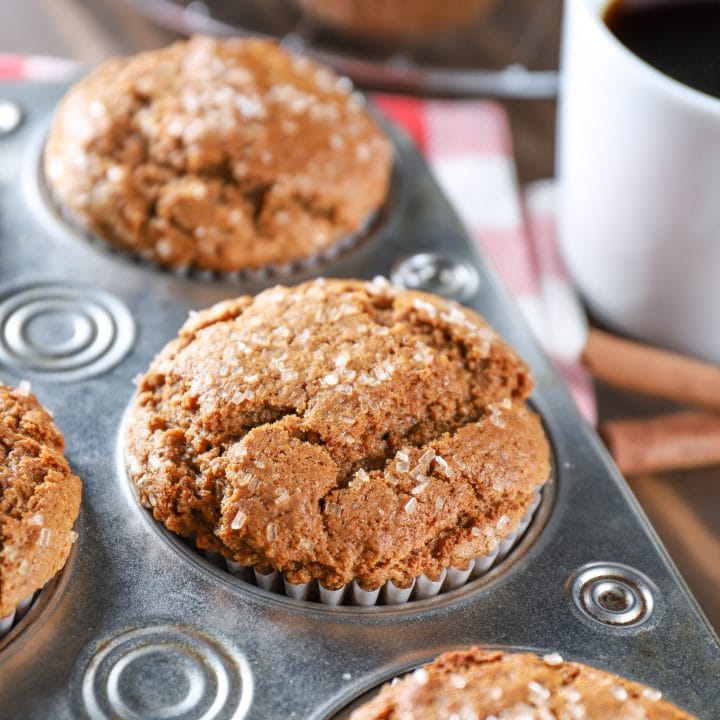 Bakery Style Gingerbread Muffins
Ingredients
2 1/2 Cups all-purpose flour
1/2 Cup brown sugar
2 teaspoons baking powder
1/2 teaspoon baking soda
1/4 teaspoon salt
2 teaspoons cinnamon
1 1/4 teaspoons ginger
1/2 teaspoon cloves
1/2 Cup light or dark molasses, depending on preference
1/2 Cup milk, room temperature
1/2 Cup (8 Tablespoons) butter, melted and cooled (you can also use 1/2 cup melted coconut oil)
2 eggs, room temperature
2 teaspoons vanilla extract
coarse sugar for sprinkling, optional
Instructions
Preheat oven to 400. Spray a muffin tin with non-stick cooking spray or line with cupcake liners.
In a large bowl, whisk together flour, brown sugar, baking powder, baking soda, salt, cinnamon, ginger, and cloves.
In a separate bowl, whisk together molasses, milk, melted and cooled butter, eggs, and vanilla extract. Add wet ingredients to dry ingredients and stir until just combined.
Divide batter into 12 muffin cups. Depending on the size of your muffin tin, each cup will be 3/4 full to completely full. Sprinkle with optional coarse sugar.
Bake for 8 minutes. Leaving muffins in oven, reduce heat to 350. Bake for an additional 8-10 minutes or until toothpick inserted in the center comes out mostly clean. Ovens can vary a lot in temperature, so using a toothpick is the easiest way to tell when the muffins are done.
Remove to a wire rack to cool. Store in an airtight container.
Notes
You can use white whole wheat flour in place of the all-purpose flour.
Recommended Products
As an Amazon Associate and member of other affiliate programs, I earn from qualifying purchases.