This easy Almond Butter Banana Bread Baked Oatmeal is filled with the warm, comforting flavors of banana bread and hearty almond butter! This nutritious baked oatmeal is the perfect recipe to make at the beginning of the week and reheat the rest of the week for convenient breakfasts!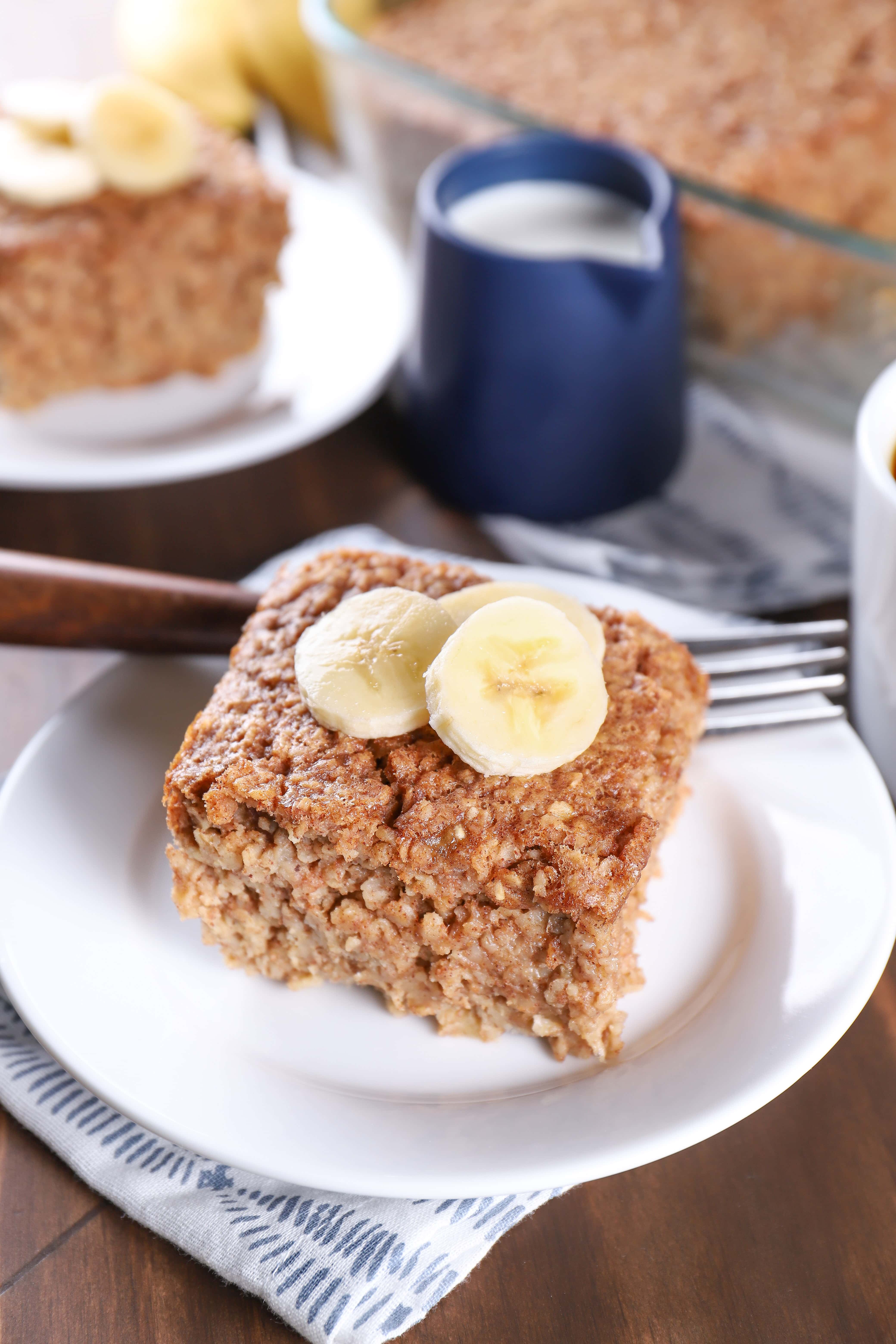 Warm and hearty breakfasts are a must this time of year. I can't start my morning with a smoothie when it's below zero. I want something that will warm me up!
Preferably something that will fill me up, as well. And that is healthy.
Enter almond butter banana bread baked oatmeal. Warm, hearty and filling without being full of unnecessary ingredients. Oats, milk of your choice, mashed banana, and almond butter make up the base of this baked oatmeal.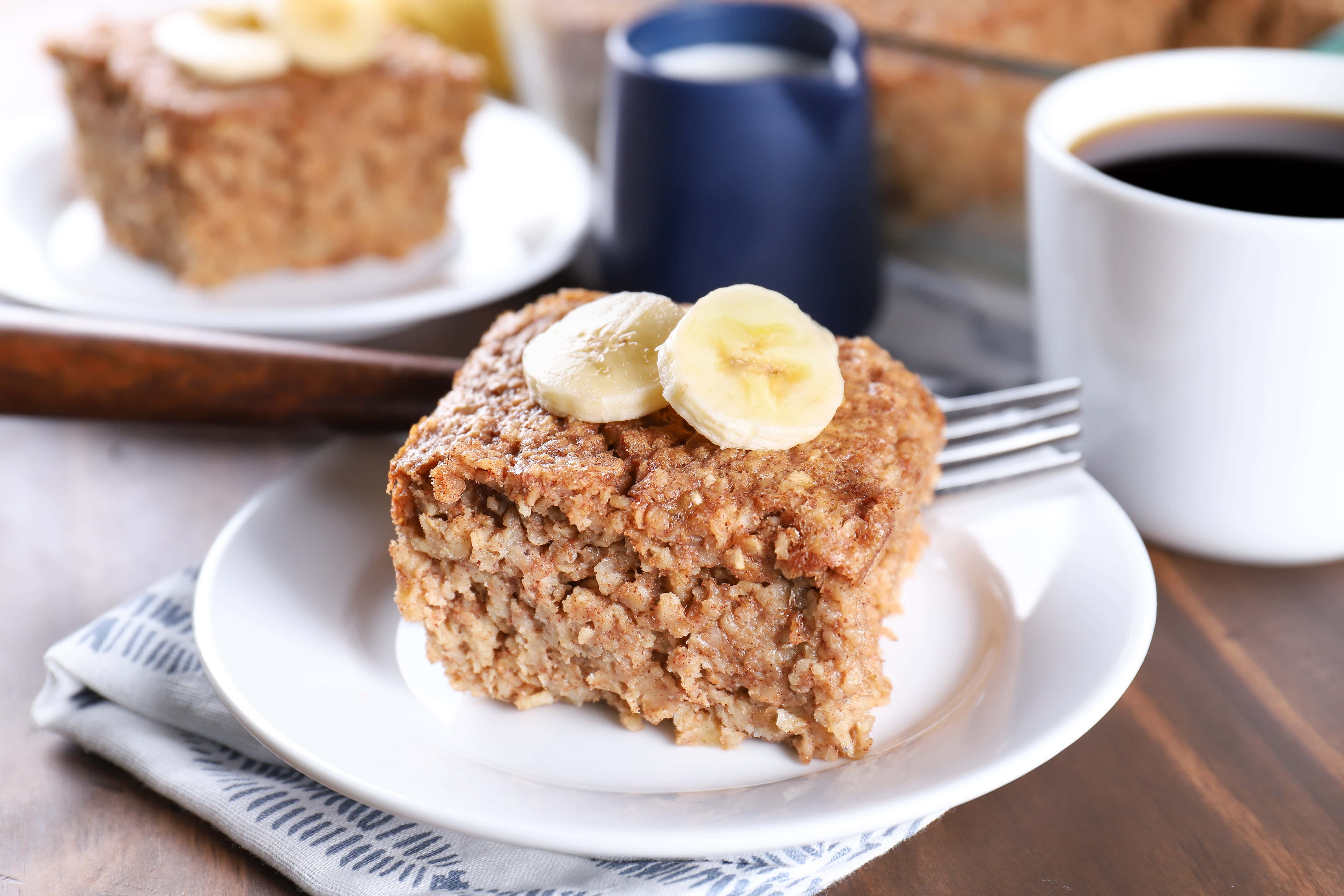 Add to the banana and almond butter base some cinnamon, nutmeg, and either honey or maple syrup, and you have almond butter banana bread made nutritious for breakfast!
Also, it's easy to make and convenient for reheating on those busy mornings when everyone is rushing out the door to get to their various locations on time!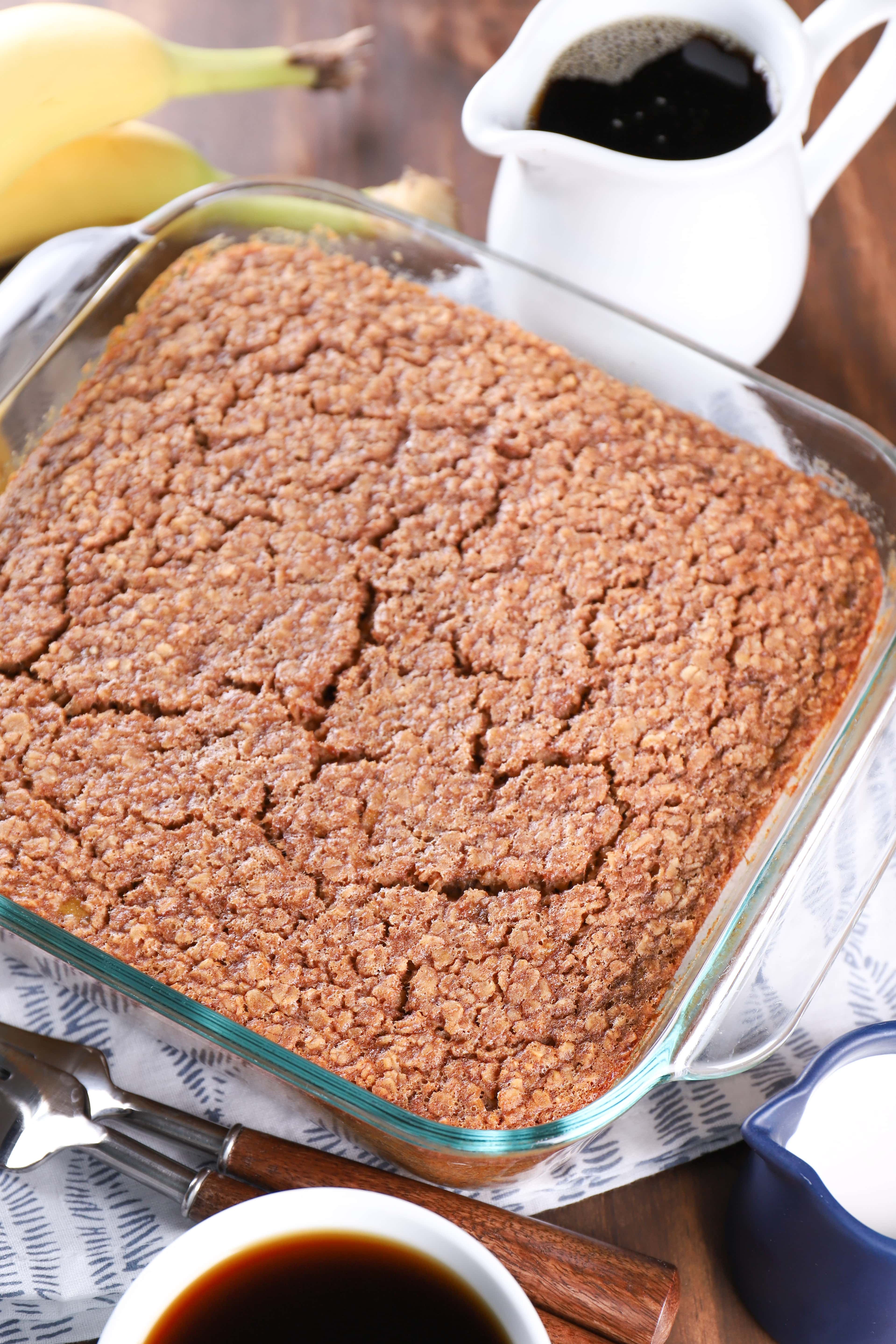 Tips for Making Almond Butter Banana Bread Baked Oatmeal
Make sure to stir the almond butter thoroughly before measuring it. You will end up with lumps of dried almond butter in your oatmeal bake if it isn't stirred properly.
If you use bananas that aren't very ripe, you will want to add more sweetener as unripened bananas will not taste as sweet as overly ripe bananas.
Feel free to throw in some chocolate chips for a bit of chocolaty flavor!
I like to bake my oatmeal until there are still a few crumbs that stick to the toothpick when it is inserted in the center. This keeps the pieces that are reheated later from being too dry.
More Easy Breakfast Recipes!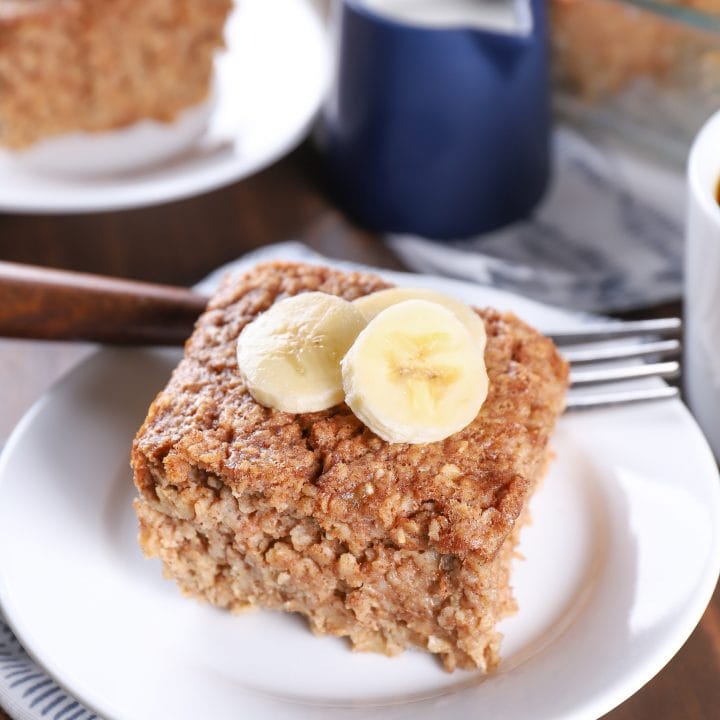 Almond Butter Banana Bread Baked Oatmeal
Yield: 9 servings

Prep Time: 10 minutes

Cook Time: 30 minutes

Total Time: 40 minutes
Ingredients
1 Cup mashed ripe bananas, about 2-3 bananas depending on size
1/2 Cup creamy almond butter, making sure to thoroughly stir the almond butter before measuring
3-5 Tablespoons honey or maple syrup
2 eggs
1 teaspoon vanilla extract
1 1/2 Cups milk of your choice
2 1/2 Cups quick/instant oats
2 teaspoons cinnamon
1 1/2 teaspoons baking powder
1/2 teaspoon salt
1/4 teaspoon nutmeg
Instructions
Preheat oven to 350 degrees Fahrenheit. Lightly spray an 8x8 inch or 9x9 inch baking dish with non-stick cooking spray. (Baked oatmeal pictured was made in an 8x8 inch baking dish.)
In a medium bowl, whisk together mashed bananas, creamy almond butter, honey/maple syrup, eggs, and vanilla extract until well combined. Carefully stir in milk until combined. Set aside.
In a large bowl, whisk together oats, cinnamon, baking powder, salt, and nutmeg. Stir wet ingredients into dry ingredients until combined.
Pour batter into prepared baking dish. Bake for 30-40 minutes, or until toothpick inserted in the center comes out mostly clean. If you want a dryer oatmeal bake, bake for 40-50 minutes.
Remove to a cooling rack to cool for 10 minutes before cutting into pieces and serving.
Store leftovers in an airtight container in the refrigerator.
Recommended Products
As an Amazon Associate and member of other affiliate programs, I earn from qualifying purchases.