This Easy Vegetable Egg Bake is a simple breakfast casserole that can be made ahead of time to make mornings a little less stressful! Filled with fresh vegetables and topped with a sprinkling of cheese, this egg bake is an easy, healthy option to add to your menu!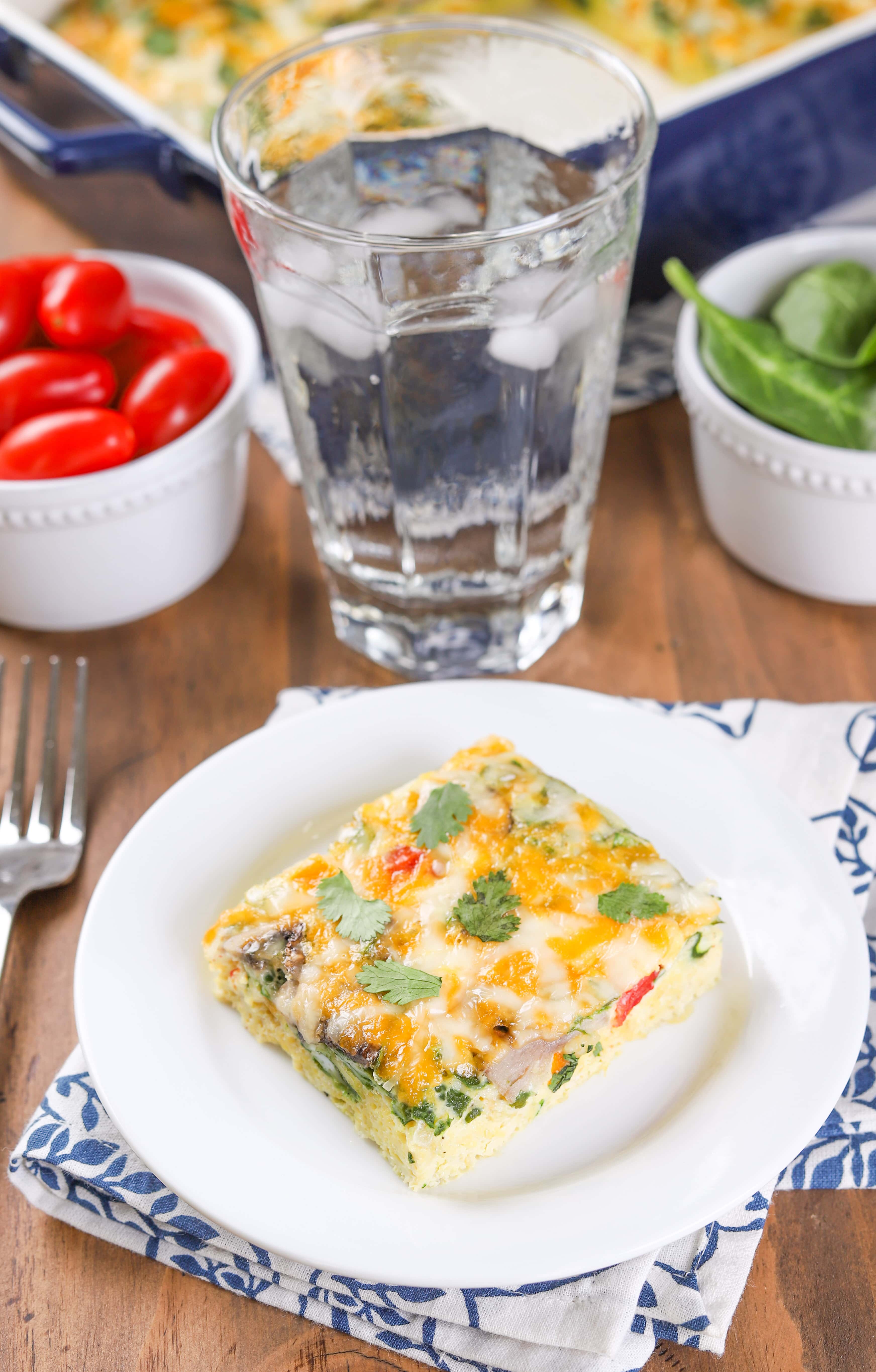 Spring is almost here! The sun is out, the snow is melting (which I'm actually kind of sad about), warm weather may be on it's way!
With the thought of spring comes the thought of planning our garden and all of the fresh produce that it will (hopefully!) yield.
I'm always anxious for fresh produce by the time spring arrives. Sure we can get all kinds of fresh fruits and vegetables in the stores these days, but it's not the same as walking out to your garden to pick your own whenever you need something.
The other day my husband and I were talking about what we wanted to plant in our gardens this year and it made me want to make something with all of the fresh produce we currently had in the house.
I also wanted something that was "springy" and could work for Easter brunch, since that is coming up way faster than I think it should!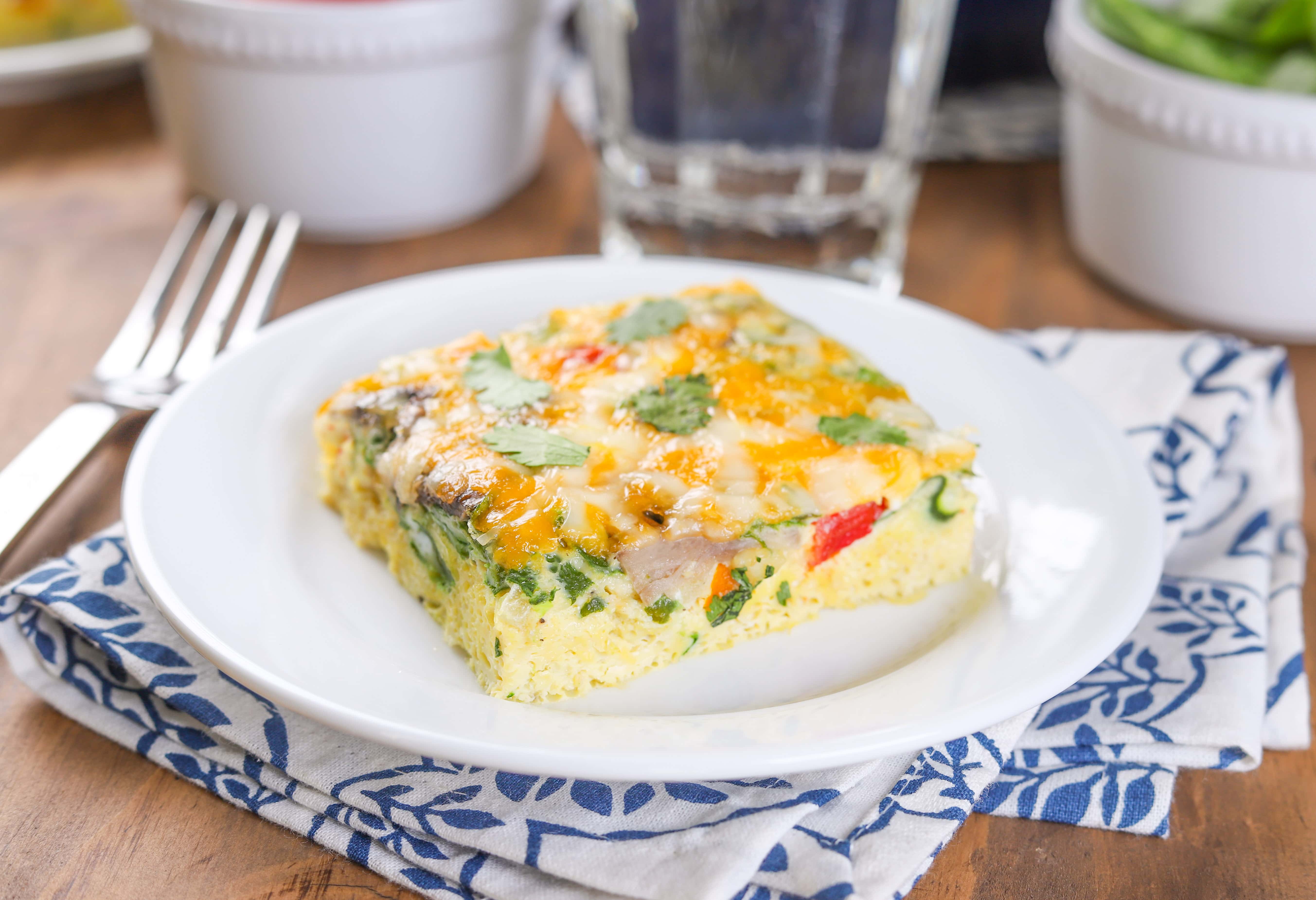 So, I made an easy vegetable egg bake. I like making egg bakes to have on hand for busy weekday mornings.
It's easy to make a pan at the beginning of the week and heat up individual servings as needed throughout the remainder of the week.
Since my husband and I rarely eat breakfast together, the egg casserole is a hearty option that we can both enjoy when we head out the door at different times!
Plus, it's a good way to get protein and veggies into our breakfasts. This vegetable egg bake has bell pepper, spinach, tomato, mushroom, and onion.
The great thing is that you can switch up the vegetables to include what your family likes. Add more of what you do like, and leave out what you don't!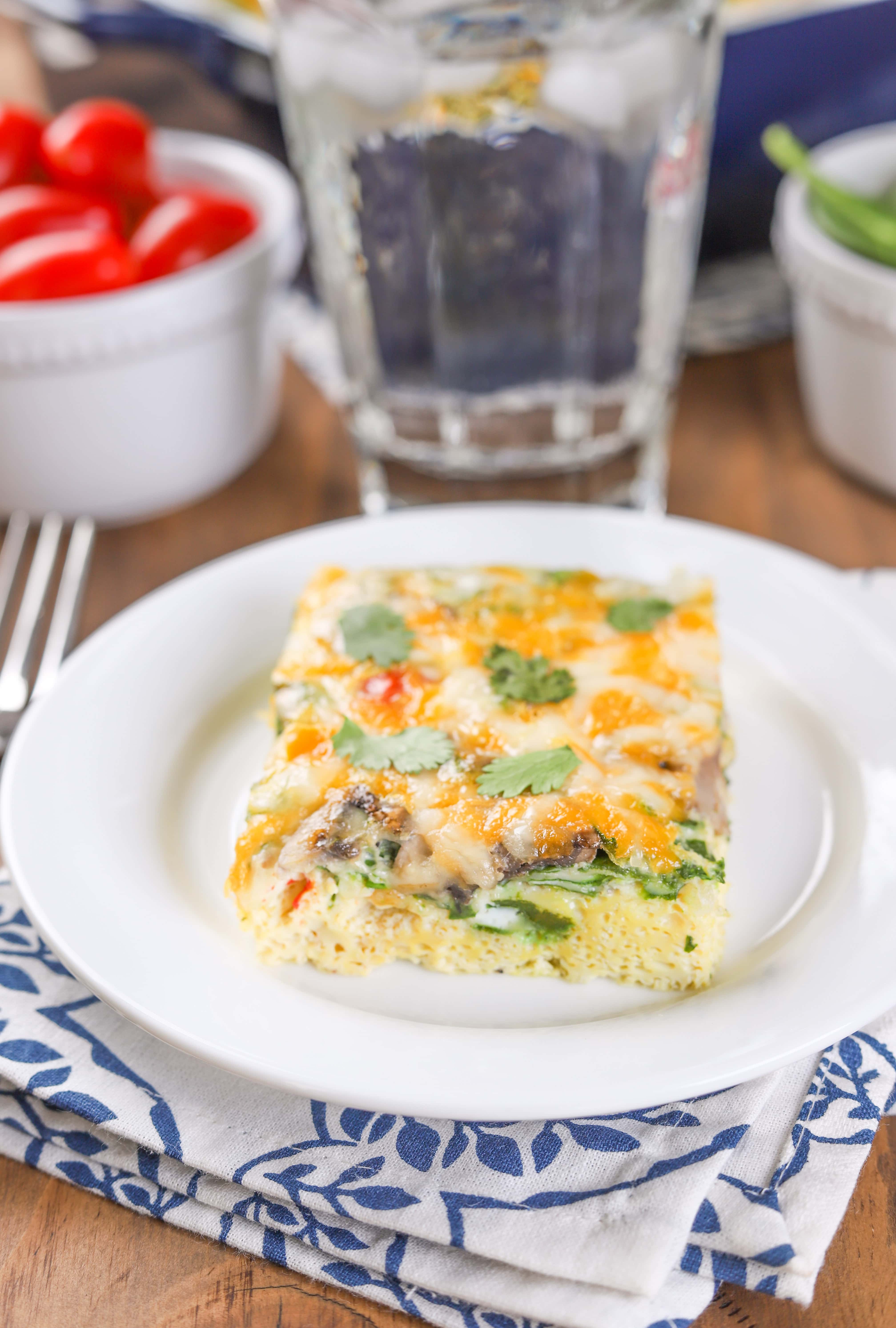 Of course, there is a bit of cheese. Cheesy eggs are just so good. And sprinkling a bit of cheddar and mozzarella on top halfway through the baking time gives us that cheesiness we love!
We added a bit of cilantro right before serving to add even more freshness to the dish. I can't wait until it warms up and we'll be able to head out to our garden for these fresh vegetables to go into this egg bake.
But until then, I'll be content with produce from our local store while dreaming of gardens filled with vegetables ready to pick!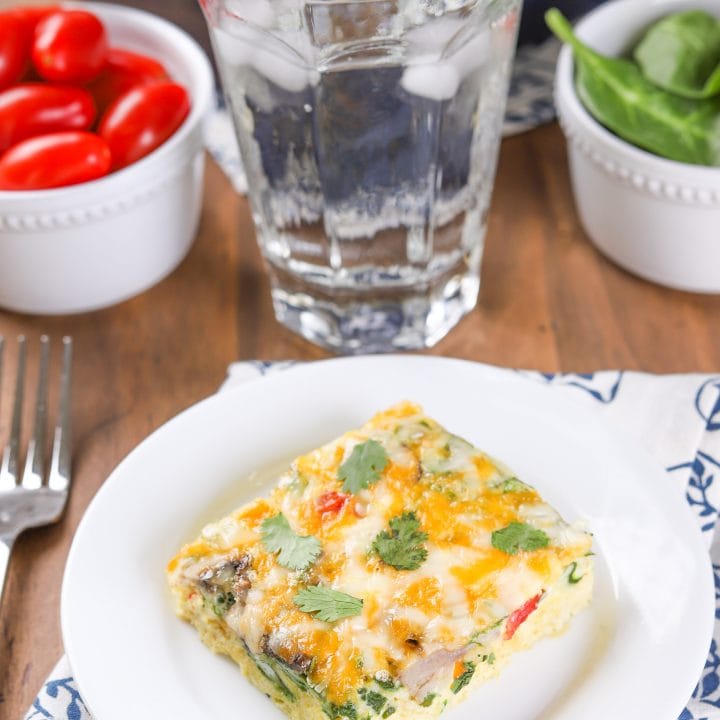 Easy Vegetable Egg Bake
Yield: 12 servings

Prep Time: 10 minutes

Cook Time: 40 minutes

Total Time: 50 minutes
Ingredients
12 eggs
1/2 tsp garlic powder
1/2 tsp black pepper
1/4 tsp salt
1 1/2 C fresh baby spinach, chopped
1/2 of an orange or red bell pepper, chopped
1/2 C cherry or grape tomatoes, quartered
1/4 C onion, chopped
1 C shredded part-skim mozzarella cheese, divided
1/2 C shredded cheddar cheese
cilantro for garnish, optional
Instructions
Preheat oven to 350 F. Lightly spray a 9 x 13 inch baking dish with non-stick cooking spray.

Whisk together eggs, garlic powder, salt, and pepper in a large bowl. Mix in spinach, bell pepper, cherry tomatoes, onion, and ¾ C mozzarella.

Pour mixture into prepared baking dish. Bake for 20 minutes. Carefully remove from oven and sprinkle with remaining mozzarella and cheddar cheeses. Bake for an additional 20 minutes.

Serve warm with cilantro, if desired. Store leftovers in the refrigerator.
Recommended Products
As an Amazon Associate and member of other affiliate programs, I earn from qualifying purchases.