This Rustic Orange Cardamom Bread is a classic artisan round loaf recipe filled with bright, citrusy orange and warm, spicy cardamom! Just a few simple ingredients and only 1 hour of rise time!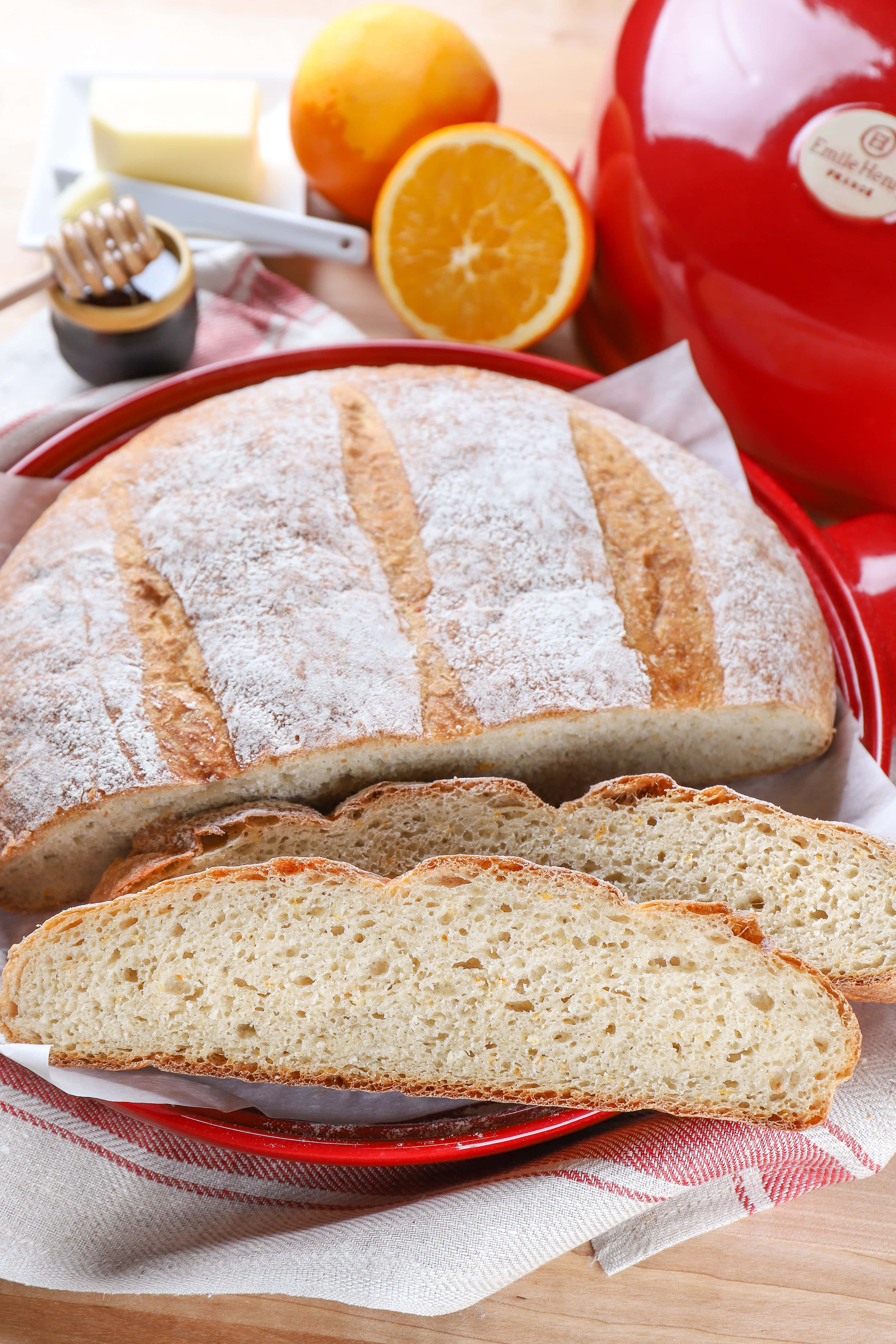 *I received a bread cloche from Emile Henry to facilitate with the development of this recipe. As always, all opinions are my own.
Ever since I made these pumpkin cardamom donuts a couple of years ago, I've been hooked on baking with cardamom. The smell, the taste, I love it! This is true especially in the cold months. The warm spiciness is comforting both in how it makes the house smell and the way it tastes.
So, when I was looking to make bread the other day, I immediately reached for the cardamom. A few oranges were sitting in our fridge needing to be used, so the combination seemed obvious. Bright, citrusy orange and warm, spicy cardamom!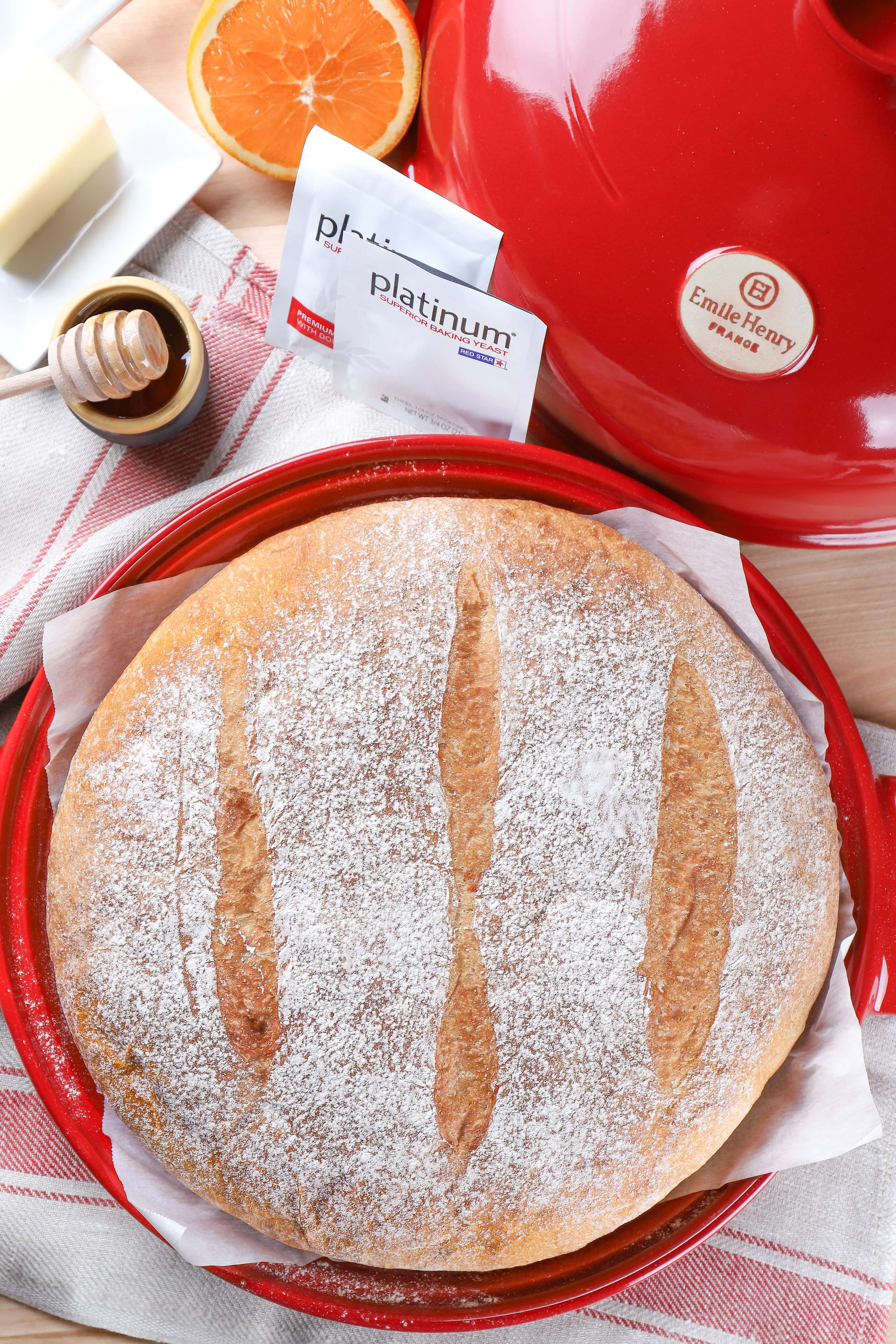 To achieve that thick, chewy crust that I love in rustic, artisan breads, I used the Emile Henry bread cloche. (Be sure to check out the giveaway below to see how you can win one!) This was my first time using a bread cloche, and I was interested to see just how well they work.
It's super easy to use! You don't have to preheat it while the oven is preheating (In fact, you can take it directly from the freezer to the oven!) and worry about burning yourself as you transfer the dough to the dish.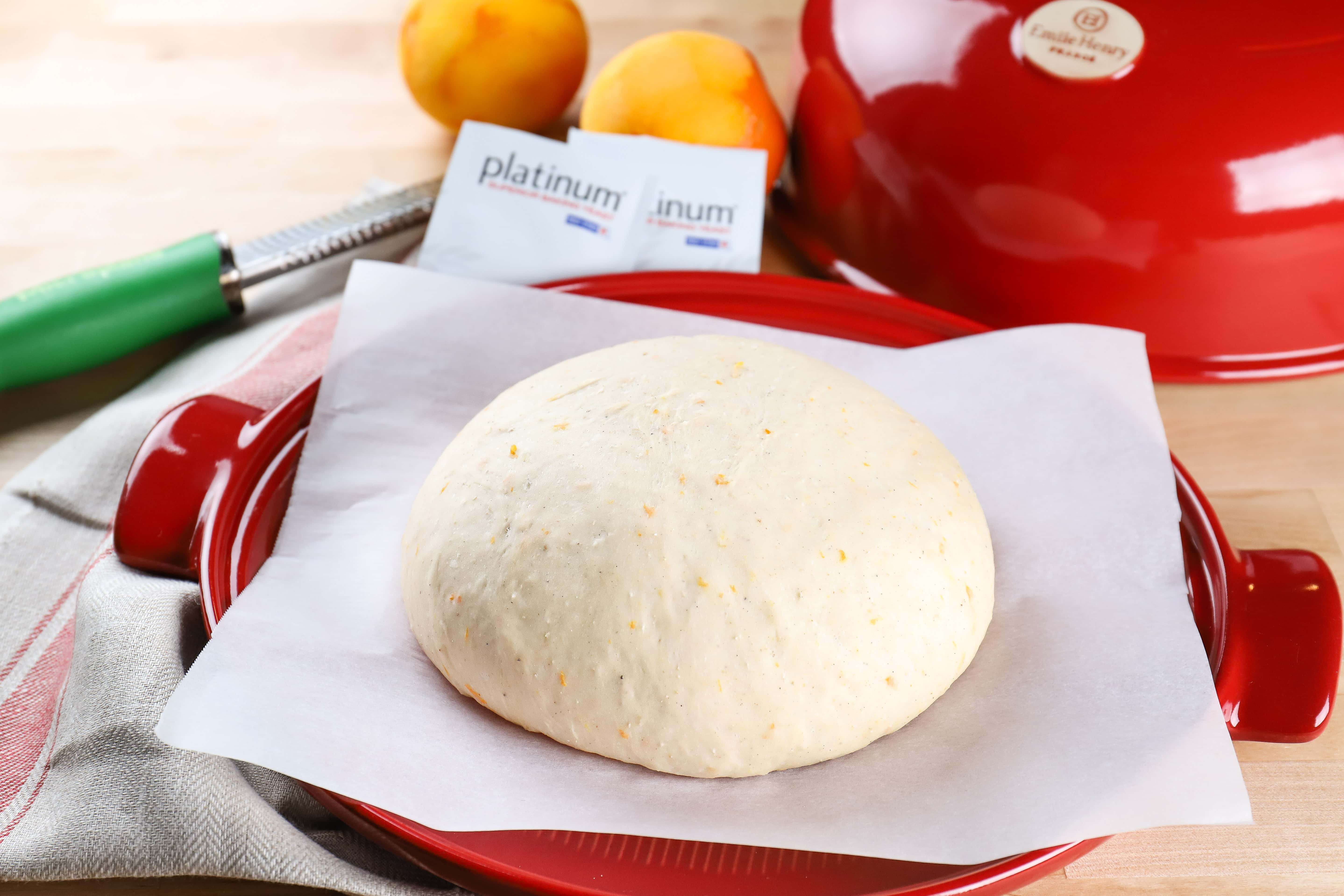 You can just shape the dough, put it on the base, let it rise, cover it with the lid, and then pop bread cloche in the oven. Simple. No carefully transferring your risen dough to a piping hot dutch oven and then putting it in the oven to bake.
(Also, and this is kind of exciting for those of us who feel like they are endlessly washing dishes, it's dishwasher safe!)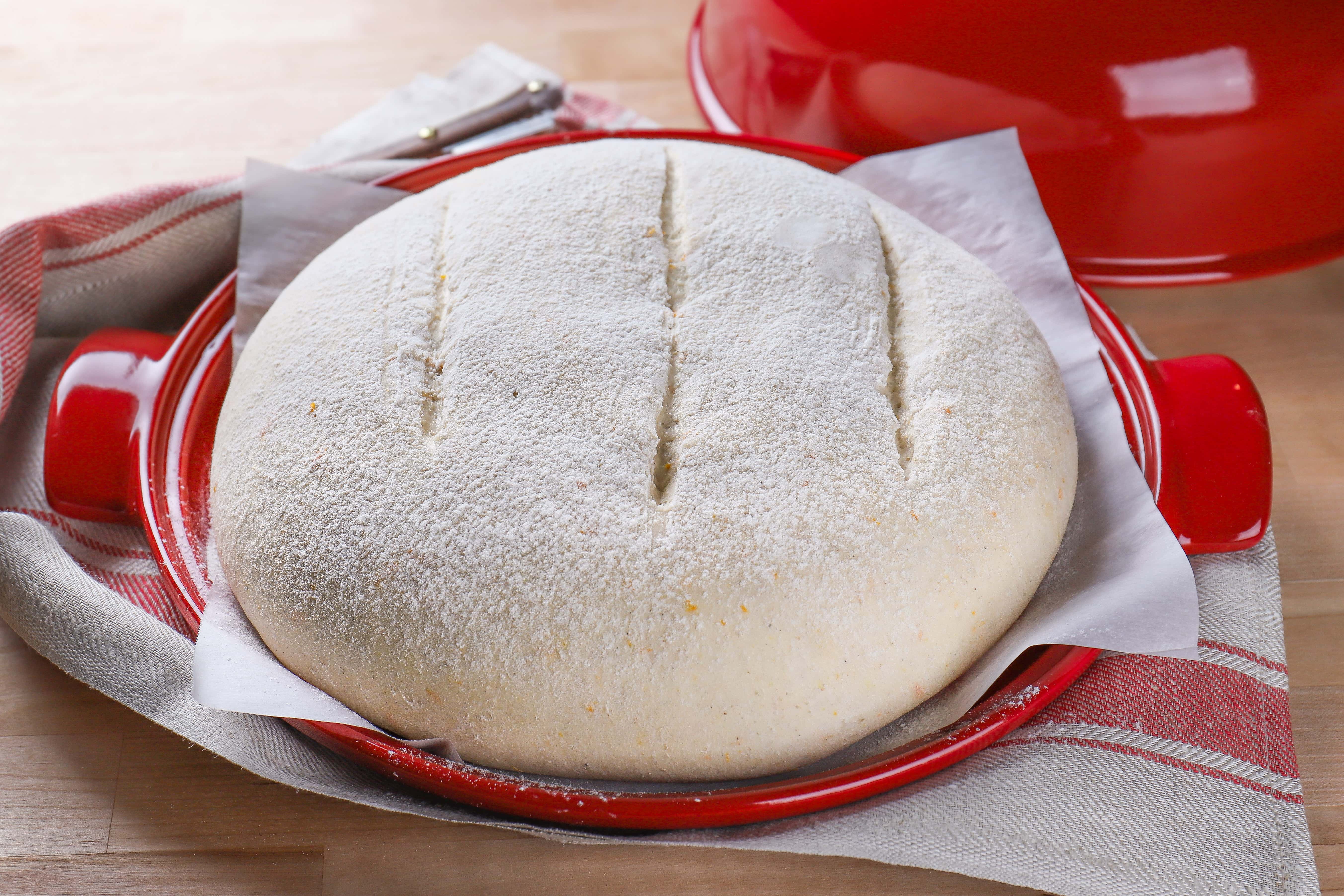 The result is a nice crusty loaf of bread that is evenly browned. And the inside? Light and chewy.
You might think that breads like this are difficult to make, but they're really not difficult at all. All it takes to make this orange cardamom bread is bread flour, yeast (I used my favorite Red Star Platinum Yeast), salt, orange zest, ground cardamom, honey, and water.
Mix the dry ingredients together, mix in the wet ingredients, and knead until dough forms. Shape the dough, place it on the base of the bread cloche, let it rise, sprinkle with flour and score the top, and bake!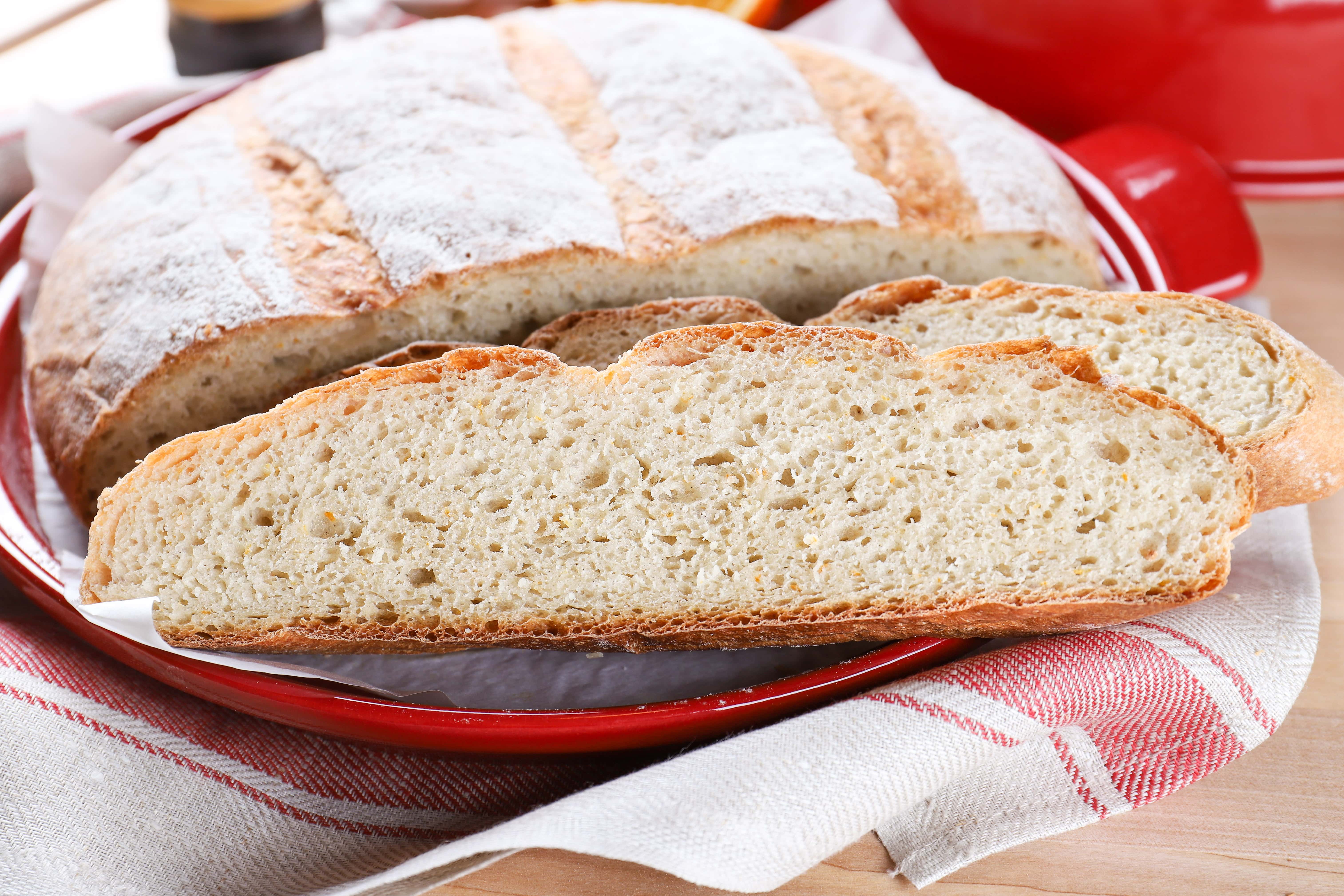 This bread is perfect served warm with a drizzle of honey or toasted slathered with good quality butter (or as french toast drizzled with maple syrup!)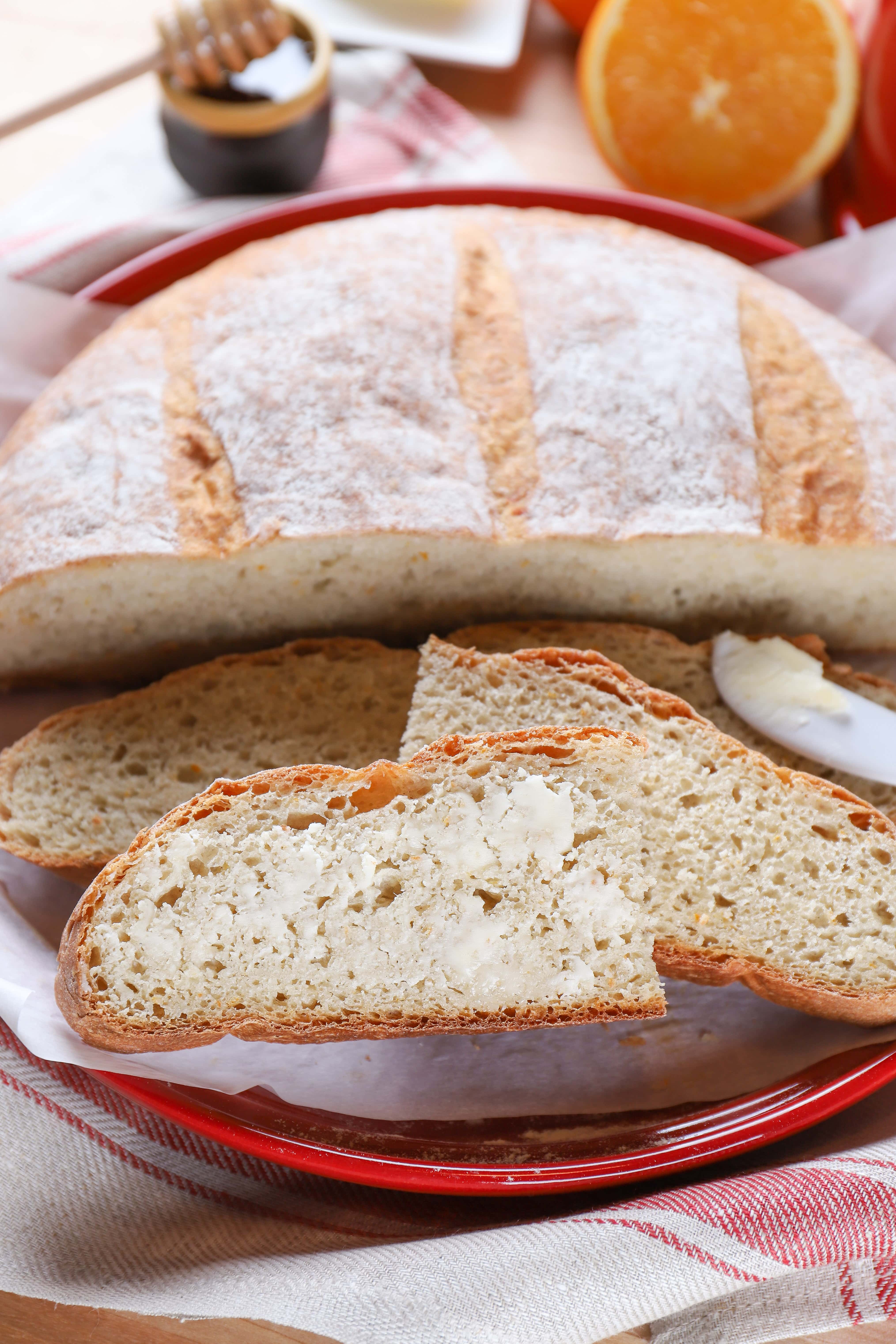 Tips for making Rustic Orange Cardamom Bread
I like to hand whisk the orange zest into the flour mixture to help evenly distribute the zest throughout the dough. I've found that just using the paddle attachment can sometimes leave the orange in clumps.
You can flour the base of your bread cloche or use parchment paper to line it. I just like to keep the mess to as much of a minimum as possible, so I used parchment paper.
Not confident that your bread is fully baked? You can always temp it, and see if the internal temperature is between 190-200 degrees Fahrenheit.
Have a cold kitchen like I do in the winter? Preheat your oven to 200 degree Fahrenheit, turn it off, put the dough in to rise, and shut the door. This will give the dough a warm, draft-free location.
If you use parchment paper to line your bread cloche base, make sure to remove the loaf of bread from base to cool. Leaving the bread on the parchment lined base while cooling will cause it to get soggy and lose that crispy crust.
Giveaway Entry Details
*This giveaway is open to continental United States residents only and runs from 01/11/2020 – 01/25/2020. Emile Henry will ship the product directly to the winner. Winner will be contacted via method they entered. I.e. Email if entered via newsletter subscription, direct message if entered via Instagram or Facebook.
Get some inspiration by checking out these Emile Henry bread videos!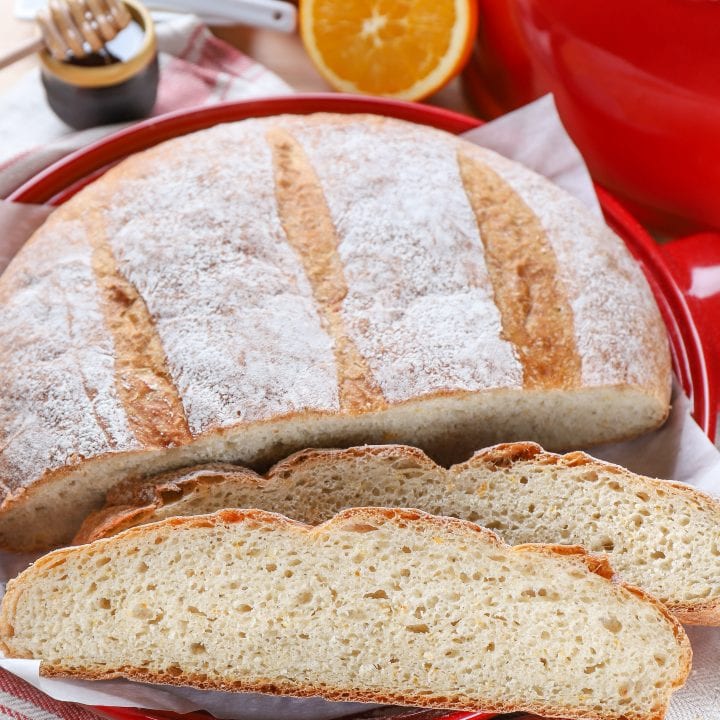 Rustic Orange Cardamom Bread
Ingredients
3 Cups bread flour (plus 2-3 additional Tablespoons, as needed)
1 Tablespoon freshly grated orange zest
1 1/2 teaspoons Red Star Platinum Yeast
1 1/2 teaspoons ground cardamom
1/2 teaspoon salt
1 1/2 Cups water, warmed to 120-130 degrees Fahrenheit
2 Tablespoons honey
Instructions
Sprinkle base of bread cloche with flour or line with parchment paper. Set aside.
In the bowl of a stand mixer, whisk together 3 cups bread flour, orange zest, yeast, ground cardamom, and salt.
With the mixer affixed with a paddle attachment, mix in water and honey just until combined.
Switch out paddle attachment for dough hook and knead until dough forms and pulls away from the edges of the bowl. Dough will be soft and may slide down the dough hook when the mixer is stopped, but it shouldn't stick to the edges of the bowl. If it does, add more bread flour, a tablespoon at a time, until desired consistency is reached.
Scape dough out onto a lightly floured surface. Shape into a round, and place on prepared base of bread cloche.
Cover with a towel and allow to rise in a warm location until doubled in size about, 60-90 minutes. Once dough has risen, sprinkle with a bit of flour and score the top in any pattern you desire.
While dough is rising, preheat oven to 425 degrees Fahrenheit. Place top of bread cloche on base with risen dough and put in oven. Bake for 30 minutes. Remove top and bake for an additional 5-10 minutes to achieve a deeper brown top.
Remove from oven. Carefully place bread on a cooling rack, and allow to cool for 20-30 minutes before slicing and serving.
Recommended Products
As an Amazon Associate and member of other affiliate programs, I earn from qualifying purchases.