These Chewy Dark Chocolate Coconut Cookies are an easy cookie recipe filled with rich, chocolaty flavor and nutty, toasted coconut!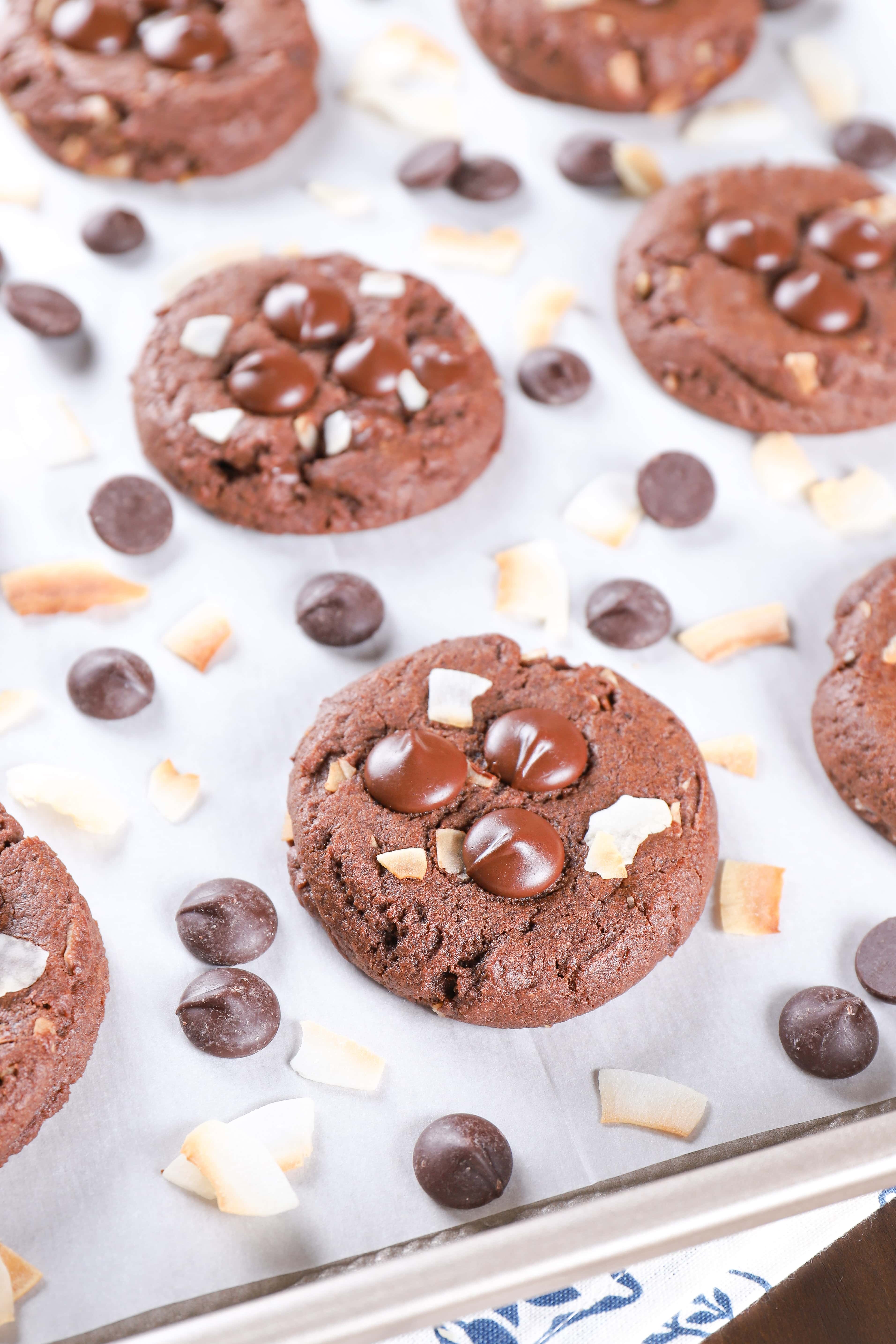 For those days when you just need a cookie, especially one that's loaded with chocolate, these chewy dark chocolate coconut cookies do just the trick!
With a rich, soft dark chocolate base and more dark chocolate chips sprinkled in, these cookies cure any chocolate craving. Throw in some toasted coconut, and these cookies become addicting!
This is my favorite base for chocolate cookies, because it doesn't require melting chocolate and they stay nice and soft. While it isn't a one bowl recipe, it's pretty close to being that easy!
Just whisk together your unsweetened baking cocoa, flour, baking soda, and salt in a small bowl and set aside. Cream together your butter and sugars. Add in the egg and vanilla extract and beat until well-combined. Beat in dry ingredients and add in the dark chocolate chips.
It's that easy. Minimal dishes, minimal time, and lots of flavor!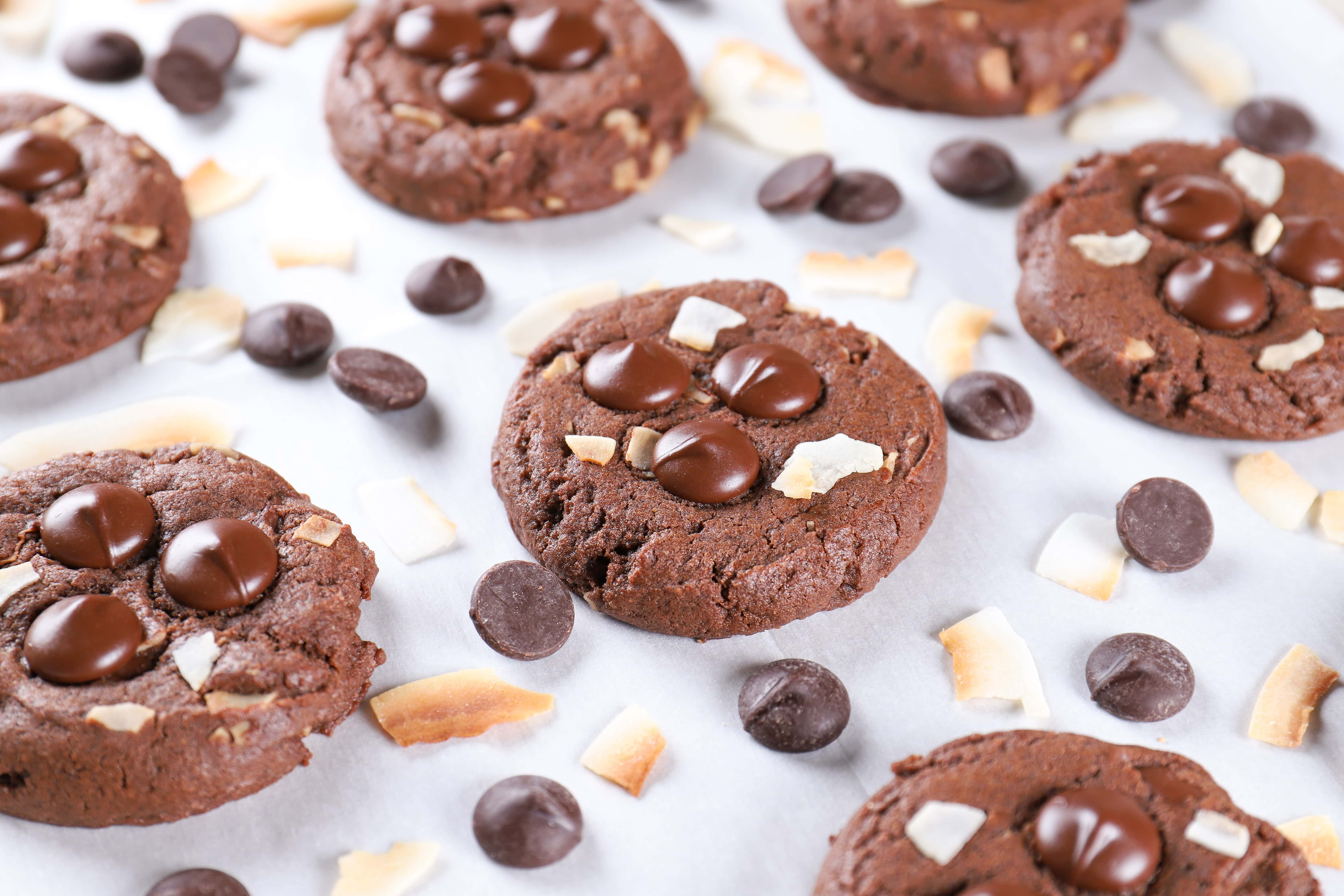 What makes these cookies even better is that they are made to bring awareness to Cookies for Kid's Cancer. We've partnered with them for the past five years and are excited to team up with them once again by joining a group of bloggers who are doing this Valentine's Day event for the 4th year in order to make a difference in the fight against pediatric cancer.
Did you know that cancer is the #1 cause of death of children by disease in the U.S.? There are 40,000 U.S. children actively battling cancer right now.
With less than 4% of the National Cancer Institute's budget going to all childhood cancer combined, it's important to get involved.
Help us make a difference by donating to Cookies for Kids' Cancer! Our goal is to raise at least $3000. Dixie Crystals, Mediavine and OXO have each pledged to match our donations raised through this campaign up to $3000 from each company! You can donate and help us make an even bigger difference!
(Thank you to so many of you who have already donated, please help us reach our goal so we can get the full matching donations and help us make an even bigger difference!)
Donate here (Thank you so much!)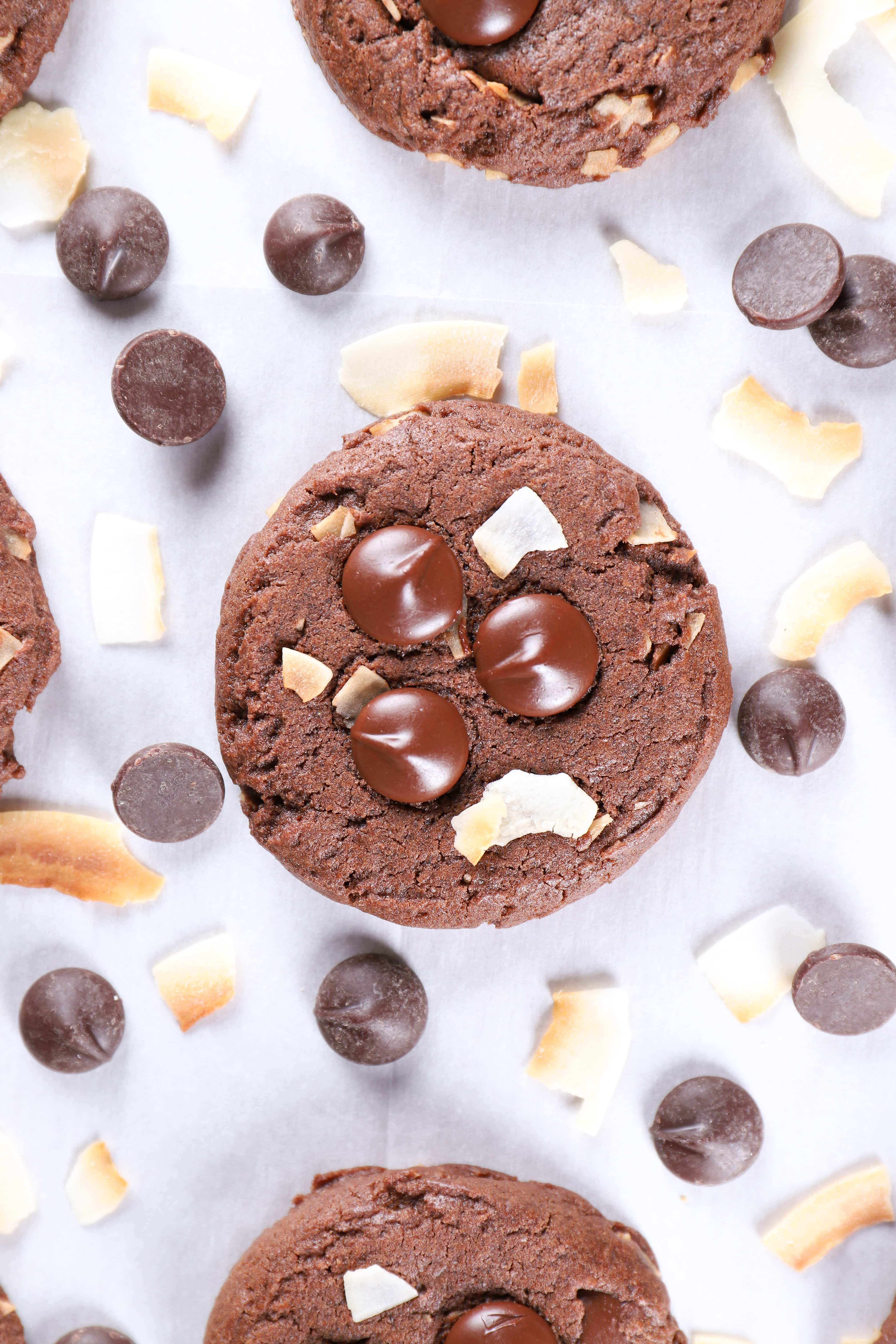 Tips for Making Chewy Dark Chocolate Coconut Cookies
If you can't find dark chocolate unsweetened cocoa, you can use regular unsweetened baking cocoa in its place. The cookies will still have a rich, chocolaty flavor.
I like to lightly press down on the cookie dough before baking, so that I have room to add a couple of chocolate chips and to keep the cookies from being to puffy. Feel free to leave the cookie dough mounded, if you don't mind puffier cookies.
The cookies will look slightly underdone when finished baking and will set up as they cool.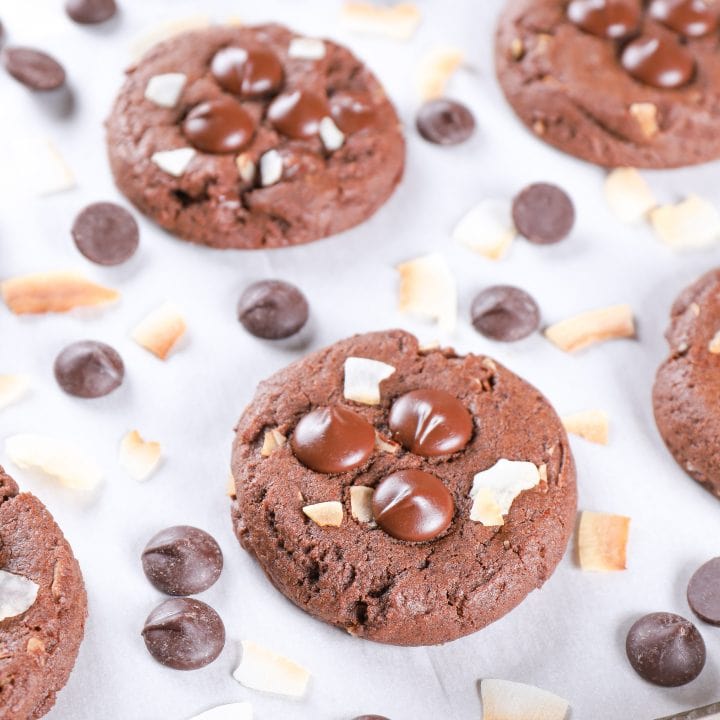 Chewy Dark Chocolate Coconut Cookies
Yield: 18 cookies

Prep Time: 10 minutes

Bake Time: 10 minutes

Total Time: 20 minutes

These Chewy Dark Chocolate Coconut Cookies are an easy cookie recipe filled with rich, chocolaty flavor and nutty, toasted coconut!
Ingredients
1 1/4 Cups all-purpose flour
1/3 Cup dark chocolate or regular unsweetened baking cocoa
1/2 teaspoon baking soda
1/2 teaspoon salt
1/2 Cup butter, softened
1/2 Cup sugar
1/3 Cup brown sugar
1 egg
1 teaspoon vanilla extract
1/3 Cup dark chocolate chips, plus additional chips for topping if desired
1/4 Cup toasted coconut flakes or shredded coconut
Instructions
Preheat oven to 350 degrees Fahrenheit. Line a baking sheet with parchment paper or a silicone baking mat.
In a small bowl, whisk together flour, unsweetened baking cocoa, baking soda, and salt. Set aside.
In the bowl of a stand mixer or with a hand mixer, cream together softened butter, sugar, and brown sugar. Add in egg and vanilla extract. Beat until creamy. Add dry ingredients to wet ingredients, and beat until combined. Stir in dark chocolate chips and coconut.
Drop cookie dough by heaping tablespoonful onto prepared baking sheet.
Bake for 8-10 minutes, or until center is set. Cool for 5 minutes on baking sheet before removing to a wire rack to cool completely.
Store leftovers in airtight container.
Recommended Products
As an Amazon Associate and member of other affiliate programs, I earn from qualifying purchases.