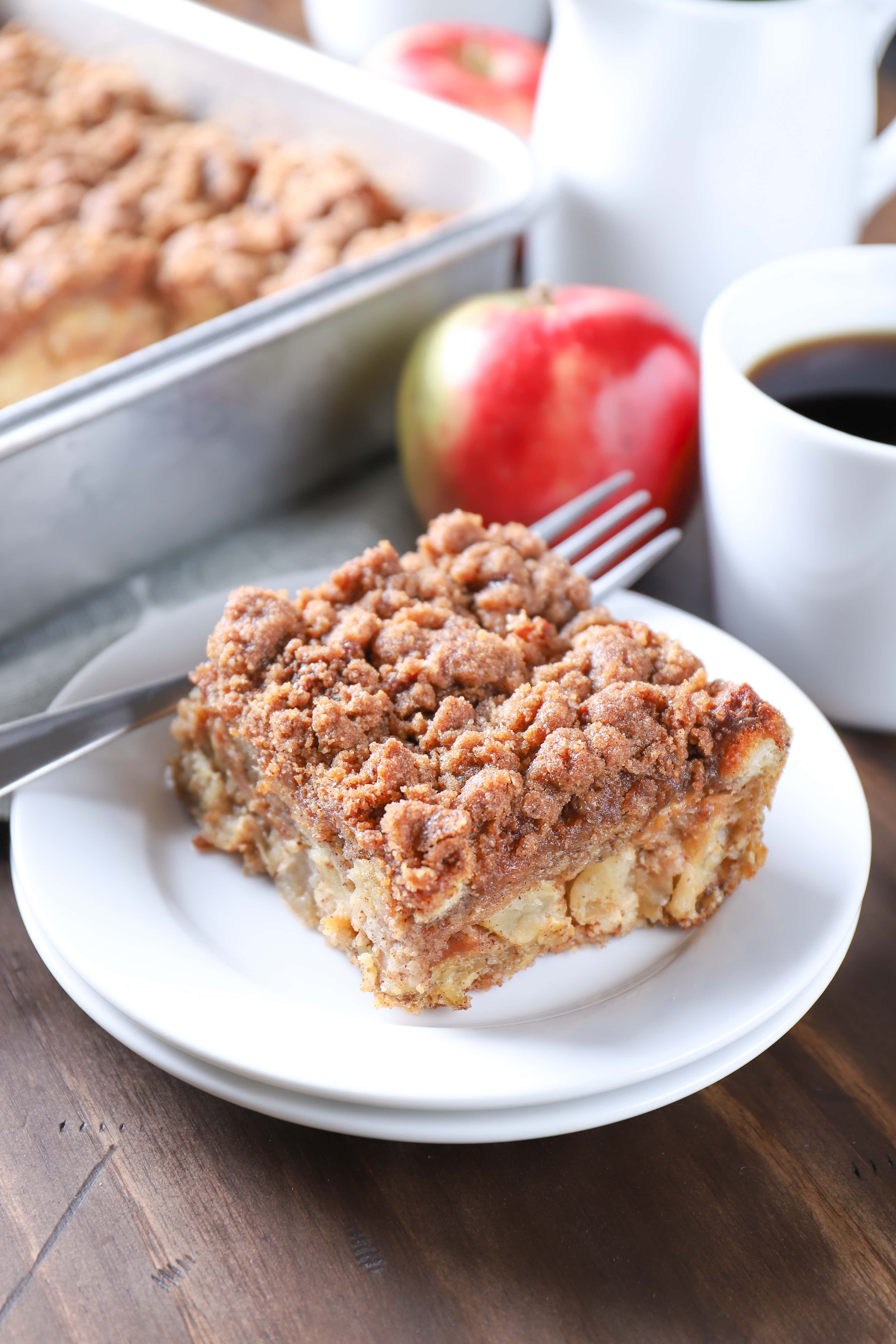 Whether you're busy with getting kids out the door for school or just have the busyness of getting your morning routine in before heading out the door for work, it seems like mornings tend to be rushed for a lot of us.
Because of all of the rushing around, a lot of time breakfasts consist of cereal, oatmeal, or other quick breakfast foods. While I'm all for those, sometimes I want "real" breakfast food.
The problem is, I don't want to take the extra time that is needed in order to prepare a bigger breakfast. Plus, my husband isn't a big breakfast eater.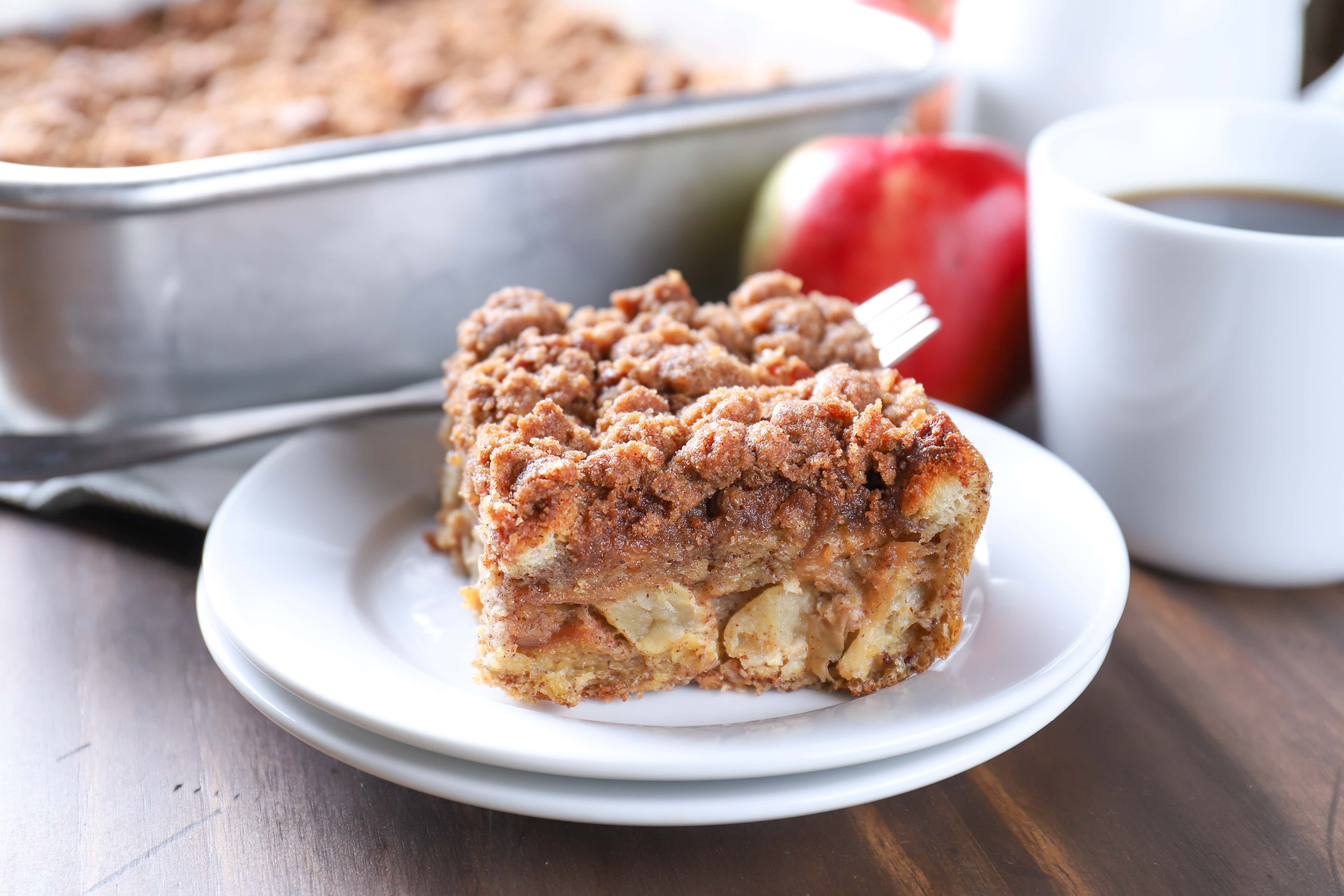 My solution? French toast bake! You can make it the night before and pop it in the oven the next morning. It's not a "big" breakfast, so my husband can have whatever size of piece he wants, and I get to enjoy "real" breakfast food!
This apple streusel french toast bake is kind of like a combination of french toast and coffee cake. As if an apple french toast bake weren't good enough, this one has a layer of streusel on top like what you would find on a coffee cake.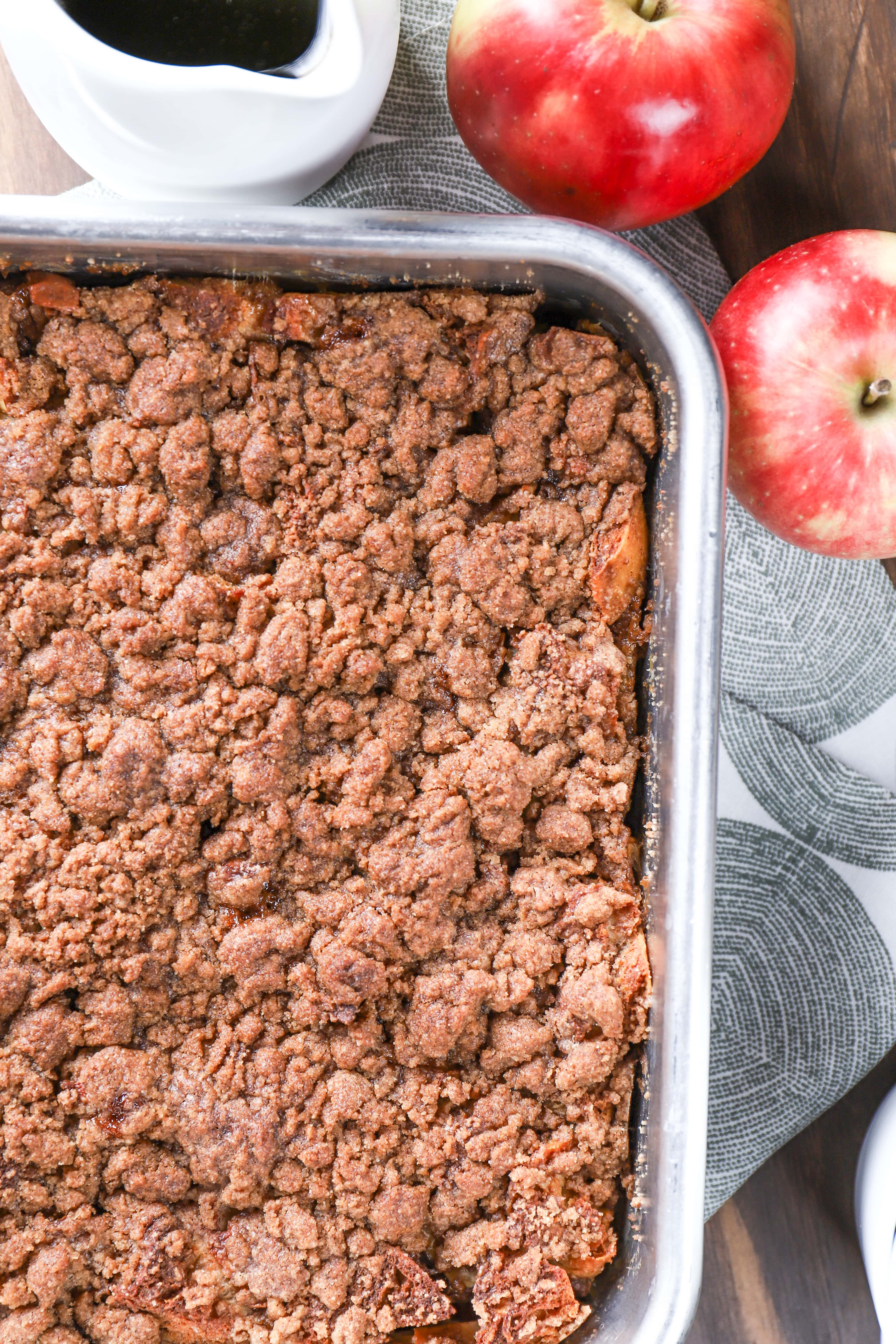 Most french toast bakes I have are slightly soggy and usually don't have enough cinnamon (but then again, you know I love a lot of cinnamon!). The soggy aspect is taken care of by making sure that the top is just starting to brown and the center is puffed before pulling it out of the oven.
The sweet cinnamon topping on this is perfect for adding cinnamon flavor without making it too intense and overpowering. And really, is streusel topping on a baked good ever bad?!
Tips for Making Apple Streusel French Toast Bake
If you are using bread that is on the drier side, consider covering the french toast bake after you have prepared it and stick it in the fridge for 30-40 minutes before baking. This will give the bread time to soak up the egg mixture and will keep you from having random dry pieces of bread in your french toast bake.
Use a good baking apple if you want to avoid the chunks of apples getting too mushy when baking.
We like to use tart apples for this french toast bake, because we like how the flavor pairs with the sweet streusel topping.
Bake the french toast bake until the center is puffed and the edges are just starting to brown. This will keep the french toast from being soggy.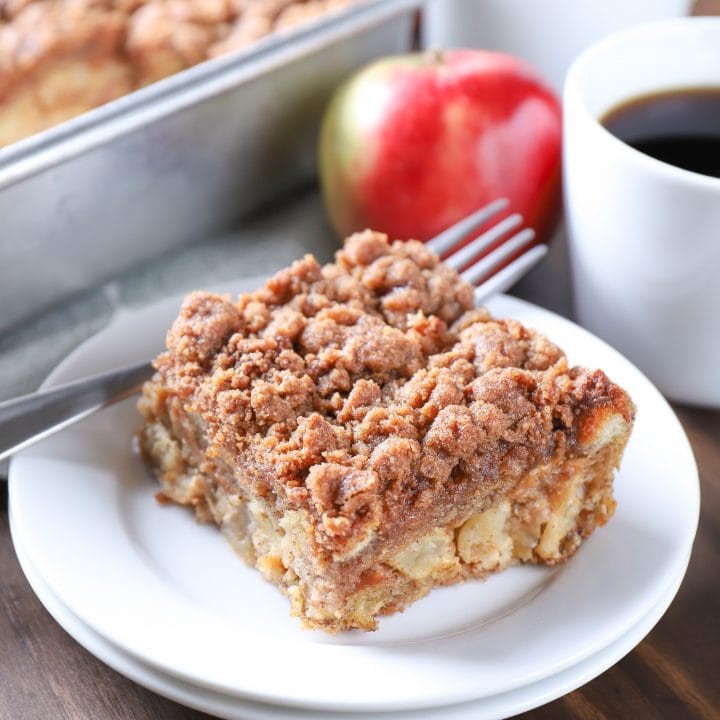 Apple Streusel French Toast Bake
Total Time:
1 hour
20 minutes
Ingredients
FOR THE FRENCH TOAST
7 Cups day old french bread, cubed
2 1/2 Cups apples, diced
5 eggs
1/3 Cup maple syrup
1 Cup milk
2 teaspoons vanilla extract
1 Tablespoon cinnamon
1 teaspoon nutmeg
1/2 teaspoon allspice
1/4 teaspoon ginger
FOR THE TOPPING
5 Tablespoons butter, softened
1/2 Cup brown sugar
6 Tablespoons all-purpose flour
2 1/4 teaspoons cinnamon
3/4 teaspoon nutmeg
3/4 teaspoon allspice
1/2 teaspoon ginger
1/4 tsp salt
Instructions
Preheat oven to 350. Lightly spray an 9x9 inch baking dish with non-stick cooking spray.
In a large bowl, combine bread and apples. In a medium bowl, whisk together eggs, maple syrup, milk, vanilla, cinnamon, nutmeg, and ginger. Pour over bread and apples and stir to combine. Set aside.
In a small bowl, stir together all ingredients for topping until crumbly.
Pour bread mixture into prepared dish. Gently press in with a spatula. Sprinkle topping mixture over the top.
If baking the next day, place in refrigerator until ready to bake. If baking immediately, bake for 50-60 minutes until topping browns and center puffs. (Center will deflate as french toast bake cools.) Remove from oven and allow to cool for 10 minutes before serving warm with maple syrup.
Store leftovers in the refrigerator.
Recommended Products
As an Amazon Associate and member of other affiliate programs, I earn from qualifying purchases.
This recipe is adapted from
Food for My Family
.