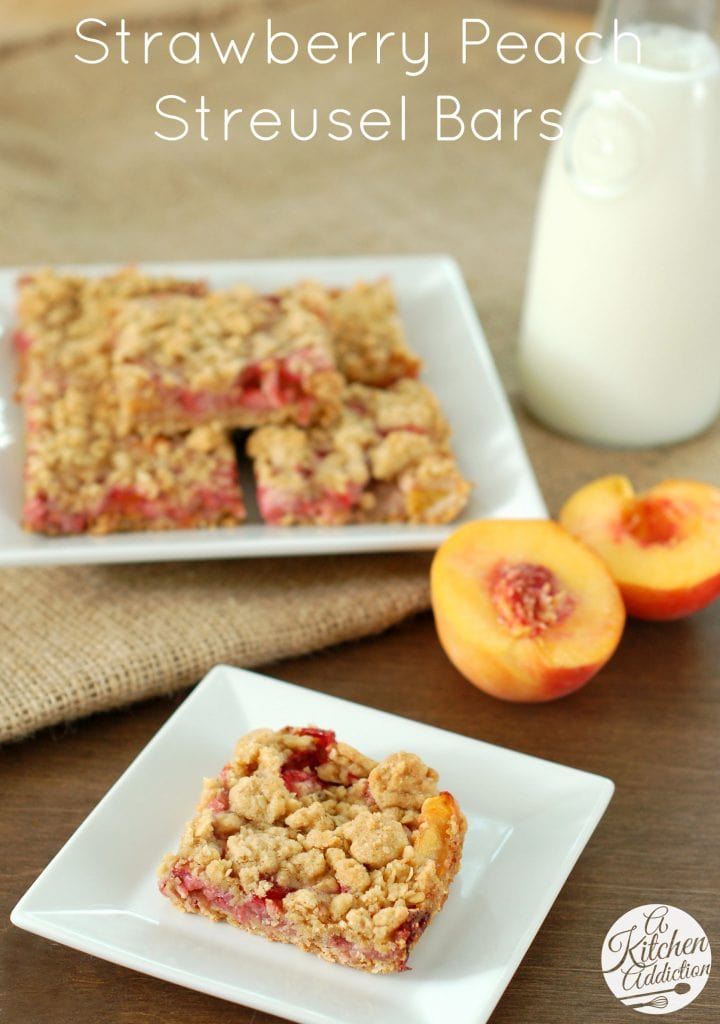 It appears that I've gone from hoarding blueberries, to hoarding strawberries and peaches! When I took inventory of my fruit the other day, I realized that I needed to find a way to use the fruit other than just eating it fresh.
I first thought about making a strawberry peach crumble, but why only have the oat streusel crust on top when you can have it on top and bottom?
So, instead of making another crumble, I made bars.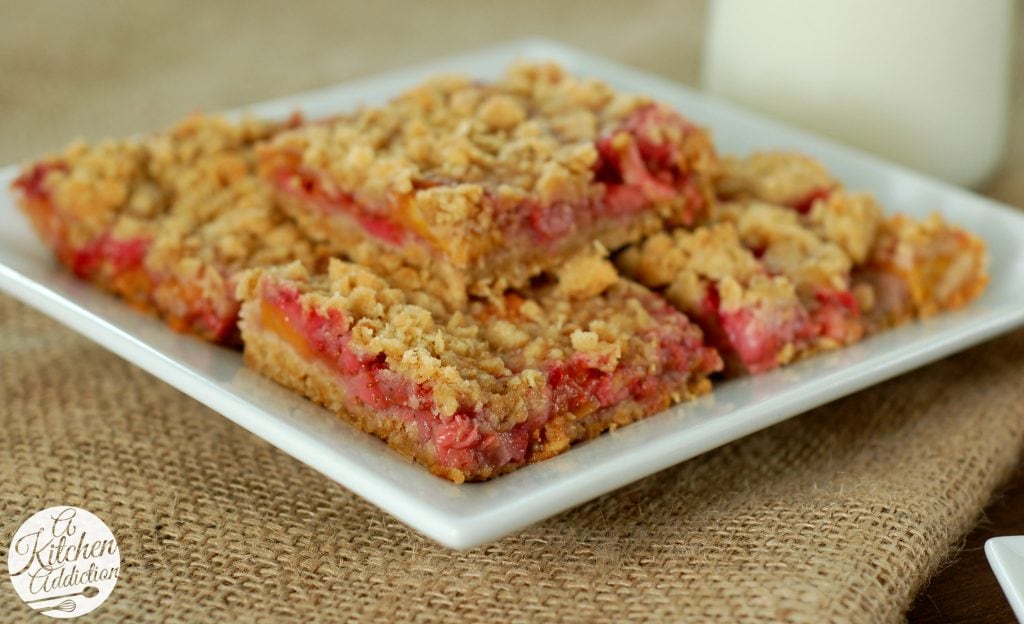 Making "pie bars" is one of my favorite ways to enjoy the flavors of pie without all of the extra preparation and baking time. These bars taste just like a fresh strawberry peach streusel pie, just with extra streusel!
The filling has a generous amount of cinnamon and nutmeg with a hint of ginger added in.
The buttery oat streusel is just thick enough on the top and bottom to add a nutty richness to the bars, but not too thick that it overpowers the flavors of the fresh fruit.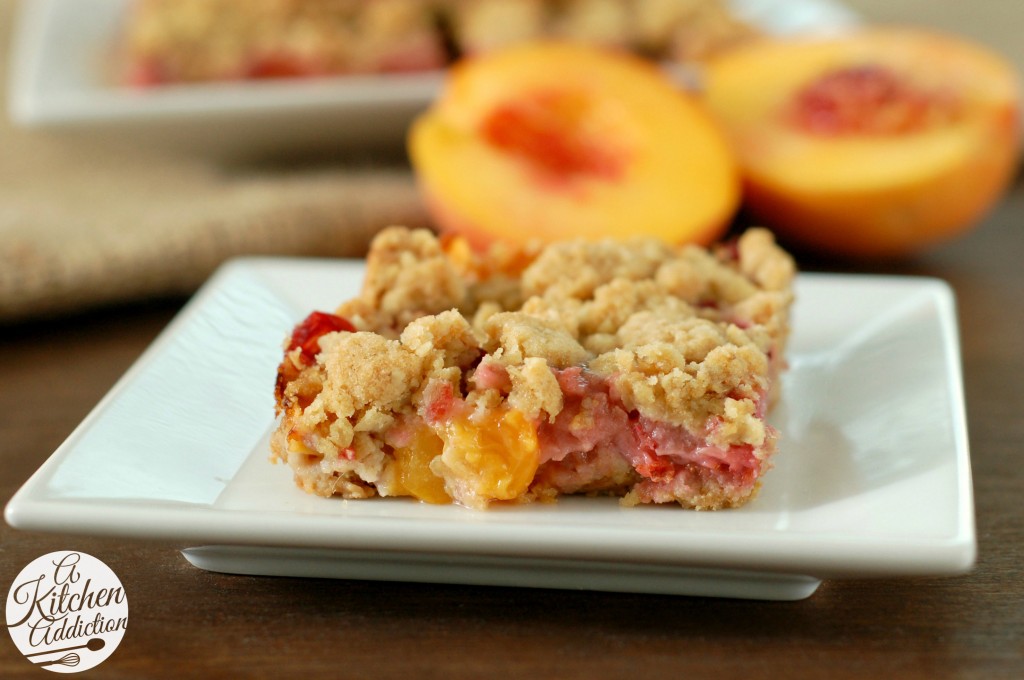 So, if you find yourself with too many peaches and strawberries to eat fresh (or am I the only one?), these strawberry peach streusel bars are a great solution!
Serve warm with a big scoop of vanilla ice cream for a summer dessert at your next bbq or make a bag lunch more exciting by packing them to go!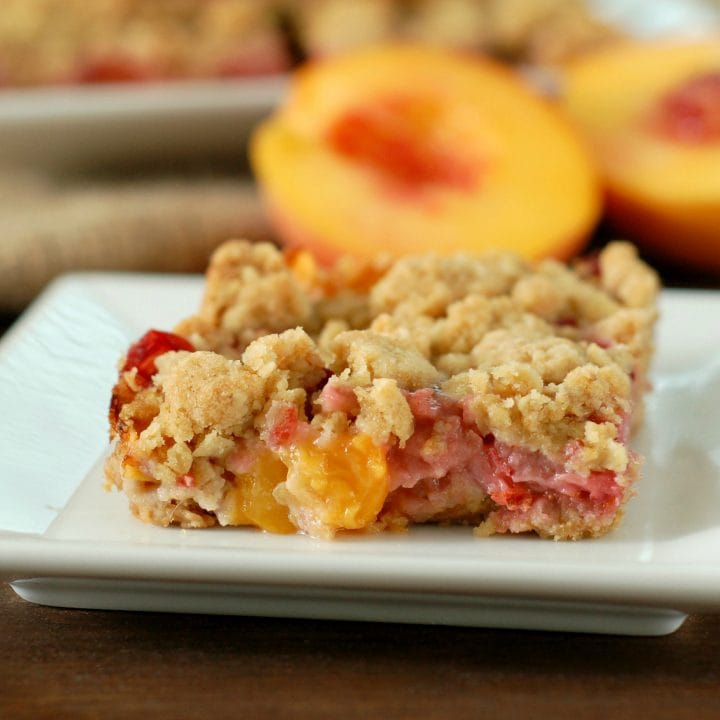 Strawberry Peach Streusel Bars
Yield: 12 bars

Prep Time: 15 minutes

Bake Time: 30 minutes

Total Time: 45 minutes
Ingredients
For the Filling
1 1/2 Cups strawberries, hulled and sliced
1 1/4 Cups peaches, sliced
1/4 Cup sugar
1 Tablespoon corn starch
1/2 teaspoon cinnamon
1/4 teaspoon nutmeg
1/4 teaspoon ginger
For the Base and Topping
3/4 Cup all-purpose flour
3/4 Cup quick oats
1/2 Cup brown sugar
1/2 teaspoon baking soda
1/4 teaspoon salt
1/2 Cup butter, softened
Instructions
In a large bowl, gently stir together strawberries, peaches, sugar, cornstarch, cinnamon, nutmeg, and ginger. Set aside.
Preheat oven to 350 degrees Fahrenheit. Line an 8x8 inch baking dish with parchment paper or spray with non-stick cooking spray.
Whisk together flour, oats, brown sugar, baking soda, and salt in a large bowl. Cut in butter until mixture resembles coarse crumbs.
Press 1/2 - 2/3 of crumb mixture into the bottom of prepared baking pan.
Spread fruit mixture over the top. Sprinkle remaining crumb mixture over the top of fruit.
Bake for 28-30 minutes or until streusel just begins to turn golden brown.
Remove to a wire rack to cool.
Serve warm.
Recommended Products
As an Amazon Associate and member of other affiliate programs, I earn from qualifying purchases.
Nutrition Information:
Yield: 12 Serving Size: 1
Amount Per Serving: Calories: 173Total Fat: 8gSaturated Fat: 5gTrans Fat: 0gUnsaturated Fat: 3gCholesterol: 20mgSodium: 171mgCarbohydrates: 24gFiber: 1gSugar: 14gProtein: 2g

Nutrition information shown is an estimate provided by an online calculator and may not always be accurate. It should not be considered a substitute for a medical professional's advice.