Fire up the grill and make this easy Grilled Skillet Raspberry Crisp! This recipe showcases sweet summer raspberries that are combined with a bit of sugar, cinnamon and lemon zest and topped with a rich, buttery streusel! Serve with a big scoop of ice cream to create an irresistible summer dessert!
This recipe is brought to you by Driscoll's and TheFeedFeed. As always, all opinions are 100% my own. Thanks for supporting brands that make A Kitchen Addiction possible!
My berry kick that I've been on this summer is far from over! We've had strawberries and blueberries, and now we're moving onto raspberries! Maybe it's because of the longer winters up here and seeing everyone one else enjoying fresh, local berries long before we can, but as soon as they are available, we can't get enough!
We grab handfuls for breakfast, another handful at lunch, and a handful to snack on while making dinner together. And then there's the inevitable handful in the evening before bed!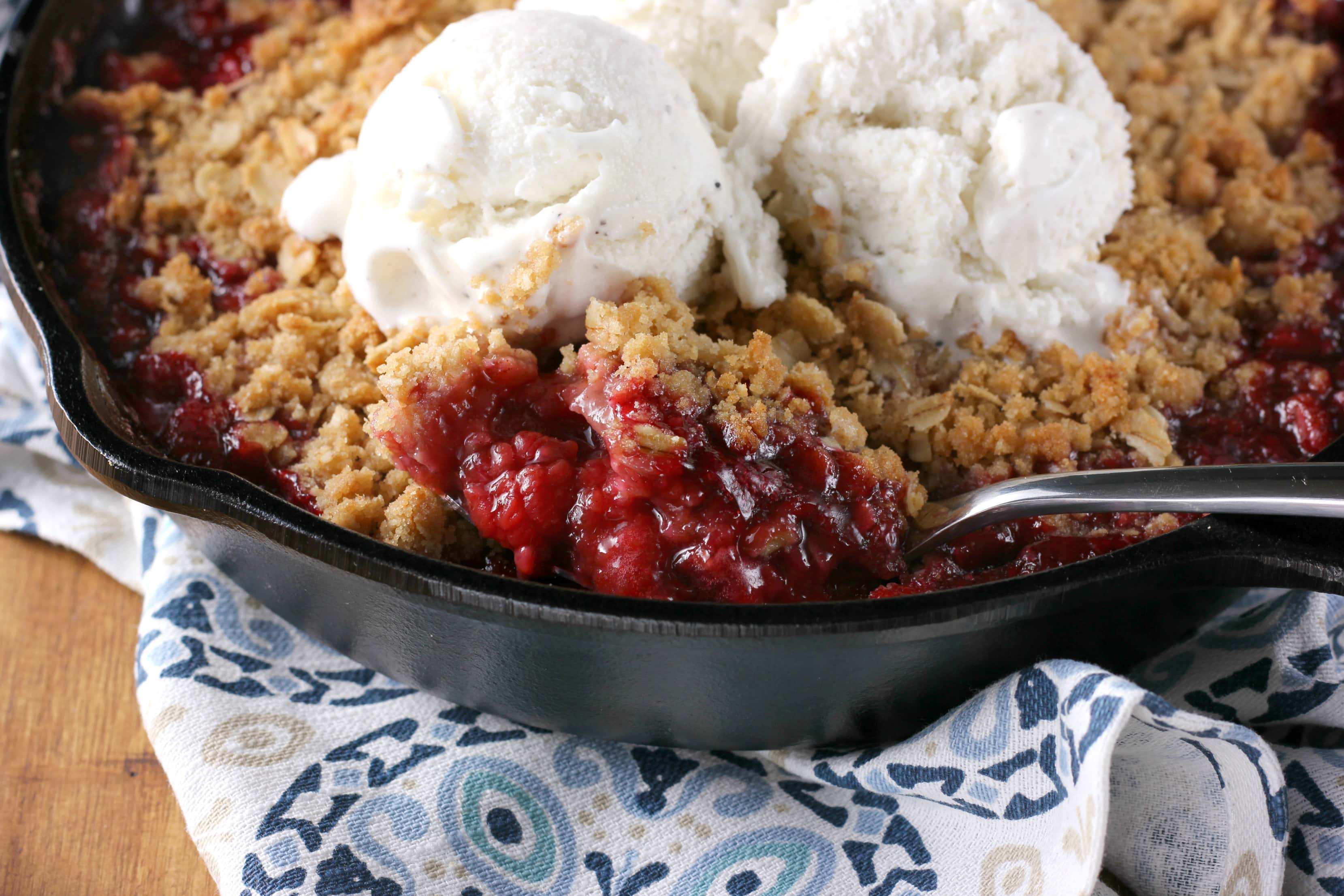 Did you know that the Minneapolis/St. Paul metro was recently named the raspberry consumption capital of the country by Driscoll's, the leading brand of natural and organic berries? According to data reported by The Nielsen Company, the Twin Cities market consumes 132 percent more fresh raspberries per household than the national average!
Apparently I'm not the only one who eats as many berries as possible! (Minnesotans — Be sure to check out the sweepstakes below for your chance to win an all-expenses paid trip to Madden's on Gull Lake or berries for a year!)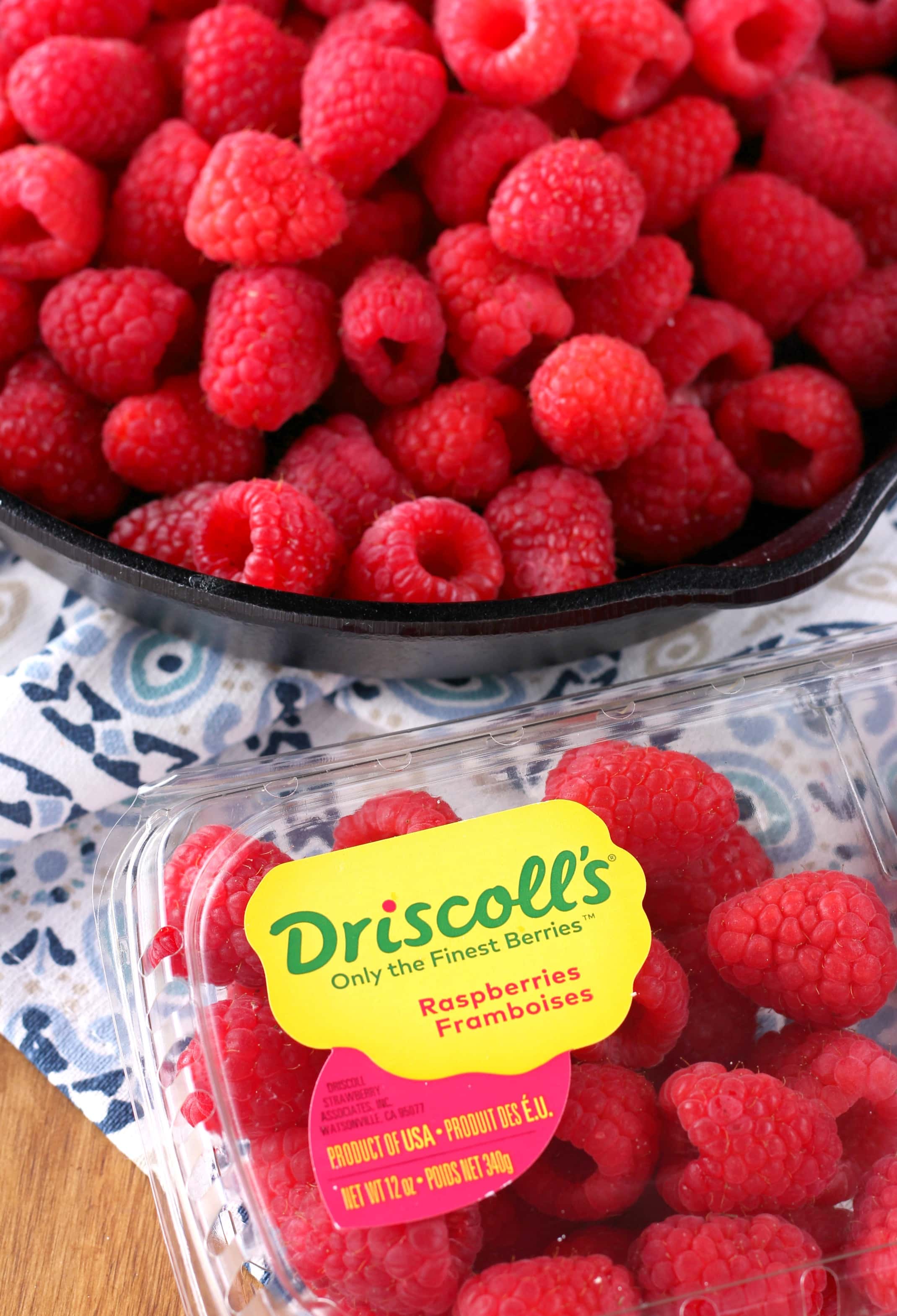 Thanks to brands like Driscoll's, we're able to enjoy berries all year long without having to wait for the local berry patches to finally open! Driscoll's follows the sun, so their sweet and juicy varieties are available year round. They also keep things natural and never genetically modify their raspberries, so you can feel good using them in your favorite summer recipes like this grilled skillet raspberry crisp.
I've been wanting to make a berry crisp on the grill for awhile now and am kicking myself for only just now trying it! This grilled skillet raspberry crisp got the highest praise possible from my husband who can turn down dessert without too much hesitation.
It not only got a comment about how good it smelled while grilling, it also got a "This is going on the make again list, right?!" after his first bite. I call that a winner!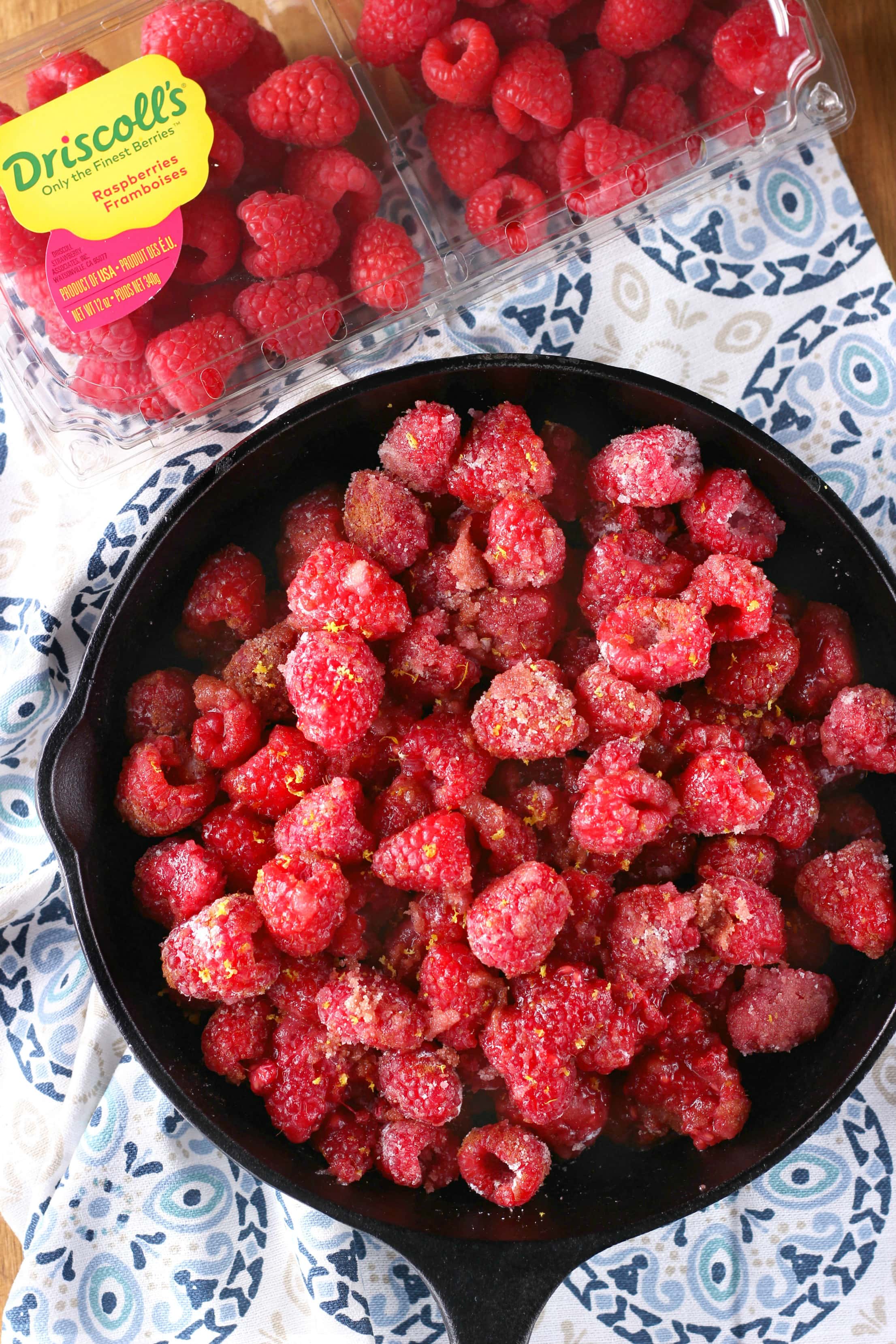 It's also so easy! Fresh raspberries are tossed with sugar, cornstarch, cinnamon, and a hint of lemon zest and scooped in a cast iron skillet. A simple crumble topping of white whole wheat flour, oats, brown sugar, a hint of salt, and butter is spread on top. Then onto the grill it goes.
This crisp only takes 12-15 minutes grill before it's done. Way faster than in the oven. My husband and I grill a majority of our meals in the summer and we love that we can grill our main course, stick the skillet raspberry crisp in while we're eating the main course, and dessert will be ready when we're done!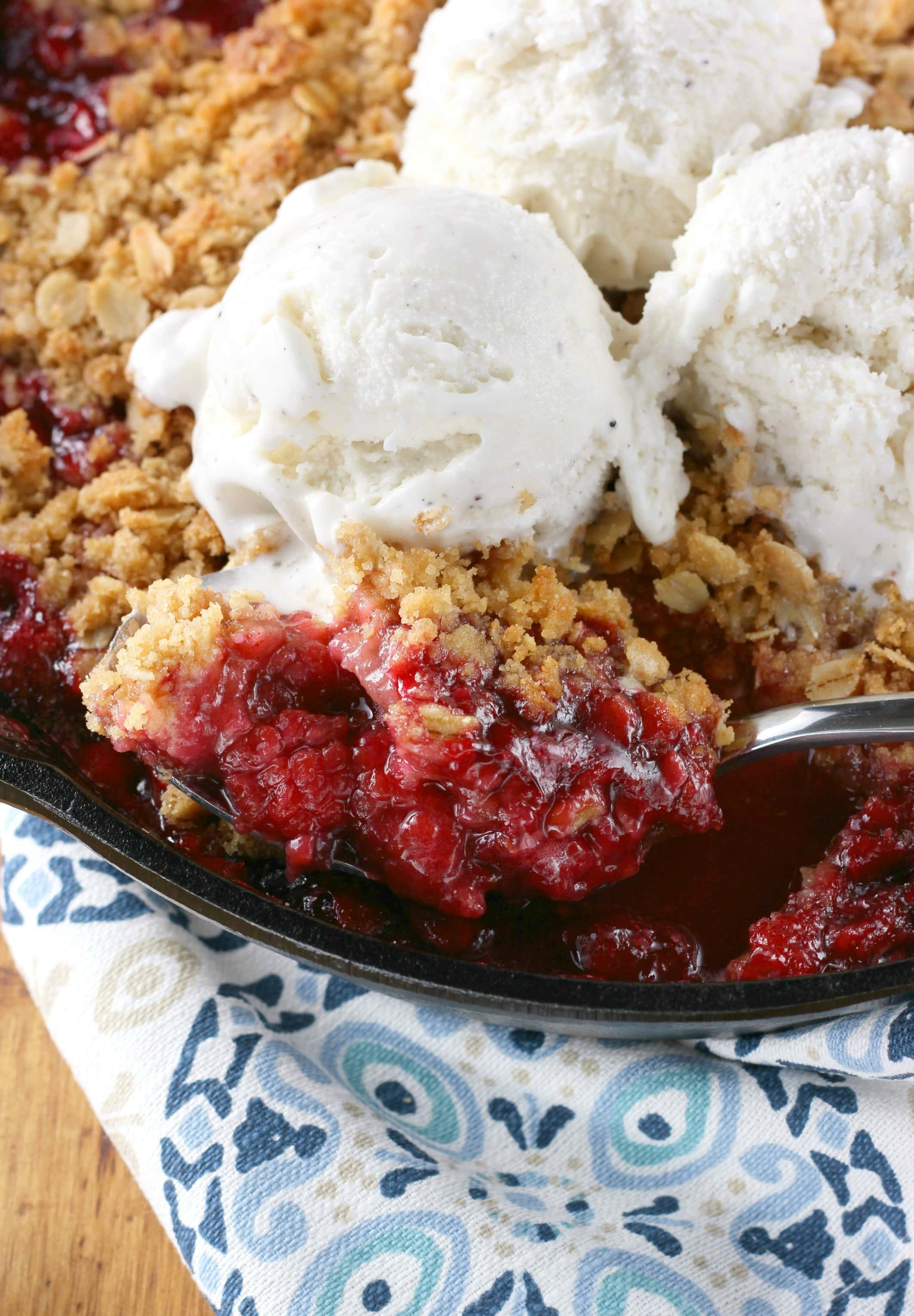 Summer's not over yet! Take advantage of these long, warm summer days with your friends and family and dig into a warm raspberry crisp, preferably with a big scoop of vanilla ice cream on top!
Driscoll's is hosting a Minnesota-exclusive #BerryTogether sweepstakes, with a top prize of a 4-night all-expenses paid getaway at Madden's on Gull Lake! Four first-prize winners will win Driscoll's berries for a year! Visit www.berrytogether.com to enter for your chance to win!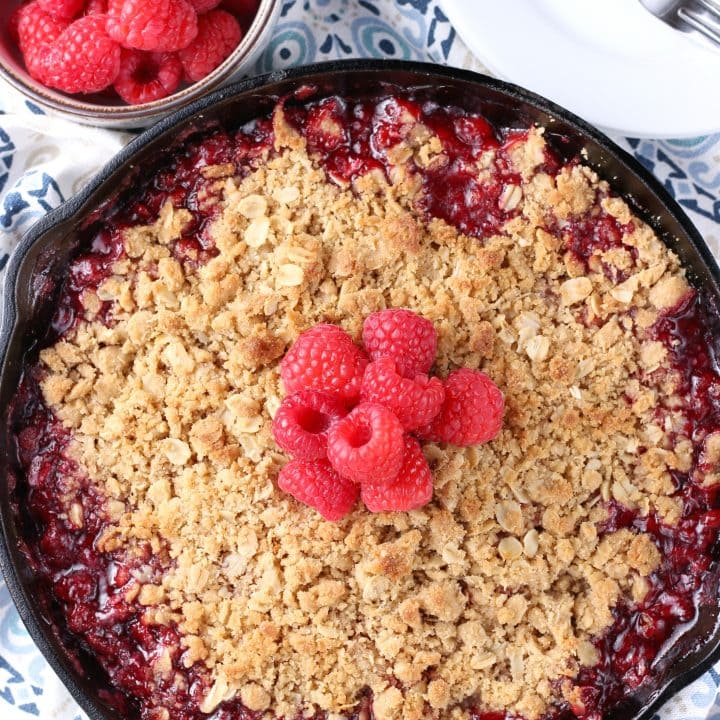 Grilled Skillet Raspberry Crisp
Ingredients
For the Filling
4 C fresh raspberries, washed and patted dry
1/2 C sugar
1 1/2 tbsp cornstarch
1 tsp lemon zest
1 tsp cinnamon
For the Topping
3/4 C white whole wheat flour or all-purpose flour
1/2 C regular oats
1/3 C brown sugar
1 tsp cinnamon
1/4 tsp salt
6 tbsp butter, cold and cut into pieces
Instructions
Preheat grill to medium. Grease a 9 inch cast iron skillet with coconut oil or butter.
In a small bowl, gently toss raspberries with sugar, cornstarch, lemon zest, and cinnamon. Spread evenly into the bottom of prepared cast iron skillet.
In a medium bowl, whisk together flour, oats, sugar, cinnamon, and salt. Cut in butter until mixture resembles coarse crumbs. Sprinkle over fruit.
Carefully place skillet in the center of the lower rack of preheated grill. Close. Grill for 12-15 minutes, or until filling is bubbling and topping is golden brown.
Carefully remove from grill to a wire rack and allow to cool for at least 15 minutes before serving.
Recommended Products
As an Amazon Associate and member of other affiliate programs, I earn from qualifying purchases.