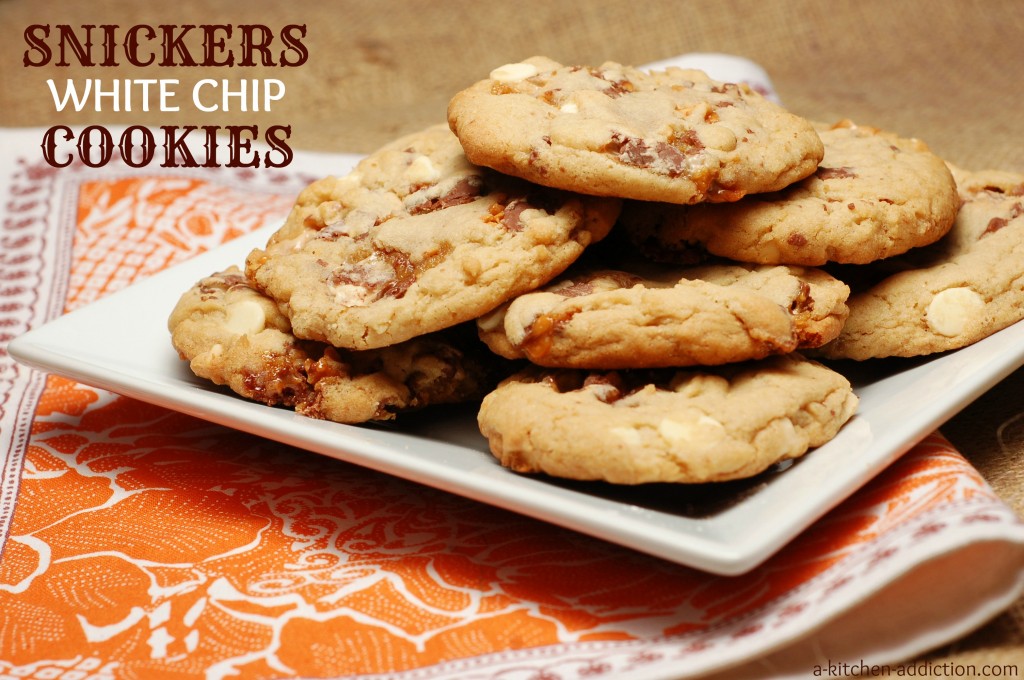 Candy isn't normally lying around our house, but when it is, you can just about guarantee that it will be either Reese's Peanut Butter Cups or Snickers. Snickers are a favorite of my husband, so when we do have them around, I have to make sure to steal some away so that I can make something with them! He felt that the Snickers went to a good cause with these cookies! 😉

These cookies are soft, thick, and loaded with rich chocolate and gooey caramel! How can you go wrong when you fill cookie dough with candy pieces and bake it?! Though a word of caution, you may find yourself eating copious amounts of dough and practically burning your finger tips trying to get the warm, gooey cookies off of the pan before they have cooled, because you just can't wait any longer before trying them!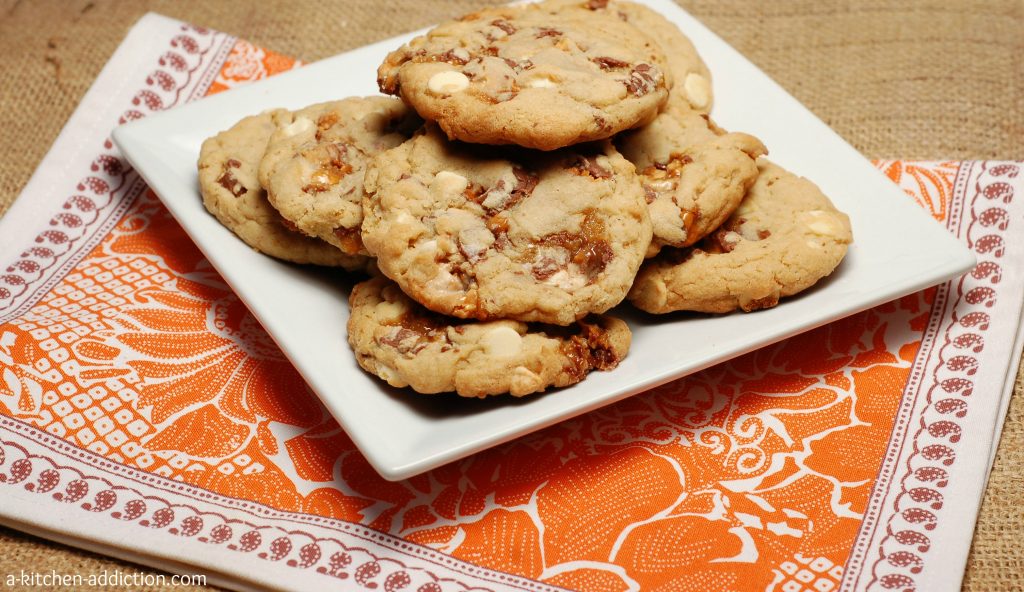 You could "healthify" these by using white whole wheat flour, sugar substitute, fewer Snickers, etc., but let's be honest, they wouldn't taste nearly as good! 🙂 (That is so I don't get a barrage of e-mails informing me that these cookies aren't "healthy"!) Sometimes you just have to go all out! 😉
Snickers White Chip Cookies
Yield: 2 dozen cookies
Ingredients
2 sticks butter, softened
3/4 C granulated sugar
3/4 C brown sugar
2 eggs
2 tsp vanilla extract
3 C flour
3/4 tsp salt
1 tsp baking soda
12 fun size Snickers bars, chopped
1/2 C white chocolate chips
Directions
Preheat oven to 350. Spray cookie sheet with non-stick cooking spray or line with parchment paper.
In the bowl of a stand mixer, cream butter and sugars. Add in eggs and vanilla. Beat until creamy.
In a separate bowl, whisk together flour, salt, and baking soda. Slowly add dry ingredients to wet ingredients.
Using a wooden spoon, stir in Snickers bars and white chocolate chips. Dough will be stiff. If you don't mind getting your hands dirty, it works best to just use your hands to bring the dough together.
Drop by heaping 1/4 cup full onto cookie sheet. Bake for 10-12 minutes or until edges of cookies just start to turn golden brown.
Let cool for 3 minutes on cookie sheet before removing to wire rack to cool completely.
Store leftovers in an airtight container.
This recipe is linked with I'm Lovin' It Fridays, Mop It Up Mondays, Strut Your Stuff Saturday, Sweet Treats and Swanky Stuff, Thursday's Treasures, Weekend Potluck.