Yay for birthdays on the weekend! They give you more time to make delicious food that you have every reason to eat! 😉 That and the fact that we ran a 20k this weekend, we figured we had a few extra calories that needed to be made up. So, when my husband asked me to make some sort of Snickers cheesecake for his birthday, I was only more than happy to oblige!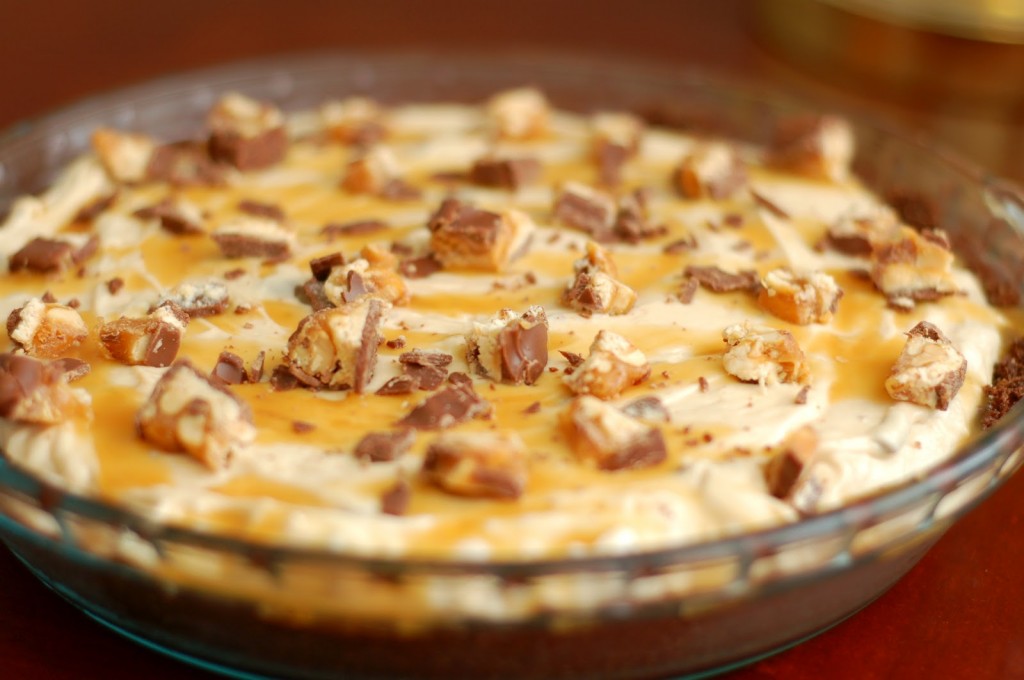 While the occasional indulging is fine, I still wanted to make it as healthy as possible and opted for making a no-bake cheesecake that incorporated Snickers and peanut butter (his favorite food!). I love doing no-bake desserts because they are usually super easy to throw together, and they don't require heating up the house, which when it's in the upper 80's is always a good thing! 🙂 I used the same crust that I used for the No-Bake Mocha Cheesecake Bars and added a caramel drizzle to the top for more of the Snickers taste.
Using lighter options of the ingredients helped to pair down the calories and in no time we had a great dessert sitting in front of us!
Lots of peanut butter and Snickers goodness right there!! What are some of your favorite birthday desserts??
Snickers Cheesecake Pie

Yield: 8-10 pieces
Ingredients
For the Crust
1 package of chocolate graham crackers (or about 7 whole crackers)
4 tbsp reduced-fat butter spread, melted
4 tbsp fat-free fudge topping
3 tbsp sugar-free caramel, for drizzle
For the Filling
12 oz. 1/3 of the fat neufchatel cheese
1 C powdered sugar
1/2 C no-stir natural creamy peanut butter
1 tsp vanilla extract
2 full-size Snickers bars, chopped
1 8oz container reduced-fat or fat-free Cool Whip
sugar-free caramel for topping, optional
1/2 full-size Snickers bar, chopped for topping, optional
Directions
Spray the bottom of a 9.5 inch deep dish pie plate with non-stick cooking spray. Set aside.
Place graham crackers in a food processor. Pulse until fine crumbs. Add melted butter and fudge topping. Pulse just until blended. Press into bottom of pie plate. Drizzle caramel over the top. Refrigerate while making the filling.
In the bowl of a stand mixer, add cream cheese and powdered sugar. Beat until creamy. Add in the peanut butter and vanilla extract. Beat until well-combined.
Stir in the Snickers pieces. Slowly fold in the Cool-Whip. Do not over stir.
Pour filling into pie crust.
Drizzle with caramel and sprinkle with Snickers pieces.
Refrigerate for 4 hours or until set.
Enjoy! Store leftovers in refrigerator.
This recipe is linked up with:
* Fabulous Friday hosted by Crunchy Creamy Sweet, My Crowded Kitchen, and Serena Bakes Simply From Scratch
*Totally Tasty Tuesday
* Weekend Potluck