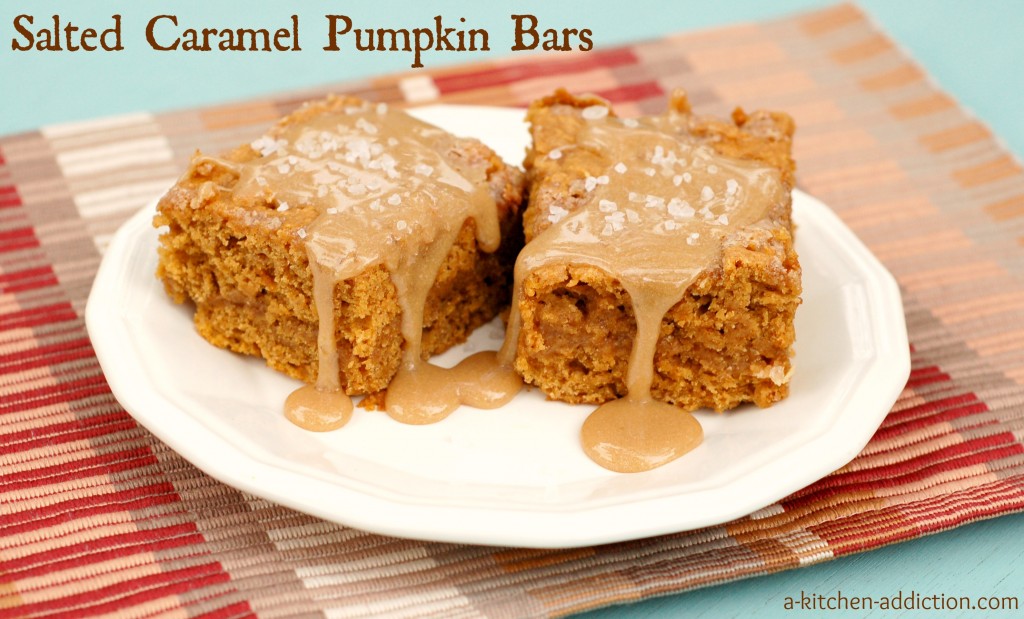 Yesterday, while making pumpkin bread with salted caramel drizzled pumpkin buttercream for my husband's food day at work, I suddenly found myself really wanting a slice of that bread! 🙂 But, that wasn't an option, and I didn't want to go through waiting for another loaf of bread to bake!
My solution? Make bars using the same idea! Why not make pumpkin bars that have an entire layer of salted caramel in them, and then drizzle them with some more of that amazing salted caramel sauce?! So good!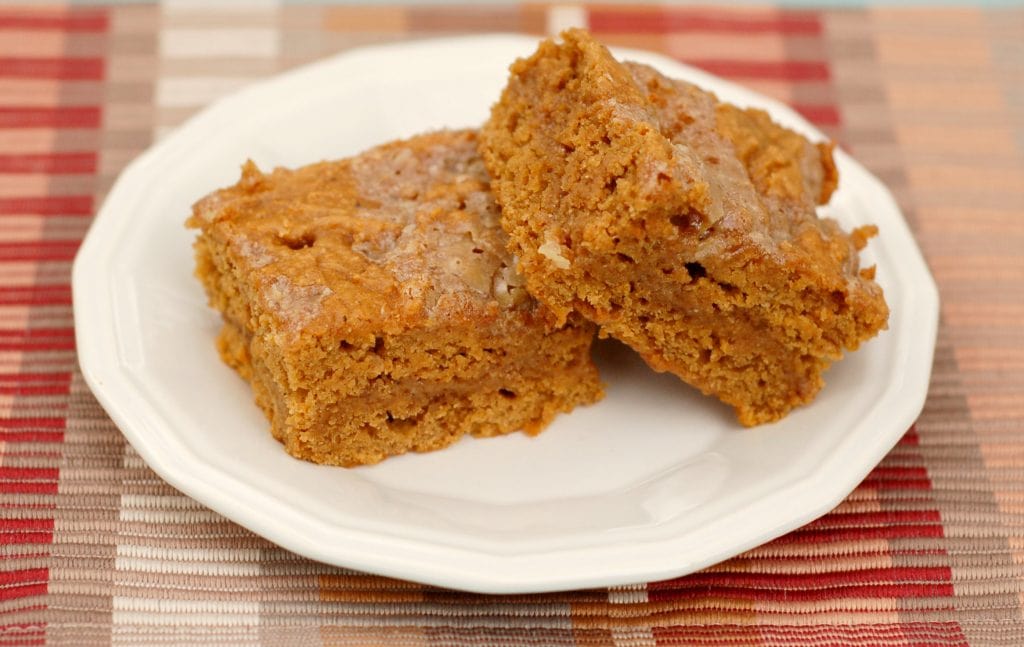 These pictures were semi-tortuous to take. (Just look at that gooey layer of salted caramel!) I didn't finish baking the bars until right before my husband got home, and we were going to go for a run right away.
I wanted to get the pictures in before the sun set which meant taking them right before running. I have one of those stomachs that doesn't allow me to eat anything at least an hour before I run, so tasting these was out of the picture!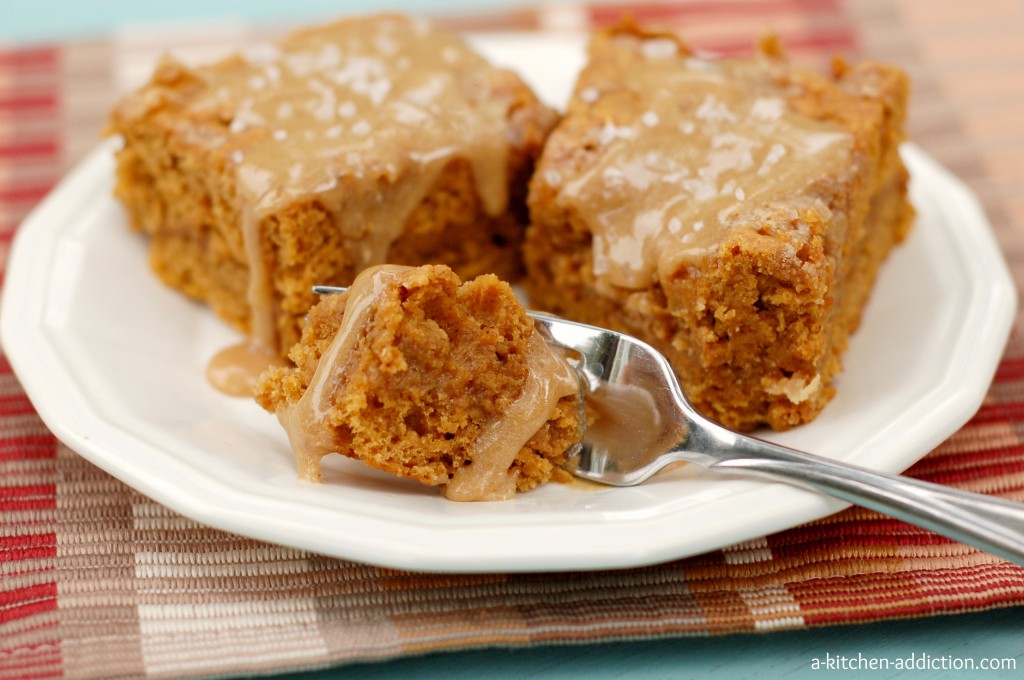 I bet you'll never guess what I ate as soon as we got back! Have a great weekend! You can insure that it's a great one by making a couple of pans of these bars! 😉
Salted Caramel Pumpkin Bars
Yield: 9 bars
Ingredients
1 C white whole wheat flour
1 C all-purpose flour
1 tsp salt
1 tsp baking powder
1 tsp baking soda
1 tsp cinnamon
1/2 tsp nutmeg
1/4 tsp cloves
1 egg
3/4 C brown sugar
1/2 C granulated sugar substitute or sugar
1/2 C 0% plain Greek yogurt
2 tbsp butter, melted and cooled
1 tsp vanilla extract
1 C canned pumpkin (not pumpkin pie filling)
**For the Salted Caramel
6 tbsp brown sugar
2 tbsp non-fat half & half
2 tbsp butter
1/2 tsp coarse sea salt
Directions
Preheat oven to 350. Spray an 8×8 baking dish with non-stick cooking spray.
In a medium bowl, whisk together flours, salt, baking powder, baking soda, cinnamon, nutmeg, and cloves.
In the bowl of a stand mixer, cream together egg, brown sugar, and sugar substitute. Add in yogurt, butter, and vanilla. Beat until creamy. Slowly add in dry ingredients and beat until combined.
Add in pumpkin and beat until combined.
Spread about half of the batter into the bottom of a prepared baking dish.
Bake for 10 minutes.
In a medium saucepan, stir together brown sugar and half & half. Over medium heat, bring mixture to a boil. Stirring constantly, allow sugar mixture to boil until sugar has dissolved and mixture has turned dark brown. This will take about 3 minutes. Stir in butter and salt. Remove from heat and continue stirring for another two minutes to cool the mixture.
Drizzle about 1/4 C of the salted caramel mixture over the top of the pumpkin bars and spread with a spoon. Spread remaining pumpkin batter over the top. Drizzle remaining two tablespoons of salted caramel mixture over top.
Bake for another 20-25 minutes or until toothpick inserted in the center comes over clean.
Allow bars to cool for 10 minutes before cutting into slices.
Store leftovers in an airtight container.
**If you want extra to drizzle more salted caramel over bars when serving, halve the ingredients for the salted caramel and make right before serving.
This recipe is linked with Crazy Sweet Tuesday, Farm Girl Blog Fest, I'm Lovin' It Fridays, Iron Chef Mom, Lil Luna Link Party, Mop It Up Mondays, Strut Your Stuff Saturday, Sweet Treats and Swanky Stuff, Trick of Treat Tuesday, Weekend Potluck, Your Great Idea.