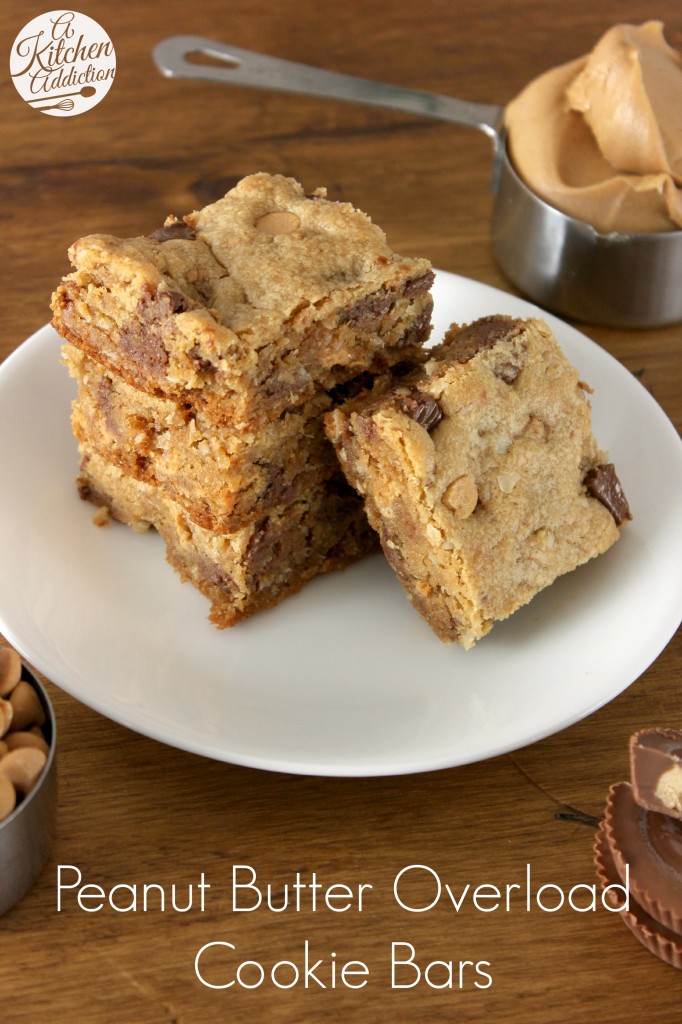 If you find yourself with way too much candy after trick or treating and fall parties this week, these cookie bars are a great way to use it up! I love making cookie bars to use up leftover candy.
Cookie bars are so easy to whip up and bake, and they just taste good! Thick, chewy and loaded with candy. . .what's not to love?!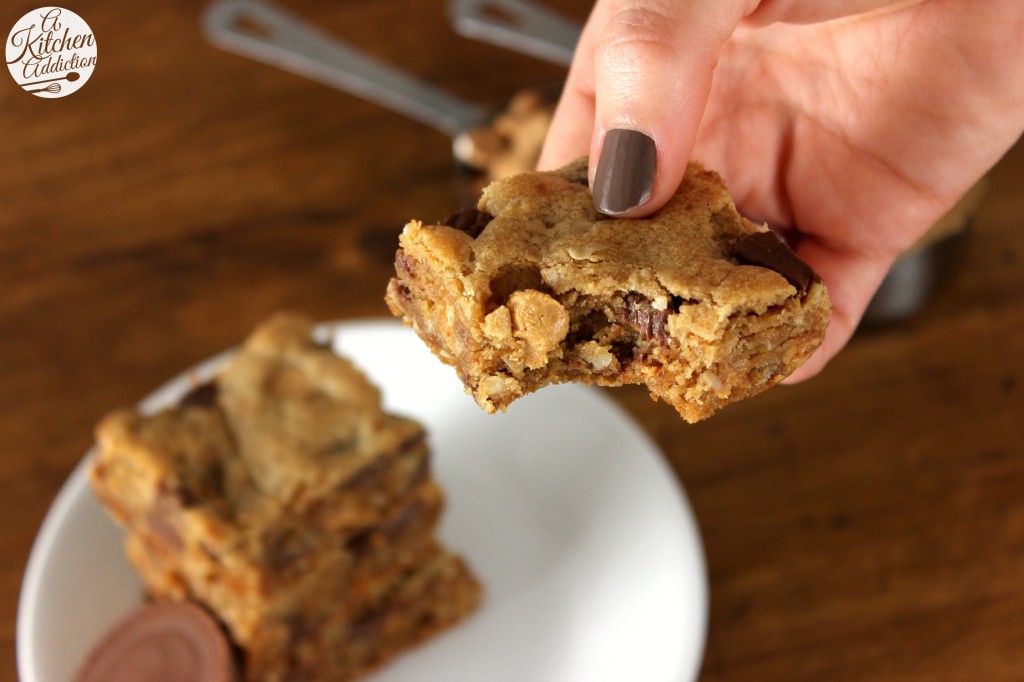 We don't eat much candy around here, so if I get a bag of candy around the different holidays, I usually end up baking with half of it.
That's what happened with my last bag of Reese's peanut butter cups. If you don't have Reese's, any other chocolate candy would work just as well.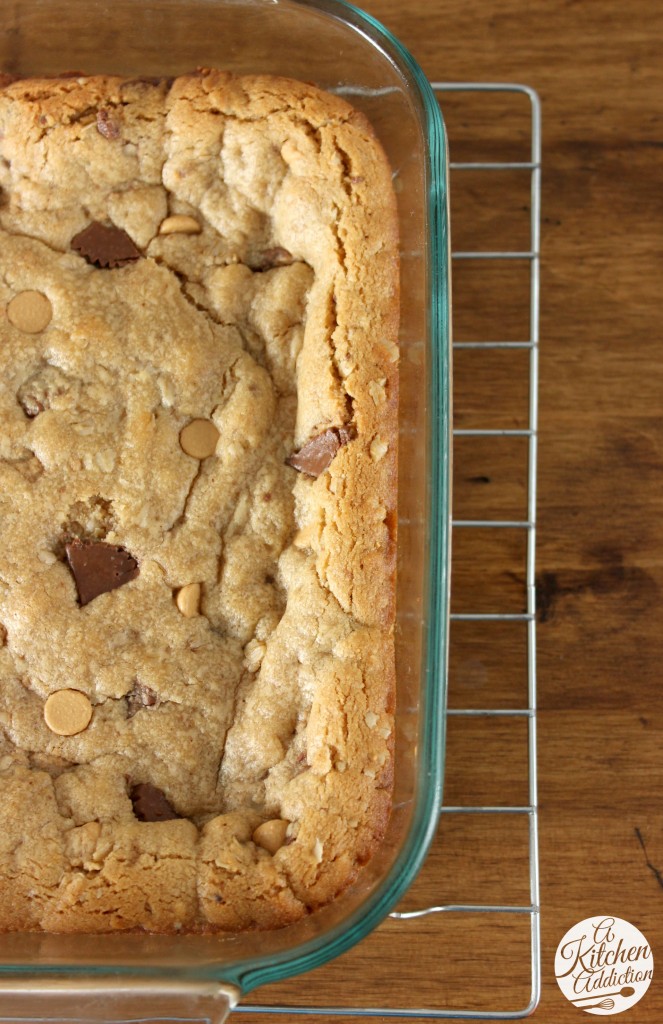 I just happen to have a love for all things peanut butter and find myself stuffing as much peanut butter as possible into my baked goods, especially these peanut butter overload cookie bars.
That's why you'll find lots of peanut butter, lots of chopped peanut butter cups, and lots of peanut butter chips in the ingredient list! Mix them all together and you have a peanut butter lover's dream cookie bar!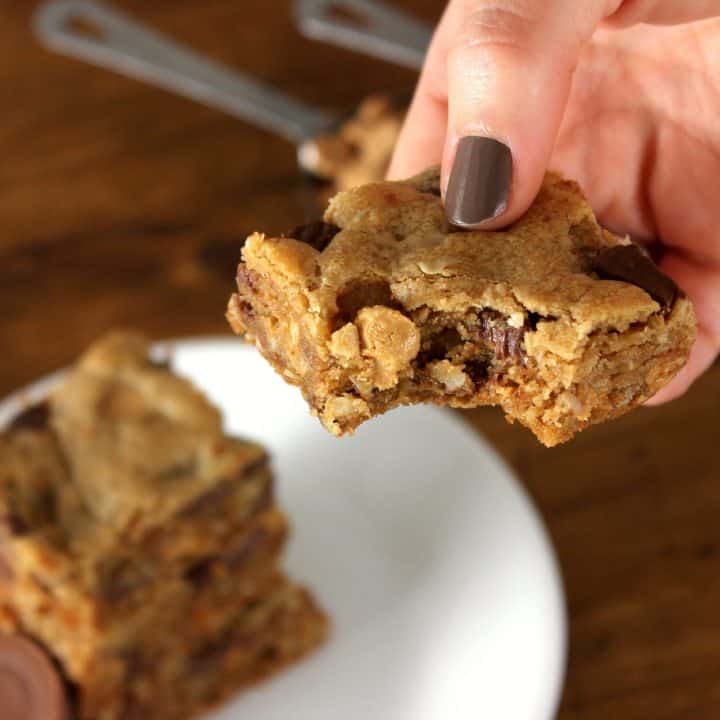 Peanut Butter Overload Cookie Bars
Yield: 12

Prep Time: 15 minutes

Cook Time: 15 minutes

Total Time: 30 minutes
Ingredients
1/4 C butter, softened
3/4 C peanut butter
1/2 C brown sugar
1/4 C sugar
1 egg
1 tsp vanilla extract
3/4 C all-purpose flour
1/2 tsp salt
1/2 tsp baking soda
1/2 C quick oats
3/4 C peanut butter cups, chopped
1/3 C peanut butter chips
Instructions
Preheat oven to 350. Lightly spray an 8x8 inch or a 9x9 inch baking dish with non-stick cooking spray. Set aside.
In the bowl of stand mixer (or with an electric hand mixer), cream together butter, peanut butter, and sugars. Add egg and vanilla and beat until well-combined.
In a small bowl, whisk together flour, salt, and baking soda. Add dry ingredients to wet ingredients and beat to combine. Stir in oats.
Add chopped peanut butter cups and peanut butter chips. Stir to combine.
Press dough into the bottom of prepared baking dish. Bake for 12-15 minutes or until edges start to turn golden brown and center is set.
Allow to cool for 15 minutes before cutting into bars and serving.
Store leftovers in an airtight container.
Recommended Products
As an Amazon Associate and member of other affiliate programs, I earn from qualifying purchases.