This easy Eggnog Gingerbread French Toast Bake has all the warm flavors of a ginger cookie and is topped with a simple eggnog syrup!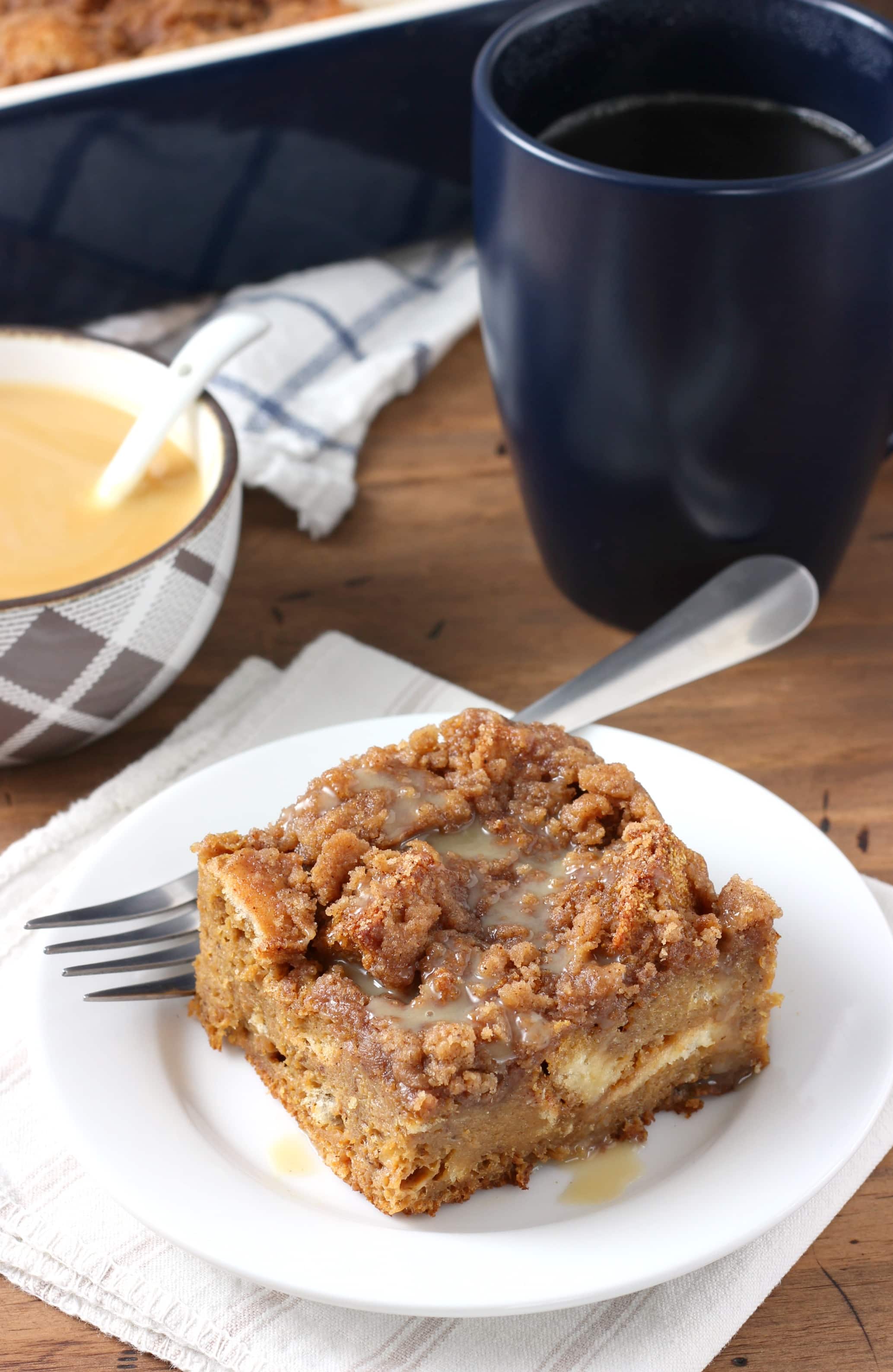 The busy holiday season is here. Parties, concerts, family gatherings, etc. It's also time for holiday baking! I think my baking list grows longer and longer every year despite all of the time I spend in the kitchen trying new recipes.
There are just so many recipes to try, and I am ready for holiday baking to begin!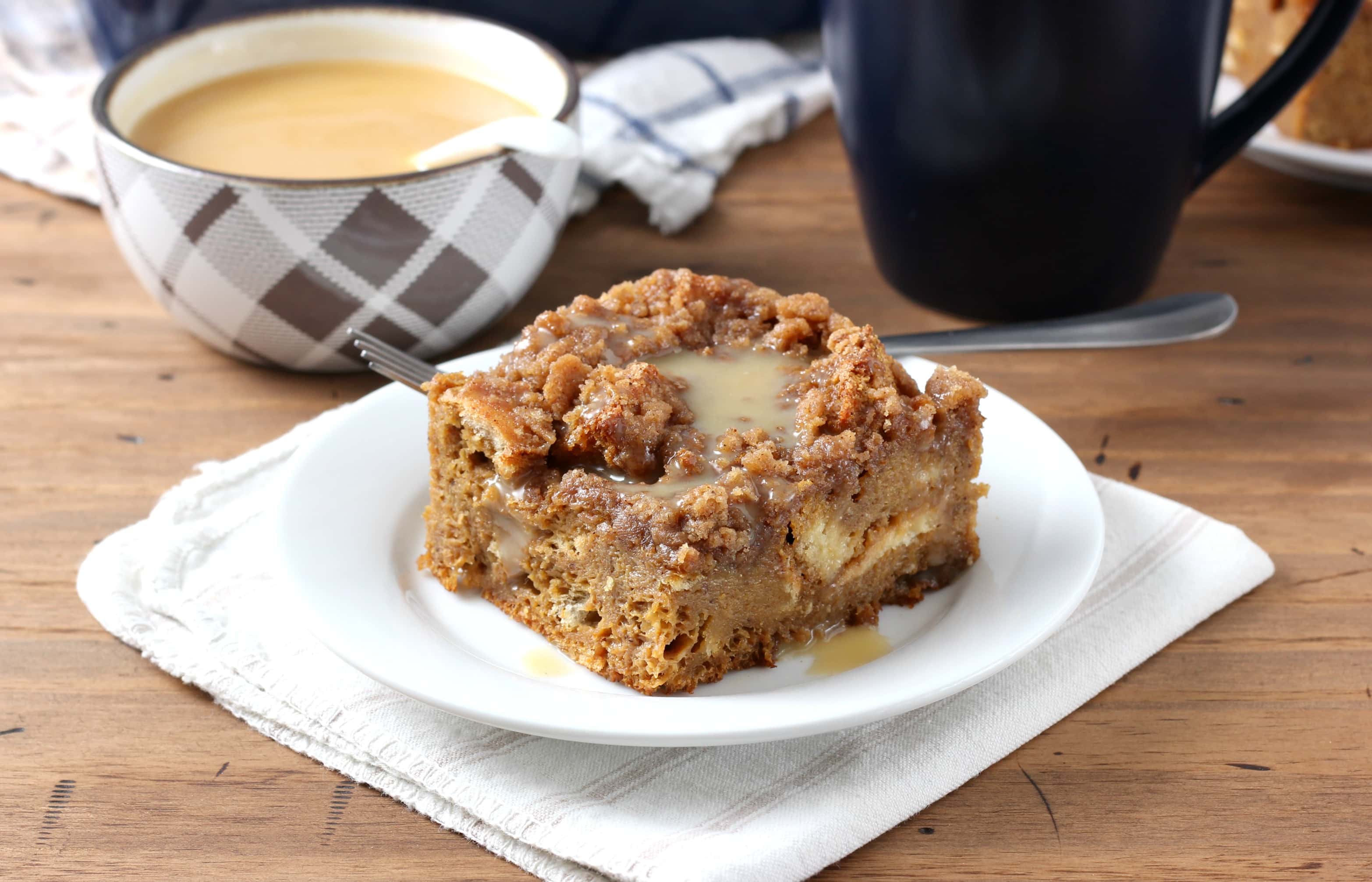 Time for pumpkin to move over and all of the gingerbread, peppermint, and eggnog to take over! This eggnog gingerbread french toast bake combines two classic holiday flavors.
Molasses, ginger, cinnamon, and hint of cloves make this french toast bake taste like your favorite ginger cookie.
And who doesn't want to feel like they're eating cookies for breakfast?!
A simple syrup of of half maple syrup and half eggnog is whisked together over low heat to create the perfect topping for your french toast bake.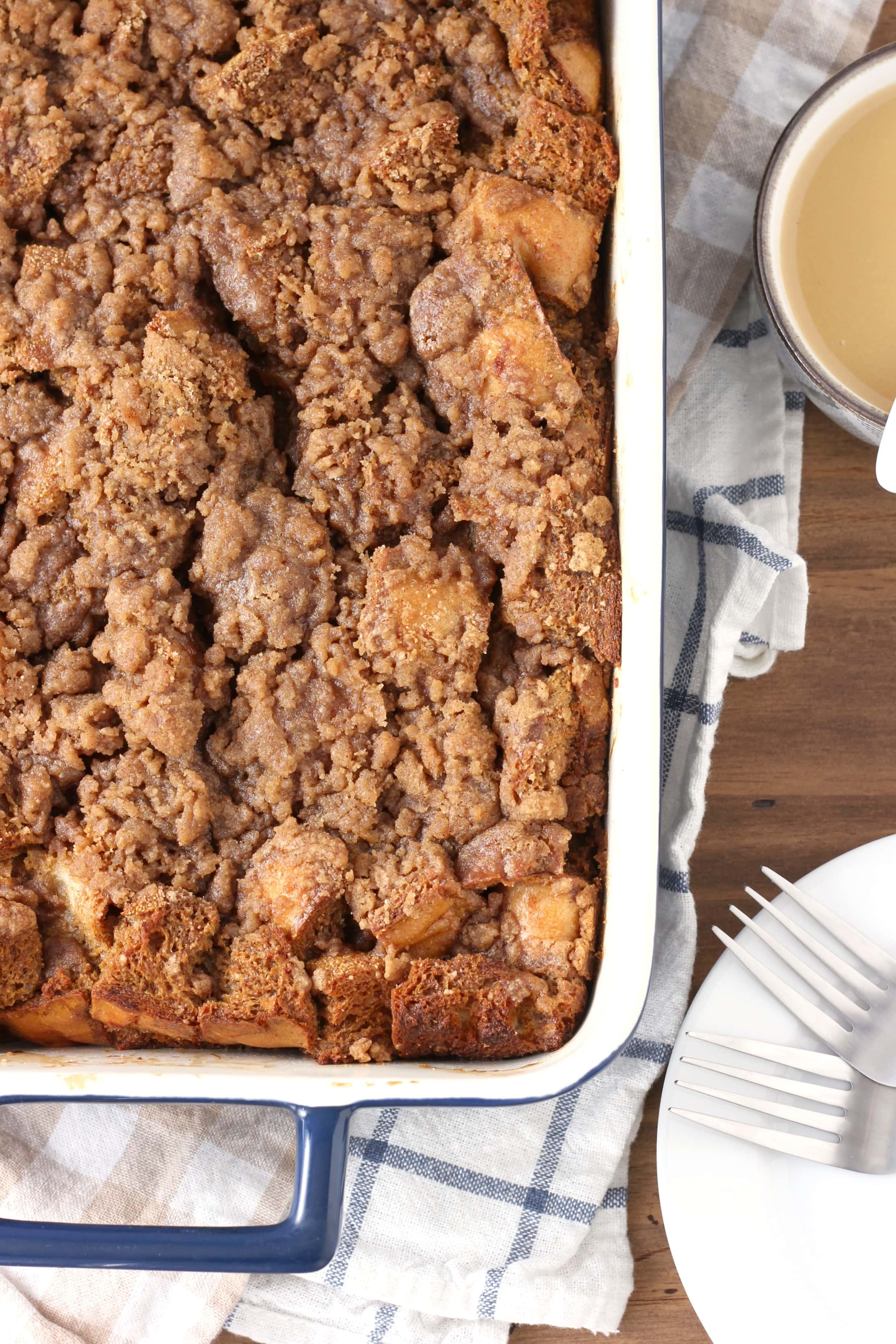 Of course, we can't forget the streusel topping. Chunks of buttery, cinnamon-y streusel make just about anything better! This french toast bake is no different. The sweet, crunchy topping is the perfect way to finish off the bake.
And since you can make it the night before and bake it the next morning, this french toast bake allows you to enjoy for a weekday breakfast what is usually reserved for a weekend breakfast!
It's national french toast day! Be sure to check out more great french toast recipes below!
Eggnog Gingerbread French Toast Bake
Author:
Ingredients
For the French Toast
12 C cubed day old French or Italian bread
8 eggs
1 3/4 C eggnog
1/2 C molasses
1/4 C maple syrup
1 tbsp vanilla extract
1 1/2 tsp cinnamon
1 1/4 tsp ginger
1/4 tsp cloves
For the Topping
1/4 C all-purpose flour
1/4 C brown sugar
1/4 C butter
1 tsp cinnamon
1/2 tsp ginger
1/4 tsp nutmeg
1/8 tsp cloves
1/8 tsp salt
For the Eggnog Syrup
1 1/2 C eggnog
1/2 C maple syrup
Instructions
Preheat oven to 350. Spray a 9×13 inch baking dish with non-stick cooking spray.
Place cubed bread in a large bowl.
In a separate bowl, whisk together eggs, eggnog, molasses, maple syrup, vanilla extract, cinnamon, ginger, and cloves. Pour over cubed bread and gently stir to combine.
Pour mixture into prepared baking dish.
In a small bowl, whisk together brown sugar, flour, cinnamon, ginger, nutmeg, cloves, and salt. Cut in butter until mixture resembles coarse crumbs. Sprinkle over the top.
If baking the next day, cover and store in refrigerator until ready to bake. If baking immediately, bake for 55-65 minutes or until topping browns and center is puffed. (Center will deflate as it cools.)
Remove from oven and allow to cool for 10 minutes before serving.
Store leftovers in the refrigerator.
**While french toast bake is baking, prepare eggnog syrup. Stir together eggnog and maple syrup in a small saucepan. Bring to a simmer over medium heat. Reduce heat to medium-low and let simmer until thickened and reduced by almost half. Remove from heat and serve with warm french toast bake.