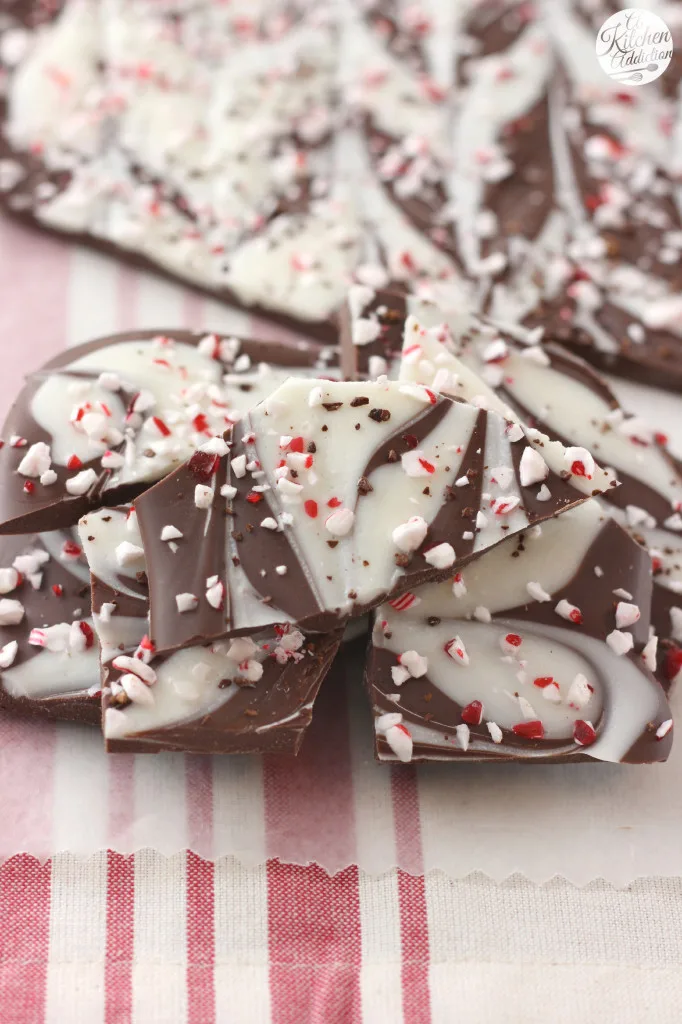 You may have noticed that things have been a little sporadic around here lately. I apologize for the slower than usual responses to emails and lack of consistent posting the last two weeks.
I can finally tell you why things aren't normal. We're moving! That means that while my tiny house fills up with boxes, my inbox fills up just as quickly!
I promise that I'm getting back to you as quickly as possible! We are moving this weekend, so no promises of quick responses until next week! 🙂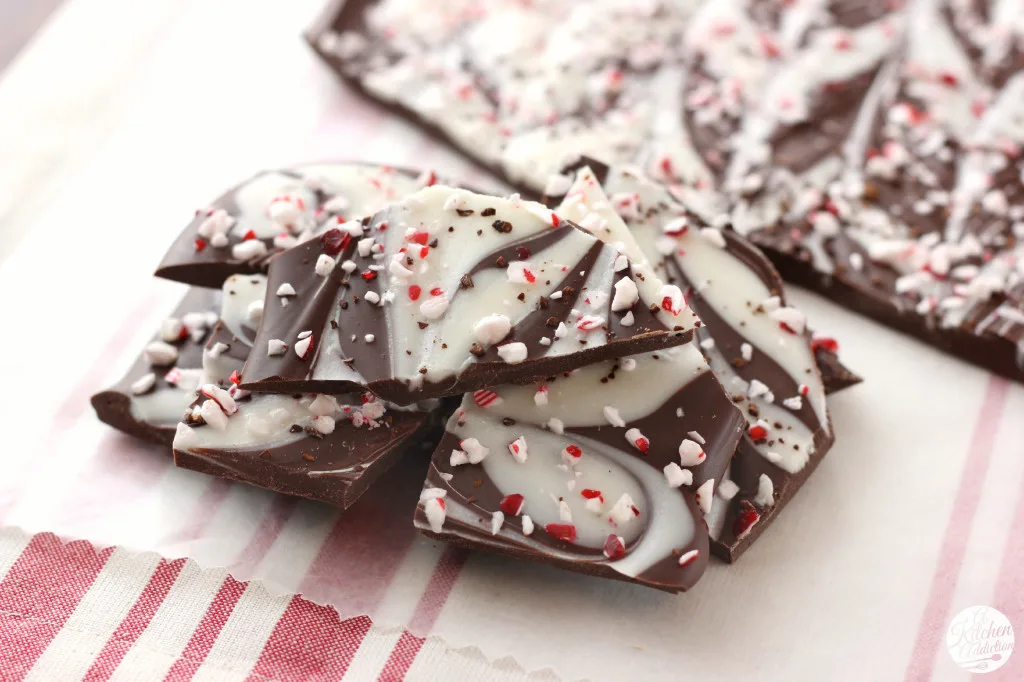 The last few weeks have been filled with house hunting and lots of hours spent on the road between here and Minnesota!
However, I have had time to make a few quick Christmas treats and this peppermint mocha bark was one of them.
I made this bark a few days before Thanksgiving so I could bring the rest up to share with my mom when we went up for the holiday (and while we were there, I discovered it goes perfectly with a cup of coffee in the afternoon!).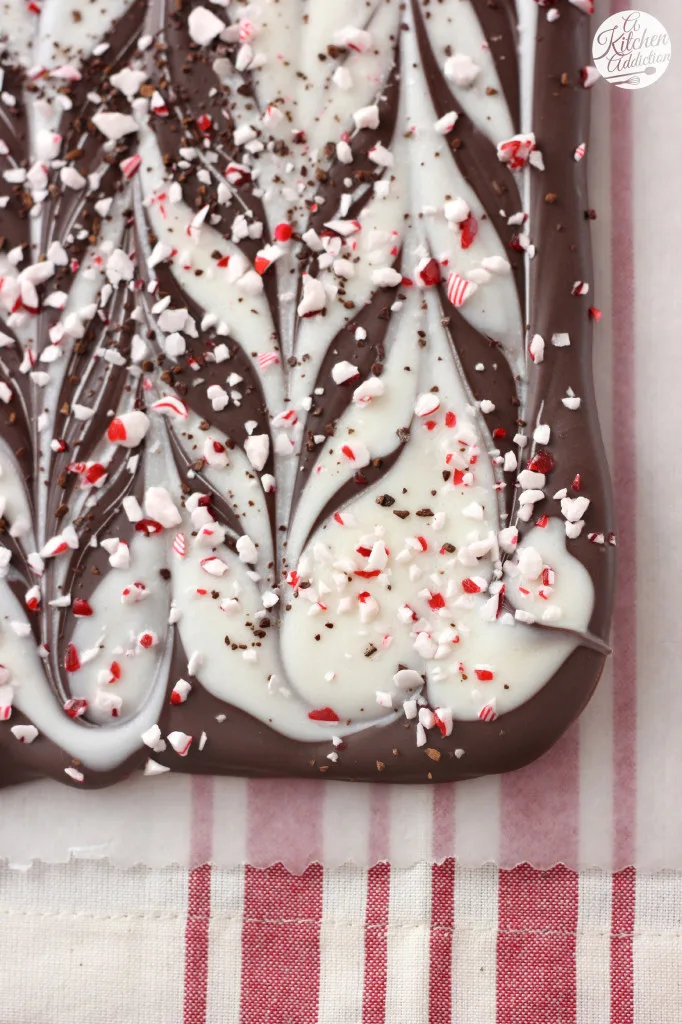 It only takes 4 ingredients and about 10 minutes of prep. Melt your chocolates, swirl them together, sprinkle with crushed peppermint and espresso powder, and refrigerate. That is all.
Have last minute guests or forgot that you need to bring something to a holiday party? Quick throw this candy together and let it cool while you get ready.
Even if you are in the midst of purging, packing, and cleaning, you still will have time to make a quick batch of this peppermint mocha bark!
More Candy Bark Recipes to Try!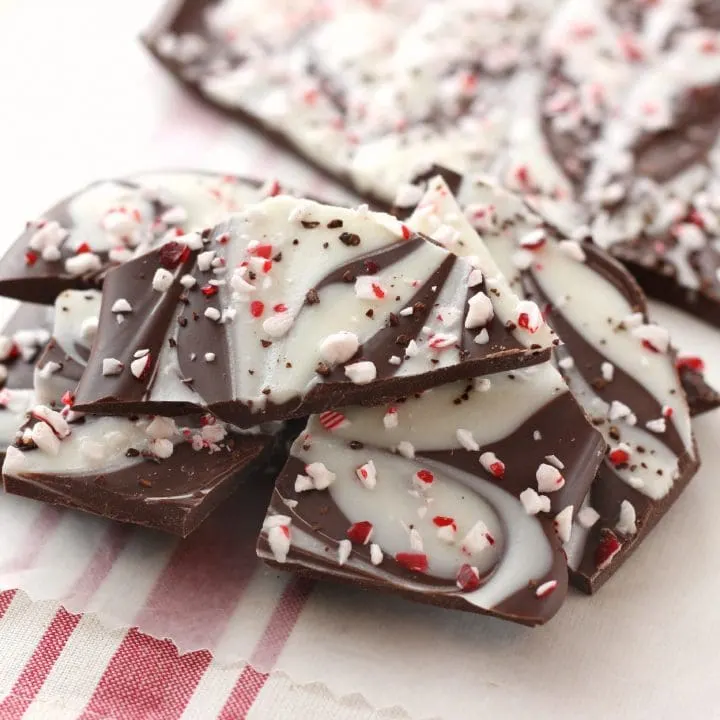 Peppermint Mocha Bark
Yield:
One 15x10 inch pan full
Ingredients
24 oz dark chocolate (or chocolate candy coating)
8 oz white chocolate (or white candy coating)
2 tbsp crushed peppermint candies
1 1/2 tsp espresso powder or instant coffee
Instructions
Line a 15x10 inch baking sheet with parchment paper or a baking mat.
Melt dark chocolate according to package instructions, making sure to stir occasionally.
Melt white chocolate according to package instructions, making sure to to stir occasionally.
Spread melted dark chocolate onto prepared baking sheet. Spoon white chocolate over the top. Swirl white chocolate through dark chocolate using a knife.
Sprinkle crushed peppermint and espresso powder.
Refrigerate for at least one hour to cool and set.
Break into pieces and store in an airtight container.
Recommended Products
As an Amazon Associate and member of other affiliate programs, I earn from qualifying purchases.