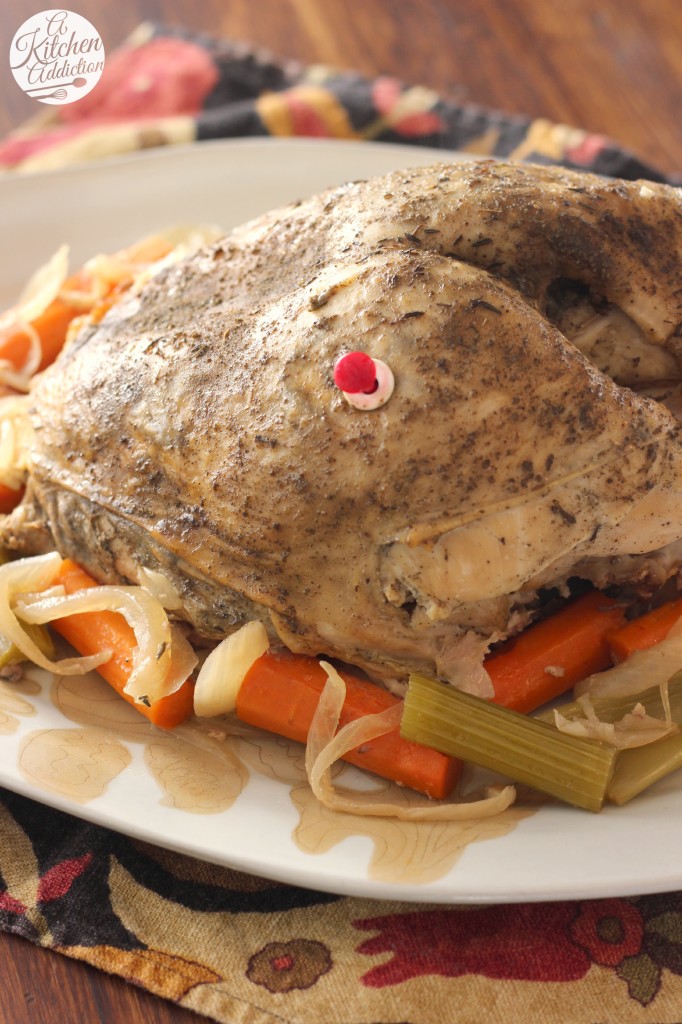 As promised, I'm back with another easy Thanksgiving recipe! This one covers the main event, the turkey. I've been making turkey with herbed butter since the first turkey I prepared a few years ago.
When we were first married, we weren't going to be with family so we decided to make a big Thanksgiving dinner for just the two of us.
(Yes, we had tons of leftovers, but that didn't stop us from continuing the tradition the past few years!) That was the first time I made a turkey and I was slightly terrified of ruining the bird.
I read tons of recipes and finally settled on one that used butter and didn't require brining, rubbing, or all those other ways you can prepare a turkey.
I'm so glad I didn't go through the extra work, because our little bird was so flavorful and moist!
Oh, and it was loaded with flavor. I don't know about you, but I've had a lot of bland turkey over the years and I want to change that!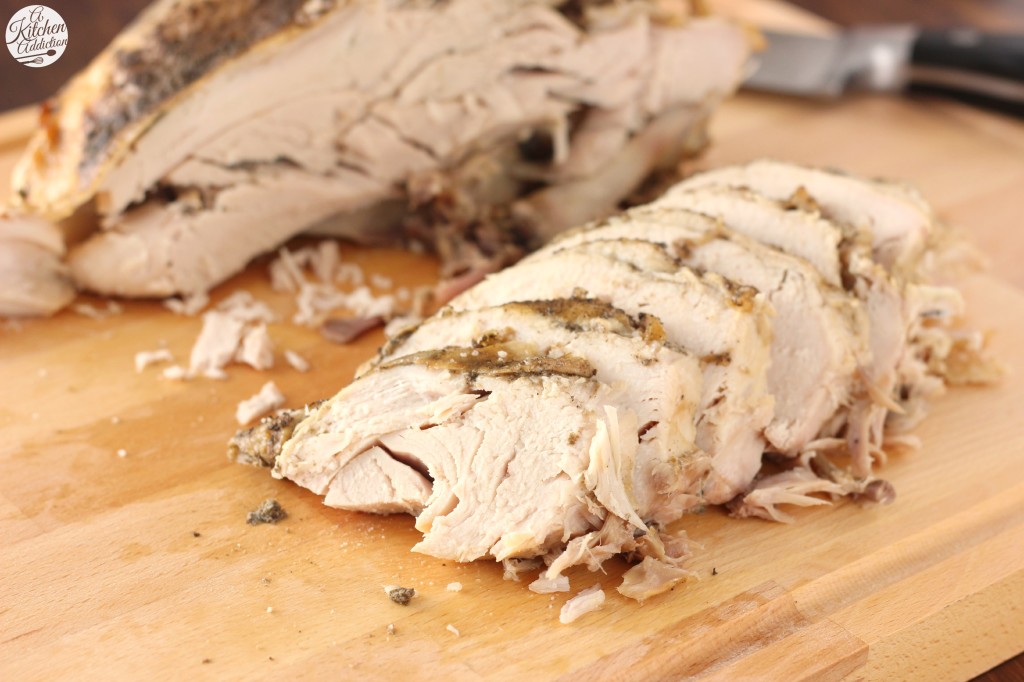 This year since we don't have an oven to make a turkey in, we'll be utilizing our slow cooker and this is the method I'll be using!
This easy slow cooker herbed butter turkey breast is perfect for a small gathering and requires very little prep work.
Juicy, tender turkey with little to no effort?! I'll take it! The meat literally fell off the bone as we cut into the turkey.
As the turkey cooks, the herbed butter melts and not only imparts it's rich buttery flavor into the skin but also helps the herb flavor sink in as well.
If you want to make the meat even more tender, you can baste the turkey a few times during the cooking process, but it isn't necessary.
How was I able to tell when my turkey breast was perfectly cooked? By using a handy Pop Up® Disposable Cooking Thermometer.
Since cooking times can vary so much from oven to oven (and slow cooker!), it's important to use the internal temperature as your guide for when your meat is done. Pop Up® is accurate within +/- 2 degrees, so it provides consistent results allowing you to avoid that dry meat and poultry that we all are afraid we'll end up with.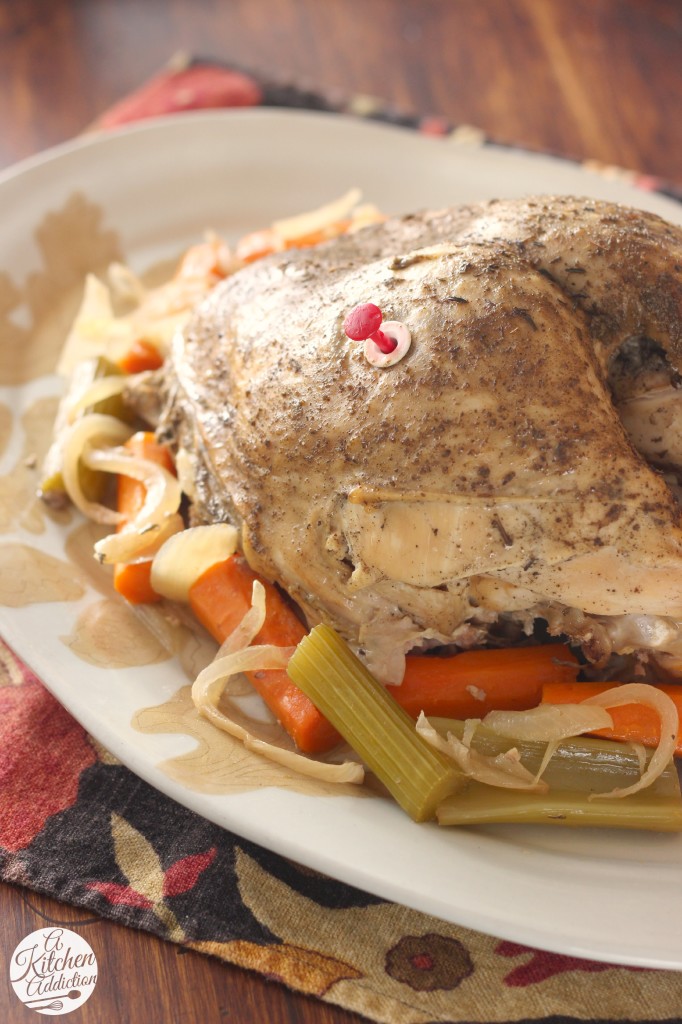 All you have to do is buy a turkey or turkey breast with a Pop Up® Disposable Cooking Thermometer, and you can rest assured that your turkey will be cooked to the perfect temperature every time!
These thermometers are available with your favorite brands and butchers nation wide. Once you have your turkey, rub it with some herbed butter, stick it in the slow cooker, and wait for the magic to happen!
Oh, and have a much more relaxing day!
Easy Slow Cooker Herbed Butter Turkey Breast
Author:
Ingredients
1 (5-7 lb) bone-in turkey breast with a 180° Pop Up® Disposable Cooking Thermometer, thawed and patted dry with paper towels
1/4 C butter, softened
1 tsp garlic powder
1 tsp thyme
1 tsp basil
1 tsp sage
1/2 tsp salt
1/2 tsp pepper
1 C chicken broth
1/2 C onion, sliced
3 medium carrots, peeled and cut into 2 inch pieces
3 ribs celery, rinsed and cut into 2 inch pieces
2 garlic cloves, roughly chopped
Instructions
In a small bowl, whisk together garlic powder, thyme, basil, sage, salt, and pepper.
In a separate small bowl, stir together softened butter and half of herb mixture.
Spread herb butter underneath the skin of turkey breast. (You can use a spoon to get to the edges and spread it around with your hand on the top of the skin.) Sprinkle remaining herb mixture over the top.
Pour chicken broth into a 6 quart slow cooker. Add onion, carrots, celery, and garlic cloves. Place turkey breast on top.
Cook for 6-8 hours on low or until internal temperature reaches 180 degrees F. The red portion of the Pop Up® sensor will pop up when this temperature is reached. You can baste the turkey a few times during the cooking time, but it is not necessary.
Allow to rest for 15 minutes before slicing into pieces and serving.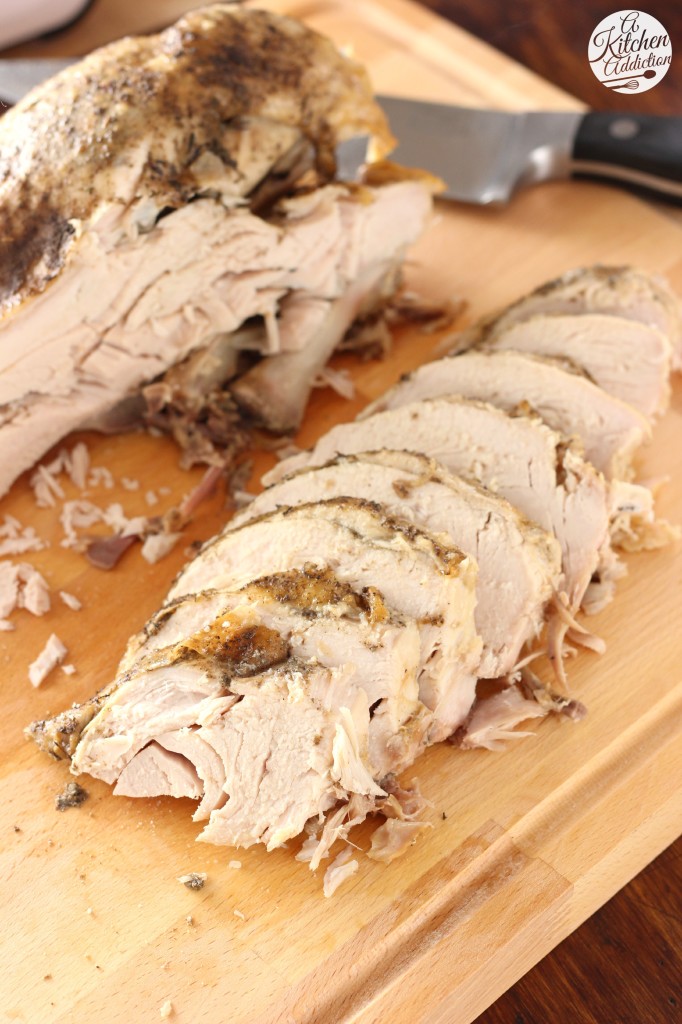 Disclosure: This post is sponsored by Volk Enterprises. All opinions, as always, are my own. Thank you for helping support brands that make A Kitchen Addiction possible!
Want more Turkey Tips and Food Safety tips? Be sure to check out these videos from Volk Enterprises! You can also get more information from their Youtube Channel and Facebook Page.